Original URL: https://www.theregister.co.uk/2013/11/29/new_longitudinal_sky_survey/
Boffins release 44-MEEELLION-star Hitchhikers Guide to the Galaxy
Longitudinal sky survey finds 250,000 objects have changed over 60 years
Posted in Science, 29th November 2013 02:31 GMT
Anglo-Australian boffins have published a new survey of the northern sky that describes 44 million stellar objects and finds 250,000 have changed in the last 60 years.
Dubbed "A Precision Multi-band Two-epoch Photometric Catalog of 44 Million Sources in the Northern Sky from a Combination of the USNO-B and Sloan Digital Sky Survey Catalogs", the new survey does what it says on the can: combine the USNO-B and Sloan Digital Sky Survey Catalogs into one new document. The interesting bit is that images in the USNO-B (USNO=US Naval Observatory) survey, available here, date back as far as 1949. The Sloan Digital Sky Survey concluded in 2008.
The boffins concerned mashed up the two surveys to find 44 million objects – either stars or galaxies – that appear in both surveys, then compared the two. The survey sounds like a Big Data problem if ever there was one: processing the combined data sets took a year.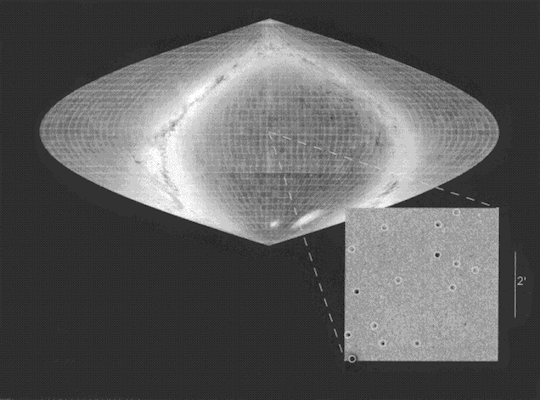 Part of the USNO-B Sky Survey
After comparing them all with what a canned statement calls "clever computer algorithms," the researchers found about 250,000 objects changed brightness significantly over the 1949-2008 span of the surveys they worked with. That's about 0.6 per cent of the stars sampled (and the sample is only about 35 per cent of the entire sky).
The boffins involved, Professor Bryan Gaensler from the University of Sydney and Cambridge's Dr Greg Madsen, plan to make their data available to the public to facilitate future longitudinal studies of the cosmos. ®