Original URL: https://www.theregister.co.uk/2013/11/28/review_roundup_lightweight_laptops/
Mass Effect: Ten lightweight laptops that won't bust your back
A selection of skinny notebooks that put the 'ability' in 'portability'
Posted in Personal Tech, 28th November 2013 09:03 GMT
Product Roundup The arrival of Intel's Haswell processors this year promised a new generation of ultraportable laptops that would be slimmer, lighter and provide better battery life than ever before.
With that in mind, El Reg decided to round up 10 of the lightest laptops that we could find and see if they really delivered the goods. Not every manufacturer has gone down the Haswell route yet, but the lightest designs and longest-battery life do generally come from Haswell kit – for example Sony's absurdly light Vaio Pro, or the genuinely impressive battery life of the latest MacBook Air.
However, ultralight designs do involve compromises. Performance, for the most part, is pretty good, but many of these laptops have limited connectivity, while build quality and screen quality don't always justify the high prices that these machines command.
There's plenty of variety, though, so take a closer look and see which of these ultra-portable laptops deserves a place in your travel bag.
Acer Aspire S7-391

There's a "Pro" version of the S7 in the works that will add a Haswell processor, as well as a RAID SSD setup that sounds rather tempting. In the meantime, though, the original S7 is still a fine, lightweight piece of kit.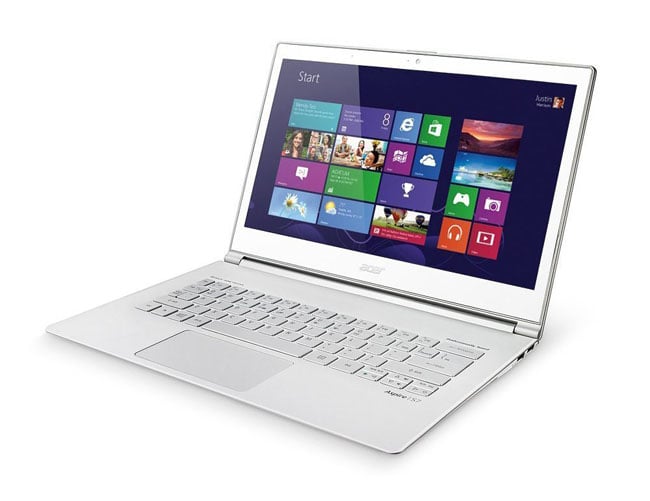 It's a real looker, with a white-tinted Gorilla Glass top panel that measures a mere 13mm thick and keeps the weight down to just 1.3kg. The 13.3-inch touch-sensitive display provides a 1920 x 1080 resolution with a bright, sharp image and good viewing angles – although these are marred somewhat by the highly reflective gloss screen coating.
The only disadvantage of the minimalist design is limited connectivity. There are just two USB 3.0 ports and no Ethernet at all – although Acer gets brownie points for bundling an USB-to-Ethernet adaptor rather than charging an extra 25 quid for it as Apple does.
Prices start at around £869 for the entry-level model reviewed here, which has an Ivy Bridge Core i5 processor running at 1.7GHz, along with 4GB of memory and 128GB of solid-state storage. Its score of 4570 when running PCMark 7 is more than adequate for running productivity apps and performing web browsing duties, although its limited battery life – just four hours and 10 minutes of streaming video – cries out for that Haswell update.
Price £870
More info Acer
Apple MacBook Air 13-inch

The MacBook Air is the "Ur" Ultrabook: the one that defined the category even before Intel's marketing 'droids came up with a name for it. However, the 2013 edition is starting to show the line's age a little.
It's certainly neither the slimmest nor lightest laptop around, and the 1440 x 900 resolution of the 13-inch model is looking a bit dated – as is that wide metal bezel that runs right around the edge of the screen.
The limited connectivity remains an annoyance too, with just two USB 3.0 ports and no Ethernet, which gives Apple an excuse to charge through the nose for extra adaptors that many of its rivals give you for free. Even so, the sheer quality of the Air's one-piece aluminium design is still hard to beat, and at just 1.35kg and 17mm thick it remains a delight to carry around and use.
And, crucially, this year's Haswell update also taught this old dog a new trick that outweighs all those criticisms: the 13-inch MacBook Air can now deliver a full ten hours of streaming video, and more casual web use should allow you to keep going for at least 12-13 hours.
And while the MacBook Air is by no means cheap, its starting price of £949 for a Haswell Core i5 running at 1.3GHz, 4GB of memory and a 128GB solid-state drive doesn't look too bad alongside its Windows Ultrabook rivals.
Price £949
More info Apple
Asus ZenBook Touch UX31A

Eminent critic of this parish Alastair Dabbs described the original ZenBook UX31E as one of the finest Ultrabooks on the market, reserving his only real criticism for the limited viewing angles of the 13.3-inch display.
Dabbsy will no doubt be relieved to see that the latest model – renamed the ZenBook Touch UX31A – puts that right, with a bright, colourful IPS LCD display that provides 1920 x 1080 resolution and viewing angles that just won't quit. It's touch-sensitive too, although I'm still not convinced that touch controls are much use on a laptop of this size.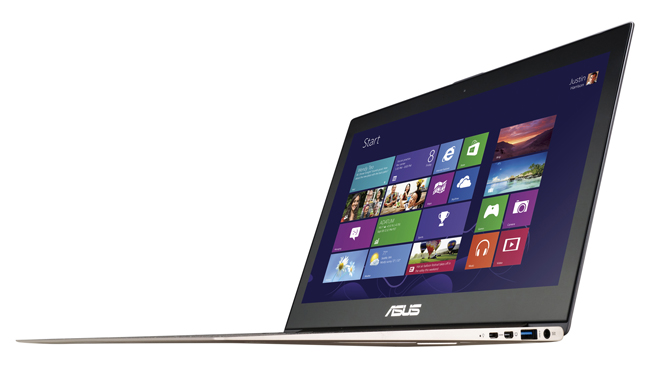 The dark, brushed-metal finish still looks very dapper, and at 1.3kg and 17mm thick the ZenBook remains one of the most portable laptops currently available. Connectivity consists of two USB 3.0 ports, along with micro HDMI and mini VGA, and Asus also includes full VGA Ethernet adaptors free of charge.
It's very expensive, though, costing a whopping £1,500 for an Ivy Bridge Core i7 running at 2.0GHz, 4GB of memory and a 256GB SSD. And, with battery life stretching to just five hours of streaming video it really needs a Haswell boost to justify that sort of price.
Price £1,600
More info Asus
Dell Latitude 12 (E7240)

Dell's Latitude 12 isn't the slimmest or lightest laptop in this selection, but it's well built and very comfortable to use.
It only has a 12.5-inch screen, but at 1.36kg it's actually heavier than several of its 13.3-inch rivals. Even so, that's still a pretty good weight, and the Latitude's solid build quality makes it one of the sturdiest laptops in this group.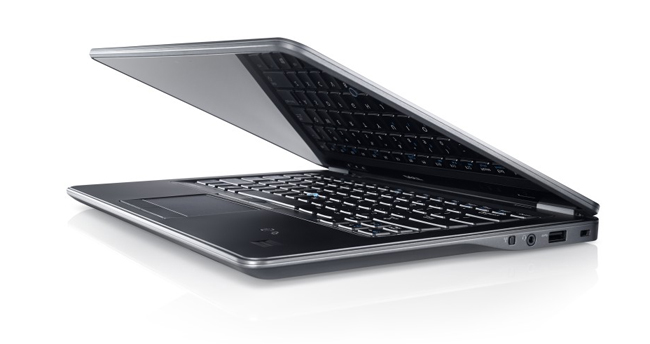 The keyboard has a nice, firm feel to it and will be comfortable to use for long periods. The soft-touch finish on the wrist panels shows good attention to detail and it's well connected too, with three USB 3.0 ports, Gigabit Ethernet, HDMI and mini DisplayPort.
Unfortunately, it's also very expensive for a non-touch laptop with a relatively modest specification. I tested the entry-level E7240 model, which costs £1,375 for a Haswell Core i5 running at 1.6GHz, and a 4GB of memory and 128GB of solid-state storage.
That only produces mid-range performance, with a score of 3000 when running PCMark 7 that is soundly beaten by the 1.3GHz MacBook Air. The Air also beats the Latitude's 1366 x 768 resolution while still coming in at well under £1,000.
The compact little battery doesn't help either, with just 31Wh capacity that only allowed the Dell to deliver five hours of streaming video. Dell seems aware that it's overpriced, though, and is currently offering a temporary discount of £344 for online sales, which also includes a three-year warranty to help sweeten the pill.
Price £1,375
More info Dell
Dell XPS 11

The XPS "2-in-1 Ultrabook" is Dell's answer to the Lenovo Yoga and the successor to its XPS 12, which had a pivot-about-the-middle display. Speaking of screens, that's the key feature with the new model: an 11.6-inch panel with an amazing 2560 x 1440 resolution.
Dell has dropped the old pivot screen mechanism in favour of regular hinges that here let the screen fold right back against the body of the laptop. One moment it's a notebook, the next a tablet. It's a touchscreen of course.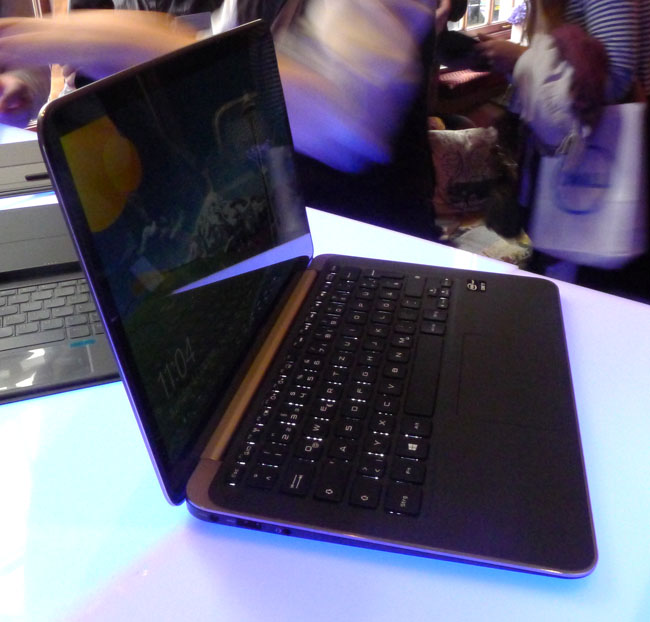 Running Windows 8.1 on a 1.5GHz Haswell Core i5, the £929 XPS 11 also features the category-standard 4GB of memory and 128GB SSD. Like the MacBook Air, it has dual-band 802.11ac Wi-Fi too. The XPS only weighs 1.13kg, though.
Physical connectivity is limited, mind, to a pair of USB 3.0 ports and HDMI.
Battery life isn't bad, though, with preliminary numbers pointing to eights hours' runtime on a single charge. Not quite up there with the Air, but certainly above average.
Price £929
More info Dell
HP Pavilion TouchSmart 11

Most of the laptops reviewed here are expensive Ultrabook models, but HP's Pavilion TouchSmart 11 is a return to the days of the affordable netbook.
Its outstanding feature is its price: a mere £299 which gets you an 11.6-inch touch-sensitive screen, a 1GHz AMD A4-1250 processor, 4GB of memory and a 500GB hard disk. That spec's not going to win any awards, barely passing the 1000 mark in PCMark 7. Even so, the TouchSmart 11 can still handle basic work in office apps, as well as web browsing and streaming video. It even manages to squeeze in a 10/100 Ethernet port, two USB 3.0 and one USB 2.0 port, along with full-size VGA and HDMI.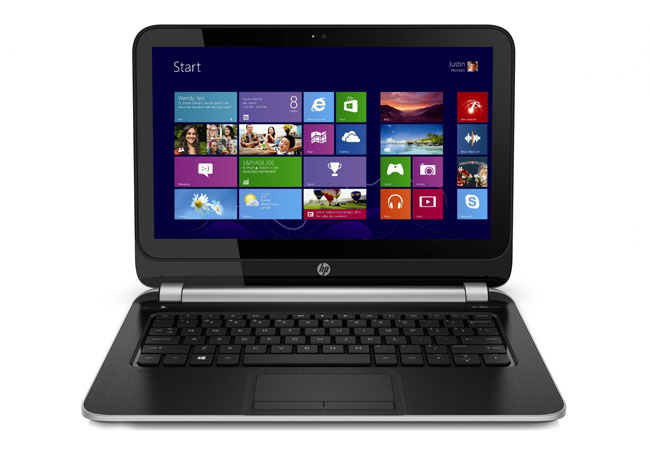 The touch-sensitive screen is good value at this price and responds smoothly when you're flicking around the Windows 8 Start screen. The highly reflective glossy screen is irritating at times and so is the 1366 x 768 resolution, though it's forgiveable at this price. The image is bright enough to provide a good viewing angle for anyone sitting next to you in your local coffee shop.
It's not the lightest machine in this group, but the 1.5kg weight is no hardship. However, the keyboard and trackpad are rather small and didn't really allow me to type at full speed. Battery life is also fairly modest: around 4.5 hours of streaming video. Even so, the TouchSmart is still pretty good value if you need a really portable machine on a tight budget.
Lenovo Yoga 11s

The original Yoga 11 ran Windows RT on an Nvidia Tegra processor, but that obviously didn't set the world on fire so a new version, the Yoga 11s, has reverted to full-fat Windows 8 and an Intel chip.
The bendy design that allows you to fold the screen right back and turn it into a large tablet still strikes me as a bit of a gimmick. However, the Yoga 11s is only 16mm thick and 1.4kg in weight, so it still makes a fine Ultrabook for work with the tablet mode available for off-duty web browsing.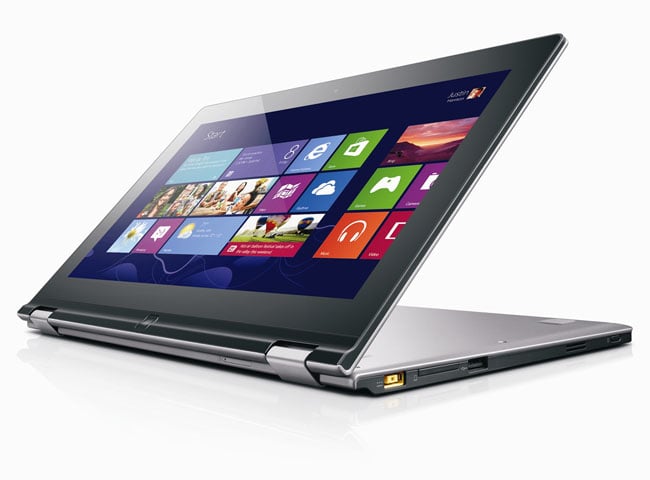 My review unit was priced at £1,100 with an Ivy Bridge Core i7 running at 1.5GHz, along with 8GB of memory and a 256GB solid-state storage. However, a PCMark 7 score of 4299 suggests that the i7 is little faster than the i5 processors used by other laptops in this group, so you should probably save yourself £150 by dropping down to the i5 version of the Yoga.
The built quality is excellent, providing good support for the reversible screen. It also has a comfortable moulded keyboard. Connectivity's a little limited, though, with just one USB 3.0, one USB 2.0, HDMI and headphone for peripherals.
The 1366 x 768 resolution of the 11.6-inch screen is a little disappointing too, but the crisp, colourful image it produces is still very attractive and works a treat for watching streaming video in tablet mode. However, the battery only just scrapes past the five-hour mark when streaming the BBC iPlayer, which suggests that a Haswell update might be a good idea round about now.
Samsung Ativ Book 9 Lite

I rather like the creamy white casing of the Book 9 Lite, and its slimline 17.7mm profile. The case is plastic, but still quite sturdy, and it has a good size trackpad and a comfortable keyboard. The 13.3-inch screen touch-sensitive screen only has a 1366 x 768 resolution and its viewing angles leave room for improvement, but it's adequate for web browsing and watching video.
Battery life is respectable, at around 5.5 hours of streaming video, but the 1.4kg weight listed on Samsung's web site turns out to be 1.6kg on my scales, which makes this by far the heaviest laptop in this group.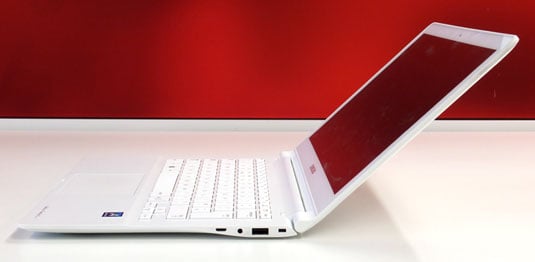 Connectivity is also a bit of a mixed bag. It only has one USB 2.0 and one USB 3.0 port, although I was pleased to see that it does have a mini Ethernet port, for which Samsung includes an adaptor. However, there are no adaptors for its mini VGA and micro HDMI ports, so you'll have to pay extra for those.
Some dogged detective work by El Reg's Bob Dormon revealed that the Book 9 Lite has a quad-core AMD A6-1450 processor running at 1.0GHz, along with a fairly conventional 4GB of memory and 128GB of solid-state storage. A PCMark 7 score of 2170 means that it can handle basic web browsing and productivity apps, but still leaves the Book 9 Lite looking overpriced at £499.
Sony Vaio Pro 13

I've got to tip my hat to Sony for developing a 13.3-inch laptop that measures 17mm thick and weighs just 1.1kg. I've seen heavier tablets, and the weight of this laptop feels insignificant when you slip it into a backpack or briefcase.
It's not badly priced either, coming in at just under £1,000 with a Haswell Core i7 running at 1.8GHz, 4GB of memory and a 128GB SSD. That combination adds up to a score of 4550 for PCMark 7, and will handle office and web browsing with no trouble at all. But, as we've seen before, the i7 processor isn't significantly faster than the i5, so you could save yourself £70 by stepping down to an i5 instead.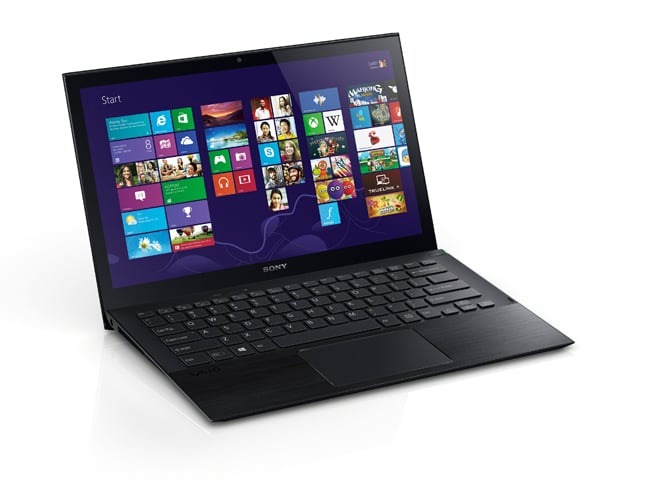 The screen's a delight. It's not touch-sensitive, but it's very bright and colourful, with 1920 x 1080 resolution that works really well for web browsing and video. The Haswell chip also provides reasonable if not spectacular battery life: 6.5 hours of streaming video.
There's no Ethernet, and only two USB 3.0 ports, but the weight makes that forgiveable. There are some nice touches too, such as the hinge that tilts the back of the keyboard up when you open the screen panel. But something has to give in that slimline design, and the downside is that the Vaio Pro really isn't very sturdy at all. A light pressure from your fingers will make the entire keyboard panel flex, and I'd think twice about cramming it into the overhead luggage compartment on a crowded plane.
Price £999
More info Sony
Toshiba Portégé Z930-14D

Toshiba's Z930 is one of the slimmest, lightest 13.3-inch laptops currently available, weighing in at just 1.12kg and measuring 14mm thick. You can pick it up with one hand and barely notice the weight as you carry it around with you.
The Portégé range is very much designed for business, so the magnesium casing has a no-nonsense dark-grey finish and squeezes a fingerprint sensor between the buttons for the trackpad. It's well connected too, with one USB 3.0 and two USB 2.0 ports, as well as Gigabit Ethernet and full-size HDMI and VGA ports – so there's no need to carry fiddly adaptors around with you.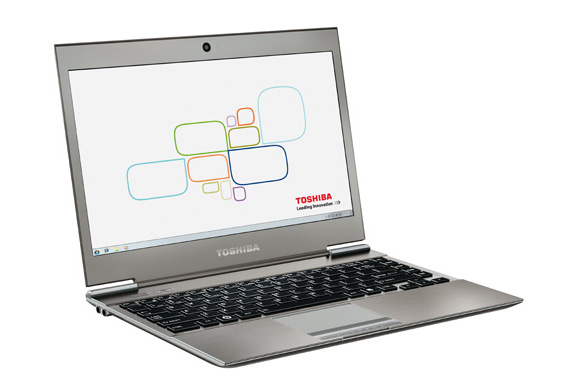 Performance is very respectable, with a 1.9GHz Ivy Bridge Core i5 processor that tops the 5000 mark on PCMark 7, and is more than capable of handling office and other apps when you're on the road. This Z930-14D model also includes 6GB of memory and 128GB of solid-state storage for £1,250
The screen's a bit disappointing, though. Business users won't care that it's not touch-sensitive, and will appreciate the non-reflective matte coating on the screen. However, the 1366 x 768 resolution isn't up to scratch for a laptop in this price range. Nor are the limited viewing angles, which mean that it won't be much use for presentations unless you hook it up to a larger screen. Tosh boasts of battery life of "up to" eight hours, and about five hours for streaming video, but your results may vary.