Original URL: https://www.theregister.co.uk/2013/11/27/review_sony_playstation_4_ps4/
PS-PHWOARRR: We review Sony's next-gen PlayStation 4
Is PS4 the games console giant's unfinished symphony?
Posted in Personal Tech, 27th November 2013 11:00 GMT
Review Taking the PlayStation 4 out of its box, my first thought was that it's monolithic: the kind of object that 2001: A Space Odyssey's hairy, belly scratching apemen would have danced around in worship.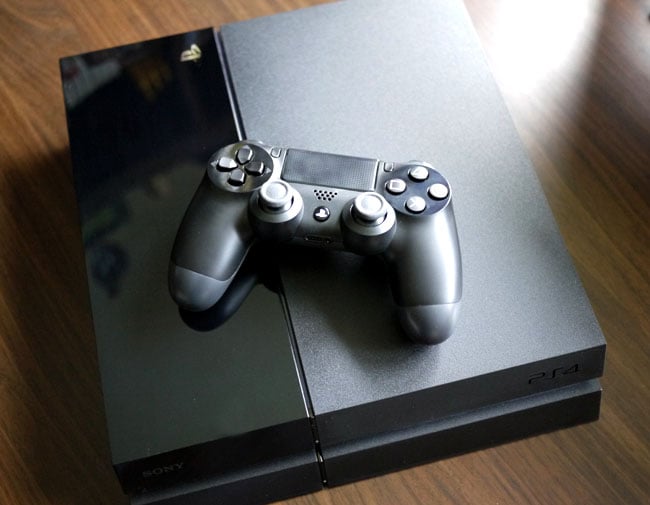 Black monolith: Sony's PlayStation 4
The console's perpetual forward slant lends it an overtone of kinetic energy like a work of vorticist art. Its sci-fi overtones are neatly summarised by the thin strip of blue light that shines from its surface upon start-up.
The impressive, statement-making device dwarfs my Wii U, super-slim PS3 and even my Xbox 360. Though, of course, it would be a foolhardy leap of faith to spend £350 on PS4 on the merit of looks alone.
Underneath the sleek chassis is a powerhouse of a home console. I'm not going to get bogged down in specs – it's what they do for games that matters, and it's reassuring to see Killzone looking so resplendent. Especially when launch games are often but a shade of what might be expected from a console in later life.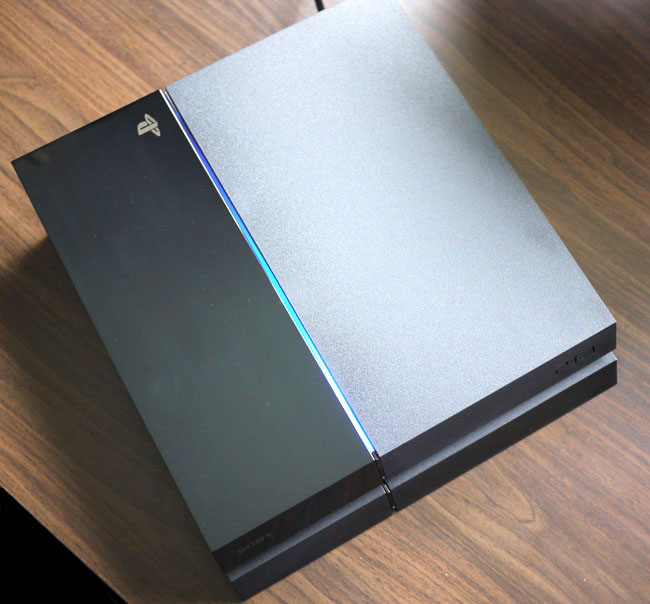 Like something out of a sci-fi movie?
Unlike the console evolutions of yesteryear, the leap from PS3 to PS4 does, however, feel more like an upgrade than a revolution. An improvement you might liken to swapping out your PC's old graphics card for the very latest Nvidia or AMD has to offer.
The leap between console generations has previously introduced added functionality: DVD and Blu-ray playback, networking, high-definition visuals and customisable interfaces, to name but few.
The PS4 therefore feels slightly lacking as it brings nothing I'd call truly ground-breaking to the party. At least not yet.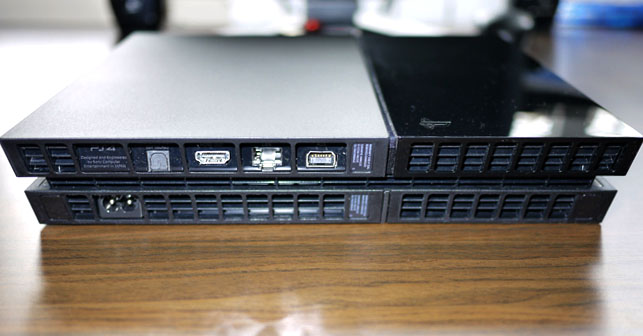 Digital audio, HDMI, Ethernet and Sony's own connector complete the IO array
Perhaps the Share button is its nearest claim to have something that little bit special. Here the PS4 takes advantage of its ability to constantly record gameplay footage to allow you to upload videos or even live-stream if you're feeling particularly brave.
You can choose between Twitch and Ustream streaming services when uploading and watching videos but the video quality, even when set to "best", is poor. Sony will certainly need to address this if sharing is to become a generation-defining success. Especially since the competition lets you do this too.
Then there's the PS4's much-hyped ability to let gamers play PS One, PS2 and PS3 games remotely with cloud-gaming service Gaikai. The chance to bring a huge assortment of legacy titles – and perhaps even PS4 games – to the console is potentially massive. All those grumbles about backward compatibility? Gone. It's a real shame then that it's also just so much vapourware right now.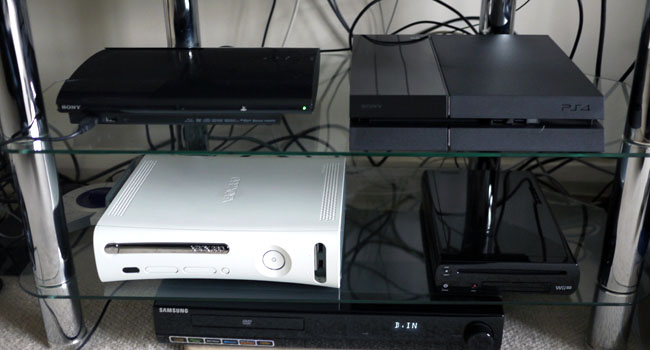 In the rack with its predecessor
Strangely absent too is 3D BD playback, MP3 support and DLNA media server functionality. All of which is hardly appropriate in a device with that wants to be media centre as much as a games machine. Again, its arch-rival does this too.
Sony has stated that all of this will be introduced in future updates, and given how much the PS3 and its functionality evolved over the years I'm happy to take the manufacturer at its word and accept that this will happen.
But it also means the PS4 feels unfinished and rushed out to prevent Microsoft gaining again the year-long advantage it had when it released the Xbox 360 well in advance of the PS3.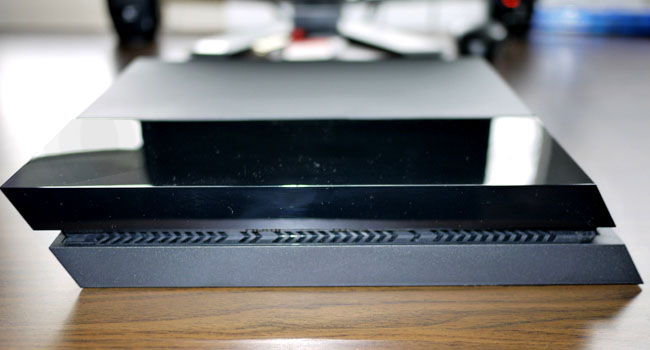 Showing some side
Speaking of the PS3, it's also downright bizarre that this older machine feels more advanced than the new one in terms of the range of functionality they offer.
Before delving into such subjects as controllers, the PS Camera and the launch games, I think it's worth revealing exactly how long I've had a PS4 ahead of writing this review.
For the record, I received a sample console on 19 November, meaning I've had a week-and-a-half to play with Sony's new toy. The PlayStation Network (PSN) activated PS4 support on 22 November so in that time I have racked up about a week of online play too.
OOBE doobey
Thankfully, the PS4 supplied has worked as intended from day one, with no sign of either the much-reported HDMI fault, or the so-called blue (or red) light of death that has been highlighted by some buyers in the US.
After booting up the PS4 and logging in – your previous PSN ID will work just fine – the first thing that's obvious is just how much smoother everything is. Menus flow by with no lag, which is especially noticeable when browsing the PSN Store.
The dashboard can't be customised, however. All the games you've played appear in a big, long and unsightly line from left to right. There are no folder options, there's no way to order anything and no way to disguise the fact you've played Knack.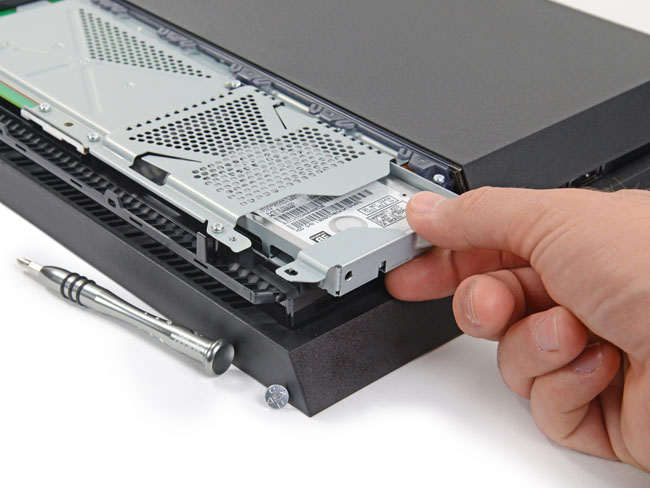 The PS4's HDD is very readily replaceable - SSD, anyone?
Source: iFixit.com
The 1.50 firmware update, much maligned in the States due to install issues, has been replaced by version 1.51. It weighed in at 323MB and took about four minutes to download, though it did throw a couple of "cannot download" messages my way. But hitting the X button seemed to cajole the process back into motion.
Notably, my 500GB PS4 only had 408GB of free space straight out of the box. Worse, after installing Killzone, Assassin's Creed 4: Black Flag and Knack that total was down to 306GB. But you still need the disc in place to play the game.
Installing a game is noticeably faster than it was on the PS3, thanks to the fact that the system can copy from BD to HDD while you play, meaning you only have to wait for a couple of minutes before diving in.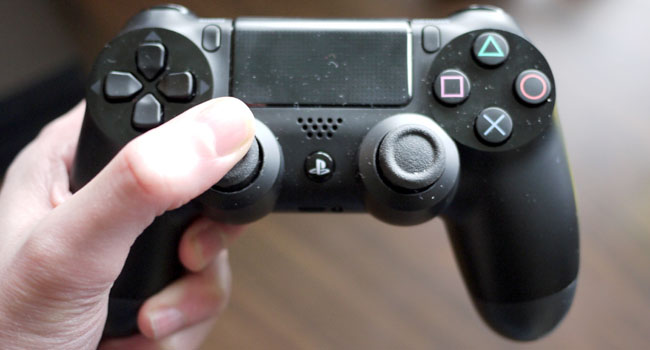 In your hands: the PS4 controller
I timed Assassin's Creed 4: Black Flag from disc insertion to the game's intro on both the PS3 and the PS4. On the old machine, it took a whopping 11 minutes 20 seconds; on the PS4, I was beginning my buccaneering career in three minutes flat. A big improvement.
You're in control
Another upgrade from PS3 to PS4 can be seen in the controller. The DualShock 4 only adds to the gaming experience. Its analogue sticks are easier to grip, thanks to indents and a rubberised finish, and their more ergonomic spacing makes the new controller more comfortable to use than its predecessor.
My personal favourite extravagance is the built-in speaker, which some games – Resogun in particular – are already putting to good use. Chatty types will enjoy the audio out port that complements the system's cross-game party chat feature.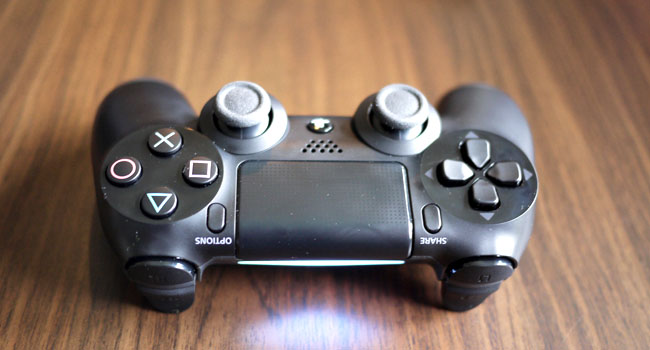 Will developers turn the touchpad into something useful?
Slightly more obscure is the touchpad, which works in a similar vein to the PS Vita's touch sensitive rear. It's currently being used as a selection wheel – in games such as Killzone – or as a rudimentary mouse substitute, which is how AC4 puts it to use.
Neither application feels particularly useful or natural at this moment in time. Though I abstain from damning it as a gimmick or praising it as a genius innovation until the likes of Naughty Dog have shown what they might do with this input mechanism.
You can also control the PS4 using a PS Vita, with the big machine able to stream any game straight to the handheld's screen. The Vita will even act as a Wii U-style second screen controller.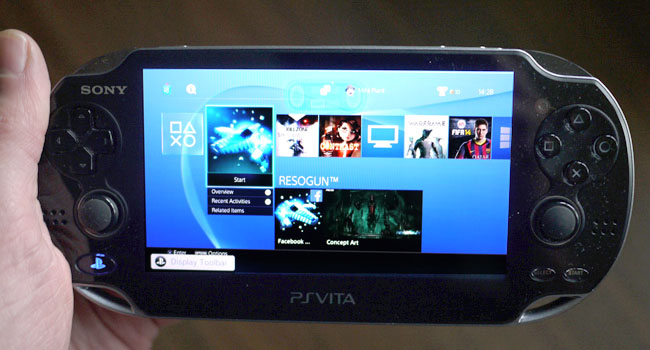 Accessing the 4 on the Vita
The only drawback is that using the Vita's rear touchpad as a substitute for the L2 and R2, and L3 and R3 buttons makes the controls feel cramped. Still, any port in a storm will do, as the old saying goes, and the option for remote play is certainly one worth having.
Finally, there's the PS Camera, the non-essential peripheral that seems destined for obscurity – no doubt taking up its place alongside the PS Move and Wonderbook. It's fine for making video calls, limited when it comes to PS4 voice control and, ultimately, both underused and largely pointless at launch.
A set of mini games that take advantage of the PS Camera, Playroom, comes bundled with the PS4 as standard, but it's little more than a tech demo. There's scant commitment to the device across the rest of the launch titles – never a good sign.
The Games
The PS4's general improvement over its predecessor – though without having any particularly unique forté – is reflected in its launch line-up.
PS3 stalwarts might be perturbed by the need for a PS Plus account to play online but the service pays for itself in free games – Warframe, Contrast and the excellent Resogun on day one alone. As existing PS3 PS Plus account will work on PS4, and vice versa.
Most of the PS4's better launch titles consist of cosmetic improvements to the very same games you can play on PS3 right now. Though of these perhaps only Battlefield 4, with its 64-player servers, up from 24 on the PS3, and Frostbite 3 optimisation, is truly worthy of the "next gen" tag.
Killzone: Shadow Fall
Gorgeous, occasionally great, but often frustrating
Shadow Fall fails when it comes to implementing AI or a new approach that might be considered impossible on PS3. It does, however, sport a free-form approach that is at times liberating.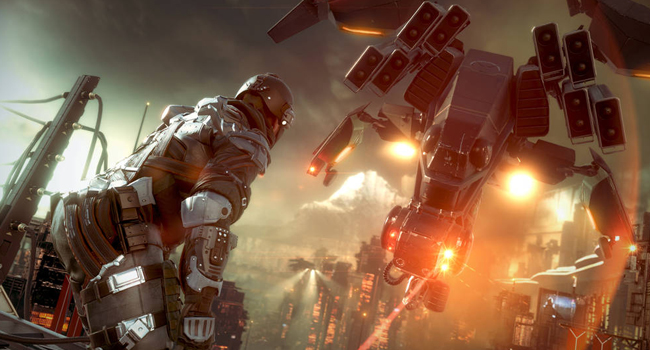 That said, I'm far from convinced that this free-form approach was purposeful. Sometimes it seems more a result of the development team running out of time and cutting the odd sign post.
Regardless, I found enough within Killzone to enjoy. And it's the title that PS4 owners must get if only to show off with. Get it, enjoy it, just expect to see it gathering dust when something even better looking comes out.
Knack
And the "What Were They Thinking?" award goes too...'
I'm not the first and won't be the last to question exactly what Sony was thinking when it commissioned Knack. If the game was a PS2 launch title I'd still have been saying its gameplay was dated.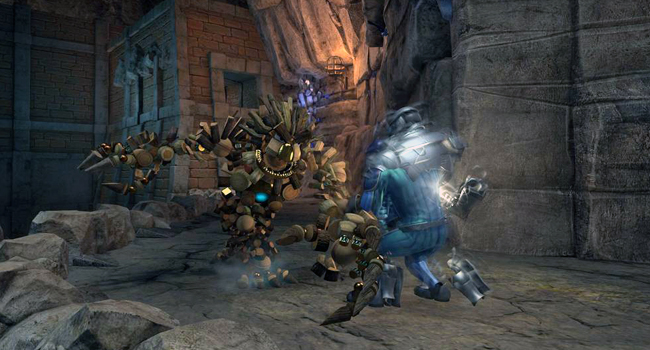 Bland environments, one-dimensional gameplay and a lack of fun – and I'd say that applies across all age groups – utterly spoils what might otherwise have been an OK game... for kids. Avoid.
Resogun
Rescue the humans, shoot down scores of aliens
Not the most original premise perhaps, but Resogun is the most addictive PS4 launch title and it's free with PS Plus. The only trouble is that it offers almost nothing that couldn't be replicated identically on the PS3.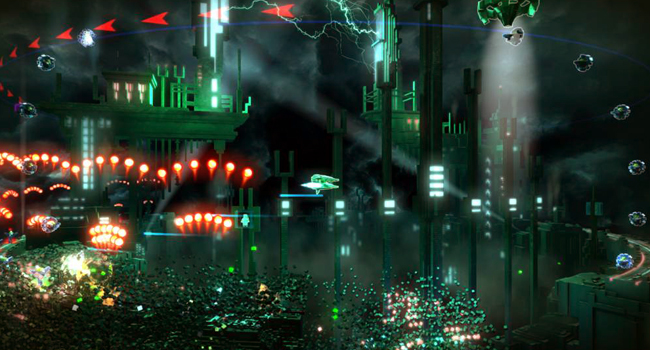 Its score-chasing, frantic shoot-'em-up action is certainly engaging – so much so that even as I write this I'm thinking about my next go. One to grab as soon as possible and then wonder why you're playing it more than any other title.
Battlefield 4
More explosions, more debris, more... seagulls
BF4 looks truly next-gen, thanks largely to the way developer DICE has scaled up the Frostbite 3 engine to take advantage of the PS4's power. So much so, in fact, that I can't go back to the PS3 version.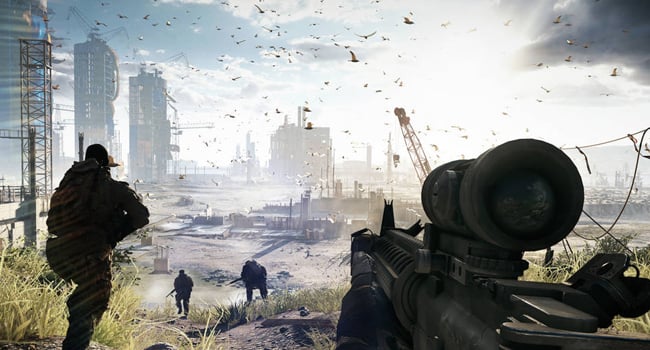 The icing on the cake is the 64-player online play, but even the campaign is simply more engaging, thanks to the added flourishes that makes suffering through the plot just about palatable.
Assassin's Creed 4: Black Flag
The wild blue yonder
The upscaling effect is slightly less noticeable here than with BF4. There's certainly more shadow and light thrown into the mix, and fewer jagged textures. But if you've already played through AC4 then doing so again here isn't going to make you enjoy it any more than before.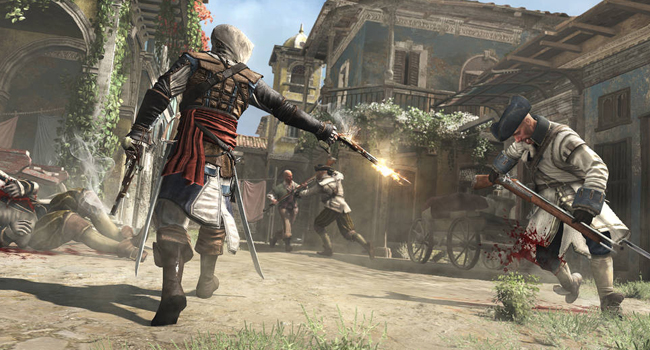 The Reg Verdict
The day I switched on my PS3 for the first time, I very quickly knew that my days of firing up the PS2 would be severely numbered. With the PS4, I'm not sure that's the case: I suspect I will be going back to the PS3.
Early adopters will point to the fluid-smooth interface, the impressive, much improved game load times, and those gorgeous, more detailed visuals as reasons to buy. All these points have merit.
However, problems with media playback – primarily the lack of media streaming – and no way of enjoying the PlayStation back catalogue means the PS4 simply can't replace the PS3 yet.
There's no denying the PS4 – alongside the Xbox One, I can safely assume – is the future of console gaming. It's just that Sony hasn't finished it yet. When it does, the PS4 is going to be one heck of a console. ®