Original URL: https://www.theregister.co.uk/2013/11/26/dell_exec_says_privatization_enables_hunches_speeds_decision_making/
Dell exec tells El Reg: Privatization has fired up 'world's largest startup'
Freedom to pursue 'hunches' will make make the next few years 'a scream'
Posted in Business, 26th November 2013 00:39 GMT
SC13 There's a lot of business-building freedom to be gained by escaping the tyranny of the Wall Street moneymen and turning your company into "the world's largest startup," a Dell exec tells The Reg.
When a company goes through a major transition as Dell has in its recent oh-so-public wrestling match with activist investor Carl Icahn, a battle that ended with founder Michael Dell taking his eponymous computer company private, it's not unheard of for employees to be instructed to put on a happy face to the press and insist that everything is hunky-dory.
Such positive vibes have certainly been what your Reg reporter has been picking up from Dell staffers since Mr Dell's victory late last month. But there's one startling difference between corporate-mandated happy, happy, joy, joy and the way that Dell employees from minions to masters have been acting in the past month. Even to this hardened old hack's finely tuned BS detector, their vim and vigor seems to be – and here comes a word you rarely see in The Reg – sincere.
"We don't have to worry about market share, quarterlies, any of the other things. It's pretty liberating," the executive director of Dell's Emerging Enterprise group, Tim Carroll, told The Reg at last week's SC13 supercomputing conference in Denver, Colorado. "We'll see how this thing goes, but it's given a shot of energy into the whole organization."
The finalization of the privatization, Carroll told us, had a "double-whammy effect" – not only did it free Dell, the company, from Wall Street pressure, but it also freed Dell, the man, from both the pressure of the takeover fight and the silence he had to maintain during the negotiations.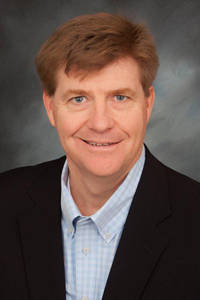 Dell's 'emerging enterprise' man Tim Carroll
"The whole time that that was going on," Carroll said, "Michael understandably had to keep a very low profile – and not just externally, but internally. He'd be very careful about what to say."
After the deal closed, however, Michael Dell was back "with a vengeance," Carroll said. "The first meeting that he did – there's this one huge cafeteria at Round Rock, it holds several hundred people – he came bounding into the room, and I was like, 'I don't think I've ever seen Michael run'."
Dell's founder had a lot to be jazzed about, from Carroll's point of view, and so do his employees. "Michael talks about the reason for doing the privatization is to be able to take risks, to be able to go do things you know are important, to do all those things that you can't necessarily do with Wall Street watching all the time."
Privatizing the company, Carroll said, not only gets Wall Street off Dell's back, but more importantly allows the company to not only take more risks, but to take those risks more quickly. When a company is public, all decisions need to be data-driven, with such matters as the total addressable market (TAM) carefully calculated, explained, and defended.
"You need to be able to justify every decision you're making," he said, "because you've got to justify it all the way up, because you've got shareholders, right?"
'You get to play the hunch ... you don't need to spend two months analyzing the market'
Proving the viability of every idea before it's green-lighted has a distinct CYA advantage, but it can stifle new, unproven, but potentially breakthrough ideas. "I think what that does is that it makes it a little bit harder to let people play the hunch," Carroll told us.
Such hunches, he said, reveal themselves when you're close to your customers – closer that any investor will ever be. And now that Dell has been freed from Wall Street oversight, those hunches can be acted upon with far more freedom.
"We hear things that customers say they want," Carroll said, "and the biggest difference has been is that we're getting to play the hunch. And when you get to play the hunch, then you don't need to spend two more months analyzing the market or whatever else it is. It means that you're going to get time-to-market on solutions."
Carroll's responsibilities include helping to define how Dell will increase its penetration into such lively markets as HPC, big-data analytics, and the cloud; complex markets in which there are many interconnected, interdependent moving parts. Since these market are going through many changes, the ability to make quick decisions is critical.
"We couldn't have picked a better time to get liberated," he said. "Because there's so many open-source vendors, and emerging vendors, and venture funds, and everything else, the only way to be successful in this is that you're going to have to play a couple of hunches."
The decision-making cycle has changed at Dell to accommodate such hunches, Carroll said. Prior to privatization, one had to complete an entire plan, submit it to management, then wait – and wait – for approval. Now, in some cases, you'll get immediate approval, be provided with support, and told to go for it – and fast.
Sometimes those aforementioned hunches come from above. "Now it is, 'Tim, here's what you need to go do. I'm going to task you to do it, and here's the rough boundaries of it. Put together a plan to go make that happen, knowing that I can guarantee you that some part of it I'm going to be able to help you with, it's just a question of how much'," Carroll said.
Not that every idea is going to be approved. Dell execs still must run the numbers, vet their ideas with the appropriate coworkers, and "just don't be reckless," he said. But decisions can now be made "with a speed that you can't necessarily do when you've got Wall Street as part of the picture."
Some ideas, of course, won't pan out, but Carroll says that with Wall Street off their back, as long as an idea appeared sensible and was given the go-ahead, the cost of failure has lessened – which has given Dell staffers a sense that they can try more things without risking their careers. "If it doesn't play out quite the way that you thought it was going to, you did it for all the right reasons," he said. "I'm not afraid that failure would result in something catastrophic for me."
Don't expect that all these new "hunches" will result in an immediate uptick in Dell's business, however. Even without the drag of Wall Street pressure, things take time. "I think that the real impacts of the privatization, if people are looking for tangible things," he said, "I think the tangible things are probably six to twelve months off."
When we mentioned to him that we had talked with a number of other Dell staffers who appeared not only relieved by the end of the privatization dogfight, but also invigorated, he said that morale in the company was up across the board. "I'm feeding off the energy of the other people who are around," he said. "And I think that's probably fairly hard to find in this space right now."
As we said above, the company that Carroll describes appears to be the company whose workers we've talked with recently. Of course, there's always the chance that our BS detector was on the fritz when we had our sit 'n' chat, but it did appear for all the world that his enthusiasm was genuine.
"Now that we're the world's largest startup, it is awesome to have this focus around, 'Hey guys, we've got two jobs: solve customer problems, and do it in a way that helps Dell grow'," he said.
"I'm excited for the ride," Carroll told us. "It's not too often that you get to live through a positive MBA case study, so I'm looking forward to being a part of it. It's been a really interesting ride for the last eight or nine months, but I think that the next two or three years are going to be a scream." ®