Original URL: https://www.theregister.co.uk/2013/11/22/doctor_through_the_ages/
Doctor Who: From Edwardian grump to Malcolm Tucker and back again
The Doctor in 12 – or possibly 13 – stages
Posted in Personal Tech, 22nd November 2013 12:00 GMT
Doctor Who @ 50 Since Doctor Who returned in 2005, its producers have loved showing the Doctor's previous selves, from the pen and ink portraits in Human Nature's Journal of Impossible Things and the Cybermen's infostamps in The Next Doctor, to the curious, multiple incarnation runaround in the Doctor's personal time stream in The Name of the Doctor.
This is, of course, a head-charge for longstanding fan, suddenly alert at a fleeting glimpse of Tom Baker or Patrick Troughton. Such moments also offer a pause for thought, as we reflect on how the Doctor's persona has shifted over the last 35-and-a-bit series, and how it may change again now that Peter Capaldi has taken on the part of this young/ancient immortal alien pacifist/scientist/action hero.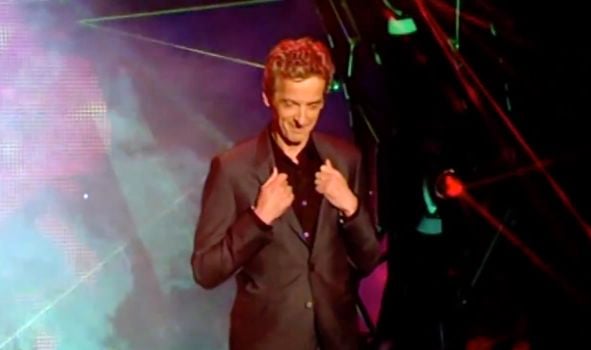 Latest Doctor Peter Capaldi channels First Doctor William Hartnell
Like the camera-filming-its-own-output 'howlround' effect included in early title sequences, the character's been on a feedback loop since the 1960s, keeping certain essential character traits and otherwise changing with its times.
Or not. Coinciding with the moment that pop music was really beginning to swing, William Hartnell's First Doctor was hardly trying to be down with the kids. Debuting 50 years ago in black, grey and white at 5.15pm on BBC One - after Grandstand and before a puppet show starring The Goons - he was initially a grim tempered, sardonic old misanthrope in Edwardian gear who we first encounter as he emerges through fog, coughing.
He was also given to aloofness, mendacity and cruelty – best illustrated when he appears to propose murdering an injured caveman with a rock in An Unearthly Child episode The Forest of Fear.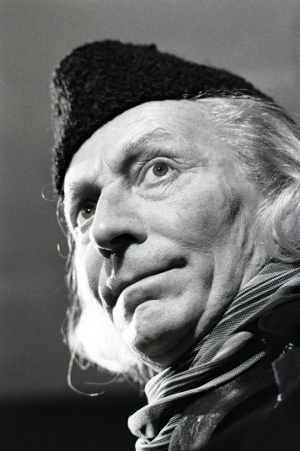 Edwardian pappa, Hartnell was handy with a rock
His unknown origins also made for an appealing mysteriousness; we knew only that he and Susan are, as he says in a cool piece of mangled Hartnell-ese: "Wanderers in the fourth dimensions of space and time, cut off from our own planet and our own people by eons and universes [sic]."
More avuncular behaviour would manifest later - his goodbye to granddaughter Susan in The Dalek Invasion of Earth is a stiff-upper-lip but emotional farewell - but there is a flintiness to the First Doctor that still fascinates.
Suitably, he "dies" of old age after first battling the Cybermen in 1966's The Tenth Planet – he was actually only 58 – to be replaced by Patrick Troughton's Second Doctor. Just as young companions like Ben and Polly were making the austere First Doctor look un-swinging, here was a young-at-heart eccentric. The bow tie would reappear with Matt Smith's incarnation.
A relatively sprightly 46, with a Beatle cut and a recorder/Pan pipes, he was more relaxed than before, affecting a bungling persona to achieve his ends. Brought to book by the Time Lords at the end of The War Games in 1969, his explanation for going rogue showed a teenaged flouting of responsibility: "I was bored! I do tend to get involved with things."
Banished to Earth and now in colour, Jon Pertwee's Venusian martial artist-Third Doctor amped up the action in a variety of Jason King-like velvet ensembles. A solid and decisive presence given to music hall humour and seriousness, the duality was amped up with the introduction of the Master - the evil Time Lord analogue to the Doctor's beneficence, who curses his nemesis as a "bore".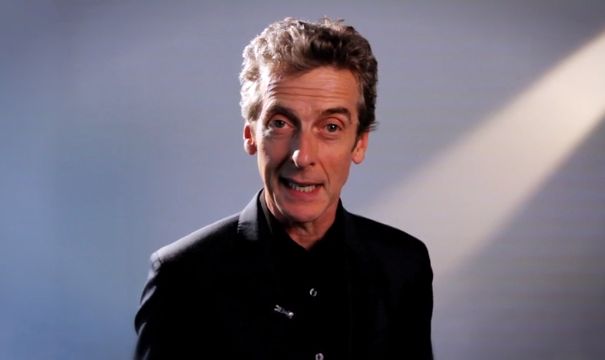 "I AM the Doctor, FFS"
The earliest incarnations met in 1973's The Three Doctors with the second and third bickering and the first declaring his "replacements" to be "a dandy and a clown".
The winning combination of action, laughs and danger would also define Tom Baker's Fourth Doctor, where random quirk was joined by the most serious gravity; compare when he offers Davros a jelly baby and is then paralysed by the moral implications of destroying the Daleks in Genesis Of The Daleks. If we are to believe that the Doctor is always the same man, Baker's was arguably the definitive take.
Never mind Colin Baker, cut to The Great Time War
Now we must enter the opinion-dividing, inconsistent years helmed by Producer John Nathan-Turner, when the shows was looking increasingly moribund in an altered TV landscape. You have to sympathise with the next three actors to play the role. Peter Davison's "pleasant, open-faced" (© Target novelisations) Fifth Doctor was a little too benign and easily flustered.
Despite a nice line in being unpleasant and egotistical – he memorably strangles companion Peri when experiencing post-regeneration delirium tremens - Colin Baker's Sixth Doctor was immediately hamstrung by his grisly panto costume; his successor Sylvester McCoy also had the makings of a good Doctor with his sinister, Machiavellian sides, but was thwarted by the show's cancellation in 1989 and some crap stories before it.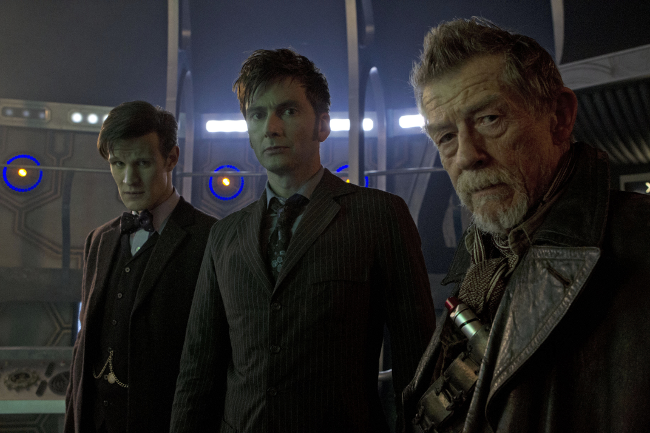 Doctors Smith and Tennant, heroes with an edge, but did Hurt go too far?
The sole outing of Paul McGann's Eighth Doctor would be 1996's TV movie, wherein he was a cheery swashbuckler who smooched his companion in Victorian gent gear. Incidentally, in his ongoing audio adventures, the Eighth Doctor now has a much cooler, leather-jacketed adventurer rig.
When the series returned in 2005, the Doctor was now the last Time Lord, having annihilated both the Daleks and the Time Lords in the Last Great Time War. Consequently Christopher Eccleston's Ninth Doctor was a post-traumatic figure, given to brooding seriousness and anger - calling the human race "stupid apes" - compensating with gags, dancing and, a certain tendency to step back and let Rose/her mum/Mickey search for the hero inside themselves and win the day.
Modern gents with space-time rents
More approachable was David Tennant's estuary English-spouting Tenth Doctor; an affable, somewhat self-satisfied timey-wimey gas bag he showed steel when he dooms the Family of Blood to everlasting suffering, but blubs when the Master dies. He was also the Doctor with the most love interest, with a fan fiction-esque sub-plot of a mortal double of the Doctor pairing off with companion Rose in Journey's End.
Yet balance was achieved more convincingly with Matt Smith's Eleventh Doctor – goofy, slightly child-like, but a credible hero capable of despair and ruthlessness, as when he leaves the old Amy to die in Amy's Choice, and heroism, as when he sacrifices himself to save he universe in The Big Bang.
It could be argued, then, that the essential character has been formalised since the 1970s. So how striking was the shock of fear delivered in just 14 words, "What I did, I did without choice in the name of peace and sanity", by John Hurt's unknown incarnation, seen wearing a hybrid outfit of the Eighth and Ninth Doctors at the conclusion of The Name of the Doctor?
He's hollowed and battered, having of course committed an act so appalling – the destruction of the Daleks and the Time Lords - he cannot go by the name of the Doctor.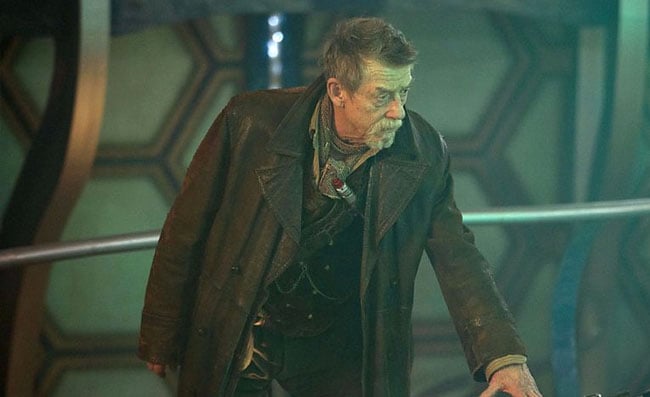 World of Hurt: this Doctor's clearly been around the block a few times
This cannot but have a bearing on how we perceive Peter Capaldi's Twelfth – or is it the Thirteenth? – Doctor. He's 55 and known for adult roles, and is not going to have lustrous hair, play football or flirt with the companions.
Younger viewers could find him 'old' and may even find him frightening; dry humour and many intense stares are to be expected, and a re-statement of the part's hyper-mysterious origins.
And what was one of longstanding Who fan - he gets a right drumming down in Keith Miller's engaging book The Official Doctor Who Fan Club Volume One - Capaldi's first acts as exiled Time Lord? To come out in front of a BBC studio audience and to grip his lapels like William Hartnell was wont to do.
We refer to the First Doctor's goodbye to Susan in The Dalek Invasion of Earth, again: "One day I shall come back."
Like some inevitable cyclic movement of time, it seems that he has. ®