Original URL: https://www.theregister.co.uk/2013/11/21/review_apple_ipad_mini_retina_display/
Dear-ly beloved: Apple's costly iPad Mini with Retina Display
Exactly like the iPad Air – only smaller. Well, almost...
Posted in Personal Tech, 21st November 2013 09:29 GMT
Review Last year's iPad Mini really was playing second fiddle to the regular iPad. Not merely smaller than its sibling, the Mini had a much lower resolution display. It had a less powerful processor too. It felt like a product Apple was obliged to make rather than one it actually wanted to.
Twelve months on, and the Mini's first update shows that its manufacturer no longer feels that way.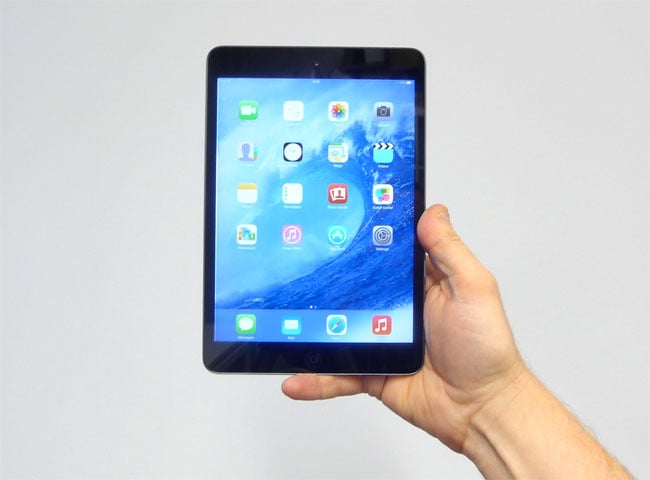 Apple's iPad Mini with Retina Display: no longer second fiddle
The original Mini was a big hit last Christmas, despite its relatively high price for a mid-size tablet. The Register's London Underground Gadget Index™, which measures device popularity by how many travellers whip them out in the morning rush-hour, shows the Mini to be far more popular than all other tablet and tablet-type devices, with the possible exception of e-ink Kindles.
That popularity clearly convinced Apple that the Mini had more legs as a product that it originally thought. And it has now largely brought the spec up to match that of the larger iPad, now renamed the iPad Air.
What we now have are two iPads that differ solely by physical size. Perhaps it would be better to say: one iPad, two form-factors. As far as capabilities go, Mini and Air are all but identical.
Accordingly, both Air and Mini have IPS LCD displays with 2048 x 1536 resolutions, though iOS treats both as 1024 x 768, using the extra pixels to improve image rendering rather than provide the user with more screen space. Both devices sport Apple's 64-bit A7 system-on-a-chip and its sibling, the M7 motion management co-processor.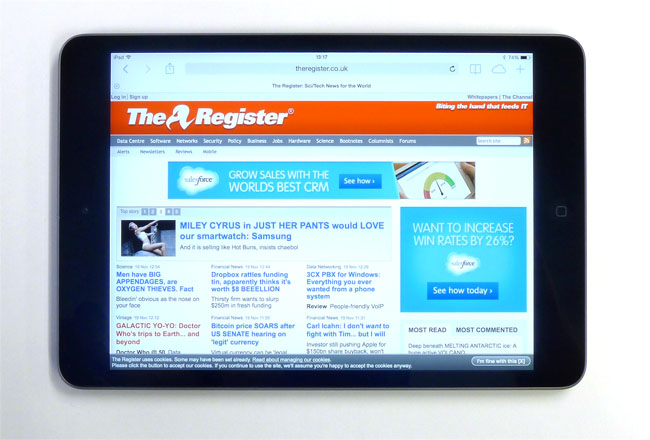 Now with the same resolution display as the full-size iPad
The two tablets also have the same 5MP camera on the back and the same 1.2MP webcam on the front. What the one fondlepad can achieve as a video camera - 1080p recording with the main camera, 720p with the front-facer, 3x zoom, manual focus, picture stabilisation and face detection - so can the other.
Each is equipped with a two-antenna, dual-band 802.11n Wi-Fi card, plus Bluetooth 4.0 and the same (optional) 4G LTE data connectivity for £100 extra. Apple claims that both devices deliver identical battery performance. Both are offered in the same choices: the same choice of black and grey, and white and silver.
The main difference? Physical attributes. The Air is 240 x 170mm, the Mini 200 x 135mm. Both are 7.5mm thick. The Mini weighs 331g, which goes up to 341g with the 4G modem on board. The Air is 469g and 478g, respectively. The new Mini is fractionally thicker than its predecessor and 23g heavier, but not so you'd notice.

As thin as the Air - but fractionally thicker than last year's model
In short, the Mini and the Air are equals in Apple's eye. Two variations on the one theme. It's saying that whichever you buy, you can do so safe in the knowledge that your preference for one size or another isn't going to have any impact on your chosen tablet's ability to do its job. Buying a smaller tablet doesn't mean trading battery runtime or processor performance for size and convenience.
Well... almost. As you'll see if you read on, there are some subtle differences between the two, although they're nothing like the gaps that existed last year.
Of course, the real challenge Apple faces is to convince new buyers that a 7.9-inch tablet with 16GB of on-board storage costing £329 is a better buy than a 7.0-inch, 16GB model that only costs £199. Especially since Google and manufacturing partner Asus have also shown that "reduced-size" tablets need be no smaller in stature than 10 inches.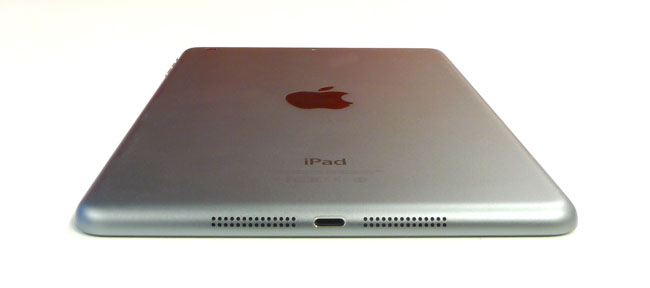 Thunder and lightning? The mini has two speakers and Apple's works-either-way-up connector
That is inevitably going to prove an ever harder sale for Apple to make as time goes by. When the iPad stood head and shoulders above all comers, its rivals were by and large cheap but low quality. That's no longer the case. The original Nexus 7 was a great product, and its 2013 successor is even better. Amazon's Kindle Fire series has likewise improved over the past two years. Its members are just as cheap as the Nexus.
If Samsung, Apple's other major-name rival in the tablet market, doesn't appear to be making the same strides as Google and Amazon, that's because it seems more focused on spreading its smartphone family up into tablet territory than on taking the fight to Apple. Not that it has let its Galaxy Tab line languish, mind.
The Mini advantage
What Apple has that other tablet-makers lack is a sense of style and luxury. The metal-backed iPad Mini, like the Air, looks and feels like a better quality product than its plastic-clad rivals. It's the reason why the iPhone 5S is outselling the slightly cheaper 5C. Punters see the steel and think they're getting more for their money, or at least they feel justified in paying extra for it.
Buyers who think themselves above such intangible considerations will scoff, of course, but we've all favoured pricier products that were not necessarily any better than cheaper alternatives. Branding makes for a powerful incentive, whether we're talking about crackers, cheese and wine, motor cars or consumer electronics products.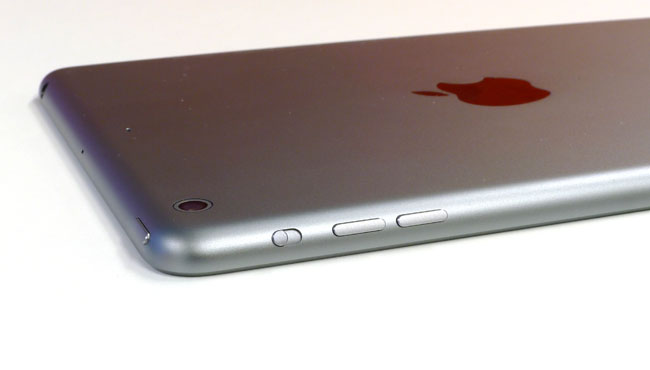 The metal buttons are all but flush with the casing
The reader who insists he or she has never bought a product on branding and in spite of a higher price is no more credible than the one who reckons he's a better driver than everyone else.
Yes, you can argue about specs. The Nexus 7 has, some might say, a quad-core processor, surely better than the two-core job in the Mini. In as much as neither device feels slow and unresponsive across a range of applications, the answer is no, it's not.
It's a given, then, that some punters will favour the iPad Mini over, say, a Nexus 7. It's just that the Apple product is no better than the Google one. Apart from the price, it's no worse, either.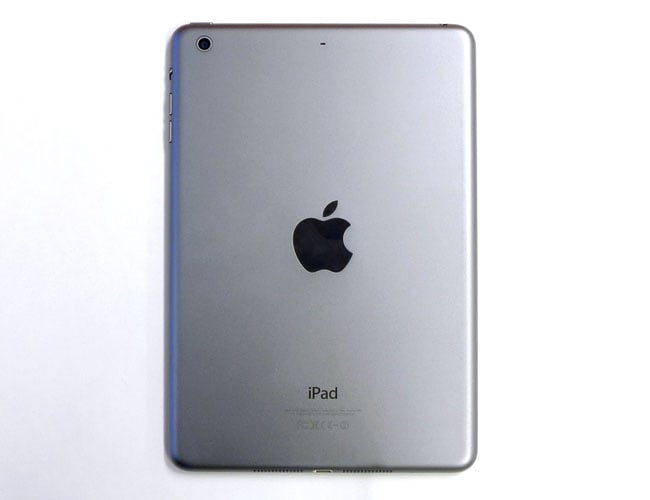 Space is not grey
Android and iOS can both claim legions of folk who prefer one over the other, and if you favour iOS, as I do, tough luck, you'll just have to get used to paying more for your tablet hardware. You won't lose out on functionality or app availability. Neither will the Android fan.
So let's say you do splash out for a new iPad Mini. What your money will get you is a very nippy operator that's comfortable to hold and use. The Mini is sized for being held in one hand while you read a book or magazine, or watch a film or TV show, and hold a mug of tea, bottle of beer or a glass of wine in the other.
The new Mini retains the design of its predecessor, so you've got the same, separate volume controls on the side next to the switch that defaults to ringer volume but can easily be set to stop the screen from auto-rotating.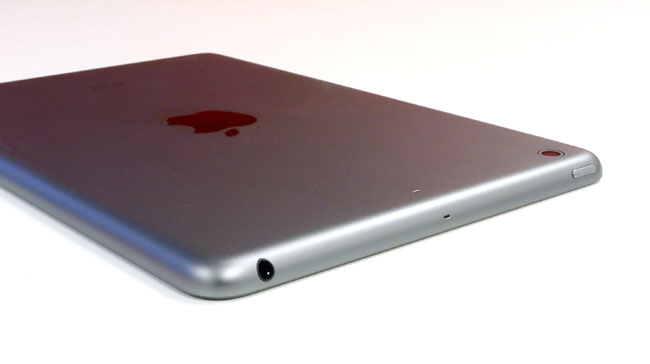 The top and back now sport two mics: one for recording, the other for noise reduction
The Mini appears to have two speakers behind the two grilles on its bottom edge rather than the one speaker sported by the original. It makes the Mini perhaps a little louder, but it doesn't separate stereo channels worth a damn.
There's now a second mic too, on the back of the tablet, to help tune out environmental noise during recording. The other microphone is on the top.
The screen is the real star, of course, since it's the thing that most clearly marks the new Mini out from the old. The smaller size yields a better pixel density than the Air, which gives the Mini's panel the edge on clarity. Apple's "Retina" resolution makes for highly readable text, even at small sizes, and pictures come across as very detailed, even when you're looking at video scaled up from 720p or 1080p HD.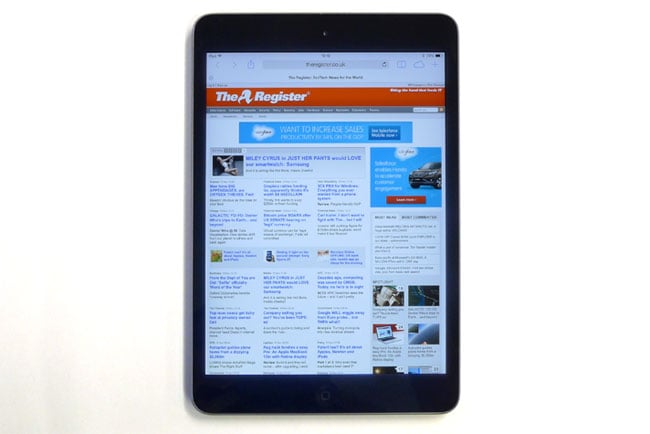 The 4:3 ratio screen may not be ideal for widescreen films, but it's great for every other kind of content
Websites which go to excessive extremes of descriptive detail have analysed the Mini's display and found it lacks the colour reproduction range of the Air, and neither reach as far as the standard RGB gamut. Professional photographers won't like this, of course, but I can't say that it bothered me. I eyed up a wide range of pictures on websites and in e-magazines taken using the Mini's camera against those snapped with my own digital camera, and I can't say I was disappointed.
However, other screens, such as the one on the Nexus 7 and the Kindle Fire HDX, will give you a wider, sRGB colour gamut - and you won't be paying a premium to get them.
Price fighter
Some users and reviewers have rightly grumbled about image retention, the new Retina screen sometimes revealing the shadow of an earlier image. There's an online test to show this flaw, but it's worth noting that not all Mini Retina displays are affected by the problem, and it's not a permanent issue - it isn't screen burn.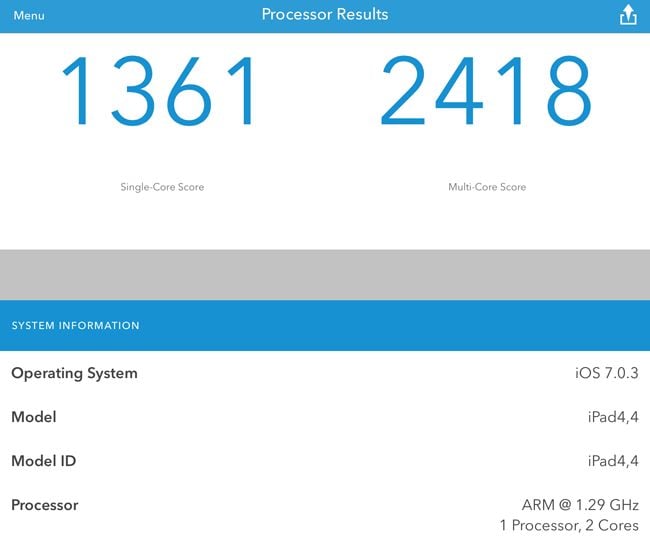 The iPad Mini 2013's Geekbench 3 score
The test has to be run for 10 minutes if its black-and-white chequerboard pattern is to remain visible when the screen is switched to a uniform grey tone. There is clearly a flaw with some Mini screens, but how many tablet users are likely to sit and view a single, static image for 10 minutes at a time? Not too many, I'd have thought.
How much of a problem this flaw is in practice, then, is open to question. I put my review sample to the test and saw no retention, but I have seen pictures of Mini Retina screens that are troubled by it. New products almost always come with this kind of early adopter penalty. Just look at the problems some PS4s appear to be suffering from now and recall the screen issues that hit some of the first Nexus 7s.
So if you're unwilling to risk it, wait until Apple's screen partners iron out the bugs in the production process.
Or buy a different product.
Apple claims the Mini's battery is good for "up to 10 hours of surfing the web on Wi‑Fi, watching video, or listening to music". The "up to" is a handy get-out clause. Playing a 1080p MP4 movie over and over until the battery gave out gave me six-and-a-half hours. Wi-Fi was on and connected, sound was output through headphones and the screen brightness set at 50 per cent.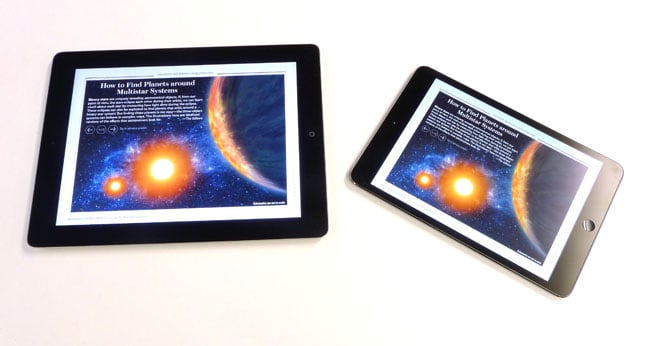 Retina, then and now: the iPad 4 and the new iPad Mini
To be fair, though, battery life in phones and tablets generally improves slightly after a couple of discharge and recharge cycles – I had simply topped it up out of the box and let it run down – so I'd expect that figure can be beaten. Still, it's not quite up there with the Air and its much larger battery.
I also found the Mini got noticeably warm during the run, though not unpleasantly so.
The Mini's camera makes a decent fist of outdoor photography, though its capabilities in low-light situations are limited by a lack of flash – not that mobile device flashes are generally up to much. The iOS 7's high-dynamic range (HDR) processing helps more.
The point is, pictures look fine on screen where their reduced size masks compression artefacts and sensor noise. View snaps on a 1:1 basis, however, and you can clearly see how limited these cameras are. But since most picture are now viewed on screen at resolutions well below 5MP at 2592 x 1936, most users will be happy with shots taken on the Mini.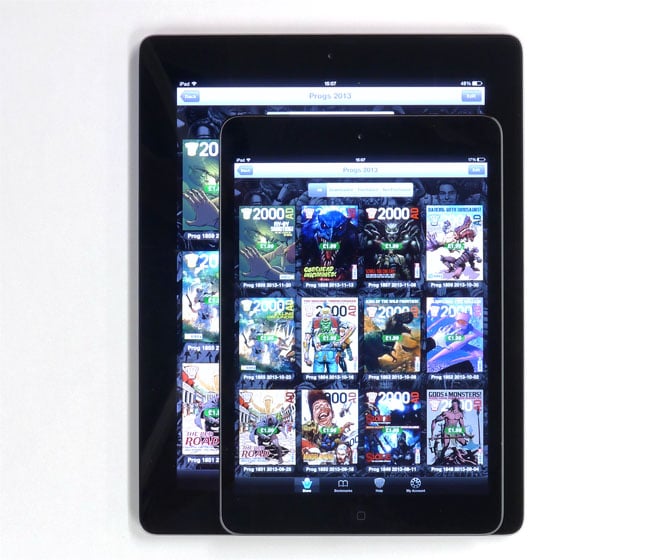 Keeping Thrill Suckers at bay - at any screen size
Finally, the Mini, like the Air, upgrades the onboard wireless connectivity with one extra antenna. It won't necessarily double your download speed unless you're pulling content off a local NAS box, but it will help the Mini deal with areas of poor reception.
The Reg Verdict
Facing the world with a proper Retina display means the new iPad Mini has overcome the key limitation of its predecessor. The fact that it has also gained internals to match those of the top-of-the-range iPad Air means it's no longer the "iPad Jr" either, but an Air in an optional, smaller form-factor.
The Mini isn't as powerful as the Air, but there's not a lot in it. But it is considerably nippier than 2012's Mini. If you held off buying a Mini because of the non-retina screen, you can pat yourself on the back for your foresight and patience, and grab one now.
Would I recommend the new Mini? To anyone already in the Apple ecosystem, yes; to OS-agnostic new buyers, no. The new iPad Mini is a very nice mid-size tablet, but I honestly can't see a reason for Joe Soap to favour one over, say, the Nexus 7, or the Kindle Fire HD or HDX if you don't mind being tied to Amazon. That's not because the Mini is an inferior product, simply because it's a much more costly one. ®
The Register would like to thank the Square Group for lending us the review sample.