Original URL: https://www.theregister.co.uk/2013/11/21/adding_photos_nokia_lumia_1520/
Lumia 1520: Our man screams into ENORMO new Nokia phondleslab
Quad-core Windows giant packs a top-notch camera
Posted in Personal Tech, 21st November 2013 11:42 GMT
Review So we're all Dom Joly now - shouting into gigantically oversized phones. Well, not everybody - but large devices have seen amazing sales increase in the 18 months, catapulting them out of the techie niche they've quietly inhabited for years.
You can say phablet, we prefer "phondleslab". Whatever they're called, these pocket-busters are certainly an acquired taste. You're really need to want one, and be prepared to put up with the physical demands, to get the benefits.
As if to acknowledge this, Nokia has made a bit of an extra effort with its first phablet, the Lumia 1520. At 6 inches, this slab is absolutely enormous. However it's packing an excellent oversampling camera, a superb HD display, an enormous built-in battery (3200mAH) which comfortably gives you most of two days use (and longer with light use), and built-in wireless charging.
All on the souped up, quad core Qualcomm Snapdragon 800 hardware platform. The 1520 is the first Windows Phone out of the door to take advantage of this new hardware. WP bobbed along very happily with two cores, but rendering a web page is noticeably faster on this device.
This Lumia is consistent with the design of its pricier siblings - but this rather works against you, here, making it feel "slabbier" than need be. At 209g it's not actually that heavy for its size. But there's no denying that width: while the 1520 is impressively thin, it's wider than rivals from Samsung and HTC. Nokia's high end Lumia design motif of squared-off corners also make it feel more forbidding than the Tab, with its much rounder corners.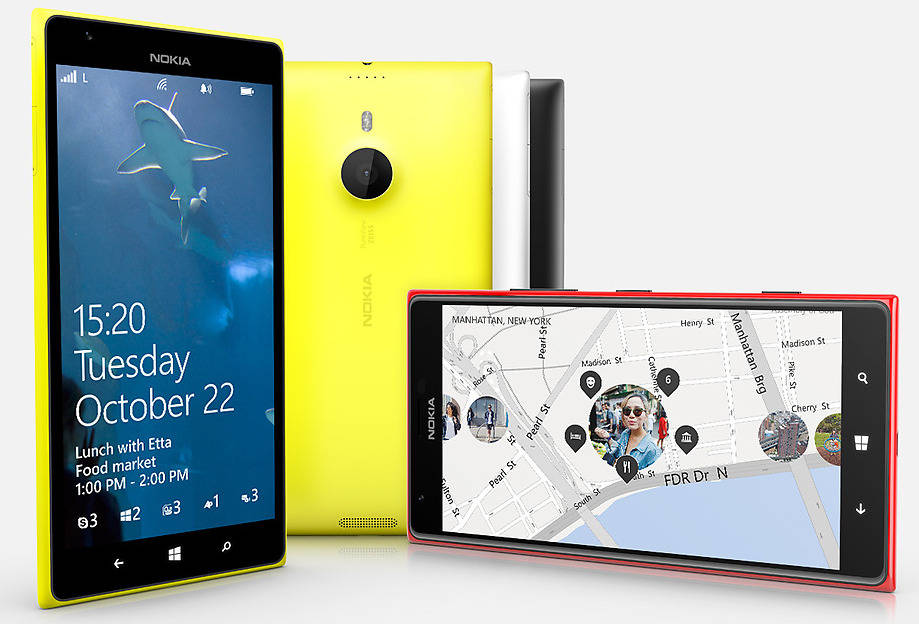 Lumia 1520 ... Check out this wide boy
That said, it feels very solid. The heft (and yellow colour) invited some ridicule during my testing period - one friend compared it to a weapon. Perhaps the designers could have been more be sympathetic to this specialised device category (and its unique physical demands) here, rather than striving for portfolio consistency. Horses for courses, and all that.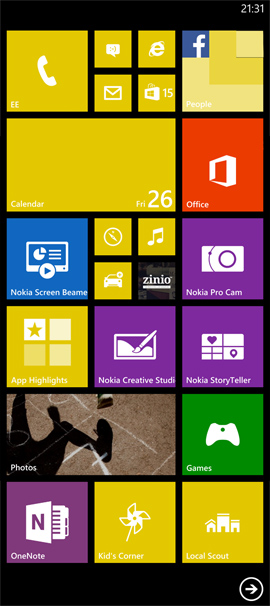 The default home screen
Where I found it most inconvenient was holding it while walking - it felt like it would slip out of my hand at any moment because it's so wide, and smooth with it. Most, if not all, phondleslabs I see are used with a case - and Nokia showed an excellent case for the 1520 at Nokia World in Abu Dhabi last month - but I didn't have the chance to test the combination. A lanyard strap would have helped. It's a Nokia tradition the company revived with the Lumia 1020, so it's a puzzling omission.
Of the Good the Bad and the Ugly, that's really it for the Ugly. I'll run through the Good and the not so Good.
Phablets are gadgets for reading, watching video, looking at photos and messaging. Thanks to the superb screen, it's a great viewing device. Netflix movies were rich and blur free. It's as good as any I've seen on a smartphone, with the bonus of being readable in very bright sunlight, and usable with gloves.
It's a phone, too
I found the call quality to be excellent, with callers remarking on the clarity and richness of the call. (The phone supports HD voice and has four microphones, but beware, it takes a nano-SIM). Nokia has thrown in a new app, Storyteller, which does little more at this stage than caption photos, and create albums by location.
The Beamer app, a nifty sharing application that can display your images on a PC or TV, is also bundled. And the Nokia Camera has been improved, bringing a little order to the chaotic and confusing range of Nokia camera apps. This is the essentially the Camera app that was introduced with the Lumia 1020, with the addition of a simpler interface, while still providing access to several settings like ISO, exposure time and colour balance.
The camera is indeed something special - a cut down 20MP version of the 41MP oversampling sensor unit found in the current Lumia 1020. The pictures aren't quite as good, with the oversampling magic offering you 2x lossless zoom, rather than 3x lossless as with its bigger brother. But it's hard to imagine anyone being disappointed with the results, which are very good indeed.
Thanks to the Optical Image Stabilisation (OIS), low light photography was outstanding, provided you have a very steady hand and the subject isn't moving. The advantage here over the 1020 is that shot-to-shot time is a couple of seconds, rather than the four seconds on the 1020. I also found the colours to be not quite so super-saturated as the 1020 as you can see from the daylight fruit shot below.
Nokia now supports capture and export of the photos in uncompressed RAW image format (DNG format) in its Lumias for the first time. These weigh in at over 20MB a time, you may find the compressed 6MB original to be sufficient. Either way, the camera makes a 5MP available for instant sharing.
The OIS was largely created to improve movie capture, and it does a great job reducing handheld shake. OIS is no longer unique to Nokia's smartphones, HTC and LG have announced units and Samsung says it will include it in models to be released next year. All in all, the sensor and OIS are a strong draw.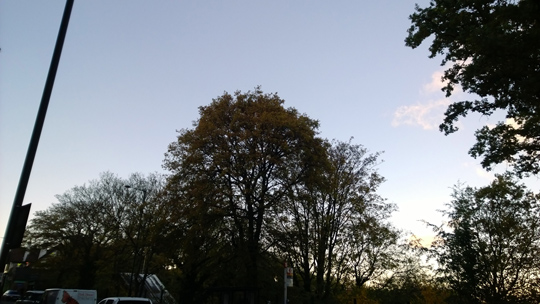 A challenging shot at dusk, but the Lumia captures a reasonable amount of detail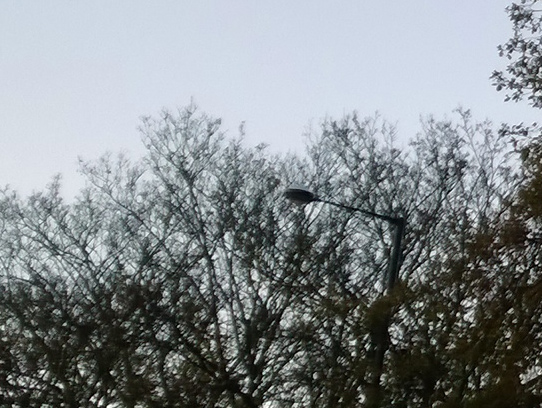 A portion of the photograph above.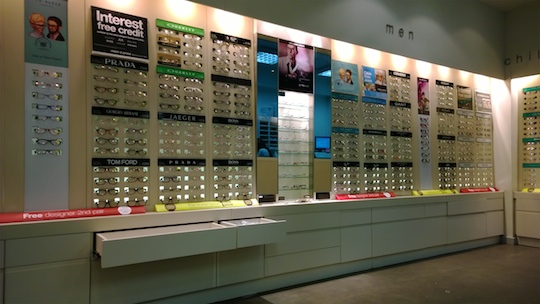 Indoor shot in poor light. Click for larger version (50pc of original size)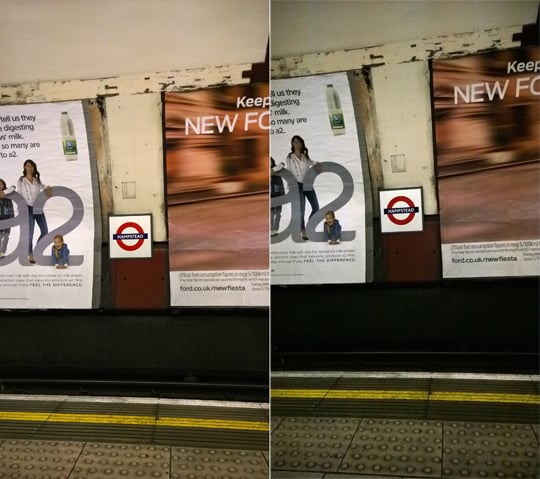 Down In The Tube Station at Tea Time
Left: ISO 2500, exposure: 1/60; Right: ISO 800, exp: 1/18
Click to enlarge at 50pc actual size.
Scenic beauty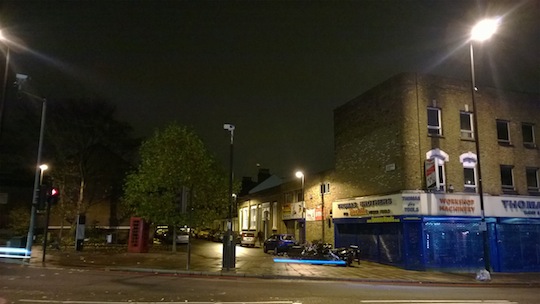 Night time street scene: the 1520 makes a decent stab at capturing the detail and tonal range.
Note the mysterious blue flash. Click for 50pc size image.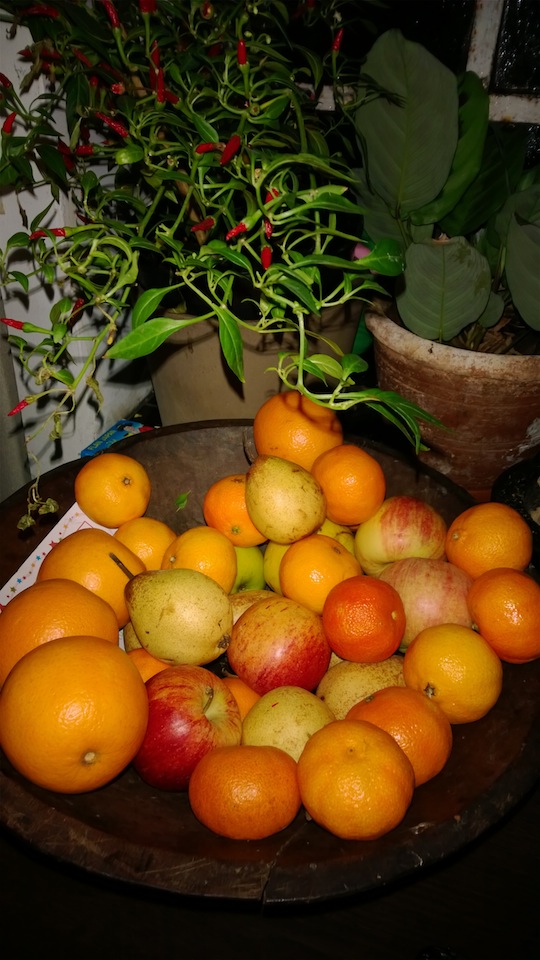 Night time close up using flash. Click for the full size 5376 x 3024 image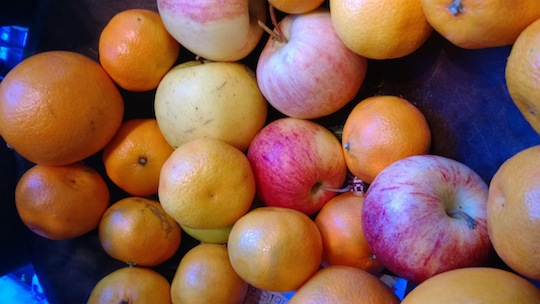 Daytime close up. Click for larger version (50pc of original size)
Even with everything turned on, and email accounts set to push, the phone made it comfortably through a second day. It packs a 3400 mAh integrated battery. With light use it should go on even longer.
UK editions of the 1520 will have 32GB of storage, and capable of handling microSD cards of up to 64GB. Americans, beware: the AT&T edition has only 16GB onboard.
I did encounter one strange bug, and it's not specific to this Lumia, or even to Nokia phones. The 1520 refused to allow me to either create a new Microsoft account, or access a valid Microsoft account. Without one you can't use Facebook or Twitter out of the box, or download any third party apps. It transpired that during setup, the date remained at the factory default, of July 2013. But the error Microsoft's servers returned didn't hint at the cause, and merely invited me to try again later. Once the date was reset manually, I was able to login as normal. It's not a bug that should be there at all, but the lack of an accurate diagnosis from Microsoft will trip up even experienced users, as it did me.
I won't take your time describing Windows Phone. This is the ninth Lumia I've kicked around in the past year* (most recently the 1020, 625 and 925) and while Windows Phone has undergone three sets of tweaks it's barely changed.
The overall experience is better than a year ago, thanks to an app market that's gradually gathering momentum, and it's an ideal system for novices, which runs superbly on low end devices. But it's disappointing here, for a 6-inch tablet really calls for more sophisticated software. What you get is the same as before, but bigger. Yet the browser, while faster than ever and capable of stunning HD rendering, remains hampered with a maximum of six pages ("tabs", which aren't tabs) open at any time. There's no reader mode, or read later facility.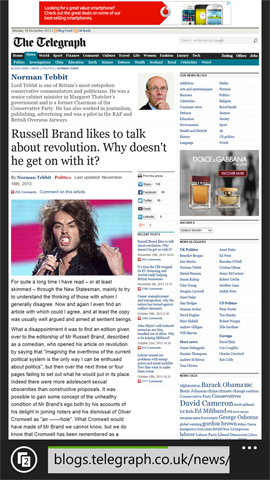 Even Norman Tebbit looks lovely on the Lumia 1520. But the browser isn't much more than a bag of bones.
The screen is so good, it is ideal for Live Tiles that act like (say) Android mail widgets, capable of revealing several email headers, or Tweets at once. Yet the Tiles are the same size as before, and can only display one email or Tweet, the most recent.
For the first time, I found the screen to look busy or cluttered - the ability to add "spacers" would be welcome. And more tweaks could have been made to scale the system for the large screen within applications, too. Have a look at the default Twitter app - just four Tweets are visible by default.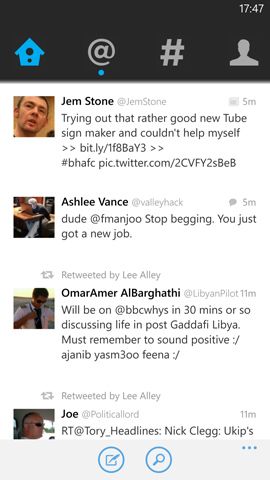 Stand back! Stand back! Twitter's opening....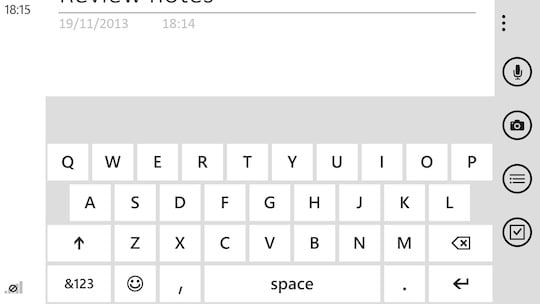 One Note running on the Lumia 1520. For some reason, it's lopsidey.
Microsoft has pushed back the next major Windows Phone update to next spring (or early summer), so you're stuck with WP 8.0 GDR 3 for now. Which isn't at all bad, but it left me the nagging feeling it could be even better. Perhaps it will be.
*Bootnote
Of all those Lumias, the 720 is my personal favourite. Since you didn't ask. But I'll tell you anyway.