Original URL: https://www.theregister.co.uk/2013/11/20/superstride_me_part_two_reg_man_attempts_to_walk_off_giant_curry/
SuperStride Me: Reg man attempts to walk off GIANT CURRY
The treadmill desk test continues
Posted in Personal Tech, 20th November 2013 06:02 GMT
Part 2 A Malaysian curry laksa is a giant bowl of prawn stock and coconut milk soup laced with spices, two types of noodles, tofu, meat and soybean sprouts. It is usually served with a big dollop of chilli.
Laksa may be delicious (and really should have become the UK's number one pub lunch years ago), but is an insane thing to eat if you're going to spend the afternoon on a treadmill.
I decided to have one for lunch anyway, as part of my ongoing test of a treadmill desk, a walk-while-you-work gadget designed to help knowledge workers exercise while working.
On day three of my test I donned shorts and a t-shirt, which meant I could walk faster and longer while staying cool.
After two days on the treadmill I also found it possible to work at 3kmph, but not comfortably because the faster my legs moved the more my head moved, which doesn't make for good typing accuracy or close reading. I'm paid to do both, so slowed down to 2kmph, a pace that felt deliberate and forced.
By lunchtime the MacOS app that tracks the treadmill reported I'd clocked up over 5,000 steps. Feeling a little stiff but energetic, I bounded out for a laksa.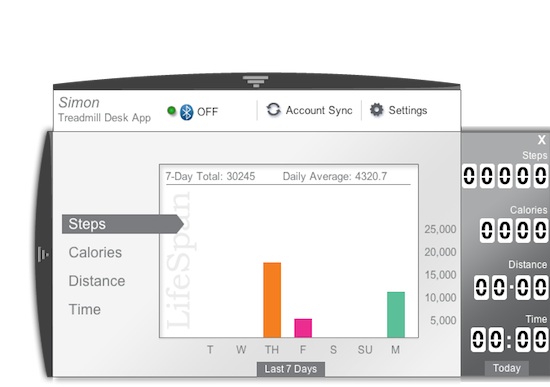 The MacOS app for the TR1200DT-7 treadmill desk
The combination of a giant soupy curry and more walking quickly produced results that, shall we say, lacked structure.
I chalked that experience one up to "lifestyle adjustment": colossal bowls of saturated-fat-saturated soup aren't compatible with anyone's exercise regime.
By day four on the treadmill I was on the run because Apple launched a few new iPhones which meant I needed to head out early to watch the fanbois preen. Then came a press lunch, before an afternoon at the treadmill.
I was footsore by the time I arrived, thanks to my "going out and being seen" shoes, but still managed a couple of thousand steps without thought at about 2.2kmph. As it was a Friday I spent the rest rest of the day on my rear end, but felt rather pleased at how strong my legs felt.
10,000 steps before lunch
By the following Monday that strength was there for all to see.
With four days of walking desk experience under my newly tightened belt (2kg lighter, thank you very much) I knocked off 10,000 steps before lunch at 2.4kmph without noticeable impact on my work.
At this point I noticed a little shin soreness and stiff ankles. My street shoes weren't designed for this and were showing signs of wear.
They got some relief after lunch when I wrote a story based on a pair of long PDFs and learned that it's just not possible to do tasks like that while walking. All that text was better read on the couch.
When I returned, the Bluetooth connection to the tracking app had dropped and some data had disappeared. Some fiddling later I realised the app wants to be told if you step away from the treadmill.
I regretted the loss of some data, but gut feel alone told me regular activity had been beneficial. I'd knocked out 13,000 or so steps without much hassle on day five, feel lighter and more energetic. I now wanted to walk at work, so felt a bit miffed when my last day of treadmill action kicked off with a visit to Microsoft that kept me away from the walking desk until 11am.
By noon I'd reached 3,000 steps and felt comfortable and virtuous, if rather footsore. My knees and ankles had a dull ache that wasn't going away.
Yet I was more than a little sad when the delivery chaps came to take the treadmill desk away.
The prospect of sitting down for the rest of the day seemed most unappealing. Missing out on movement was a bleak prospect so I quickly devised a longer-than-usual route to the train station as compensation and realised I was hooked on walking at work.
The Video Verdict
Over the course of the week I came to enjoy the opportunity to walk at work, but I also concluded I did not want a treadmill desk.
But The Reg should buy one everyone can share.
I say that because spending all day on a treadmill desk isn't easy without the right clothes. The hassle isn't as big as the cycling-to-work-with-a-change-of-clothes-and-showering-on-site hassle, but is a hassle. The desk is also big and a little untidy. The worst black mark is that I did not feel it is possible to do all your work while walking: Neal Stephenson may be able to crank out novels from his walking desk, but I struggled to concentrate on dense documents.
It's therefore not a great environment for a day's work. But for an hour or two of work it is spot on. If Vulture Central or any other workplace were to acquire a treadmill desk and suggest workers book it for the occasional hour, that should work very well indeed.
Were we in the market for a treadmill desk, the TR1200DT-7 I tested seems hard to go past. It's quiet, well-designed and pleasant to use.
Software is its weak point. Plenty of exercise-tracking apps have gathered big followings and allow their users to keep long-term exercise histories, observe friends' efforts and indulge in informal competitions. The TR1200DT-7's simple software offers none of that and is therefore off the pace. Were it upgraded, we can imagine office competitions would make a shared treadmill desk a useful addition to the workplace on several levels.
Without an upgrade, the TR1200DT-7 remains a very fine piece of kit that could literally be life-changing. What's not to like? ®