Original URL: https://www.theregister.co.uk/2013/11/20/doctor_who_animal_companions_k9/
Hot digital dog: A man's best friend is still his... K-9
Robots are evolving, but can they yet match the Doctor's mechanical mutt?
Posted in Science, 20th November 2013 16:00 GMT
Doctor Who @ 50 No robot in TV history has enjoyed such renown as K-9, the loyal robotic mutt who was the Fourth Doctor's companion for a chunk of the late 1970s and early 1980s.
K-9 provided nit-picky comments and generally useless bits of information while serving as a foil for a rather ebullient doctor on their travels. It was so popular there was a massive campaign to keep him on the show when producers planned to drop the character. And the digital doggie earned not one but two spin-offs: K-9 and Company and K-9.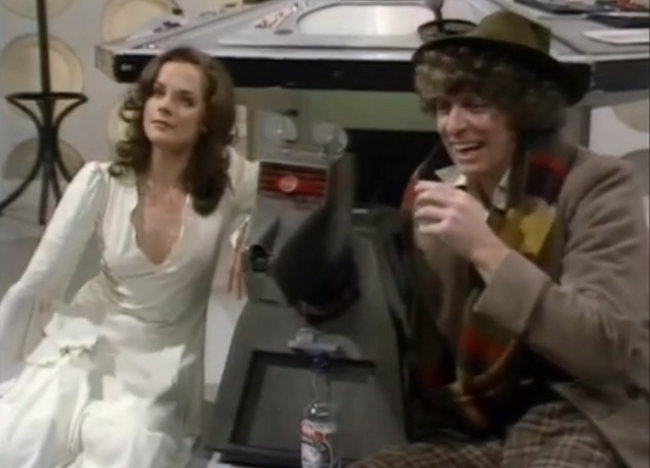 Now that's what I call a companion: kicking back with K-9
Source: BBC
What made K-9 such a clever invention was the creator's take on one of the oldest relationships in history: a dog and its master, friend and companion. A talking computer from the year 5000, K-9 also emulated biological dogs' well-recorded characteristics of powerful eyes and hearing with a telescopic eye probe and rotating ear sensors. K-9 also packed a laser in his nose, proving this dog's bite was considerably worse than his rather high-pitched, pedantic bark.
Yet, even K-9's fans would admit their beloved robot was a tad clunky. It was a vision of what the show's creators in the 1970s, working on a low BBC budget and without CGI, thought the future of animal companions would look like. Until the introduction of K-9's ability to fly, the Doctor's canine companion was second only to the Daleks in his inability to cope with any random step or set of stairs thrown across his path. He too got around using a set of wheels.
Fast forward to 2013 and robotic companions have evolved considerably in the past 30-odd years, right?
Robots at home and work
Robots are certainly more widespread today than they were in K-9's time: from manufacturing to the home, systems are building products, cleaning our homes and driving our cars. Never have they been easier to purchase or use.
But while the robots are technologically complex and offer a wider range of features, they haven't evolved to that level of camaraderie K-9 had, let alone his wicked sense of humour or encyclopaedic mind.
Even in his poor mechanical state, K-9 elicited qualities of a true friend that trump those of perhaps one of his best facsimiles to date — the Sony Aibo, a robotic dog companion-cum-toy introduced by the company in 1999 but discontinued seven years later.
Aibo was one of the earliest examples of robotic artificial intelligence in a consumer product, simulating many canine characteristics. But Aibo didn't cut it as a K9-style companion.
"Yes, Aibo wags his tail, twitches his ears, gives a little sideways look — but it doesn't do it in relation to you," says Nic Hewitt, head of creative marketing for JustSearch and who also co-runs a Doctor Who podcast called The Dirty Whoers. "He's not a companion. That's the difference with what our vision of robots are. They should be companions — a part of our lives and not an accessory to our lives. I don't think we have that now with anything."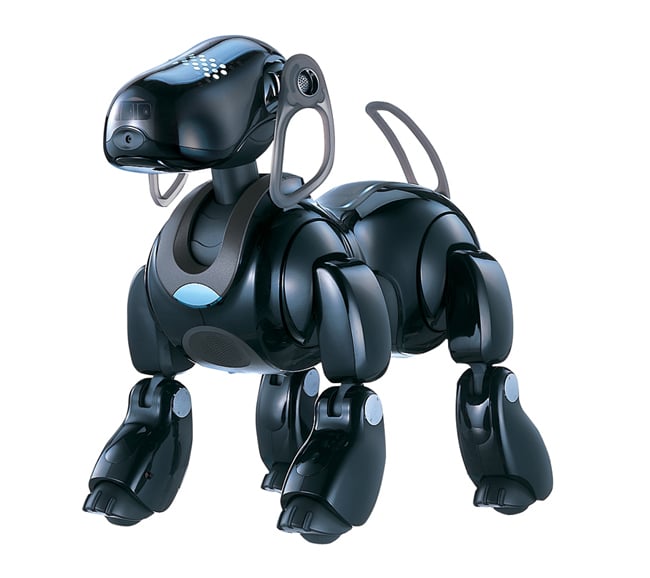 Sony's dead digital dog, Aibo
Hewitt's sentiment is mostly true, but robot fans and futurologists take heart: scientists are still trying to crack the nut of robotic companions. And there are two schools of thought at work.
In one group, researchers are using animals as models for robots, borrowing their movements, behaviour and physique. The second group of boffins are trying to create companion robots for both the home and the workplace that can live and work alongside humans, providing help where help is needed in tasks that robots can do better than their flesh-and-blood counterparts. In this group, people rather than animals are the model.
While Aibo provided a robotic pet for the home, there now is a bigger and more complex robotic dog that's been designed for the military that may still not yet have K-9's charm but can do a lot more heavy lifting — literally.
US robotics firm Boston Dynamics — working with the Defense Advanced Research Projects Agency (DARPA) — has created BigDog, a four-legged robot that, at about a metre in height and length and weighing in at about 108kg, is roughly the size of a large mechanical bull.
Animal inspiration
Rather than an amusement for patrons of cowboy bars, the robot is meant to be a companion for soldiers in the field as a Sherpa of sorts, lugging gear across difficult terrain to relieve grunts of the burden of schlepping so much weight on their backs, says Marc Raibert, Boston Dynamics' Chief Technology Officer.
DARPA and Boston Dynamics began designing BigDog - which recently morphed into its second iteration, AlphaDog - several years ago, inspired by the idea of creating something mechanical that, unlike a military vehicle, could traverse land that is typically only accessible to humans or animals walking on foot.
Dogs, like goats and mules, are good models for these types of robots because of their excellent mobility and strength, Raibert says. "A key goal of our work is to build vehicles that can go anywhere a person or animal can go."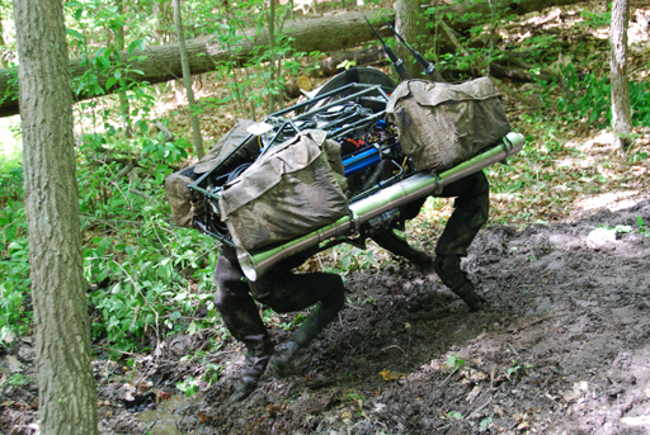 BigDog: DARPA's take on K9 is functional but not so cuddly
"Such systems could be useful to anyone working outdoors by providing a mechanised means of carrying loads in rough terrain. Right now, firefighters, emergency response personnel and soldiers are limited to what they can carry on the backs, with no means of using mechanised transport in any but the most benign terrain."
BigDog, like his animal counterparts, can even take commands from a master - in this case, a solider, and will stay alongside him in the field, much like a pet dog walks alongside his human master. This and other types of canine movement also make dogs good models for robots, Raibert says.
"The reason we study animals when designing robots is that they have mobility, agility and dexterity using their legs and arms that far outstrips what existing robots can do," he adds.
"So we hope to use animal methods to make robots better. One aspect of the animal methods, in addition to using legs for locomotion and arms for manipulation, is their reliance on dynamic balance and controls is an integral part of their behaviour."
BigDog is powered by a one-cylinder, two-stroke engine capable of running at 15 horsepower. On-board systems comprise the QNX real-time operating system running on a Pentium-class CPU with software written in C++, all of which runs controls, sensors, systems for data collection, communications and power distribution.
Walking the dog
To control the robotic beast, a human operator uses a control unit that communicates over 900MHz radio with the robot. This provides high-level steering and speed input and also allows the operator to tell the robot to start or stop its engine, as well as perform a variety of movements, such as standing up, squatting down, walking, trotting or jogging. However, BigDog's onboard control system operates the robot's legs, providing stability on rough terrain as well as reflex responses to external disturbances.
Boston Dynamics is currently field testing BigDog's successor, the LS3, to expand the types of terrain it can travel as well as improve its performance and simplify its design. Unlike BigDog, the LS3 won't need a human operator — it will use computer vision and terrain sensing as well as GPS to navigate terrain.
DARPA also recently expanded Boston Dynamics' contract for LS3 to add even more hi-tech features to make the robot bulletproof and as silent as possible, perhaps envisioning the robot's use on stealth missions. As it is, neither BigDog nor LS3 has seen combat, although DARPA is testing LS3 with the US Marine Corp.
As for when the robot might make it to the battlefield, DARPA told The Reg it "does not make determinations regarding operational use of technology".
Dogs aren't the only animals robotics engineers are using as models for robots. Animals and insects as diverse as snakes, spiders, worms, jellyfish and honeybees have been inspiration for robotic designs.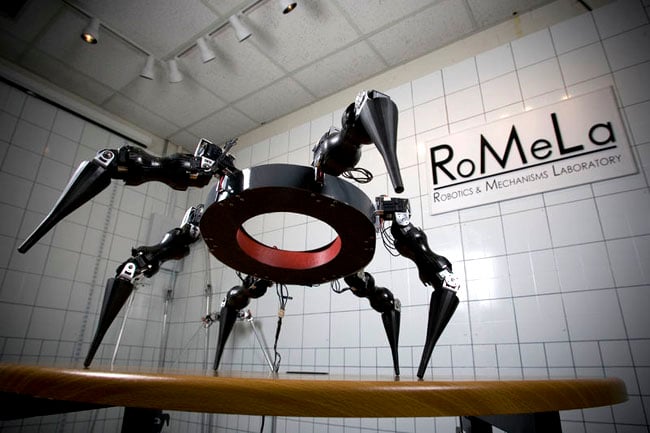 RoMeLa's MARS
Take the Multi-Appendage Robotic System (MARS) from Virginia Tech's Robotics & Mechanisms Laboratory. A fearsome-looking creature made of carbon fibre and aluminium, it resembles a giant arachnid but with six legs instead of eight.
The idea behind MARS was a beast that could operate in space, walking and working in zero-gravity conditions on the ISS and future spacecraft to perform maintenance. To achieve this, an algorithm was needed that could handle all six limbs in different terrain. The last known video of MARS dates from 2007, though, and there's been no updates since and the team declined to respond to our repeated attempts to get in touch.
Your plastic pal who's fun to be with
Animals might the muse for those working on worker robots but they haven't yet served as the dominant model for a robotic companion - one of K-9's important functions. Machines in this are more human like.
Take, for instance, the Toyota Human Support Robot (HSR) prototype, introduced and demonstrated in September 2012. The HSR is a one-armed robot that is meant to lend people a helping hand at home — literally. It has three basic operation modes allowing it to retrieve objects on the floor, on placed on shelves or other high locations, or open curtains using a single, 77cm folding arm.
The arm features a gripper for the grabbing part while a series of algorithms allow HSR to understand the size and shape of objects, allowing for proper extension of the arm and grip, while sensors are used to let HSR safely navigate around its surroundings.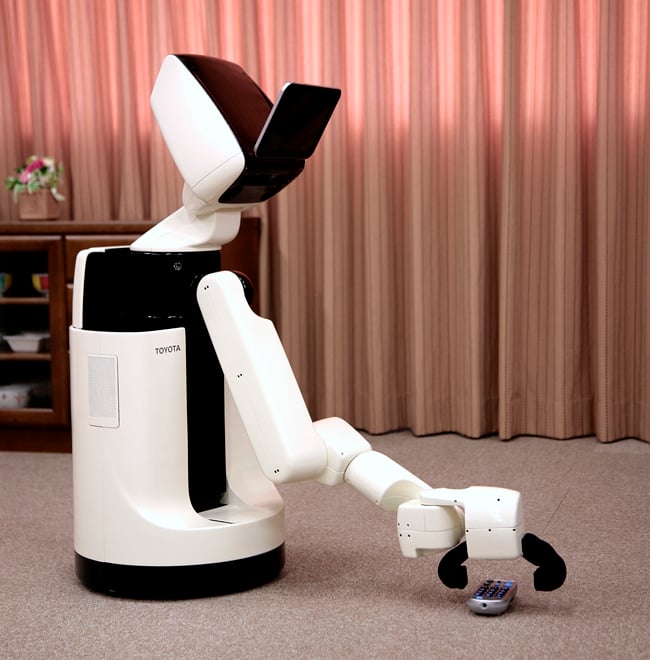 "Robot, pick up my phone." Toyota's Human Support Robot in action
The HSR is controlled with voice commands or by tapping instructions on a touchscreen which can be mounted on the robot's head. It can even double as an interface for talking to people using Skype.
HSR was built on the open source Robot Operating System (ROS) from the Open Source Robotics Foundation — specifically, ROS Fuerte — as well as a number of other software packages from the ROS project. ROS provides libraries and tools, device drivers, hardware abstraction and package management and supports Ubuntu on Intel, with other operating systems and architectures, including ARM, offered unofficially.
Alas, HSR is still awaiting commercial adoption. Toyota told us it hasn't been working with any nursing of healthcare facilities and there are no customers. "The robot has not been commercialised," a Toyota spokesperson admitted.
Silly old Hector?
Hector from the CompanionAble is similar to HSR. Hector is designed to help elderly or disabled people keep track of their daily lives, helping them remember to take medications or to accomplish tasks around the home. It can even answer phone calls for them.
The product of a four-year project coordinated by the University of Reading, Hector responds to voice commands, connects people virtually via videoconference or mobile calls, and is controlled by a tablet. Hector is also powered by ROS.
How do the humans themselves feel about having a machine as a companion? Professor Atta Badii, a Professor of Systems Engineering and Digital Innovation, and Chair of the International Companion Robotics Institute at the University of Reading's School of Systems Engineering, said the project encountered three types of human users during trials in Belgium, Spain, the Netherlands and France.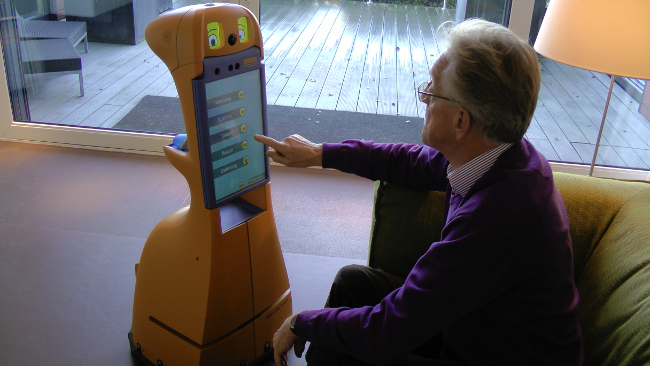 Hector won over skeptics for his domestic capabilities if not his personality
One was "sold on the idea" before encountering the robot, the second were agnostic about Hector and had no opinion, but the third group were quite skeptical. "People who were against it were like devil's advocates," Badii says. "They would say things like, 'Oh, what can a robot do for me exactly'?" The enthusiasm of those who were receptive to the idea grew after testing the robot, Badii said.
"Some folk who were very much for it started to become co-designers; they started to contribute to the design of the thing and say to us, 'If I were you, I would add this and this'," he says.
Most surprising, though, was those who were initially against the idea of the robot later developed an affection for it after spending time with it in their homes. Some users even became quite emotionally attached to the machine, Badii says. "Most of these people started to form an affection towards Hector, a fascination with his novelty," he adds. "They began to feel that they wouldn't mind having one of these around the house."
But not everyone warmed to Hector, Badii admits. Some of those who were agnostic about the robot in the end "didn't really click with it".
But can you trust 'em?
Hector has at least seen more success than HSR. Several Hectors are now being used in Germany in elderly care facilities where people live in their own flats. The robot is used for a number of in-home services.
A German company, Metrolab, is building a commercial version of Hector at an as-yet-undetermined price point but one that would be affordable for ordinary people to purchase, Badii says. The robotic software platform for Hector also has been sold to a number of companies who are developing their own companion robots using the software as a base, though none are in use yet, he says.
Even if Hector comes close to providing a feeling of companionship that K-9 provided for its human friends, two of K-9's most charming attributes — his sense of humour and ability to relate informally — are something missing from all contemporary robots, even Hector.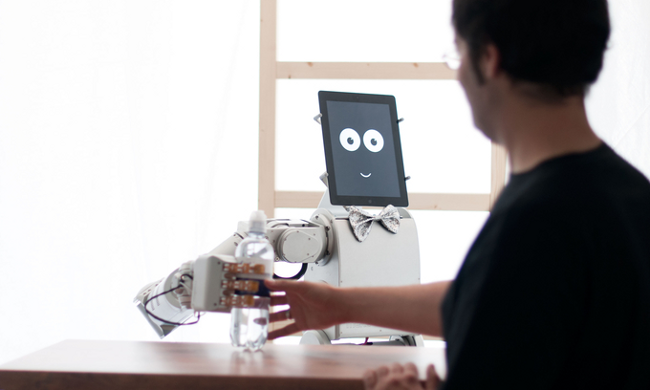 James will serve you a drink, but can it tell when you've had one too many?
However, one group of scientists has been trying to bridge this gap with a bar-tending 'bot called James – Joint Action for Multimodal Embodied Social Systems.
James is the work of the Munich Research and Transfer Institute for Software Intensive Systems in collaboration with other research institutions in Germany, the UK and Greece.
The notion is that James would go beyond simply serving humans with drinks by interacting with them - a kind of digital Ted Danson. James' systems use the BSD-licensed Robotics Library with Open Combinatory Categorical Grammar (CCG), an open-source Java language-processing library; Weka machine-learning algorithms; and the open source computer vision and machine learning software library, OpenCV.
But, as with so many 'bot companions, don't expect James to be buddying up K-9 style any time soon. The bar-tending machine hasn't been designed to be a human companion in the sense Hector is, nor to be an actual bartender, according to Manuel Giuliani, the project leader at Fortiss, a Munich-based lab. James is designed to help researchers in their development of robots that can one day interact in social situations with humans. The barroom model has been selected because of the high-level of human interaction and the opportunities afforded for learning from these interactions.
"We just chose this scenario because it's a very social scenario," Giuliani says. "We think the research we are doing here can be applied to other scenarios as well later. Every scenario in which you interact with a human is social in some way."
But can you trust 'em?
But there is a dark side to robot-human relations. Like most technology fans, those backing 'bots enthuse about the good side of their creations, but gloss over, or haven't thought about, the negatives. And by 'negative' I mean what happens when, like Cylons or the machines in I, Robot, the mechanicals turn on their masters and companions.
Such an outcome is at last being considered. The Engineering and Physical Sciences Research Council (EPSRC) in July began a £1.2m, three-year study called the Trustworthy Robotic Assistants' (TRA) project to probe just such an eventuality.
Those participating in the project include Bristol Robotics Laboratory (BRL), creator of Bert – the Bristol Elumotion Robotic Torso. Bert was built by BRL to examine the use of robots working in manufacturing alongside humans.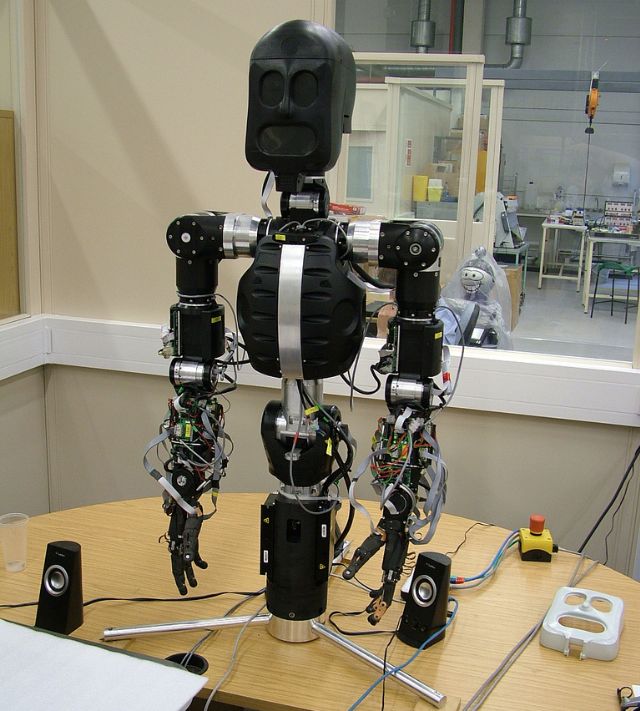 Friendly... for now: Bristol Robotics Laboratory's Bert
Bristol University's Dr Kersten Eder, the principal investigator for the TRA project at BRL, reckons robot safety assurances are an "urgent research challenge that must be addressed before many products that already exist in labs can be unlocked for mass production".
The growing presence of robot helpers means it's crucial to understand not only whether the robots make safe moves but also whether they knowingly or deliberately make unsafe moves. Humans must be confident in the robot's behaviour if human-robot teamwork is to become viable and productive, BRL reckons.
Robots have come a long way since K-9's time. Robot helpers are showing up increasingly in the home and workplace. And the inspiration for these machines are actually carbon-based life forms - animals for the heavy lifting and human for civilian life.
None, though, has bested a loveable hunk of time-traveling junk in a police box for the personality, character or trust we crave in our companions. And none, it's fair to say, will be doing so in the near future. ®