Original URL: https://www.theregister.co.uk/2013/11/15/doctor_who_viewers_by_decade/
Who's Who: a Reg quest to find the BEST DOCTOR
Matt Smith, Tom Baker or that one in Downton Abbey?
Posted in Personal Tech, 15th November 2013 23:00 GMT
Doctor Who @ 50 As befits a show about a Time Lord, Doctor Who straddles the generations like a colossus. Even if you weren't there in 1963, you picked up on the Doctor as some point during his travels.
That means a shared experience, regardless of whether you grew up under the influence of Harold Wilson or Maggie Thatcher, whether you watched in Surrey Quays, London, or Surrey Hills, Sydney.
Say the word 'Dalek' to one or more Who watchers and let the debate begin over who hid and where, the self-defeating nature of the rollers, and how a sink plunger may or may not have been the best choice of manipulatory instrument.
And, of course, nothing was as tear-jerking as that regeneration - the best bits of which have been compiled - where else? - on YouTube.
So The Reg decided to see just what Doctor Who really means to folk from a bit more than seven years of age to almost 70. We asked them to pick their favourite Doctor, ranging from the recent right back to the first.
We conducted a longitudinal, if shallow, anthropological study across the years by seeking out people of all ages and from every decade of the Who canon to understand their encounters with the Time Lord, why - or if, in some cases - the show got them hooked, and which actors made the biggest impact.
Some of those we chatted to asked not to be named, partly because their Who knowledge is embarrassingly paltry. Others asked to remain anonymous because their knowledge of the series is embarrassingly high.
Righto, Doctor-lovers, over to Who...
Nine-year-old Nellie
Nell is a bright third-grader whose rotten older brother got the Who bug and dragged her along for the ride.
Matt Smith was Nell's first Doctor and even though she's seen some David Tenant, Smith's the Who for her.
It's hard to get a nine-year-old to offer a detailed opinion, and Nell's reasons don't go much beyond "he's funny".
Pressed, she will say she thinks The Flesh – from The Rebel Flesh/The Almost People – is her favourite villain and is pretty sure she understands how the Doctor got into that space suit in the lake, and which Amy did what and when.
Daleks, she says, aren't scary at all. Not one bit.
Fourteen-year-old Patrick
Patrick came to Doctor Who in the David Tennant years, missing even Christopher Ecclestone, and feels the former can't be surpassed.
"Matt Smith is a good Doctor but not as good as David Tennant," says our 14-year-old interviewee. "Tennant is a more serious sort of Doctor. Matt Smith is a bit silly."
The teen hasn't explored the Who archive and doesn't intend to. He fears black and white episodes will be too naff as perhaps "the Daleks won't be as well made". That's an observation that tempts damning commentary of a generation's imaginative capacity, but the teen redeems himself by hoping for more Who stories set in the far future. Clearly recent emphases on Victoriana aren't enthralling the iGeneration.
The good news? Patrick still watches Who, as the show retains sufficient cachet to make viewing possible among his peer group.
Miss 24 and friends
Miss 24, one of the sales folks at Vulture South, is too young to have had a chance to watch much Who before its 2005 return, but too old to have cared when Christopher Ecclestone revived the character. Dimly aware that Who remains on air, she named Matt Smith when pressed and was aware he had recent predecessors.
That's obviously no use for this article, so we also asked a Miss 27 and a Miss 29 to name their favourite Doctors and got more or less the same reactions.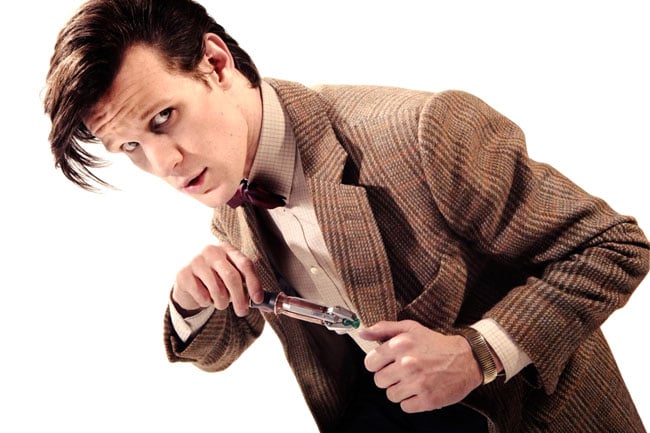 Twentysomethings were two young for Classic Who, too old to fall for New Who
Let's examine the space-time continuum and contemplate why this attitude is on show among twentysomethings. By the time of the Ecclestone revival, our twentysomethings had emerged from childhoods in which the Doctor was a mere rumour. Miss 24, for example, would have gone from the ages of 7 to 16 without any new Who on air.
Those are formative years, leading us to wonder if Who's interregnum might have created some kind of wormhole in space-time during which today's twentysomethings were never of an age to either receive Who as an imparted parental taste or discover it for themselves.
That our interviewees were not British may have 'helped' their ignorance by making it less likely they would encounter Who during the years it was off the air. Don't get us wrong: Australia is a decent, Who-loving nation, but not to the same extent as in the Doctor's most-visited terrestrial territory of the UK.
Thirtysomething Alex Kidman
We chose Alex Kidman because he is a serious Who aficionado. His website Fat Duck Tech often covers matters Gallifreyan and he has an encyclopaedic knowledge of Time Lord lore.
Alex's preferred Doctor is Patrick Troughton, as he feels the actor laid down important markers for future Doctors.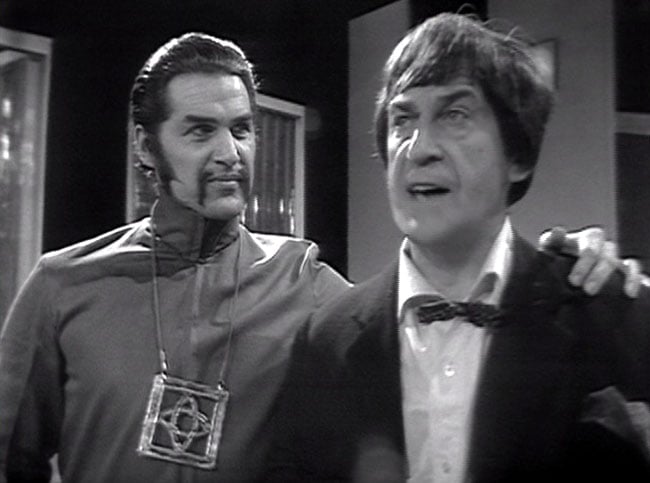 For many fans, Patrick Troughton (right) defined the character of the Doctor
"He was the first guy to take over the role over and defined how you do that," he says. "Lots of the tropes we associate with Doctor Who are Troughton's, not William Hartnell's."
Troughton also made some silk purses of sow's ears.
"Getting something like The Mind Robber out on virtually zero budget was amazing. And Power of The Daleks was the most epic story that did something different with the Daleks instead of just another Terry Nation Dalek story. Lord knows there were plenty of those."
Mister 45
The identity of Mister 45 needs to be guarded. Let's call him, ahem, Simon S and let you know he's a technology journalist.
You also need to know that as a young lad he loved two things beyond compare. One was playing cricket. The other was slipping a laundry basket over his head so he could poke a broom handle though its holes and exterminate his brother and/or the kids next door.
Once the sun went down, Simon S could be found in front of the telly watching the warm family drama of All Creatures Great and Small.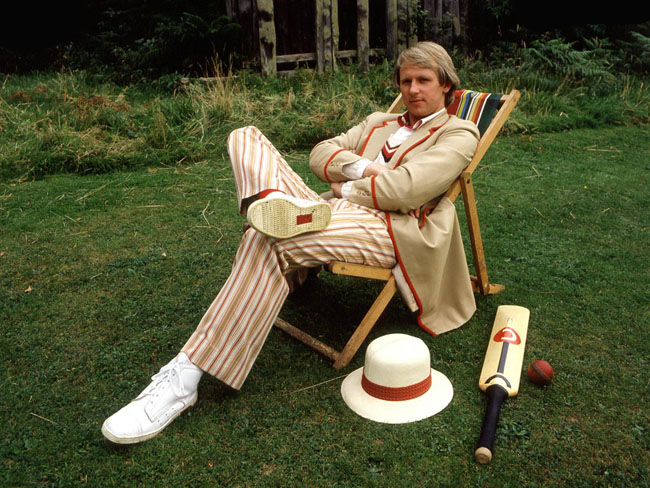 Just for you, Simon, just for you...
The young Simon S could take or leave the hands up cows' arses or the gentle romance between James Herriot and the winsome Helen. What caught his eye was the dashing Peter Davison as rebellious Tristan Farnon.
Imagine, then, the young Simon S's delight when Davison scored the gig as the Doctor, wearing creams and with cricket bat in hand!
It was as if the writers had tailor-made a Doctor just for the young lad. The prospect of cosmic cover drives were the best... thing... ever!
Never mind that Davison was lumped with the awkward Adric and the horridly stereotypical Aussie, Tegan. He was dashing. He liked cricket. He was Doctor Who.
And Mum was suddenly far more interested in the show than she'd ever been before.
Today, we can see Davison was a minor Doctor who never quite put his stamp on the character. But for Simon S, he'll always be the Doctor who conjures the best memories.
Fiftysomething super-fan, Kerrie Dougherty
Kerrie Dougherty is one of the founders of the Doctor Who Club of Australia and nominates William Hartnell, "the original and best" as her favourite Doctor.
"Partly it is the nostalgia thing," she says. "He was the one who introduced me to Doctor Who. A lot of people will tell you their first Doctor is the one they prefer. You always remember your first Doctor."
Dougherty says she likes Hartnell's "grandfatherly" qualities. "I lived with my grandparents as well as my parents and I was very close to my grandfather, so it resonated with me."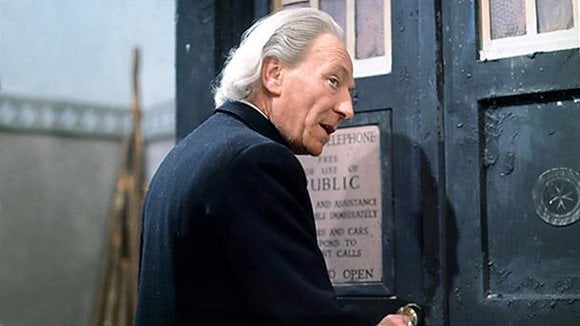 The original and still the best?
"OK, if you look at the early Hartnells, he was a bit of a cranky old man. Much more than my grandfather was. But he had that sort of family atmosphere to it. And at that time there was nothing like it. It was imaginative. It had aliens. It had all the trappings of science fiction that as a seven going on eight year old I thought were fantastic."
"Some of the stories hold up very well," Dougherty says. "That first Dalek story can still send a chill down your spine."
Gran
Feisty grandmother Ms 60 has just retired and has heard a lot of Doctor Who: it was often on in the lounge room when she was busy in other parts of the house. She's therefore aware of the show and its key elements, without being a follower, never mind a fan.
Here's how our interview with her panned out:
Reg Who's your favourite Doctor?
Mrs 60 Tom... somebody. He was nice.
Reg Tom Baker?
Mrs 60 Yes. That was him. He had a real twinkle in his eye that I liked.
Reg Do you remember any other Doctors?
Mrs 60 Not really.
Reg Have you watched it lately?
Mrs 60 It's back on? I had no idea.
Reg So you couldn't name one of the recent Doctors?
Mrs 60 Was one of them in Downton Abbey? ®