Original URL: https://www.theregister.co.uk/2013/11/14/look_at_how_many_ways_we_ruin_your_life_redmond_boasts/
Look at how many ways we ruin your life, Redmond boasts
Home is where the boss follows you into the bathroom
Posted in Networks, 14th November 2013 06:42 GMT
Just in time for the end-of-year break, Microsoft has reminded people – and more importantly, their employers – just how easy it is for mobile computing to completely ruin anything approaching a normal life.
A week after Redmond's Australian outpost "suggested" that staff avoid the office for a day (the second of its "Day Out" promotions), an initiative that went global, Microsoft has gathered a bunch of global factoids under the heading "Get it Done" which, complete with infographics, illustrate the wonderful flexibility that Office365 gives people.
So here are some of the most life-destroying statistics you'll ever see, complete with Vulture South's commentary.
19 per cent of people have worked while going to the bathroom (they're too scared to interrupt the boss' never-ending sentences to say "I'll call you back");
20 per cent of parents have worked while at a child's event or activity (because once you've seen one birthday candle blown out, you've seen them all);
27 per cent of people work while eating out (because tax deductibility is the second-most important characteristic of any date);
47 per cent have worked while on vacation (either they or their employers have an inadequate grasp of the definition of "vacation". Hint: "if you call me about work on December 25, I will hang up").
In case there are still subversives who manage to extract ninety seconds or so out of the eye of their employer, Microsoft has cheerfully stated that it's working to improve its products to "help even more people be productive".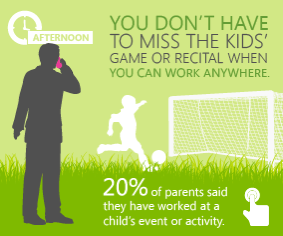 You say "distracted, work-obsessed, uncaring parent"
like it's a bad thing.
Many of the characteristics of today's working life were encapsulated in 1994 in the AT&T advertisement below, which ends with someone walking towards the ocean. The ad doesn't show them returning from the water; we know know why. ®