Original URL: https://www.theregister.co.uk/2013/11/14/google_sends_cookie_monster_to_europe_to_devour_your_drives/
Om-nom-nom-nom! Google's Cookie Monster DEVOURS MORE DRIVES
Marches across world, roaring: 'C is for cloud, that's good enough for me'
Posted in Cloud, 14th November 2013 20:50 GMT
Pic Google is exporting its data import service beyond US borders, giving sysadmins an easier way to upload large amounts of information into the company's infrastructure cloud.
Announced today, the hard-disk-slurping service will now operate out of centers in Switzerland, Japan, and India. With the launch, Google has taken a lead on Microsoft whose drive-gobbling feature remains bound to the US, and caught up with Amazon which pioneered the method many years ago.
Data wranglers can send Google EncFS-encrypted 2.5- or 3.5-inch HDDs or SSDs via mail carrier. The ad-slinger will then plug the devices into its machines and upload the data to an online storage bucket from a fast connection, thus cutting the time it takes to get info into the Google cloud.
The Disk Import capability costs $80 per disk, "irrespective of the drive capacity, data size, your designated bucket location, or the disk-upload center location," the company wrote on Thursday.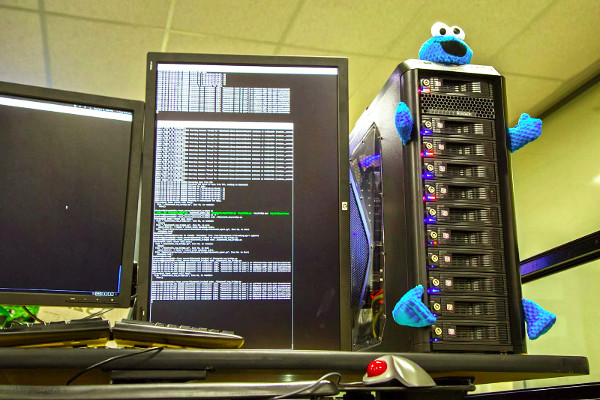 Google's OmNomNom machine thinks C stands for Cloud, not Cookie
But lurking in the announcement was a revelation: Google has dressed its bit-chomping machines up as a familiar-looking fluffy blue monster, and even called it "OmNomNom". It calls to mind the slothenly Sesame Street character known as the Cookie Monster, whose only goal in life is the pursuit and subsequent devouring of piles and piles of cookies.
The content munchers at Google clearly felt a sort of kinship with this probably diabetic creature, and modeled their disk import machines after it.
"Although it's technically challenging, the system we built for rapidly ingesting and processing these large data sources has a playful name. We call it OmNomNom," the company wrote. "Rapidly ingesting and processing large data sets and making them usefully available is a bit more complex than gobbling down a cookie."
We here at El Reg's floating cloud bureau bridle at the defamatory claims the Chocolate Factory is making against our beloved cookie monster, and note that Google's legendary free snacks mean that its entire service likely runs on delicious cookies. And your browser cookies. ®