Original URL: https://www.theregister.co.uk/2013/11/13/review_ricoh_theta_360_degree_camera/
Ricoh Theta 360˚ camera: Point and click immersive imaging
Your world in a digitally enhanced bubble
Posted in Personal Tech, 13th November 2013 10:43 GMT
Review The Ricoh Theta is yet another excursion of photographic fun intended to deliver an immersive environment, on-line, on the move or on the desktop. It's been tried before – remember iPIX anyone? That idea – which in the mid-1990s became a hit among high class estate agents – is still going, and still pricey, stitching two fisheye lens images together to form one seamless 360-degree view.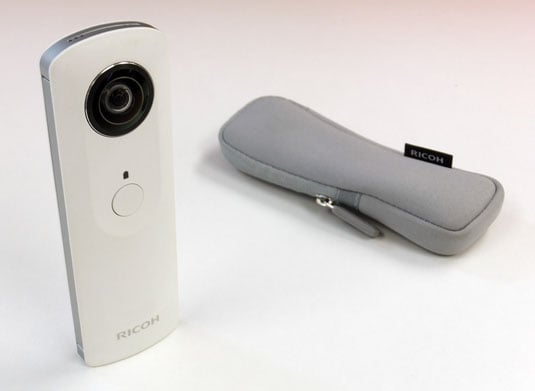 Ricoh's Theta: Making the case for immersive photography
For 360-degree imaging, the alternative typically required quite a bit of painstaking effort involving multiple images and some photo stitching software. Apple's QuickTime Cubic VR technology supported scene weaving this way and featured iPIX compatibility too. Where the Ricoh Theta differs, is that by having two hemispherical lenses, it takes two 180˚ images, combines them in-camera and hey presto, you've got a globe of visual goodness to play with.
There's good news and bad news here, though. Depending on where you sit on the photography fence, the good news is it's dead simple to use. Turn it on, hold it aloft and press the button on the front and listen for the soft whistle and you've taken a snap.
Great, so what does it look like? There's no viewfinder and the good bad (delete according to degree of modernity) news here is you'll need an iPod, iPhone or iPad running iOS 6 or higher.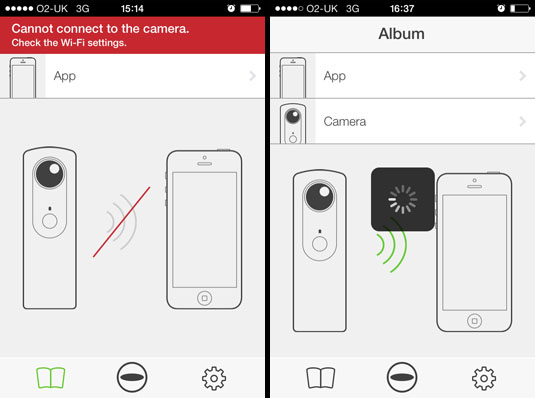 The Wi-Fi is accessed from the usual settings menu, but the connection takes a moment to establish
The iOS device performs several functions, though. One of these4 is to act as a remote control for the Theta, as the camera also features its own Wi-Fi access point to communicate with your iDevice. So not only can you hide behind the bushes as you snap a glorious autumnal scene in the gardens of your stately home, but in a matter of seconds a low-res copy of your shot is sent to the iDevice. That's the absent viewfinder side of things taken care of – and the fun's only just started.
The iPhone will supply GPS data to the Theta so each image gets a location tag; the data flow is a bit of a two-way street. The iOS app allows you to interact with the spherical images, each appearing as a globe thumbnail. Click on one and you can pinch-zoom out to turn the view into a mini planet that you can twirl around. If you get in close for detail and start panning, you might find it all a bit on the mushy side, the image being lower-res than those stored in the actual camera.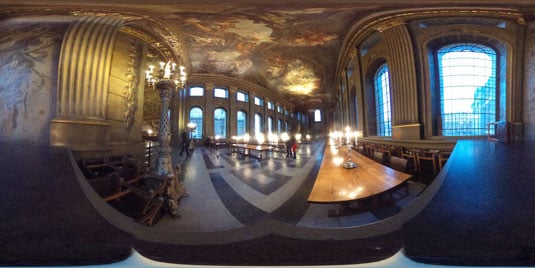 Theta camera image viewed flat without processing
The Theta has around 4GB of internal storage, enough for 1,200 images and features a lithium-ion rechargeable battery that's good for 200 shots. There's a micro USB 2.0 port in the base for charging and image transfer. With the latter, it'll pop-up in iPhoto ready to import some very strangely distorted images when viewed 'flat'. At full-res this measures up at 3584 x 1792 pixels making it a 6.4Mp image; the lower res app view pics are 2048 x 1024 pixels (2.1Mp).
So much for sharing...
Oh, and if you're wondering upon the usefulness of importing these morphed images, Ricoh has a desktop app for Mac and PC. Annoyingly, it does rely on Adobe Air. Beyond the desktop is another annoyance; the Ricoh Theta 360 image sharing website requires a Facebook login to enable users to showcase their snaps on their dedicated area of the site.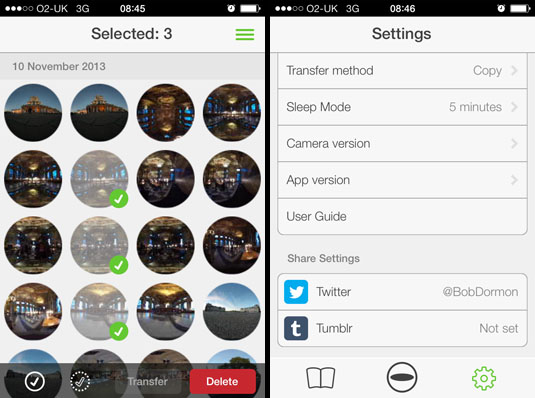 Selecting images can be a rather limited experience. Unless you're logged into Facebook, sharing options do not function
You can't even Tweet or add the pics to Tumblr even though these functions are available within the iOS app, because the Facebook login is a prerequisite. I'm not keen on Facebook – my reasons are probably the same as most who sidestep this social networking offering – so I'll not bore you with all that here. If you want to view how this all works online, at the foot of the Theta page you'll find plenty of examples.
There is an alternative which is a bit more involved, but you can always share the unprocessed images with a select few and have these intended viewers download the Ricoh desktop app. At 2.3MB, it's smaller than most of the images and you could easily include the installer alongside the images you send, although there's probably something in the fine print telling you that that's naughty.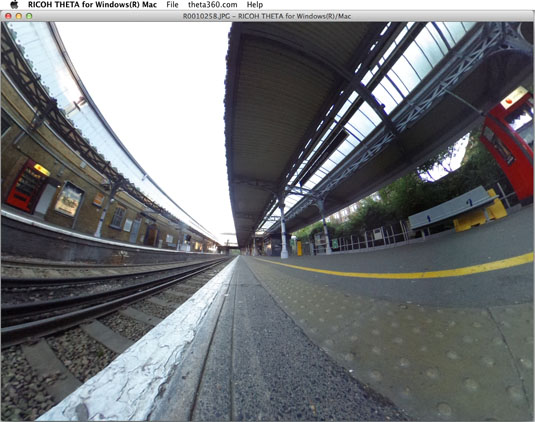 Desktop app enables zoom and twirl
If quirky is your thing, normal images (when resized and cropped to a 2:1 aspect ratio) can be opened in the Spherical Viewer and messed about with. It'll keep the kids amused and you don't even have to shell out £329 on the Theta either.
Another way for us FaceBook refuseniks is to use Microsoft's Photosynth app for iOS which now supports importing Theta images from the camera which you can then share how you like. It sounds good but the Photosynth sharing site requires Silverlight, which is a bit of a basket case sometimes. Viewing in Photosynth.net worked fine on the MacBook Pro RD 13in I was testing, but my tired 2010 iMac wasn't so keen, despite updating the Microsoft plug-in. See how you get on with these Theta samples on Photosynth.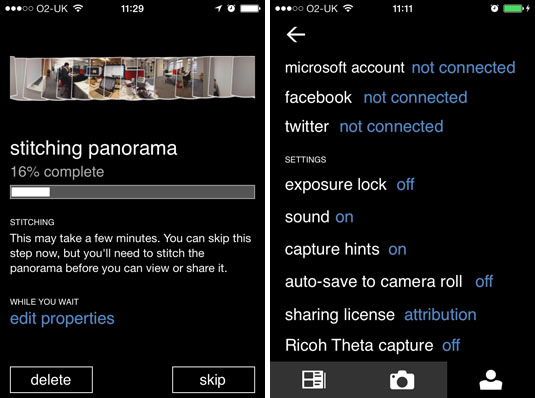 Microsoft Photosynth app would normally just stitch photos together, but now it has a Theta import
Yet considering the Theta is all about seamless stitching, these options aren't particularly well joined up. Alas, Photosynth can't access the low-res versions within the iOS device, as it has to link directly to the Theta. This, at least, ensures you'll always be using the best resolution. But what happens when you've copied images off and want to share them later? You're stuffed.
Shifting images around can be problematic in other areas too. There's an option to copy or move images from the Theta to the iDevice, all over Wi-Fi. Copying is fine, you end up with an album of all you images to view when the Theta isn't to hand. However, moving images to the iDevice means you lose the high-res versions from the camera and end up with just the low res images on there. And how do you get those moved elsewhere? It's Facebook time, as you can't get to them from iPhoto.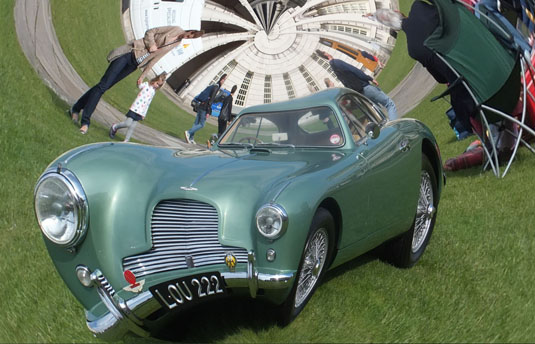 How a normal photo can look after Theta image processing
I know this because Ricoh had kindly included an iPod with Theta just to be sure I could actually do useful things with it. I was doing my let's-see-how-far-I-get-without-having-to-read-the-manual routine only to discover later that all those 360˚ photos I'd moved (not copied) to the iPod from the Theta couldn't be accessed for desktop viewing. A quick browse for an iOS file explorer app sorted that out though, with iFunBox doing the honours on this occasion.
Sample Shots
Theta images featured in this article can be downloaded here [27MB .zip file]. These are unprocessed images and will need the Spherical Viewer software from Ricoh which is available here [2.3MB] and will enable an interactive viewing experience. The examples below are stills taken from the image manipulation the app offers.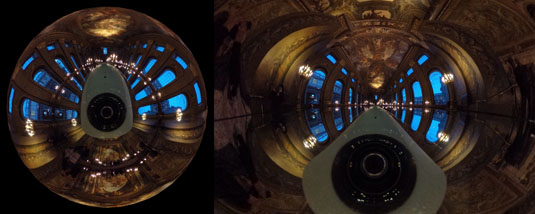 Painted Hall Greenwich, Theta on mirror – click for a larger image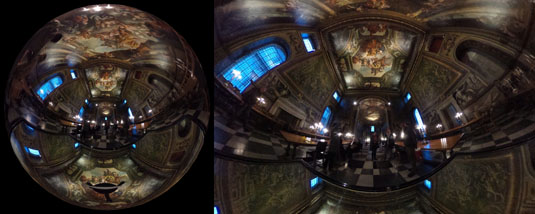 Painted Hall, Greenwich – click for a larger image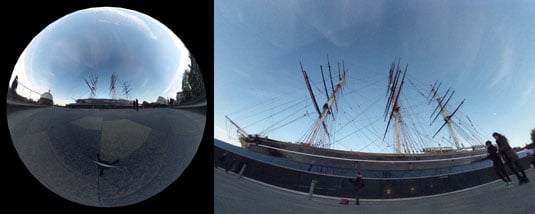 The Cutty Sark, Greenwich - click for larger image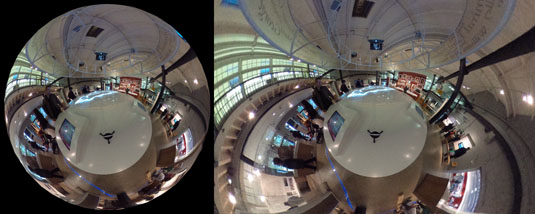 Greenwich museum - click for larger image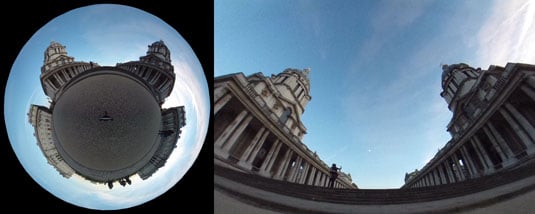 Old Royal Naval College, Greenwich - click for larger image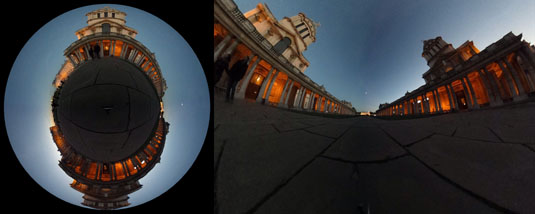 Old Royal Naval College, Greenwich - click for larger image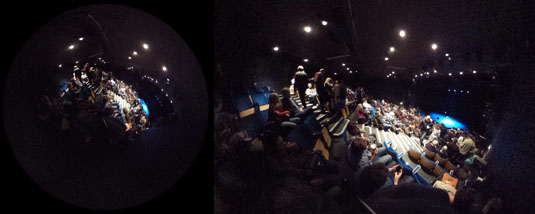 Greenwich Theatre: using black gloves makes the handheld shots less obvious - click for larger image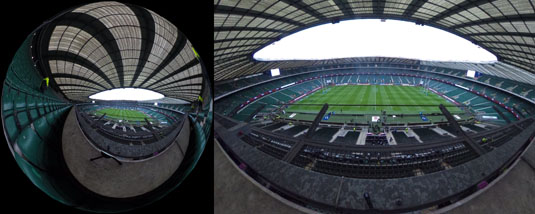 Twickenham Rugby Ground, pre-match – click for larger image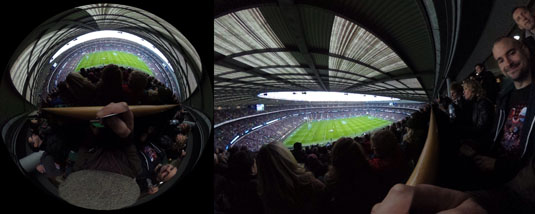 Twickenham Rugby Ground, match in play – click for larger image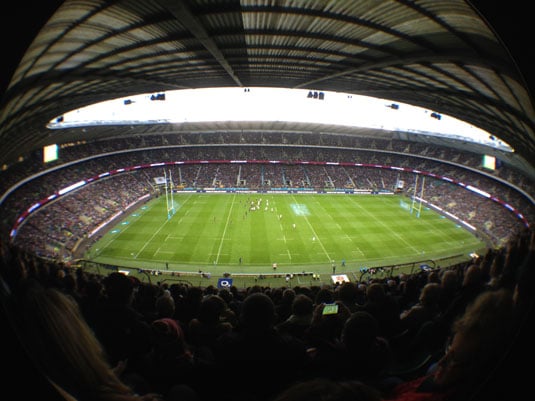 Alternatively: the Olloclip iPhone fisheye lens is neat but not interactive – click for full-resolution image
The firing range
So that's the file management side of things. Er, what was that I was saying about easy to use? Perhaps I should have said: easy when you know how. Indeed, there is a certain amount of skill involved in taking the photos. Handheld shots can be rather distracting as close-ups of your thumb tend to ensue. I took to wearing black gloves in the end.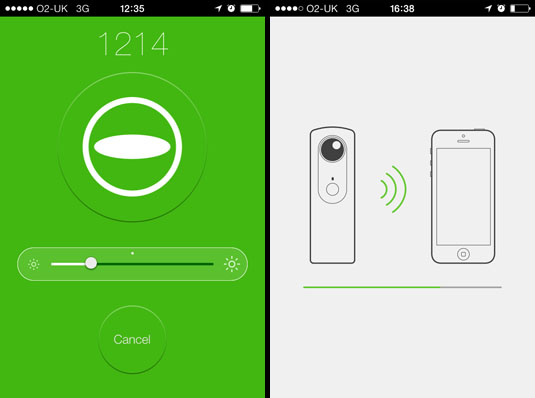 Green is for go: press the button an after the snap is taken the image transfers. Note the slider in this updated version varies exposure
That said, I did most of my Theta work on a small tripod, firing it remotely from my iPhone. Ricoh's iPod was fine but running iOS 6 and the Theta app v1.0, the latter I couldn't update without the Apple ID and the store was all in Japanese too. Hence, I eventually moved on to my iPhone 4S and iOS 7 to use the Theta app 1.2. There was also a 1.02 firmware update, that didn't take immediately as I wasn't using the supplied micro USB lead and it's a bit of a tight fit in the base.
It's just as well I did use the updated app as it features an exposure adjustment that doesn't appear on the earlier version. For me, this did address one of my grumbles with v1.0. I took a shot of the Thames Barrier from the dark covered riverside corridor which totally threw the exposure, causing the river view to be totally burnt out. With no exposure tweaks, there was no shot.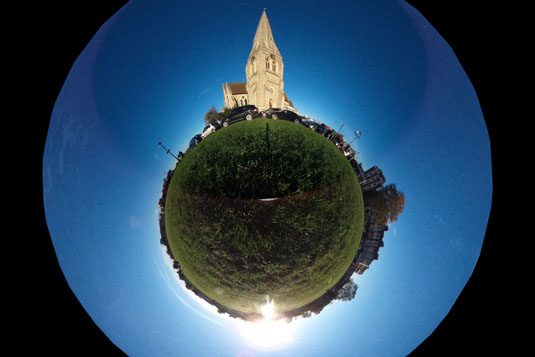 Planet Blackheath: after playing with the iOS app, even screen grabs make engaging images
Graced with the exposure adjustment, I'd take a test shot first, then hide behind a car or something to do the shot proper. This often tested the Wi-Fi range with some shots taken but not sync'ing to provide the in-app view at 30 metres. Certainly, as the iPhone battery life shrank throughout an afternoon's shooting, the range did begin to suffer.
Out and about, you don't have to have a tripod, as the 93g Theta can stand up on its base, but the extra height helps as the ground can appear to dominate otherwise. Given tripod use is expected and will be preferred by most serious users, it's both surprising and disappointing that there isn't a long exposure facility, enabling low ISO ratings. Instead, the Theta just tries its best to deliver a shot that won't be susceptible to camera shake. A consequence of that can be a high ISO setting with a very noisy shot to go with it.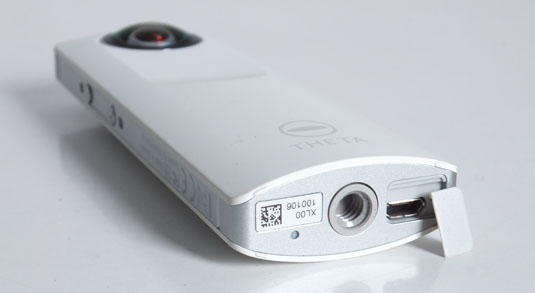 Fingernails required: micro USB cover unplugged alongside the tripod mount
The Theta badly needs a long exposure mode, not only to get better results with fewer grainy images but to enhance creativity. I gave up on night shots early on when I discovered that not even fast moving traffic produced anything much in the way of streaking lights – just blur and a rough looking image.
The images suggest a total sensor resolution equivalent to 6.3Mp – another issue that's going to reveal shortcomings when you zoom into images. The Ricoh states the Theta sensitivity range as 100 to 1600 ISO and the shutter speed spans 1/8000 to 1/7.5secs, with it all adjusted automatically on a pair of f2.1, fixed focus lenses with a minimum focusing distance of around 10cm.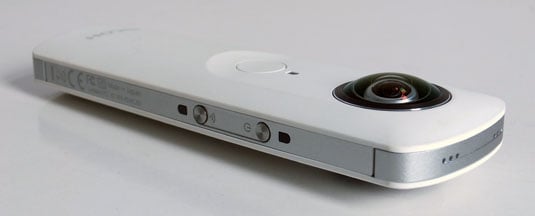 Without manual control and a higher resolution sensor, the Theta is hard to take seriously
The Reg Verdict
For the price, I'd be hoping for something more versatile than what Ricoh is offering with the Theta. I wouldn't be at all surprised if there is more in the works in this respect, but the lack of control restricts its use to perfectly lit environments to get a decent quality image. For instance, the examples from the Painted Hall, Greenwich look impressive until you zoom in, and then it all gets murky.
Moreover, Ricoh's dependence on Facebook to allow access to its various image sharing features is not going to suit everyone. Still, it's probably an indication of where the company thinks the market for the Theta lies. The photo manipulation is the most absorbing part and for the more surreal effects, the image quality is less of an issue.
However, the price will be an issue for many, especially as you'll also need have to an iOS device handy to see what you're taking. If all you want are some eye-catching fisheye images, then the basic Olloclip 3-in-one lens for iPhone is a mere £60. Evidently, Ricoh's Theta occupies a unique bubble of its own. ®