Original URL: https://www.theregister.co.uk/2013/11/12/review_assassins_creed_4_the_black_flag/
SHIVER ME TIMBERS, it's Assassin's Creed 4: Black Flag
Last one up the Old Seadog gets a lick of the cat
Posted in Personal Tech, 12th November 2013 09:03 GMT
Review A little bit of colour goes a long way in Assassin's Creed 4: Black Flag. It's a game that takes the series' parkour-heavy gameplay away from the bleak, ice-covered setting of the American plain, and drops it into the steamy, sunny Caribbean.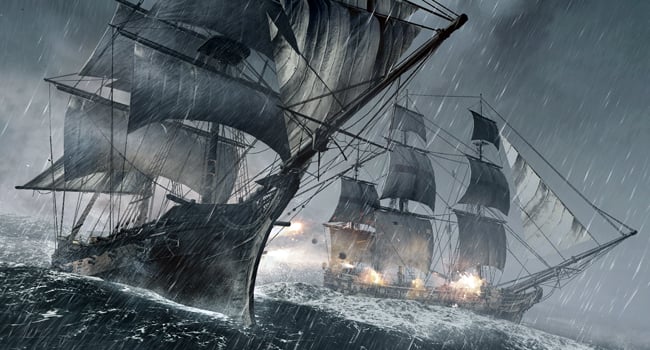 Arcade fire
The golden age of pirating, circa 1715, awaits as we join Edward Kenway – even more surly a pirate than Blackbeard, we're told – in his journey from seadog to assassin. Albeit by way of the shortest montage sequence you're ever likely to see.
Wisely, Ubisoft has this time opted to throw the player straight into the action, so the game opens with some naval combat and escalates quickly from there. Don't expect to be waiting for five hours before the main character so much as dons his ubiquitous white hoodie, this time around.
The standard Assassin's Creed yarn unravels in its own impenetrable way: Templars, assassins, precursor race, blah, blah, blah. Missions also follow the familiar formula. It's a good thing, then, that the story plays second fiddle to the game's crystal clear oceans, sandy shores and treasure islands.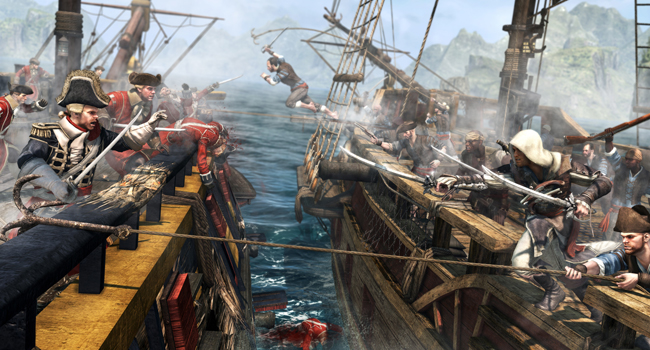 Prepare to be bored [Surely "boarded" - Ed]
Indeed, the setting is good enough to have spawned a whole new pirating series, had Ubisoft the pluck cut the rope that docks the game to the Assassin's Creed franchise. It's not hard to imagine a rollicking good title where the player takes on plunderers and military alike, before heading off with a treasure map in hand to find Big Whoop.
Kenway is a devil-may-care, in-it-for-himself rogue for the most part. And while the story might try to paint him as a romantic, seduced by the allure of the freedom of the seven seas, there's no doubting his selfish love of adventure. He's a kind of Captain Jack Dancer from the the pages of 2000AD's The Red Seas, minus the shagging, boozing and one-liners, mind. Even so, he's a far - and refreshing - cry from the moralistic Connor of Assassin's Creed 3.
Even before he's even indoctrinated into the ways of the Assassin, Kenway is free to take on side-quests that cast him in that role. It's a ploy by Ubisoft to open up the game's content as early as possible, but it's one that makes the game feel unnecessarily fragmented. It simply rings untrue and, as such, is distracting.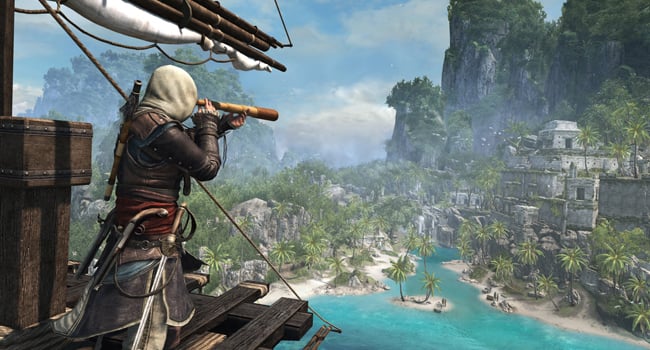 It says, "Jack Sparrow woz 'ere"
Away from both plot and characters is the familiar blending of stealth kills and bloodletting that the series is famous for. AC's combat is increasingly taking its cues from Rocksteady's Arkham franchise. Countering incoming attacks is here likewise the best way to deliver a deadly riposte.
That said, our buccaneer does have a few tricks of his own, not least the ability to carry four pistols with which to subdue groups of enemies in particularly satisfying fashion.
Something about Black Flag's engine does make combat a tad clunky, however. All too often you're attacked by off-screen assailants. Attempting to play by stealth can be frustrating because of the ludicrous number of guards that have been posted to protect rooftops.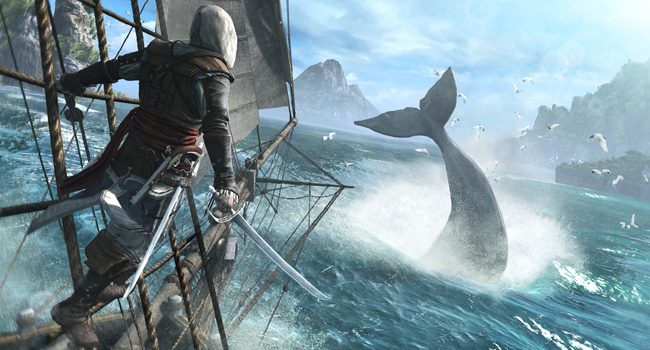 Prince of whales
At least the Benny Hill moments, which saw hordes of soldiers chasing poor old Connor in Assassin's Creed 3, for example, have largely been trimmed this time around. You'll still get chased, but the number of guards in pursuit is more sensible now.
Under the banner of King Death
Kenway can also put a halt to such chases by standing his ground and taking on his pursuers. In another nod to Arkham City, the death of the final guard giving chase will take place in slow motion, an indication that the coast, for now, has been cleared.
A large chunk of the game's combat takes place on the high seas, with battle by cannon appropriately playing an even greater role in Black Flag than in its predecessor. Holding the right trigger allows you to scan the distant ocean through a spyglass, allowing you to find and identify those ships worth plundering.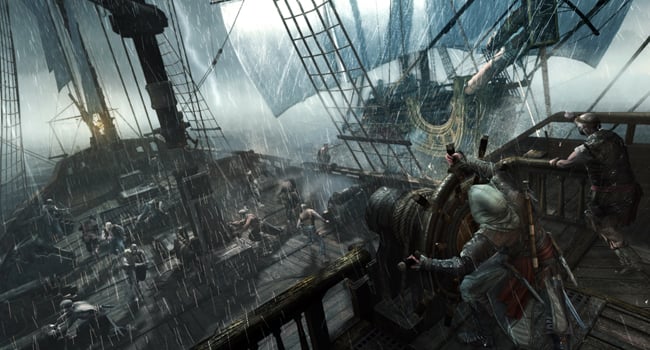 Getting tossed on the decks
Then, after hushing your sea-shanty-happy crew, it's a matter of crippling your prey during ever-impressive battles on the churning seas.
Captain Kenway and his scurvy crew will swing across to the other ship to take on its sailors. The trick here being to have a very big crew with which to subdue the enemy, or be particular quick when deploying Edward's unique ability to kill.
Raids are all carried out with a view to acquiring cash and resources in order to upgrade. Ship, weapons, items and health can all be improved in a system that channels Monster Hunter, though without quite the same depth as Capcom's classic.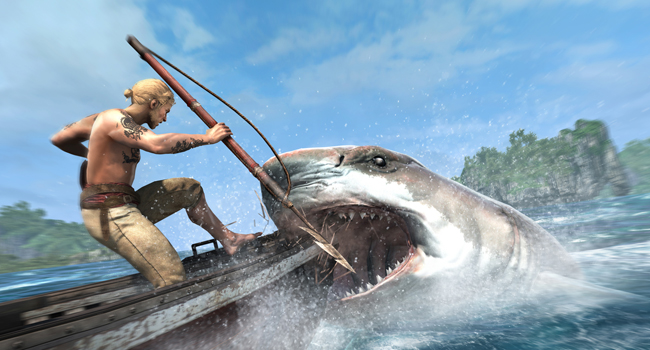 "Aaaah, you have a woman's mouth... I'll wager, etc, etc"
You'll even have cause to go out and hunt the beasts of the Caribbean. Though quite why the bones of a great white shark - acquired by playing a harpooning mini-game - are required to forge a health upgrade is never really explained.
Online, the game transforms into a game of cat and... well... cat, as assassins hunt each other down. At least that's the case in modes such as Manhunt and Wanted where players disguise themselves before blending into the crowds to either hide from or ambush their prey.
Other types of online play include Artifact Assault and Domination - think capture-the-flag and capture-and-hold, respectively - with both making good use of AC's parkour-friendly engine. So far I've found the online experience reasonable, though I'm not convinced I'll keep returning to it in the way I will to Battlefield 4, say.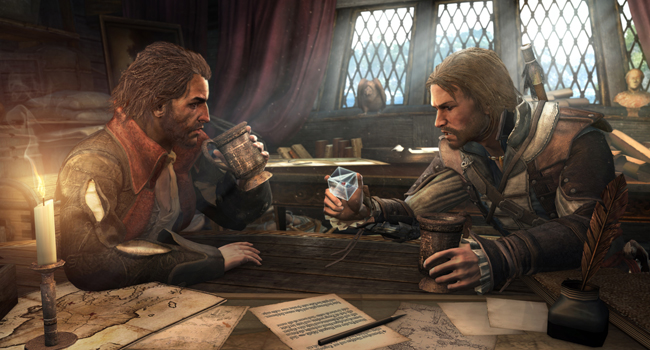 "Would that be your own urine you're drinking?"
The Reg Verdict
The star of the show is the sumptuous Caribbean, as the sunshine, rum, sea battles and shanties inject some much-needed flavour back into the Assassin's Creed franchise.
Old problems such as baffling plot holes and occasionally fiddly combat recur, and the missions become repetitive. But the scale and beauty of the game were sufficient to reignite my interest in the franchise. But it really needs some fresh ideas for its next voyage out of port. ®