Original URL: https://www.theregister.co.uk/2013/11/06/nexus_5_best_smartphone_bang_for_your_buck/
Google's Nexus 5: Best smartphone bang for your buck. There, we said it
No wonder this one sold out in hours
Posted in Personal Tech, 6th November 2013 10:29 GMT
Review Google's successor to the Nexus 4 is out and it's the first handset to carry the Android 4.4 operating system, aka KitKat. If you want to get hold of one you'll have to wait however – the Google Play store has sold out for the next few weeks, and even if you did order one at launch it may not be shipped out until November 8. So is it worth the wait?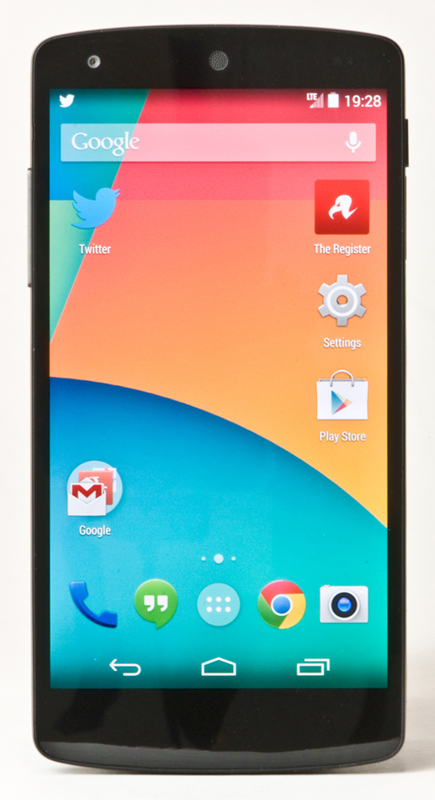 Google's idea of the perfect Android device
Over the last five days we've been putting the phone through its paces and there's rarely been a misplaced step. It's not quite as full-featured as some of the smartphones out there, but it does 90 per cent of what's needed, the operating system is as good as you'll find in the Android world. What's remarkable is it does all this at a price point that makes it superb value - $349 for the 16GB version and $399 for the larger 32GB handset.
Dull but functional
At first sight the Nexus 5 looks a little dull. The casing eschews the glassy back of its predecessor the Nexus 4 for a black or white plastic shell that is 137.8mm tall, 69.1mm wide and 8.6mm thick. In terms of grip quality the shell works a lot better than the Nexus 4, and the 130g phone feels solid in the hands with little chance of droppage.
In an unofficial drop test, the phone survived a two-foot fall onto a wooden floor and has been carried in a rucksack with keys and other sharp objects without a scratch. It looks and feels hard-wearing, but short of throwing the thing there's no way to check.
The phone has a 3.5mm jack and pinhole speaker to pick up and deaden ambient noise on the top of the casing, twin speaker grills and a micro USB port on the base, a power button on the right above the SIM card slot and a volume rocker on the left hand side. The ceramic buttons aren't great – the edges feel slightly sharp, and while they didn't snag on jacket pockets, the feel is slightly cheap. They should, however, prove long-lasting.

Sharp ceramic buttons feel odd but should wear well
The front fascia has a speaker on top, along with a very basic 1.3 megapixel camera for videoconferencing and selfies. The screen is a 4.95-inch HD 1920-by-1080 pixel, 445 ppi display, and the entire front of the phone is covered in Corning Gorilla Glass. As the iFixit teardown shows, it's firmly bonded to the casing – if you crack the screen you're either going to have to live with it or get a new phone.
Screen quality is good, with sharp edging and excellent light sensing for outdoor use, but it lacks the brightness of rival Samsung's best phones. You can change the settings, but at a cost in battery life. If you are the type of person that likes a really big screen, this isn't the handset for you, but the viewing area is big enough for most purposes, and text in e-books was particularly sharp.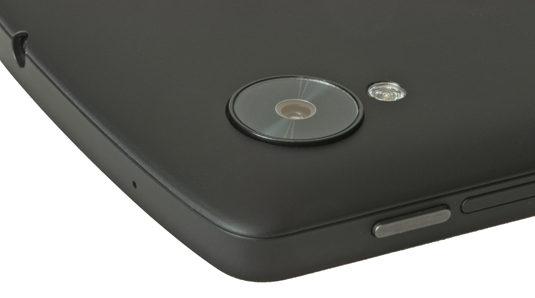 The raised camera lens is puzzling
On the back of the case, besides the Nexus and LG logo, there's an eight megapixel camera with flash, with the camera's glass cover slightly raised from the surface of the case. As smartphone cameras go, eight megapixels isn't as good as some of the competition, but it does the job, and the image stabilization system Google is using will produce decent images unless you really work at shaking the handset.
There's the usual grab bag of filters and stylistic tweaks you can add to images, and some the camera handles well. The panorama images taken in testing were uniformly well-stitched, but the Photo Sphere feature, designed to take 360 degree shots, still needs work. As you can see from the test image, the software still has problems and doesn't deal well with details.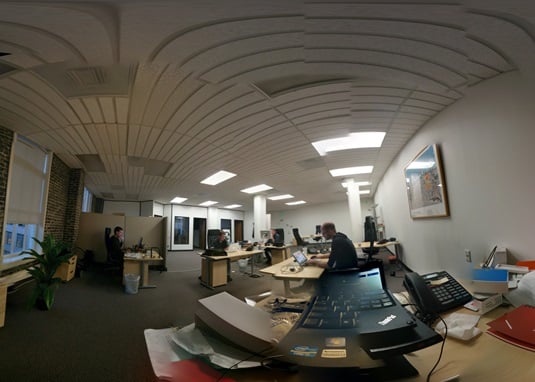 Some more work needed here
Under the hood
In terms of grunt, the Nexus 5 has a lot going for it. The handset uses a quad-core Qualcomm Snapdragon 800 processor running at 2.26GHz and uses a 450MHz Adreno 330 GPU, along with 2GB of RAM. This handled all our test functions quickly and without lag, and should provide a reasonable amount of future-proofing for the handset.
For connectivity the handset supports LTE, dual-band Wi-Fi (2.4G/5G), and spans 802.11 a/b/g/n/ac, along with Bluetooth 4.0 and near-field communications. The Wi-Fi signal is excellent and the phone picked up signals my three-year old Droid couldn't even find, and worked well with T-Mobile's LTE network.
The Nexus 5 comes with a 2300mAh 3.8V battery that Google claims will give you 300 hours of standby time, 17 hours of talk time, 8.5 hours of Wi-Fi, and seven hours on LTE connectivity. Based on our testing that looks a little optimistic, and a larger battery would have been advisable, but it'll handle a day's medium usage so long as you're smart about it. The phone does have wireless charging and supports the Qi standard so that compatible non-Google accessories should work to power it up.
In terms of sound quality the main speaker gives decent output from its twin ports, with only a little distortion playing "Back in Black" at full volume. If you're the type of rude git that like to play music on public transport you'll be able to irritate other passengers to your heart's content. Just please don't, headphones work just fine with this phone.
There's also the now-standard collection of internal instrumentation, including gyroscope, accelerometer, compass, light sensor, and GPS. This latter function is particularly vital if you're a Google Now user, since the phone will be constantly aware of where you are so it can display information cards such as weather and your estimated time to and from work.
Keeping the location features running does come with a price in terms of battery life, but they are easy to switch on and off via the settings menu. You will get a noticeable extension in battery life with them off, and it's worth considering if you're going to be away from a charger for a while.
Have a KitKat
The Nexus 5 is the first handset to get Google's latest build of Android, version 4.4, aka KitKat. As operating systems go it's preferable to its immediate predecessor – a little faster and smoother with some nice features in the email client and messaging sphere – but there's nothing here that's a must-have feature.
The new operating system takes 20 seconds to boot up from cold and takes up 5.24GB of space on the handset, which leaves you a little over 10GB of storage to play with in the cheapest model. That's not too bad, but one annoying feature of the Nexus 5 is that there's no removable storage – everything either has to be stored on the handset or downloaded. If you're the kind of person who like to carry your media with you, this may be an issue.
That said, actually getting stuff onto the handset is simplicity itself. The phone ships with a charger that uses USB, which hurts recharge times compared to other chargers but does allow you to simply plug the phone into your computer's USB port and it will simply show itself as a removable drive.
As you'd expect, the integration with Google's various apps is very tight, and the mapping features are particularly good. For some reason, Google Play Music is very data-hungry, pulling down 10MB of data on the first day of use despite not being used. With mobile data so pricy these days, you should keep a regular eye on the settings menu so grabby aps can be locked down.
Voice recognition is a big feature of the Nexus 5, and the search function can be accessed simply by saying "OK Google" and speaking your search term. This works from around six to eight feet away, depending on how you have the phone positioned. It also works slightly better with an American accent asking the questions rather than a British one.
QuickOffice has been improved for the new release, with easier-to-use features, particularly on spreadsheets. When it comes to tapping in text, the keyboard and its predictive system is very good, but there are also a plethora of custom keyboards available from app stores.
Google claims that KitKat will run with only 512MB of RAM, making it suitable for much older handsets. This may be the case, but very few vendors will run it at the moment, just the Nexus 4, 7, and 10; the Samsung Galaxy S4; and the HTC One Google Play edition.
The Reg verdict
For the price, it's difficult to think of a phone that gives quite as much bang for your buck as the Nexus 5. It's not clearly ahead of the competition in areas such as screen size, hardware spec (excluding its processor) and camera range, but it's more than good enough.
The Nexus 5 shows off Google's Android as it would like it to be displayed, and it's very good indeed. We do wonder what other software carriers will stick on the system if you buy it from them, but at the moment there's no choice if you want a Nexus now, because Google has run out of units for sale from the Play Store and it'll be two to three weeks before more become available.
If you want an unlocked phone that gives you full access and control then the Nexus 5 can't be beaten on price. If, on the other hand, you're buying through a carrier on a subsidized plan then you might be able to get something slightly better for around the same cost.
That said, there's a simplicity and cleanness to the design that's very appealing, and a definite advantage for developers in that this phone is designed to be fiddled with. It's also very simple to crack open and replace certain parts should they fail.
So, after using it for five days would I spend my own money on the Nexus 5? The answer is unequivocally yes; if you don't need the latest and greatest screen and camera and can live without removable storage, there's no better value phone out there. ®
All product photography by Rik Myslewski