Original URL: https://www.theregister.co.uk/2013/11/05/fox_news_flips_out_reports_world_zombie_day/
ZOMBIE apocalypse! The 'LIVING DEAD' are HERE – Fox News confirmed it
Breaking news online, literally
Posted in Bootnotes, 5th November 2013 21:03 GMT
Within the past hour, Fox News declared today is "World Zombie Day", and urged us all to "bring out the living dead" in an online cock-up.
Initially it was feared the US news outlet's website had been hacked and defaced – but the broadcaster was quick to blame an "internal production problem" for the gaffe.
The Fox News web front-page was briefly altered to display a number of weird articles and random blobs of text [What's new? - sub-ed]. The pages included links to articles on "World Zombie Day" festivities, product releases ("Mavericks Sea Lion") from Apple and reports on military activity in Afghanistan.
Additionally, a photo showing an apparent police scene was accompanied by the headline "WEEEEEEEEEEEEEEEEEEEEEEEEEE" and the caption "STUFF YO":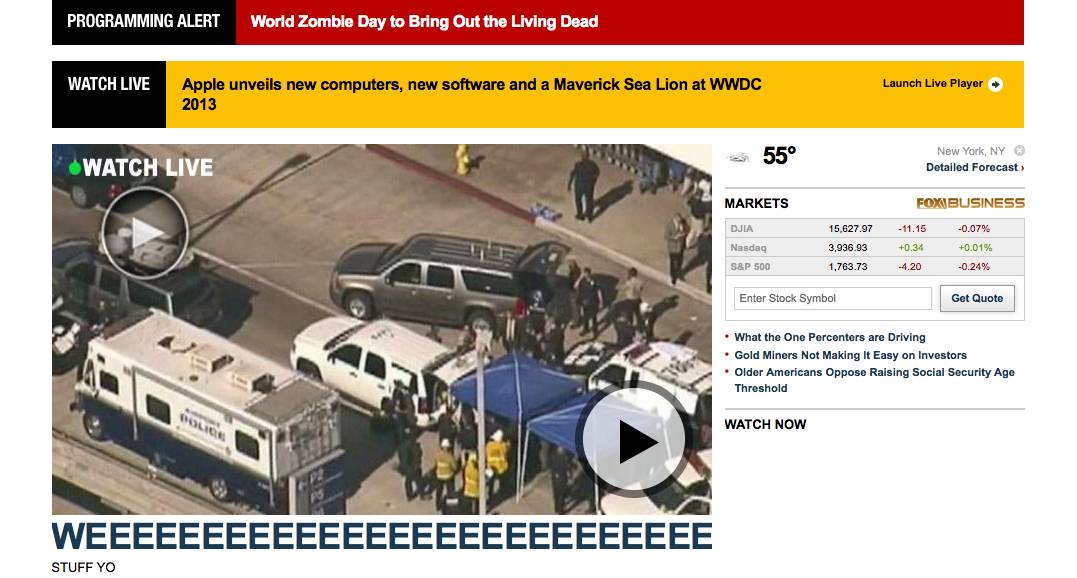 Bring out the living dead! We screenshot the scary Fox News front page (click to enlarge)
According to a tweet from the network, the blunder was the result of a "production problem" and no mention was made of any possible security breach or outside activity.
"During routine website maintenance, a home page prototype was accidentally moved to the actual site. As with any mistake in testing, engineers noticed the error and quickly brought the site back to its normal function," Jeff Misenti, chief digital officer at Fox News, told The Register in a statement. ®