Original URL: https://www.theregister.co.uk/2013/11/01/internet_antidote_mushrooms/
Need an internet antidote? Try magic mushrooms
Reg hack goes in search of the elusive food of emperors
Posted in Science, 1st November 2013 08:32 GMT
Picture special Autumn has wrapped its frosty claws around the Special Project Bureau's Spanish mountaintop headquarters, and as we prepare to hunker down for the winter, there's a final opportunity to spend some quality time away from the internet, and stock the larder with nature's bounteous harvest.
This year's cornucopia verily runneth over with bumper crops of spuds and apples, and as ever we are entertained by the distant sound of ox carts laden with sweet chestnuts groaning their way to market.
In fact, so prolific is the chestnut that it's convenient to measure stocks in metric tonnes rather than kilos. The novelty of them roasting on an open fire soon wears off after the first 500kg, and this year I have accordingly dedicated myself to an altogether more exotic fruit: the edible mushroom.
Back in April, I managed to survive on just £1 a day for the "Live Below the Line" challenge. As part of this, I foraged a couple of field mushrooms (Agaricus campestris), which went a long way to supplementing a meagre diet of chickpea stew, rice and tea.
Little did I know it, but this modest find marked my induction into the Spanish national sport of mushroom picking, and the annual autumnal mycological mass hysteria known as "mushroom madness".
Every year, armies of locals swelled by overexcited outsiders fan out across the countryside in search of bounty, regrouping in bars to compare their baskets of setas and recount legendary tales of mushrooms so vast entire herds of cows might shelter beneath their capacious caps.
While I was quite happy to get my laughing gear around a plate of mushrooms, one incident convinced me never to succumb to the madness. A middle-aged female visitor from Madrid, perched on a bar stool and having just enjoyed a pincho (small plate) of the prized Boletus edulis, was so overwhelmed by the experience that she began to spout "setas setas, yadda yadda, setas, yadda, setas setas setas, yadda, setas setas setas setas, yadda, setas setas setas setas setas" until cerebral oxygen starvation provoked a nasty fall from from the stool, followed by paramedic and air ambulance intervention.
Actually, I made that last bit up. She was treated at the scene with antihysteriamine injections and within an hour was back out with her basket, intoning "setas setas setas" as she disappeared into the bosky distance.
And when it comes to bosky expanses, we got 'em in trumps. The terrain around the village features oaks...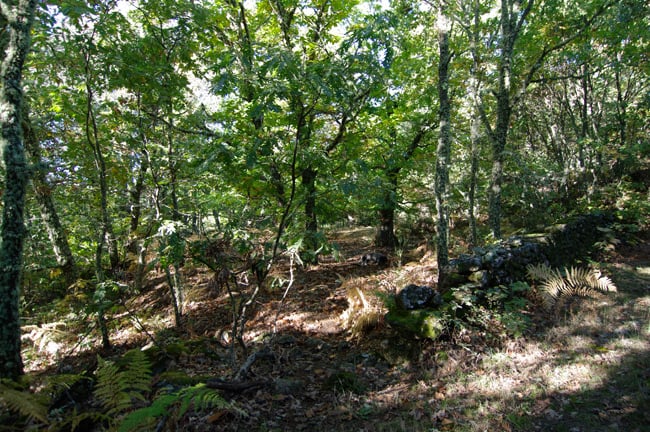 ...pines...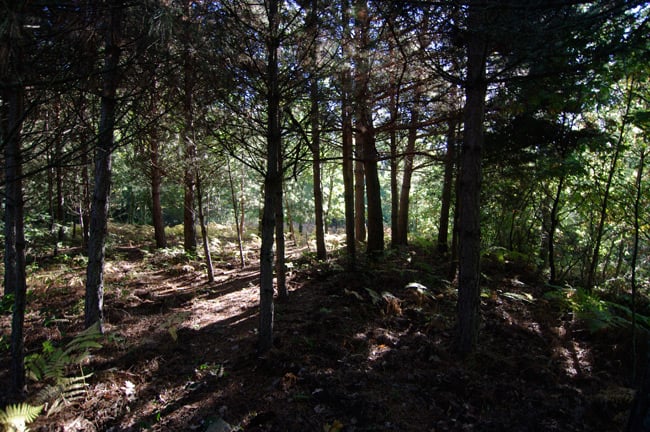 ...and chestnuts...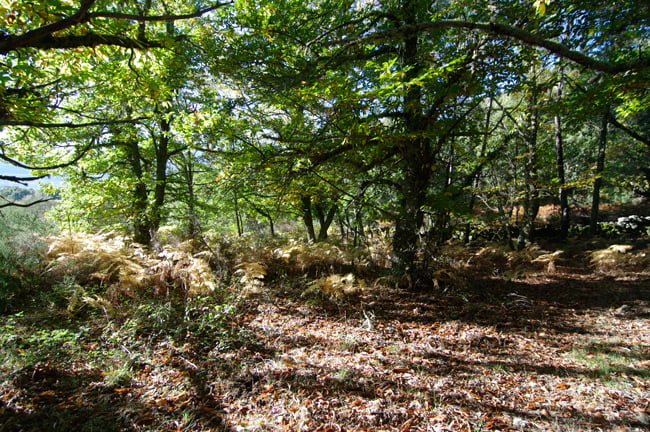 ...although our own particular corner of the world wasn't considered fertile mushroom ground, until now.
Following a mild and wet start to autumn, and reports of a bumper mushroom crop, myself and daughter Katarina armed ourselves with a really big field guide, assembled the mutt pack and headed off into the woods.
The reports were correct. Within half an hour we'd stumbled across Amanita caesaria (Caesar's mushroom) - an unmistakable delicacy: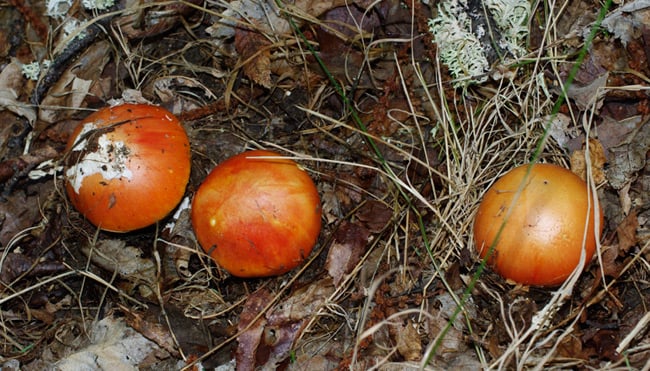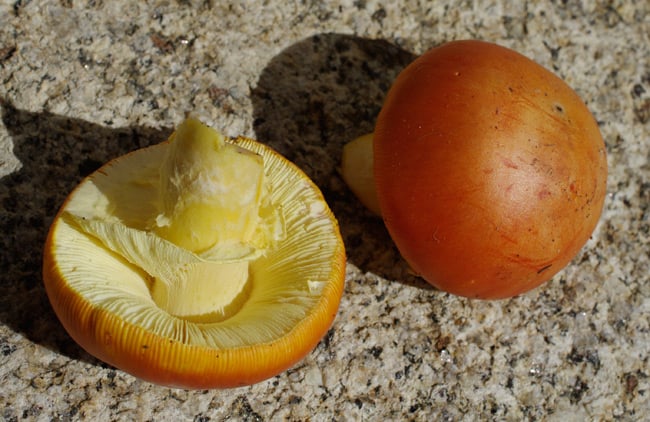 Amanita caesaria is evidently named for the Roman emperors, including Claudius, who apparently ranked it top nosh. Poor old Claudius's penchant for some hot 'shroom action ultimately proved his undoing, as we'll see.
Having scored some caesaria, we were on a roll. The next day, Katarina found the first Boletus edulis (penny bun) we'd ever seen in the village: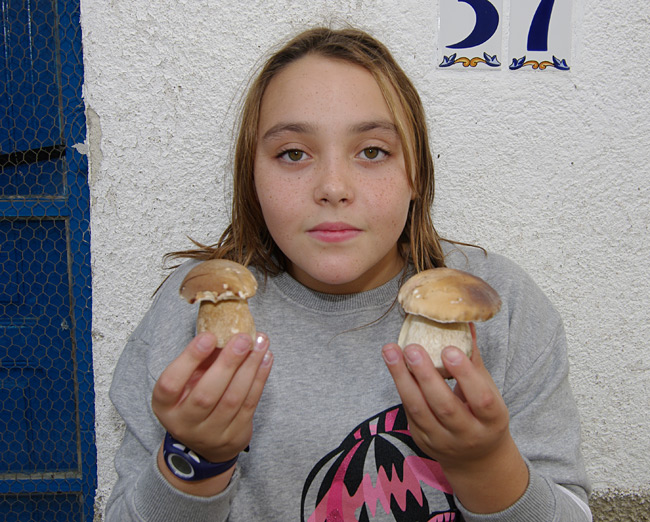 This is technically described as "a right result". Anyone wondering just why the penny bun is so desirable is directed to the price of a ración (medium-sized plate) of Boletus in one of our favourite hostelries...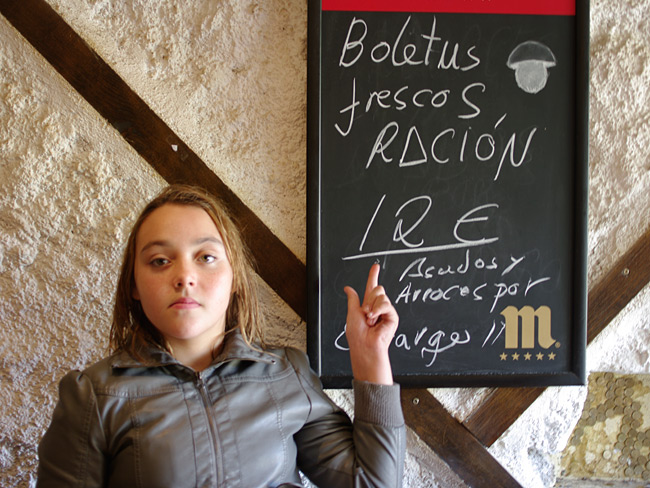 ...and here's Kati tucking into what probably represents around €4 of our own edulis, lovingly fried in a little olive oil with crushed garlic by bar owner Antonio: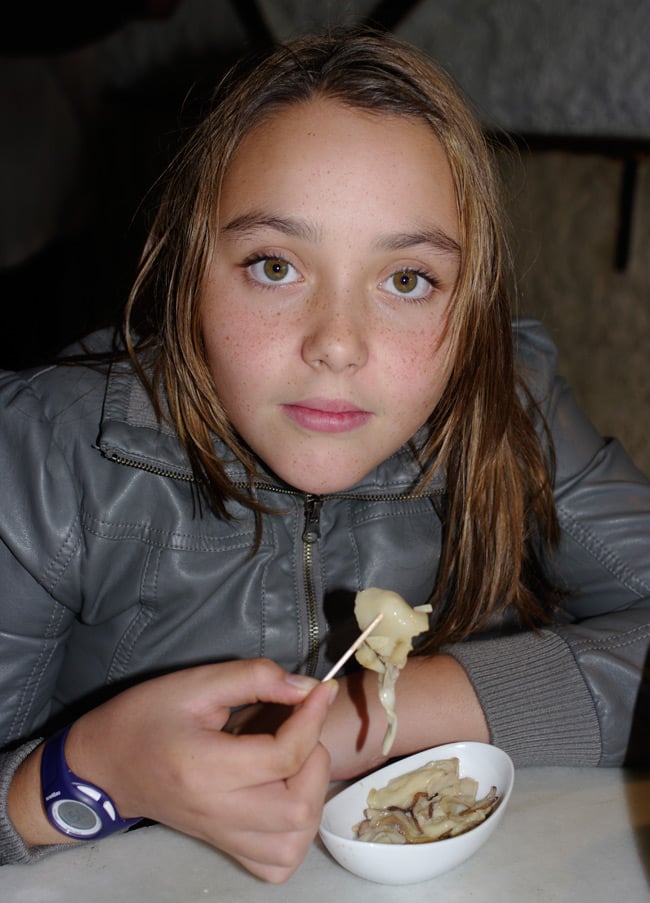 Experts like Antonio are indispensable helping the novice to sort the edible sheep from the indigestible goats. Whereas Amanita caesaria can't easily be confused with any other mushroom, individual members of the Boletus genus aren't so readily distinguished.
This selection...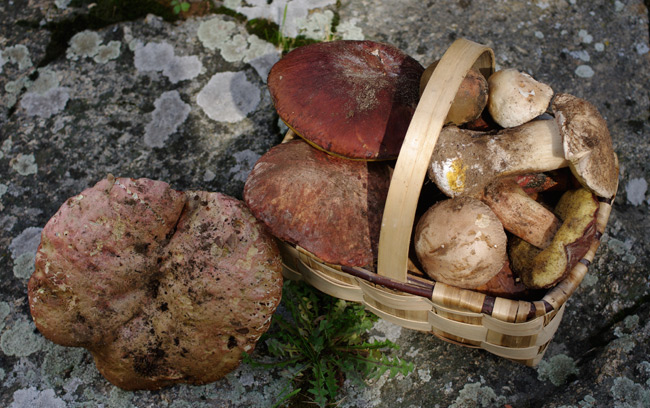 ...turned out to contain Boletus erythropus, seen here at the top left: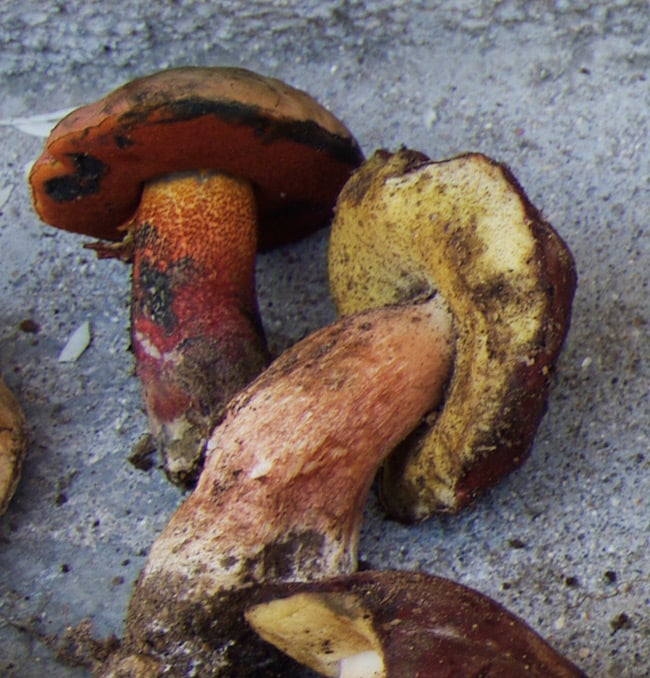 This is a rather unappetising mushroom, whose flesh turns blue when cut: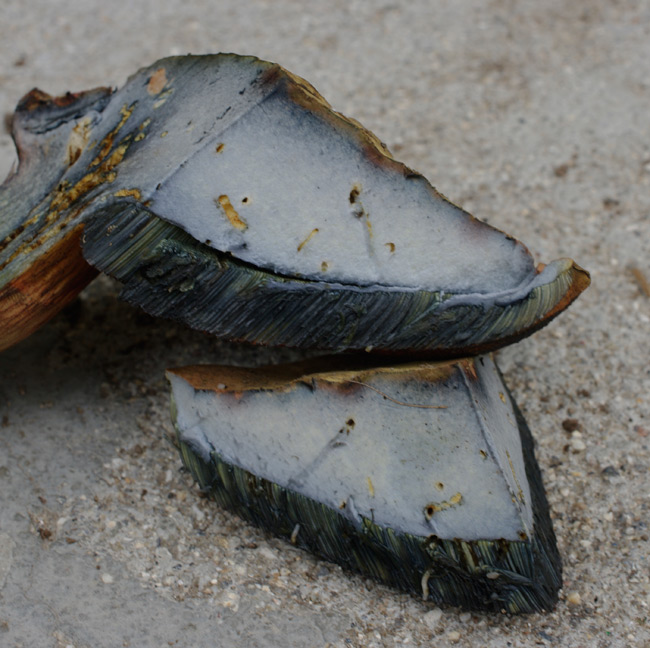 Nonetheless, it is edible, provided you boil it first before frying. We gave it a blast, but found it slightly bitter, and no match for edulis.
The experts aren't always on hand to lend a helping eye, so it's a matter of: if in doubt, leave alone. The doubtfuls we collected included this probable member of the genus Cortinarius...
...and an unidentified Russula, possibly the tasty integra (entire russula) or the excellent cyanoxantha (charcoal burner), but bearing a resemblance to the inedible drimeia: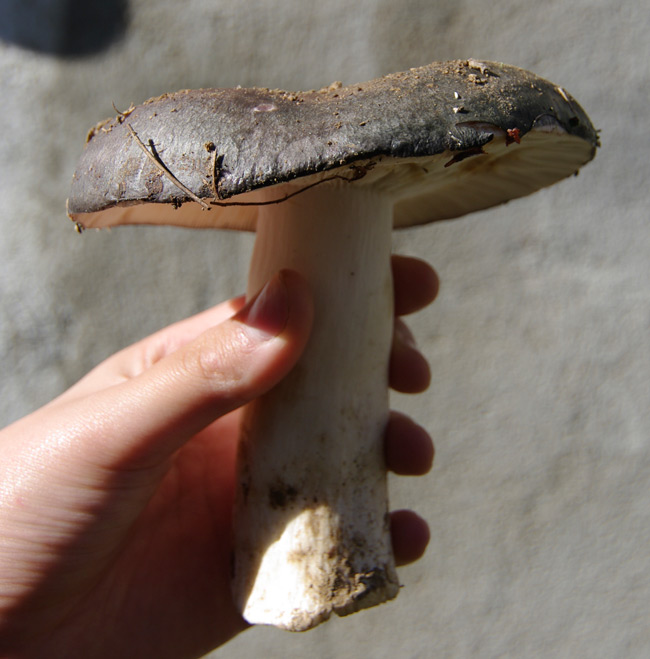 On the other hand, we didn't need a book or veteran mycologist to nail this species: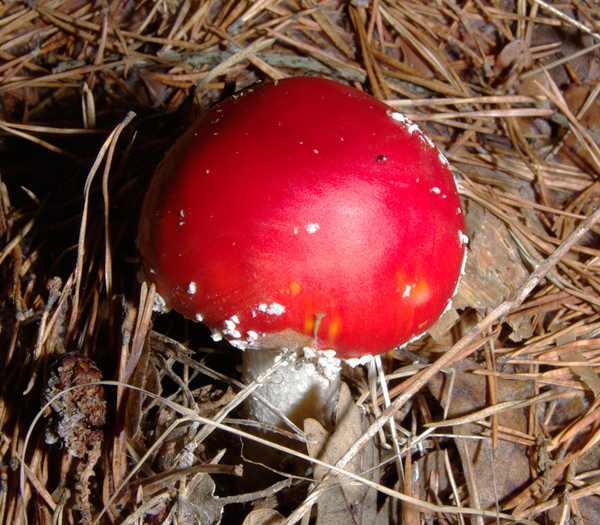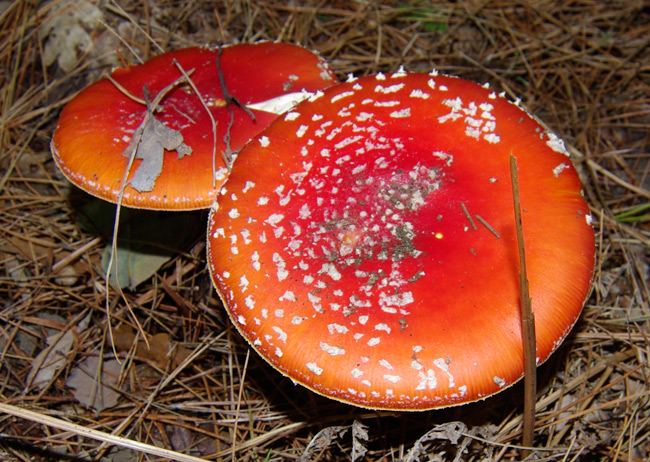 You can eat Amanita muscaria (fly agaric) at your own risk, should you fancy testing out just where the legend of Santa's red-and-white clothes and his magical flying reindeer comes from: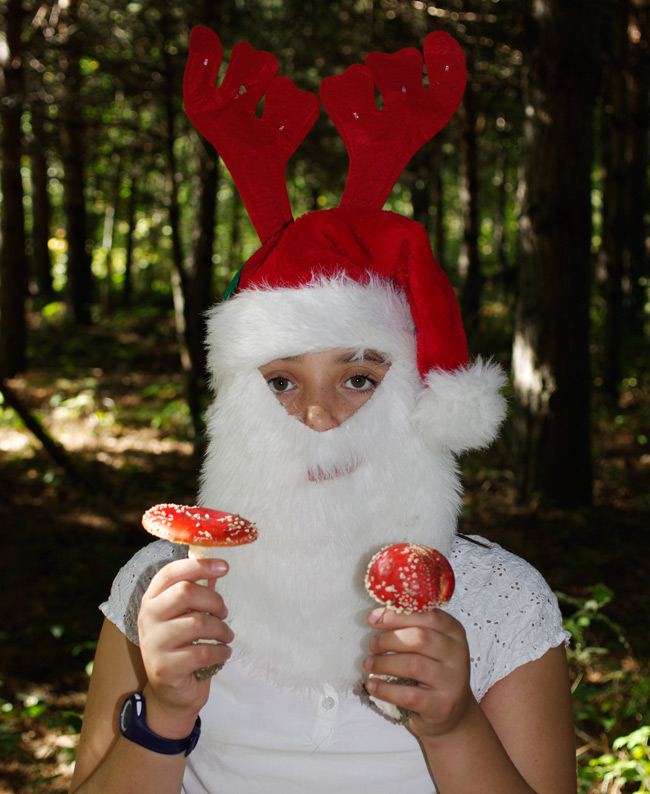 In summary, then, top quality entertainment, although this particular internet antidote does have its risks to match the famous Portuguese builder in a hole outrage.
You might be tempted to cook this up...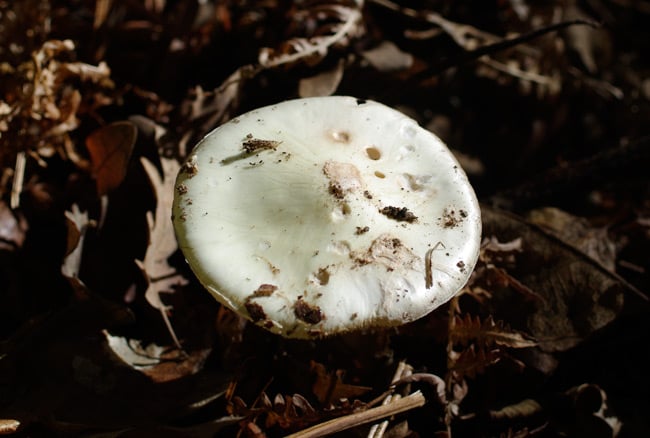 ...but within a few days of eating Amanita phalloides, you'd find out to your terminal cost why it's called "death cap".
One tell-tale sign that you've got a phalloides is its yellow-green tinge, although this is sometimes almost indiscernible: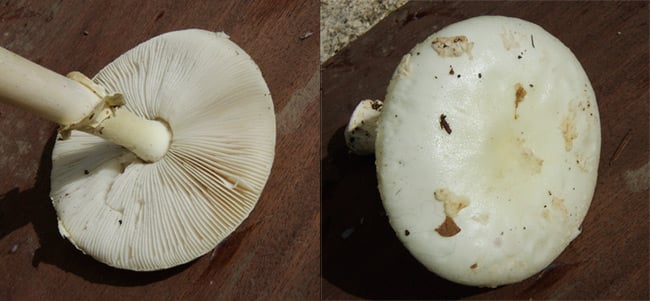 The fatal error is to mistake the death cap for an edible white mushroom, of which there are many.
Personally, I leave all such mushrooms well alone, having no desire to end my days like the emperor Claudius. The story goes that the poor bloke was poisoned with death cap, thinking he was tucking into Caesar's mushroom.
What we'll be safely tucking into this winter is our own stash of frozen Amanita Caesaria and Boletus edulis, before the spring thaw heralds a new year of mushroom madness. ®