Original URL: https://www.theregister.co.uk/2013/10/30/emc_xtremio_all_flash_array_launch/
EMC braces self for November's all-flash XTremIO launch
Hopkinton makes a play at the array world
Posted in Storage, 30th October 2013 13:24 GMT
EMC is winding itself up to launch its XtremIO flash array on 14 November.
This is an all-flash array, gained in EMC's XtremIO acquisition, and it will, of course, be a faster, more power-efficient and cost-efficient array than those of all the competition, with better management software, array backend and server front-end integration, application acceleration, data integrity, management and protection features, etc, etc, etc.
More seriously, this is EMC's entry into the hottest new storage area for performance data, and Hopkinton is taking on:
Cisco/Whiptail
Dell's all-flash Compellent
Fusion-io's ION Data Accelerator
HDS all-flash product
HP's 3PAR 7450
IBM/TMS
Kaminario's K2 SPC-1 benchmark topper
NetApp's coming FlashRay
Nimbus Data
Pure Storage
Violin Memory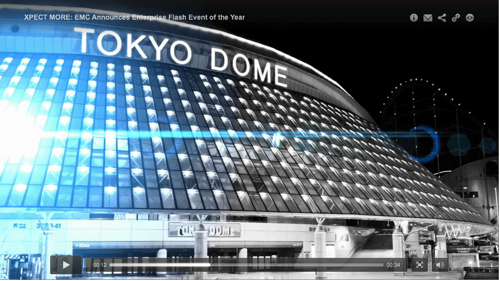 XtremIO launch video teaser. Click pic to play video.
It's quite a list. Violin Memory is the leader in the space while Pure Storage is probably, due to its funding largesse, Violin's leading independent competitor. The XtremIO array has been available on limited availability and it's now getting ready for prime time.
Will it do what EMC wants it to do? That is the question of the hour. ®