Original URL: https://www.theregister.co.uk/2013/10/25/intel_smart_cities_and_internet_of_things/
Intel on Europe: The Internet of Things could SAVE US ALL
Apply clever tech to lift economic gloom, says chip giant labs chief
Posted in Networks, 25th October 2013 11:04 GMT
Feature How will Europe lift itself out of current and future economic woes - and help save the planet while it's about it? According to chip giant Intel, with hi-tech carrots rather than government sticks.
So said the head of Intel's European R&D operation, Martin Curley, this week at the chip company's European Research and Innovation Conference – Eric to its friends.
It's easy to be cynical about such a message, especially given the number of business book buzzwords that were tossed around alongside it - "new innovation paradigm", "quadruple helix innovation", "full spectrum innovation" – Intel is very keen on the "i" word, it seems – and the involvement of so many talking-shop Eurocrats.
But for once the old notion that the only thing that can solve the world's problems is technology – on which theme Intel's "Plan C", as Curley calls it, is a variation – comes with some positive preliminary results to back it up.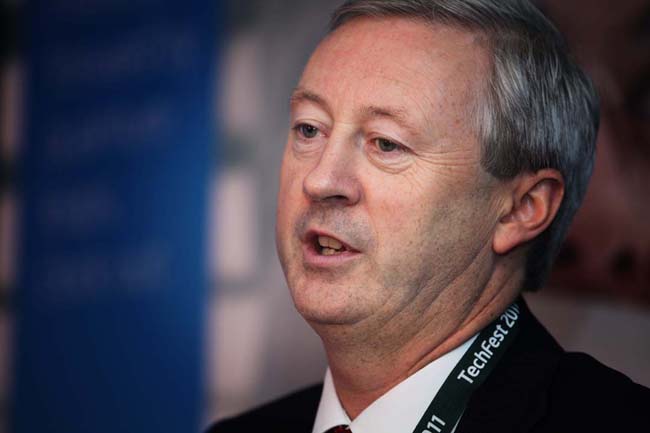 Intel's Martin Curley: urban worrier?
Two of Intel Labs' key endeavours highlight the way forward, in the company's view: the move to connect every device into a single, networked data source – the so-called Internet of Things – and the development of the exascale, 1018 floating point operations per second computing capability that's going to be needed to crunch the many numbers all these devices will generate.
It's this kind of technology that will enable what Intel calls "Sustainable Intelligent Systems", setups able to measure the digital consequences of all our lives and able to act upon it intelligently for our benefit and that of the environment. They will operate within the home and the community.
But as humankind is primarily an urban animal – as a species, it won't be long before nearly three-quarters of us inhabit a built-up environment, notes Curley. And it is this environment where most of the world's financial growth originates: this is why it makes sense to view the city as the prime environment for these SISes, he argues.
Cities are where the money is too: they already generate more than 80 per cent of the world's GDP, and Arup, a consultancy, reckons the market for smart-city systems will be $408bn by 2020. Intel understandably wants a part of that action.
Smart city = sustainable city?
If there's a sense of "what's good for Intel is good for Europe" about Curley's programme, that's because that is partly what the plan is all about. Intel is in the business of selling processors, and we're going to need a lot more of them if we're to equip so many, many more gadgets with the ability to record and transmit data, not to mention to process that data once it's collected.
Intel's silicon already lies at the heart of the digital economy, even if ARM is causing it some bother on the periphery, and Plan C's emphasis on using SISes to bring even more "analogue" resources into the digital domain, because it's most sustainable - to "take IT and substitute it for other resource used in society", as Curley puts it - can only expand that coverage.
Intel's vision isn't entirely fuelled by hubris, or by the desire to sell more microprocessors. Curley believes that digital technology can make the world a better place - and not simply by giving the population of rich and developing nations more shiny toys to play with. The application of SISes to establish closed-loop control systems can have a very positive impact on the environment (in its broad sense) in which we live.
Work has already begun exploring how the Internet of Things and Exascale Computing are going to benefit not just society but the individuals who make it up too.
Dublin up
Curley's an Irishman, so it's perhaps no surprise that he has helped establish a number of pilot programmes in Dublin – "it's our our testbed, our petrie dish", he says – in partnership with the city's council, the local Trinity College and Irish energy companies. They have worked, for instance, to devise a context-aware e-car system that monitors usage and uses that data to predict EV charging requirements and then align them to grid utilisation.
The upshot: an ability to predict with 90 per cent accuracy when a punter is going to need his or her car, ensuring it is already fully charged and was topped up when power was at its least expensive. It's about balancing load at home and in the community. Curley claims the results show a clear 44.5 per cent reduction in the cost of charging an e-car for the owner. Battery longevity is increased by 50 per cent.
Curley reckons this technology can be used to put an extra 250,000 e-cars on the road without the need to spend a single cent building extra power generation capacity - and thus at no increase in "green" costs - and with no risk of saturating the grid.
Of course, e-car ownership is low so a doubling of usage doesn't represent a significant power drain, but then the technology being used to keep them charged is in its infancy.
Curley and co have already begun extending the approach to storage heating with, he says, some very promising results - encouraging enough to warrant the commencement of a 1,000-home trial next year. It's not hard to think of many other examples in the home, in the office or out of them where sensing resource-usage patterns and the ability to intelligently respond to them can help reduce direct monetary costs and longer-term environmental expenses.
Real cash savings
In-the-pocket savings like these are the carrots Curley thinks will have consumers and city councils queueing up to adopt this kind of technology. A saving of a few percentage points won't make a difference, he rightly says, but a big saving makes ordinary punters take note.
Dubliners are keen, Curley says. At the May 2013 launch of the broader initiative of which these two schemes are a part, visitors to a tech showcase showed an overwhelming interest in establishing their city as a testbed for new technology. That's easy to say when you think someone else will pick up the tab, but the early work suggests there will be a direct benefit to Dubliners' wallets too.
Better still, it has provided an incentive for folk to adopt more sustainable behaviour. It hasn't foisted such upon them with rules and fines, or taxes. That, says Curley, is a key part of Plan C – to provide a way for people to do the right thing themselves: carrot not stick.
And not just in Dublin. Intel will establish similar research in London next year. A trial in and around Hyde Park will follow soon after. Curley says the company is talking to other European cities too.
Wherever Intel and others establish first pilot and then larger-scale SISes, the citizens are a key constituency, says Curley. Money and motivation will come from government, both local and national. Expertise will come from academia, implementation from industry.
But people will play a part too: using apps to actively provide data and generating it indirectly too – for example with GPS trials that reveal how public transport might be better scheduled, or the harvesting of tweets to reveal fly-tipping, bad parking and other urban nuisances.
Citizen collaboration
This is merely an extension, says Curley, of what folk are already doing on the internet's numerous social, sharing and collaborative platforms, from Lego's Create and Share - the best results of which are turned into real kits - to the Apple and Google app stores, and to Wikipedia.
Naturally there are very real privacy issues that need to be tackled here, but Curley says the Dublin experience shows people have a willingness to engage with this kind of technology for sustainable living and to collaborate to make it work optimally.
Of course, it also takes companies to invest in the technology and build it out. It's an opportunity too, to take the technology and create products and expertise that can be exported globally. There's plenty of work to do - the risk is that it won't get done in time because the bureaucrats have spend too much time talking about it.
Curley claims Intel is pushing them along. True, he has involved the chip giant in the Union's various digital society and sustainability initiatives, and even jointly established the Open Innovation 2.0 scheme with the European Commission - "it's about developing a new business model for Europe - no one had done that before", boasts Curley. So it's hard not to take the cynical line that the bureaucrats and lobbyists will end up fiddling while Europe burns. ®