Original URL: https://www.theregister.co.uk/2013/10/11/film_review_computer_chess_andrew_bujalski/
Computer Chess: Geek, gaming and retro-tech movie of the year
'The chessboard is the world, the pieces the phenomena of the Universe'
Posted in Personal Tech, 11th October 2013 14:04 GMT
Film Review Surely no normal person would ever want to spend an hour and a half, let alone a whole weekend, in the company of beardy-weirdy 1970s computer nerds as they challenge their chess programs to beat all comers – and maybe, one day, even a human too?
Director Andrew Bujalski must be rather keen to do so, because it's the subject of his new film, Computer Chess, which opens in the UK next month. Watch it and, like him, you may well find these 'spotters - introverts and egocentrics, boffins and bullshitters - have hidden depths. Their software too.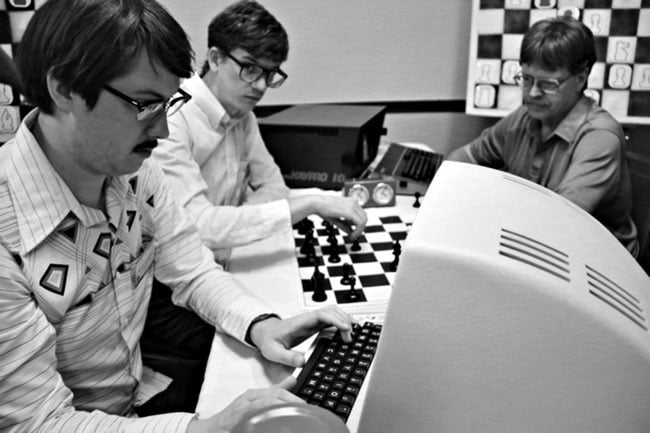 Tsar wars: Peter Bishton (Patrick Riester) and Martin Beuscher (Wiley Wiggins) gear up to win
Brits may not have heard of Bujalski, but he's been writing and directing feature films in the States for nearly a decade and is something of a rising star of the US independent film scene. Computer Chess is his fourth movie. He describes it as "an existential comedy" and, in a filmed introduction to the film, "a period piece".
Both descriptions are apt. Computer Chess is anchored in a specific era, the late 1970s and early 1980s, and you'll certainly chuckle and laugh out loud, though it's humorous, observational comedy rather than slapstick or farce. But this is a film that delivers a whole lot more than a fond, gently mocking look at a gawky, geeky milieu.
Computer Chess takes place at a three-day chess tournament in which teams of programmers – some from universities, others from companies, individuals too – pit their programs against each other in a clash of calculators where the winning software will grapple with a human grandmaster.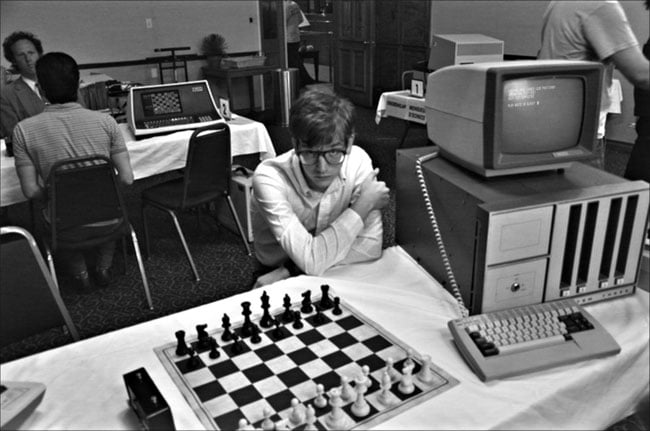 Peter Bishton channels a young Bill Gates
Smartly shot on black-and-white analogue NTSC video at an old-style telly 4:3 aspect ratio, the movie thoroughly invokes the clumsy, on-to-something-bigger-than-they-know world of 1970s computer research, melding Doug Engelbart's 'Mother of all Demos' with, initially at least, the mockumentary style of This is Spinal Tap.
Yet Computer Chess cleverly wears its era lightly. This is not a film obsessed with achieving historical accuracy to umpteen decimal places. This is a movie about people far more than the time it's set in. It's not restricted by history - it's no Micro Men.
Retro computing fans will naturally spot errors. The big box one band of boffins wheel into the convention is said by one of them to be a DEC PDP-11, but it looked too small to me. Certainly the Compaq Portable, which didn't ship until 1983, wouldn't have been be available for the film's "circa 1980" setting, and neither would the Osborne One another team makes use of.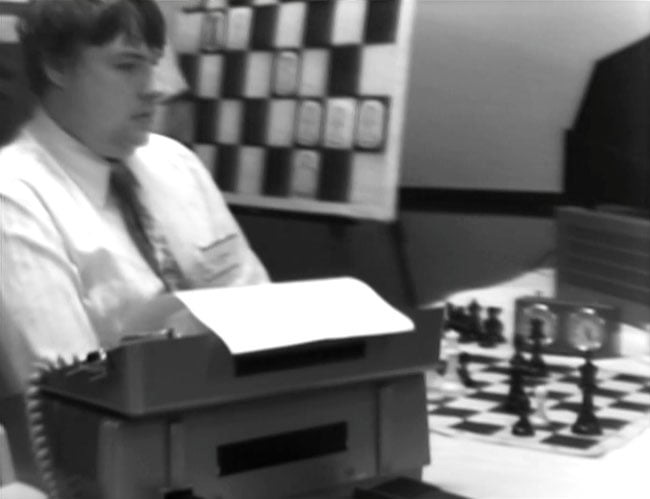 Terminal velocity ... a Teletype-like machine spews paper printouts
This really doesn't matter. All the machines present, and be they Pets, Zeniths, Imsais, Tandy TRS-80s, Amdahl TTYs or whatever - every one of them with a clunk-clunk-clack keyboard and a white-on-black CRT character display - are there to set the retro tone, and they do it perfectly.
Likewise, Bujalski makes very little use of contemporary computerspeak and jargon. What argot there is is caught through scene-setting snatches of whispered conversation as participants discuss their progress and that of the their competitors.
Board not boring
Pleasingly, Bujalski avoids the temptation to make easy jokes about what to the characters is the distant future but to the audience thoroughly familiar. There's a gag about the future of computers being dating, but that's entirely appropriate given the movie's interest in nerd relationships. But there are no knowing winks to the internet, Facebook or mobile phones.
Computer Chess' main characters may be eggheads, but Bujalski stresses their humanity. What got him working on the project was a fascination with old-school nerdery from a time long before being geeky was cool, back when technology wasn't about the next shiny new toy and wasn't taken for granted.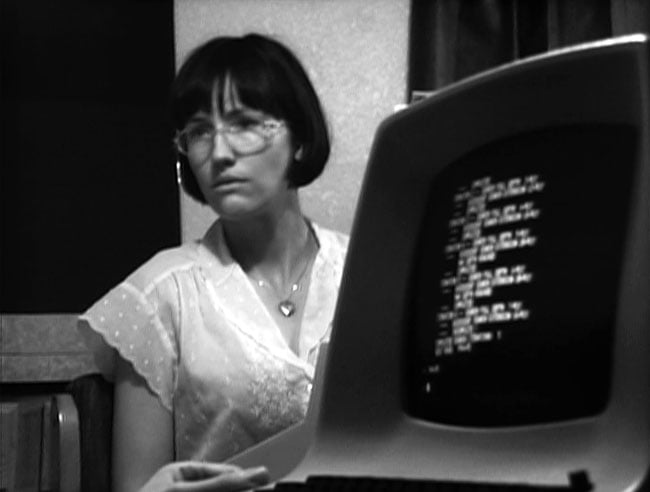 Not just guys: nerdette Shelly Flintic (Robin Schwartz) considers her code
The guys he's interested in are the giants on whose shoulders today's app millionaires and Kickstarter celebrities are standing.
Bujalski carefully avoids laughing at the stereotype. Sure, some of these guys have difficulty socialising, but they're no more or less maladroit than anyone else from that period. Like the couples attending a double-booked weekend guru-led encounter session being held in the same hotel the the chess convention is checked into.
So the thick, black-framed spectacles, the Woz-style facial hair, the Bill Gates tanktops, the moustaches, the short-sleeved shirts - these are all the grotesqueries of the time, not of nerds or computer guys specifically.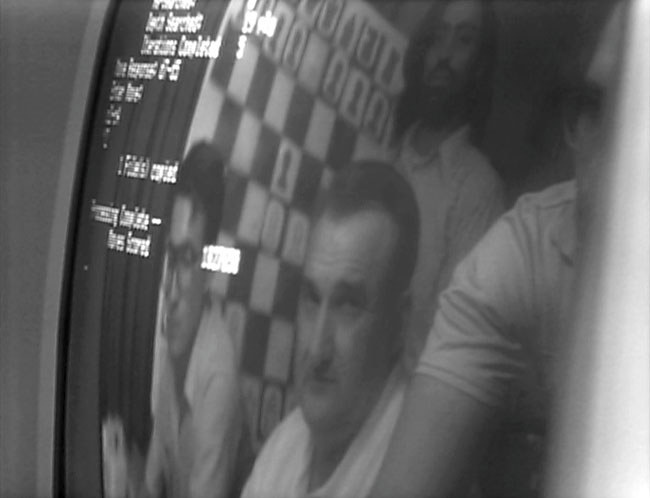 Monitoring the opposition
And while they're driven to stay up all night chasing down solutions to bugs, these folk are not averse to a little R&R. They're sorted out for weed and pills. Booze too: one British programmer even maintains you can't code effectively on anything less than three glasses of Scotch.
Bujalski has a good observer's eye. He shows subjects tapping away on virtual keyboards, minds absorbed in new code. They're not dispassionate academics either. One flees from a threesome – not, you sense, because of his sexual innocence, but because the middle-aged man and woman trying to lure him into bed are so grotesque.
Even the movie's foil, Michael Papageorge – wonderfully played with Larry Ellison three-piece suit egocentricity by Myles Paige – has no problem slagging off everyone else's code, and even the tournament itself, though he's no less keen than the rest of them to win. "It's World War Three!" a fellow player enthuses. Everyone eagerly looks out for the rumoured presence of government spooks; they all want better-paying jobs.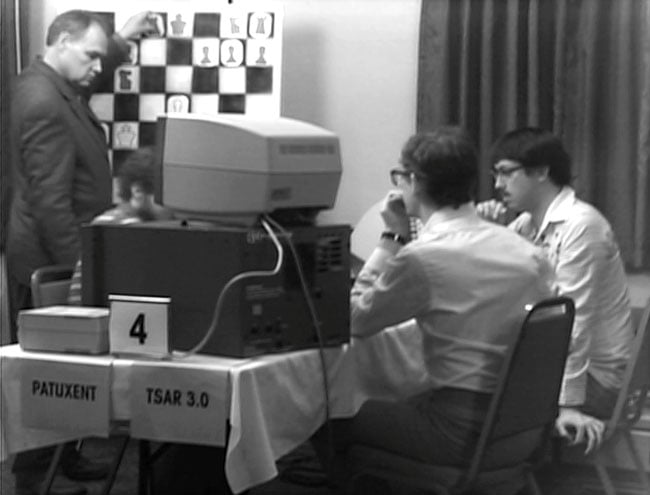 Scrambled eggheads
The contest begins, and it's not long before team member Patrick Riester (Peter Bishton) realises that the program he's working on, Tsar, is losing on purpose. It wants to pit itself against people, not machines. Team leader Tom Schoesser - played by real-life computer scientist Gordon Kindlmann of the University of Chicago - has been adjusting the code's compiler to add its own algorithms.
Schoesser's number two, Martin Beuscher (Wiley Wiggins), later confesses he was present at the 'birth' of their artificial intelligence, and event signalled by the appearance of an foetal ultrasound scan on Tsar's screen. Off camera, Schoesser's wife is giving birth to Schoesser's human child.
The Meaning of Life
And so too Bujalski's own baby: the movie itself is an artificial organism, progressing from its early, wobbly shots into upright stability. There are occasional moments when it stutters, gets momentarily bright or suddenly dark, but at last it's there: a brief sequence in which the film breaks out of black and white and into an Instagram retro colour. But enlightenment or adulthood is short-lived. We're soon back to the monochrome world of the tournament's endgame and, shortly, the film's finish.
Artificial intelligence has its limits. The film runs out, the plug gets pulled. Or, as happens here, Tsar is left next to an open window and then wrecked when the rain comes in. Did Riester leave it exposed deliberately?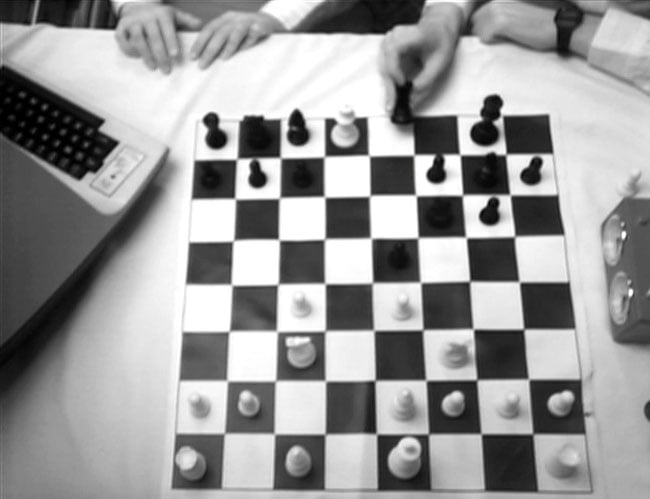 'The chessboard is the world, the pieces are the phenomena of the Universe, the rules of the game are what we call the laws of Nature' - Thomas Huxley
Natural intelligence clearly has boundaries too. It can foster irrational fears of silicon rivals. Life can seem to become stuck in a programmatic loop out of which you can't break. Human interaction can sometimes seem like a series of moves, not all of them rational, on a chessboard.
Bujalski makes play with all of these notions, but never without the smile on his face of a father - which he recently became - watching the innocent foolishness of a child. This is no ponderous examination of the human condition. It's a light, affirming and as surreal as life itself can be: the unnamed, low-budget motel in which the tournament takes place is home to a clutter of cats, something you might well have seen in an era before the hospitality business became all about corporate homogeneity.
Papageorge is forced to wander the corridors at night, the motel having lost his reservation. How did we manage before computers were invented? He's eventually taken pity upon by the nighttime receptionist and given a room to which he immediately invites the hotel's silent, mysterious hooker - only to find it full of allergy-inducing moggies.
You got the wrong pussy tonight, Michael.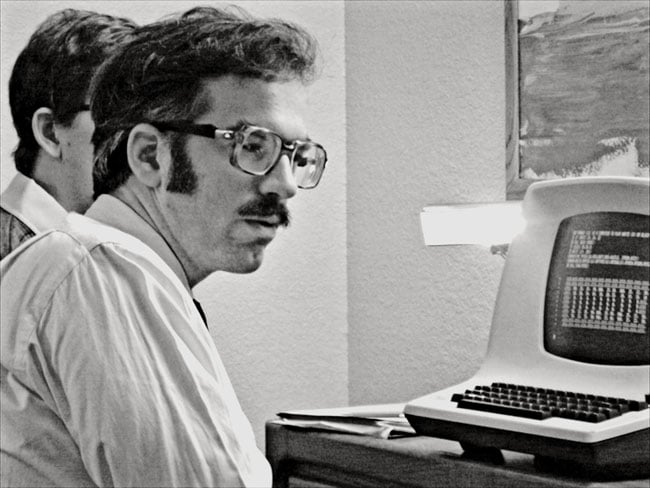 Real-life computer boffin Gordon Kindlmann
Bujalski gets spot-perfect performances from all of his cast, almost none of whom are professional actors. Two are app designers; a third writes books about film; another is an arts journalist; one is a playwright. Not one of them puts in a duff performance.
The Reg Verdict
Computer Chess - you'd never think you could make as entertaining, funny and engaging a movie about computers or chess, as this one is about both. Thoroughly recommended for nerds - computer, chess or retro-tech - and non-nerds everywhere. ®
Computer Chess opens in the UK on 22 November through Eureka! Entertainment. Certificate TBA. Check out the trailer here. It's on this weekend at the BFI London Film Festival.