Original URL: https://www.theregister.co.uk/2013/10/10/review_western_digital_my_cloud_2tb_nas/
Do-it-yourself Dropbox: Western Digital's My Cloud 2TB NAS box
Easy-peasy network storage with handy remote access
Posted in Cloud, 10th October 2013 13:46 GMT
Review Western Digital's My Book Live line has been around for three years now, but beyond the addition of a 3TB model to 2010's 1TB and 2TB versions, WD hasn't done a lot with it in the intervening period.
Sure, we've had some regular firmware updates - not all of them meeting users' approval, incidentally - but there's clearly something of the "if it ain't broke..." philosophy in WD's attitude to its home-centric network-attached hard drive.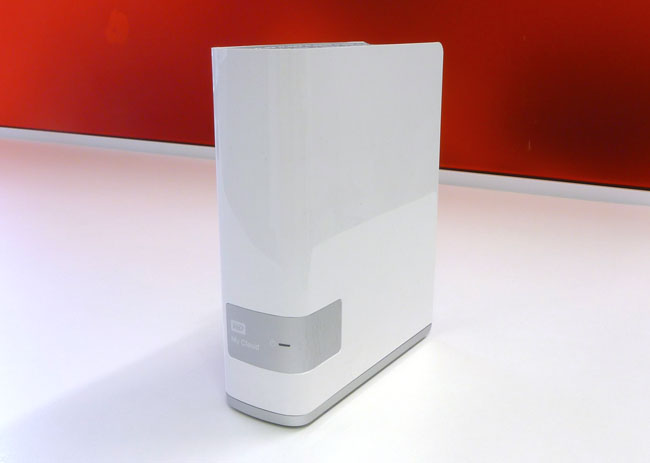 WD's My Cloud: WD's My Book Live with added... er...
Not merely intended as a fat store for a family's files, accessible through computers, tablets, phones and, indeed, any device capable of tapping FTP, DLNA and iTunes servers, as well as AFP and SMB file-shares, the Live drives can also be reached remotely.
WD's mobile app, WD 2 Go, has long let you draw down files from your Live and upload them too as if - your home broadband bandwidth permitting - it was your own personal Dropbox.
Speaking of which, WD 2 Go can tap into that too, and into Microsoft's SkyDrive, using those sync'n'store services' own APIs to give you direct access to the files you have stored there.
I have a My Book Live. While it's quicker to pre-load a device or a USB Flash drive with very big files, its "cloud" capabilities are fine for grabbing fresh e-books, office documents, piccies and such. Right now I'm in Vulture Central but I'm listening to music stored on the Live.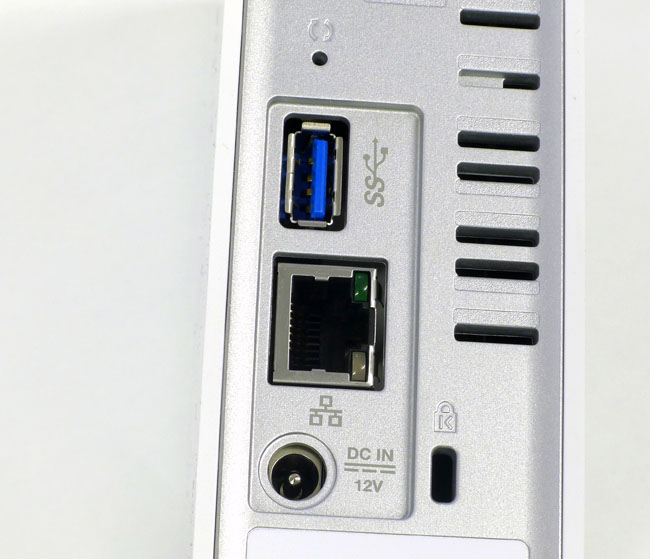 There's now a USB 3.0 port for storage expansion and drive back-ups
The only thing that's changed of late is that WD 2 Go is now called My Cloud, to tie it to WD's new line of network-attached storage boxes with internet linkage, also called My Cloud.
Really it's a marketing exercise, renaming the app. WD still offers the Live, but it's hard to imagine it being kept around with a fresh production run after current stocks are depleted. My Cloud does exactly the same job as the Live but, according to WD's way of thinking, is more appositely named.
So yes, My Cloud provides all the features that My Book Live does. And nothing more. Now, WD will undoubtedly write in to tell me My Cloud does do more, but the only noteworthy differences are a UI refresh and a new desktop app. The former is visually more attractive that the previous one, but there's no functional difference. The desktop app provides the same kind of mix'n'match access to the MyCloud as the mobile version does - but more on this later.
As before, the drive's browser-based interface allows you to perform the customary maintenance and set-up tasks, whether you're adding user accounts; setting up shares beyond the drive's open-to-all Public folder; backing up the drive's contents; or configuring remote access.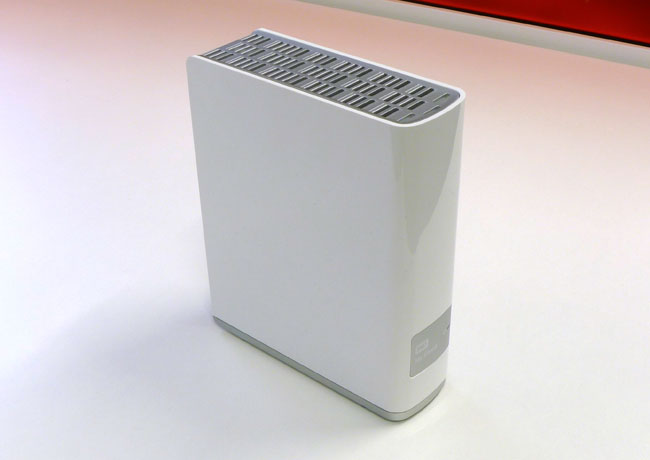 The My Cloud is designed to be set up vertically, but horizontal will do
There's one other difference between the My Cloud and the My Book Live: the new version strongly implies you won't be able to access the drive remotely unless you and every other person with files on the drive head over to WD's website and create an account. No account, no remote connectivity, no personal cloud.
This isn't the case, I'm pleased to say. I've got enough online accounts - I don't want any more unless I really, really need them. Now, early WD network drives forced this on you, but the My Book Live introduced a better way: it generates activation codes that can be keyed into a mobile device's app to tie it to the network storage.
Essentially, this establishes a unique relationship between drive and client, which WD's servers use to establish a connection from one to the other so you don't have to worry about IP addresses, DNS entries and such. The crucial point, for me, is that you don't have to sign up for anything.
Access all areas
Fortunately, the same mechanism is also made available on the My Cloud. You only need the WDMyCloud.com login if you want to access the My Cloud through a web browser, but I've always found this a third-rate experience, behind access through a native app – or, best of all, access through a computer's own file system browser.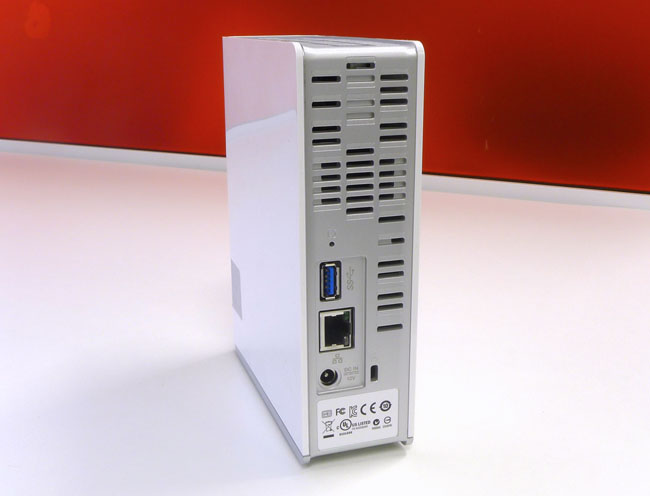 Plenty of vents but no ready access to the drive within
Incidentally, the My Cloud, like its predecessor, offers both SSH access and can maintain an FTP server, though both of these are disabled by default. The current firmware won't support anonymous FTP logins - you'll have to use one of the user accounts on the drive. You can see shares you don't have access rights to, but attempts open them are blocked.
SSH-ing into the box as root reveals the My Cloud runs Debian running on an ARMv7 chip. In fact, it's a MindSpeed chip with a pair of cores running at 650MHz. Its predecessor contained a single-core part clocked to 800MHz.
When you enable SSH, the My Cloud UI provides a generic root password. You'll want to change this of course. Doing so does not screw up the UI's firmware installation mechanism.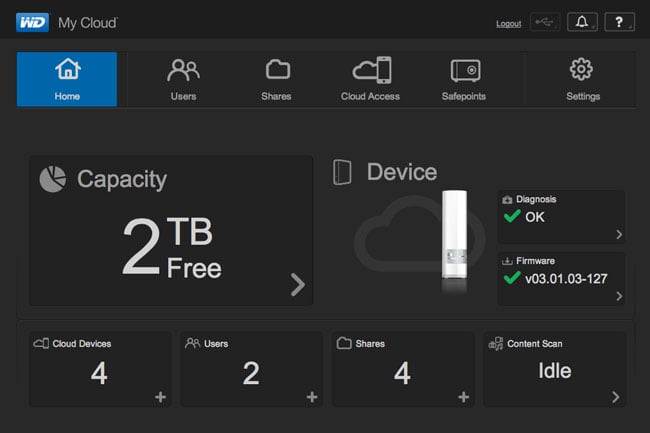 The new, smarter UI is based around WD's "dashboard"
So if the My Cloud is functionally identical to the My Book Live, have there been any changes made at all beyond the branding? I've already mentioned the dual-core processor - the Live has a lesser chip that's less power efficient, though what difference that makes in practice we'll only see with time. Like the Live, the My Cloud connects to your router over an Ethernet link and, again, it's Gigabit.
The new drive has a rear-facing USB 3.0 port which you can use to connect external hard drives - up to seven of them if you route them through a powered USB hub - as storage expansion. Or to load up the My Cloud. There's no facility for this in the UI, so you need to cp files and folders after SSH-ing into the box.
You can also back up the My Cloud's contents to a USB-connected drive - the Live could only back up to another Live - and set this to be updated automatically after the initial back-up to a schedule you determine. WD calls these back-ups "Safepoints" but they're file-level copies so you can drill down through the directory structure to access specific files if you need to.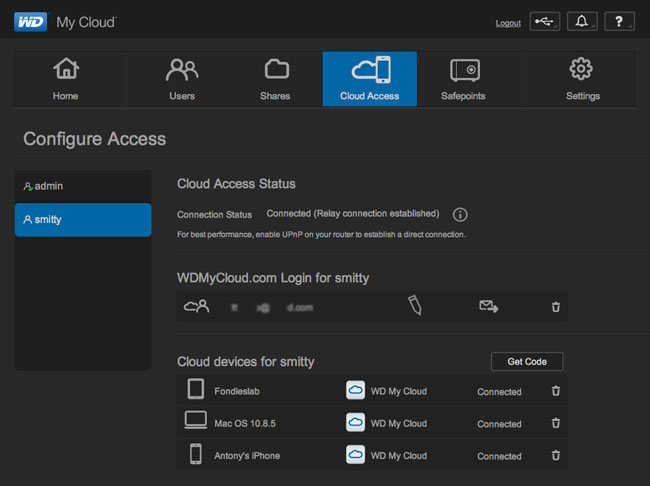 You can enable remote access without signing up for a WD account
Speaking of back-ups, the My Cloud, like the Live, supports Apple's Time Machine and Windows 8's equivalent, File History.
I've mentioned the renamed WD 2 Go mobile app, but a new addition is a version for Windows 8 and Mac OS X desktops. I'm not sure why you really need an application for a desktop OS, since, surely, you'll be accessing the My Cloud's files directly through the file system. That said, as the mobile version can show your Dropbox, SkyDrive and now Google Drive files too, it's a handy way of moving files from one to another.
Backups and the ability to copy particularly important files to the cloud may be reassuring to some folk because the My Cloud contains but a single drive - and a not readily removable one at that. WD is promising to ship a 4TB dual-drive version next month but so far is not saying whether this will feature RAID support for disk mirroring. Mind you, since WD is shipping 4TB HDDs now, it's plausible this bigger capacity My Cloud will contain two of them, mirrored, for an overall effective capacity of 4TB. But we shall see.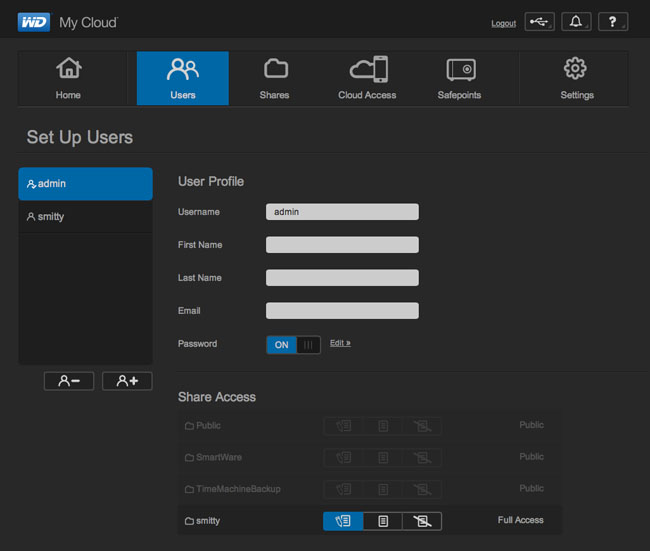 My Cloud has all the usual user and share configuration options
RAID support may extend to striping for better performance. As it stands, the current model gave me write and read speeds of 22.25MB/s and 29.40MB/s for a 10.24GB file, and 12.79MB/s and 21.41MB/s for a 3.38GB folder full of hundreds of files. I have seen other evaluations the claim much higher speeds - 62MB/s for a 10GB file write - though my tests were conducted using a single Gigabit Ethernet wire between computer and My Cloud using the Unix cp command.
WD isn't saying what disks it's building into the My Cloud, so perhaps it's using a mix of grades. It's pot luck then, which one you get.
The Reg Verdict
Like the My Book Live before it, WD's My Cloud is a fine network storage unit for folks look for a basic multi-user file access system. You can't easily upgrade the on-board drive, but you can extend it using USB 3.0 storage.
It won't suit the hardcore NAS user. There's no on-board Torrent client or other useful accessories, but with SSH access a savvy user can install them. But they're not likely to be impressed with the lack of RAID support, or how WD makes it hard to upgrade the HDD.
For less demanding users though, the My Cloud is a good, reasonably priced uncomplicated NAS box with easy over-the-internet remote access. ®