Original URL: https://www.theregister.co.uk/2013/10/08/hp_chromebook_11/
RIP charging bricks: $279 HP Chromebook 11 charges via USB
Now you'll need a PC to charge your phone, ebook reader and ... er, laptop
Posted in Personal Tech, 8th October 2013 21:22 GMT
HP has unveiled a new Chromebook that it says borrows design ideas from Google's posh Chromebook Pixel - while still keeping the price tag under $300.
Unlike HP's earlier Chromebooks, which you'd be hard-pressed to tell apart from the company's Pavilion laptops at first glance, the HP Chromebook 11 was designed "in close collaboration with Google" and incorporates a number of novel features.
Perhaps most notably, it's the first Chromebook – and possibly the first laptop of any kind – that charges via the microUSB port, so you can carry a single charger to power up your Chromebook and your phone, tablet, e-reader, and other devices.
It also has an "extra bright" (300-nit, to be precise) 11.6-inch IPS display that promises a 176-degree viewing angle, although unlike the ultra-high-res Chromebook Pixel, it runs at a modest 1366-by-768 resolution.
Under the hood, HP's new Chromebook is powered by a dual-core Samsung Exynos 5250 GAIA CPU, making it the second Chrome OS device to be built around an ARM processor after the second-generation Samsung model.
It also features speakers that project audio up at the user from underneath the keyboard, rather than underneath the chassis like many other laptops.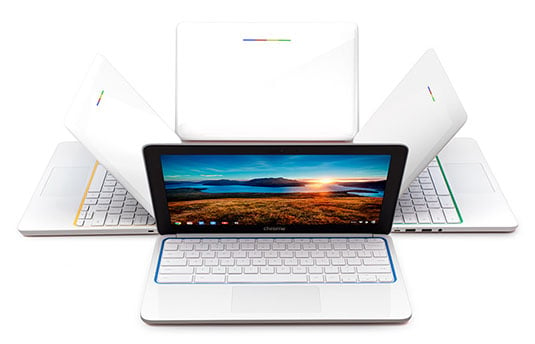 Color accents on the HP Chromebook 11 are subtle, or you can have all-black if you prefer
Otherwise, the specs are similar to those of other Chromebooks. It comes with 2GB of RAM, a 16GB solid-state drive, dual-band 802.11a/b/g/n Wi-Fi, Bluetooth 4.0, two full-sized USB 2.0 ports, and a VGA webcam. LTE connectivity (through Verizon, in the US at least) is optional and "coming soon". Battery life is said to be around six hours, which is typical of other Chromebooks.
All this is stuffed into a 2.3-pound (1.04kg) magnesium chassis that comes wrapped in either white plastic with your choice of blue, green, yellow, or red color accents, or plain black for the more traditionally minded.
HP and Google have bundled the usual Chrome OS extras, including 100GB of free Google Drive storage for two years, a 60-day trial of Google Play Music All Access, and 12 free sessions of GoGo Inflight internet access.
Still, if it can be hard to tell one Chromebook from the next, Google's formula seems to work for quite a few folks. Chromebooks have been described as the fastest-growing segment of the PC industry, accounting for nearly a quarter of the US market for cheap laptops.
If you like the sound of it and you're in the US, you can pick one up on Tuesday in white with blue accents at "select retailers" – which means Best Buy and we're not sure who else – for $279.99. HP will begin selling them on its website on October 16, and they'll be available via Amazon.com and Google Play, as well.
Curry's and PC World will be handling sales in the UK, where the HP Chromebook 11 will go for £229 and will be available beginning on October 21. ®