Original URL: https://www.theregister.co.uk/2013/10/07/uk_internet_ad_spend/
Brits spend one in every 12 waking minutes online, say beancounters
Thus companies spaff ever bigger wads of cash on internet ads
Posted in Business, 7th October 2013 10:54 GMT
Britons spend one in every 12 waking minutes on the internet, causing advertisers to splurge great wads of cash on online marketing, according to an internet advertisers' trade body.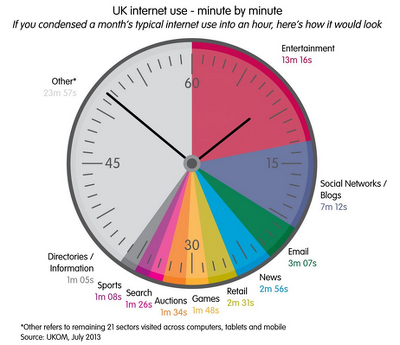 UK internet use minute by minute. Source: UKOM, July 2013
According to a report from the Internet Advertising Bureau, folks in Blighty are nearly always online unless they're actually unconscious*, so UK companies spent a record £3.04bn in the first half of this year on internet, smartphone and tablet ads.
The Digital Adspend Report, conducted by PwC using UKOM-approved comScore consumer data, showed that 22 per cent of all British internet time is now spent watching entertainment online, while social networks and blogging take up 12 per cent of the time.
Advertisers upped their spending by 17.5 per cent in the first half of 2013 to £3.04bn, compared to the first half of 2012, with a massive 127 per cent rise in the amount spaffed on mobe ads to £429.2m. But the biggest rise was in mobile video advertising, since 4G is now on the scene, with spending growing 1,260 per cent from £1.7m to £23m.
Consumer goods companies are now the biggest spenders on mobile display advertising, doubling its share to 26.8 per cent and overtaking entertainment and media, which stayed at 22.9 per cent.
"The fact that consumer goods – such as food, clothing and jewellery – account for over one quarter of mobile display advertising shows how important brands regard smartphones as key to consumer buying behaviour," said Anna Bartz, a senior manager at PwC.
"Mobile has moved on from being a communications or entertainment device to a bona fide retail one. It's an interesting contrast to how dominant entertainment has become on 'fixed' devices such as computers and laptops." ®
Bootnote
*Worked out using figures for minutes spent online per month from UKOM/comScore and The Sleep Council's Great British Bedtime Report conclusion that the average Briton sleeps six hours and 35 minutes a night.