Original URL: https://www.theregister.co.uk/2013/10/07/review_apple_imac_27_inch_2013/
Apple iMac 27-inch 2013: An extra hundred quid for what exactly?
Do Haswell, updated graphics and optional PCIe SSDs justify the price rise?
Posted in Personal Tech, 7th October 2013 11:04 GMT
Review The original iMac, launched back in 1998, was a breakthrough product that rescued Apple from being sucked into the sort of death spiral that Blackberry is currently speeding down. But now, in 2013, the latest version of the all-in-one desktop computer appears to barely merit a press release from the Apple mothership.
In fact, it was slipped in almost as an afterthought between the high-profile launch of the new iPhone and the upcoming and equally brightly lit debut of a new iPad.
To be fair, the iMac had its moment in the spotlight last year when Apple unveiled a new, more streamlined design. That design remains unchanged this year, which means that the 2013 version of the iMac is little more than a speed-bump that brings it up to date with the latest Intel Haswell processors and Nvidia's GeForce GT 700 series of graphics chips.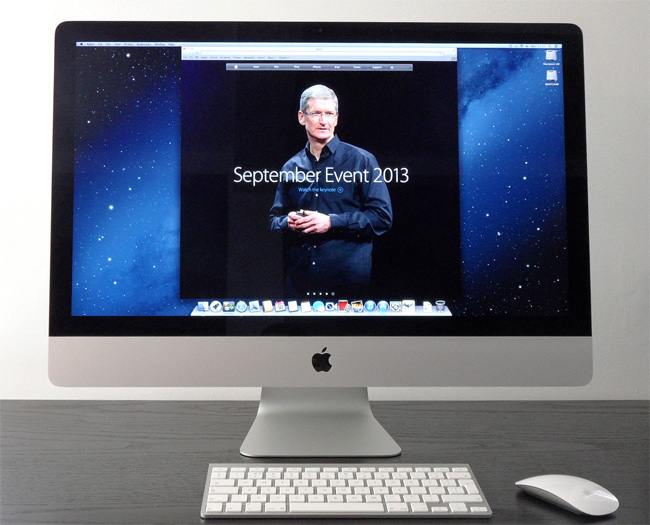 Apple's updated iMac: it didn't upgrade the publicity drive
The update also brings 802.11ac Wi-Fi on board too – along with a £100 price increase that sadly seems to be an annual feature of the iMac now.
The 2012 revamp will be familiar to all by now, but it's still impressive to see the lengths that Apple will go to in order to make its kit look pretty. The company used a new laminating process that reduced the thickness of the screen panel to just 5mm around the edges.
The display itself is a treat for the eyes as always, with a 2560 x 1440 resolution IPS LCD panel on the 27-inch iMac I have here that is bright and vibrantly colourful, and provides viewing angles that genuinely come close to 180 degrees.
Sure, it might have been nice to up that resolution to 3840 x 2160, but this is a consumer-oriented machine, not a pro's workhorse. It's now too much to ask for a glare-less panel, but Apple has managed to avoid the mirror-like sheen found on its laptops and many of its rivals' offerings. And to the eye, this is a nice display.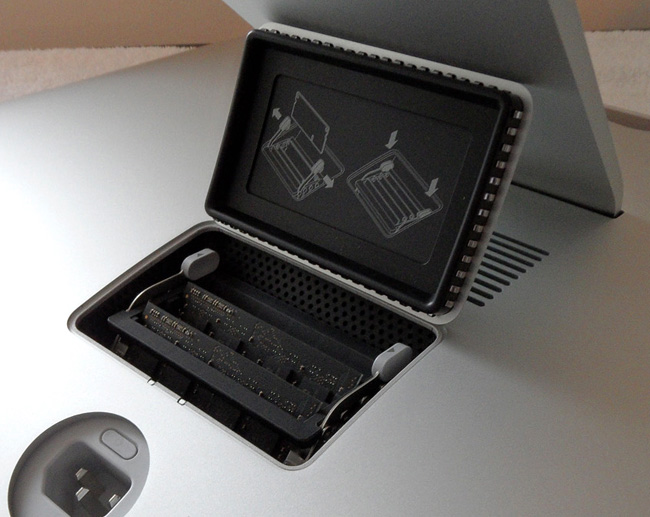 At least the 27-inch iMac lets you mess with its memory – the 21.5-inch model doesn't
However, the iMac could be criticised for valuing form over function. There are obvious benefits in reducing the thickness of a laptop computer, but in a 27-inch desktop machine this slimline design can seem rather like an expensive indulgence – especially as you can't even see that sleek profile when you're sitting in front of the darn thing.
There are more practical issues here as well, such as the constant irritation of having all the USB and other ports hidden around the back, forcing you to stand up and rotate the entire unit whenever you want to plug in a memory stick or some other device. Even the SD card slot that used to be within arm's length on the right-hand edge of the screen, just below the optical drive, is now located on the back, forcing you to fumble around the rear whenever you've a card full of pictures to copy.
Then there's upgrading. That lamination process I mentioned renders reaching into the iMac's innards all but impossible for ordinary folk. Even I baulk at going at a computer with a heat gun – and then having to very carefully apply fresh double-sided sticky tape to make sure the re-mounted screen stays in place.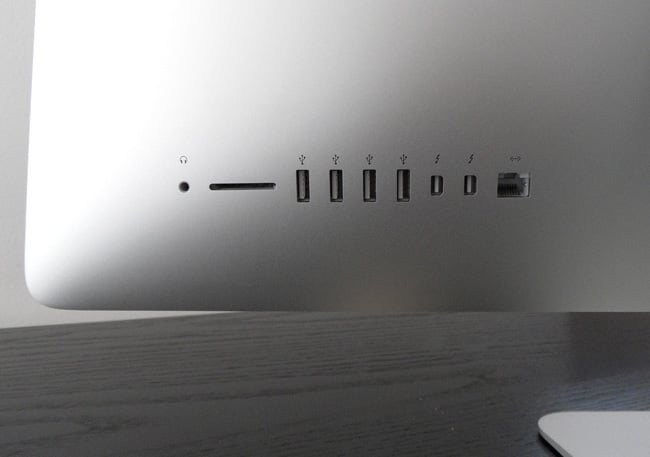 A decent array of ports, but they're a git to get to
Thankfully, the memory access panel, though absent from the 21-inch iMac, is still present on the 27-incher. There are four DIMM slots, two of which are populated on the standard model with 4GB 1600MHz DDR 3 sticks. Apple even prints installation instructions inside the bay. But you can effectively forget about upping the storage.
The standard allotment is 1TB, provided by a 7200rpm hard drive. An extra £160 gets you a 128GB SSD too, but configured not as a separate volume but, together with the HDD, as a single storage area. It's called Fusion Drive, and it uses Mac OS X's Core Storage Logical Volume Manager to move frequently accessed files off the HDD onto the SSD. It's faster this time round because the new iMac hooks the SSD in across the PCI Express bus rather than at a SATA port.
Alternatively, that same £160 will get you a 256GB SSD on its own, but I'd be inclined to go with the Fusion approach. Configuring your machine with a 3TB hard drive will cost you £120 over the base price; a 3TB Fusion Drive is £280 extra.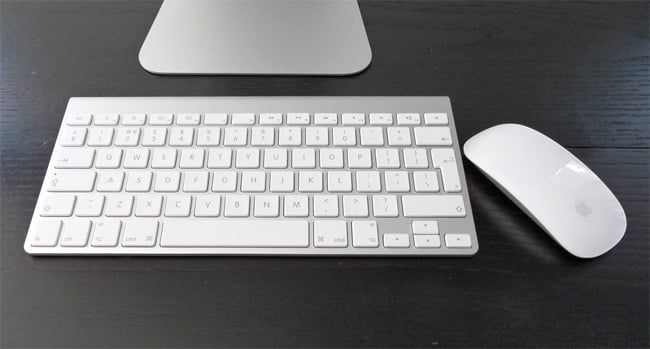 Still supplied: the standard Apple Bluetooth kit
While the original iMac made the bold decision to abandon floppy disks, I'm still not convinced that ditching the DVD drive was a wise move. I still have numerous pieces of software, both games and productivity apps, that I need for work and which have to be installed from a DVD. I have a large disc collection: I can't even rip them for personal use on this thing.
Given how thick the iMac is once you move beyond the edges, there clearly is room to fit a slot-load optical drive. If that's not a convenient location, well neither is the place where all of the iMac's other ports are located, and you'll use them far more than you do a DVD drive. If that doesn't appeal to Apple's industrial design team, the company should include one of its external SuperDrives for free. Jobs knows the company can well afford this small generosity.
Muddled upgrade options
And then there's that £100 price rise to think about too. This 27-inch model now starts at £1599, compared to £1499 last year. It does at least incorporate a new quad-core Haswell Core i5, as well as increasing the clock speed from 2.9GHz to 3.2GHz, rising to 3.6GHz with Intel's TurboBoost core auto-overclocking tech. This achieves a score of 11,200 in the GeekBench benchmark tests, which – on processor performance alone – makes it the fastest Mac currently available.
Apple also has a 3.4GHz model available that costs £1749, and which forms the basis for a build-to-order until with a Core-i7 processor that runs at 3.5GHz.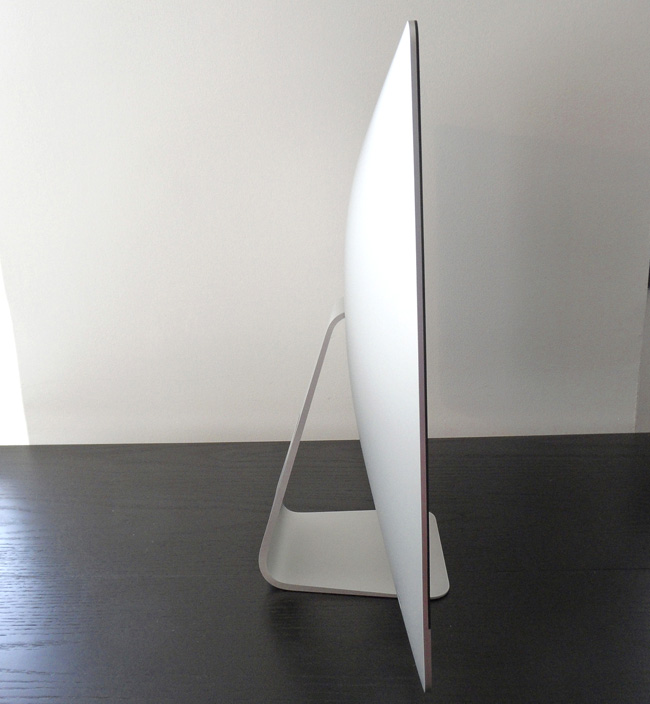 Skinny sides, chunky posterior
Annoyingly, this i7 option isn't available if you buy the 3.2GHz model. This means that you have to pay £150 extra in order to choose the 3.4GHz processor – that you're not going to use – and then a further £190 to get the i7 upgrade that takes the total price up to £1,939.
That said, shifting from the 3.2GHz 27-inch iMac to the 3.4GHz model also gets you Nvidia's GeForce GTX 775M GPU rather than the standard GT 755M. Even the latter is able to run the Mac version of Batman: Arkham City at a playable 31fps at 2560 x 1440 resolution and with graphics and anti-aliasing settings cranked up to their highest levels. Turning the resolution down to 1600 x 900 and 1280 x 720 produced framerates of 51fps and 62fps respectively, so the iMac can certainly handle some serious gaming action if it needs to.
The CPU has its own graphics, of course, Intel's Iris Pro. The iMac's processor is one of the few with Iris Pro – the 5200 in the chip maker's numbering scheme – on board. Most opt for the 5100 aka plain Iris, or the 4x00 set. Having put the Nvidia GPU on board, why did Apple bother with Iris Pro? Or vice versa?
The GT 755M is a mid-range laptop component with a modest 1GB of video memory – the GTX comes with 2GB – and you'd be entitled to expect one of the desktop GTX cards in a high-end model such as this. Also disappointing are the 8GB of memory and the base 1TB hard drive, which seem quite miserly in a machine price as high as this one.
Geekbench Benchmark Results

Longer bars are better
Opting for a conventional hard drive rather than a solid-state drive also affects the iMac's overall performance levels. Out of curiosity, I installed Windows 7 on the iMac using Boot Camp and used the PCMark 7 benchmark to check overall system performance. My colleague Bob Dormon will be relieved to hear that I had no trouble with Boot Camp on the new iMac – he had bother running it on the latest MacBook Air – although its PCMark score of 3585 could probably be beaten by my granny if you gave her an SSD to play with. Last year's 27-inch iMac – with a third-gen Core i5 clocked at 3.2GHz – scored 2705 in PCMark 7.
One final improvement in this model is the inclusion of 802.11ac Wi-Fi, which I was able to test using Apple's 802.11ac-equipped Time Capsule. With a direct line of sight and a distance of 10m, 802.11n in 2.4GHz produced a data transfer speed of 66.66Mbps when copying my iTunes library onto the Time Capsule.
Switching to 802.11ac in the 5GHz band more than doubled that speed to 160Mbps, so that's a genuine improvement for people who perform Time Machine backups via Wi-Fi.
The Reg Verdict
The slimline design of the iMac is still impressive, but it comes at quite a price. That said, other big-name AIOs are not much different. Lenovo's 27-inch IdeaCentre A730, for instance, is £100 cheaper, but you only get 6GB of memory, a GeForce GT 745M GPU and 802.11n Wi-Fi. On the other hand, its chip is a Core-i7 (though only 2.4GHz), its 1TB HDD comes has an 8GB SSD attached, a digital TV tuner and a Blu-ray drive. It's by no means as much of a looker as the iMac, mind.
You can get a PC tower and separate monitor for a lot less money still. You have to decide whether you want or need to pay extra for aesthetics and high-spec construction, both nice to have but not exactly essential.
But that's always been the case with Apple kit, and this new model does at least offer an improvement in performance, the graphics in particular, over its predecessor. And you've got to love that big, high-quality display. ®