Original URL: https://www.theregister.co.uk/2013/10/03/review_sony_xperia_ultra_z/
Sony Xperia Z Ultra: The quad-core 2.2GHz MEGA SCREEN PHONDLESLAB
And you thought the Samsung Galaxy Mega 6.3 was big...
Posted in Personal Tech, 3rd October 2013 09:03 GMT
Review Two years after Samsung opened the Very Large Phone (VLP™) Pandora's Box with the original Galaxy Note, Sony has thrown its hat into the ring with the Xperia Z Ultra: a device boasting a 6.4-inch screen and a 2.2GHz quad-core processor.
Now I have a pretty wild imagination, especially after a few pints and an injudicious late-night cheese sandwich, but even in my most unhinged moments I never thought VLPs would get this big and this powerful this quickly.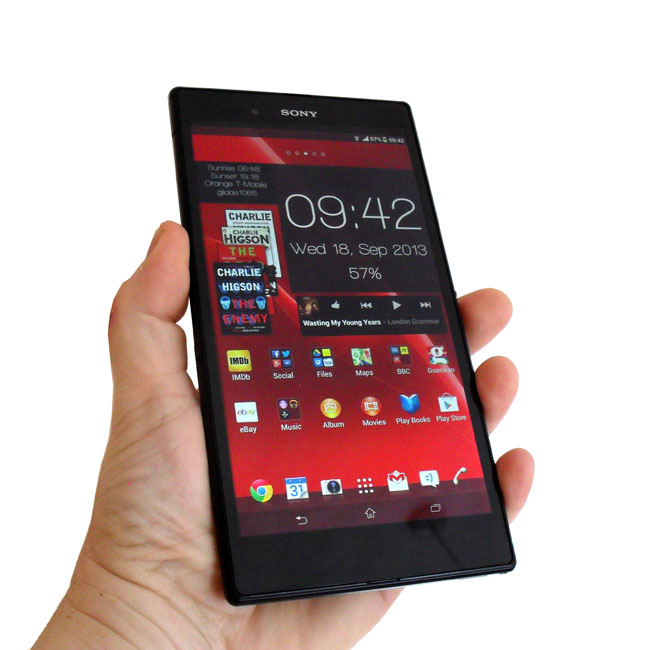 Something of a handful: Sony Xperia Z Ultra
So just how big is the Xperia Z Ultra? Face-on it measures 179.4 x 92.2mm. As you can see from the photograph, that makes it quite literally a handful. The Galaxy Mega 6.3 is 12mm shorter and nearly 5mm narrower. Kudos to Sony's designers for making the Ultra only 6.5mm thick, though, and the 212g weight isn't too shabby either. For comparison, the Mega 6.3 is 8mm front-to-back and weighs 199g.
From those numbers you may deduce that the Ultra has a bit more bezel above and below the screen than the Mega. That's not what I'd call aesthetically desirable but it does mean you have more hardware to grip when holding the Ultra in landscape mode, and it helps minimise accidental screen touches when gaming.
Physically, the Ultra continues with the "OmniBalance" design seen in all recent Xperia devices, including the Xperia Z and Xperia Tablet Z. It's a style that lends itself well to larger handsets and there's no doubt that the Ultra is an imposing bit of kit. Whip it out in a bar and all your friends are certain to go: "Oooh..."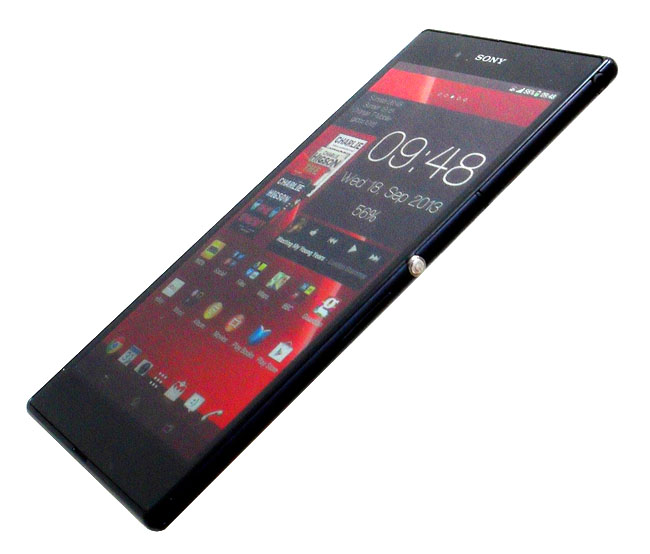 Impressively thin for such a large handset
The downside with the design is that the vast expanse of shiny glass on both sides will have you forever polishing it. I'd suggest getting the white version the better to hide fingerprints. There is also no denying that the more rounded Mega 6.3 is the more comfortable device to hold in one hand.
The design feature that deserves a mention in dispatches is the positioning of the large chrome power button and the volume rocker midway down the right side. Both are perfectly placed to be reached by the index finger or thumb of whichever hand you happen to be holding the device in. Across the way on the left is a dock connector for the Ultra's magnetic charging cradle, while the audio and micro USB ports are at the top of the right and left sides, respectively.
To better keep water, sand and miscellaneous crud out of the Ultra, Sony has improved this latest Xperia's water-resistance rating, getting a IP58 certification for the VLP incarnation which is higher than the Xperia Z's IP57. This means that for all practical purposes the Ultra is sealed tighter than a duck's bum in a downpour. Like the Galaxy S4 Active, the Ultra's 3.5mm audio jack is now waterproof without the aid of rubber plug.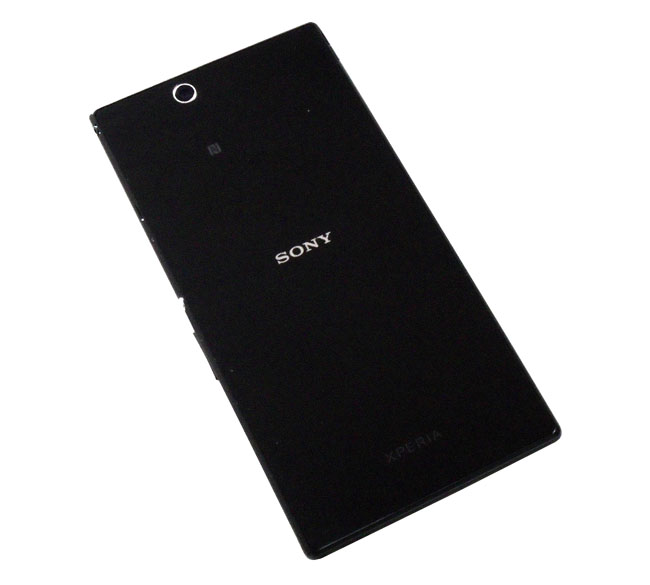 'round the back: just an 8MP camera without a flash
With 1920 x 1080 pixels spread over a 6.4-inch panel, the Ultra's screen has a dot density of 342dpi which, while short of the 386dpi the new Galaxy Note 3 boasts, is still more than adequate in my book. Any differences between a 5.7-inch and a 6.4-inch full HD screen are beyond the ability of the naked human eye - or at least my naked human eye - to distinguish.
More importantly, and thanks to what Sony calls "Triluminos technology", which first made its appearance on Sony's impressive W9 series TVs, the Ultra's display is the best that has ever graced a Sony smartphone and by some margin.
In a nutshell, the Triluminos voodoo makes primary colours bolder while at the same time keeping subtle hues more, well, subtle. Imagine the natural shades of the HTC One's Super LCD 3 screen combined with the bold palette of the Galaxy S4's Super AMOLED panel and you get some idea of what the effect is. Combined with the latest generation of Sony's Mobile Bravia engine, now called X-Reality, video and stills look nothing short of stunning on the Ultra.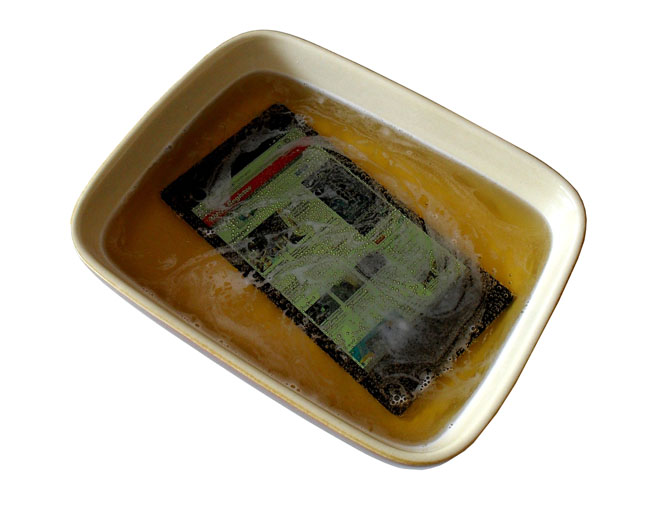 The Ultra passes the submerged in lager test, but utterly failed to fit in a pint glass
I've no idea if it's a side-effect of Triluminos but the Ultra's LCD screen is brighter than the Xperia Z's and there is much less washout at extreme viewing angles. The screen is rather reflective, though, so despite the extra brightness it's still not quite as legible in direct sunlight as the Galaxy S4.
No stylus to hand? USE A BIRO
Unusually you can use an ordinary graphite pencil or pen to write on the display as you would with an S-Pen on a Galaxy Note device. You don't get any of the S-Pen TouchWiz functionality but it does mean you can take easier advantage of the handwriting recognition system. Despite the scratch-proof screen glass, I'm not sure this is something I'd suggest you do regularly or with any gusto.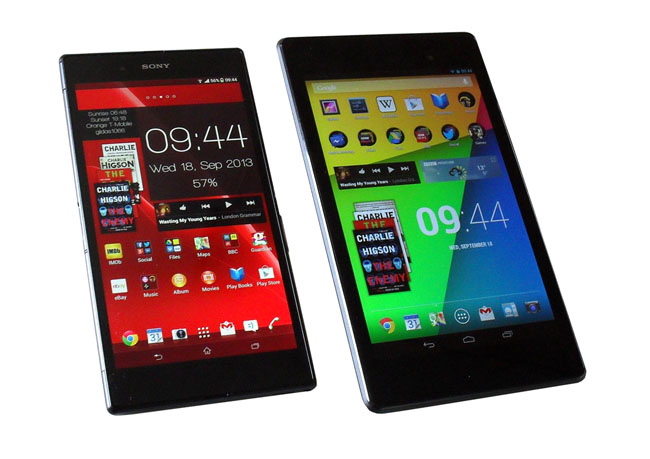 Not much smaller than a Nexus 7
Turning to the guts of the machine, the Z Ultra is the first device I've come across that uses Qualcomm's latest Snapdragon 800 chipset, which will also power Samsung's forthcoming Galaxy Note 3. It features a quad-core 2.2GHz Krait processor, an Adreno 330 graphics core and 2GB of RAM. The Adreno 330 GPU supports OpenGL ES 3.0 which is also a feature of Android 4.3 so it is reasonable to expect even better graphics performance once the Ultra is updated from version 4.2. Sony says this will happen in the near future.
Not that the graphics need better performance. As it stands, the Ultra is a seriously powerful device, the first I've seen to return AnTuTu scores over 30,000, let alone 35,000. Twelve months ago even half that number was pretty impressive which shows how quickly things are developing in the world of mobile chippery. Of course whether or not you need that sort of grunt in a phone is another matter. The SunSpider web page rendering score of 750 was equally impressive.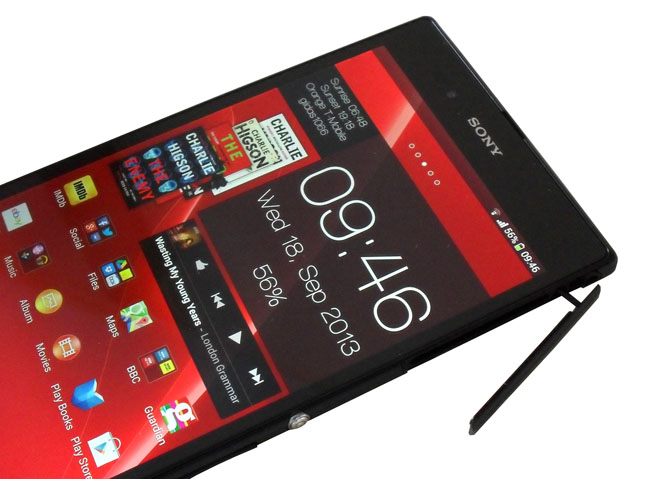 The Sim and Micro SD slots are covered; the audio jack isn't
With dual-band 802.11ac Wi-Fi, Bluetooth 4.0, 3G at 42Mbps up and 5.8Mbps down, and Cat 4 LTE radios, the Ultra is pretty well connected wirelessly. It lacks only an infrared transmitter. You also get out-of-the-box USB On-The-Go hosting and MHL media streaming from the micro USB port. There's 16GB of built-in storage and a Micro SD card slot to back that up.
Sony has re-skinned Android with its own launcher and added some proprietary apps. Sony's music (Walkman), video (Movies) and gallery (Album) apps pay dividends on a device with such a large and high-quality display as the Ultra. The single loudspeaker is a bit puny when compared to the new Nexus 7's stereo set but the sound through a good pair of headphones is excellent.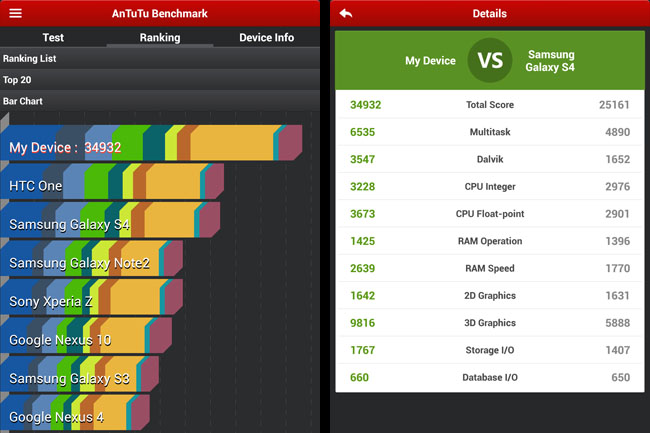 The Z Ultra leaves the Galaxy S4 in its wake
One thing Sony hasn't done is build a reduced-scale keyboard or dialler pad, unlike both Samsung and Huawei which offer just that on their VLPs. Maybe Sony has decided that trying to use a device the size of the Ultra singlehandedly is not something to be encouraged. I'm inclined to agree.
I'm not so sure Sony has been wise to fit the Ultra with a piffling eight-megapixel camera with no LED flash, though. For this sort of money I expected all the Ultra's features to be at the bleeding edge so was hoping at the least for the Xperia Z's 13.1Mp photographic component. The Xperia Z1's 20.7Mp shooter would have been an even better option. The Ultra's camera produces reasonable results in decent light but I can't really be any more generous than that.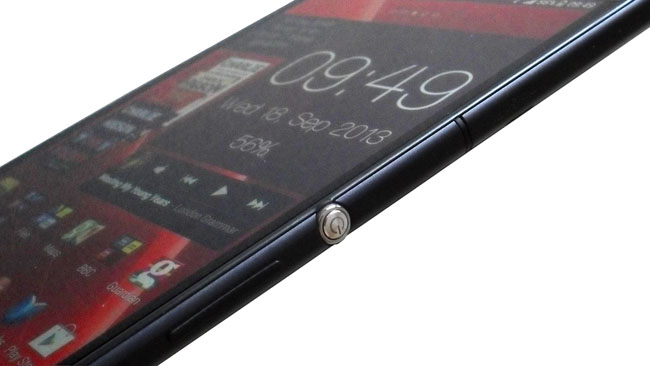 The power and volume controls are well placed
As for the LED light, I don't want one to take pictures in the gloom, I want one to use as a torch for when I can't find my keys or the cat at night. There is nothing wrong with the 2Mp webcam, which can also record 1080p video at 30 frames per second. It makes for bright, crisp and tightly focussed video chats.
Finally, while the battery may be fixed in place it's a beefy 3050mAh affair which kept a 1080p MP4 video looping for more than nine hours. Even when subjected to an hour or more each of talking, browsing and watching video every day you should easily be able to get to the 60-hour mark before needing to recharge.
The Reg Verdict
At more than £600 unlocked, the Ultra is far from cheap, though compared to a 64GB iPhone 5S it's a steal. Price aside, the Z Ultra is now the definitive VLP. The screen is vast and visually stunning, the battery capacious, the media apps an object lesson in excellence, and the physical design impressive. And it's waterproof, a first in class. Downsides? No LED flash and a rather mediocre camera, a fixed battery and a rather puny loudspeaker. Not everyone will think it worth close to twice the price of a Galaxy Mega 6.3 but if money is no object or you judge value on the Apple scale, you are unlikely to be disappointed. ®
Thanks to Expansys for the loan of our review handset.