Original URL: https://www.theregister.co.uk/2013/10/01/ubuntu_second_beta_review/
Ubuntu 13.10: Meet the Linux distro with a bizarre Britney Spears fixation
Search me, baby, one more time
Posted in Software, 1st October 2013 09:04 GMT
Review On the surface, based on the second beta just released, Ubuntu 13.10 is shaping up to be a solid, if slightly dull, Linux distro.
There have been no major visual changes to the desktop and only a couple of expanded features for the Unity Dash, which means 13.10 – due 17 October - won't look all that different from the last release of Ubuntu when it arrives.
Ubuntu 13.10 is, however, something of an iceberg - the bulk of what's new is hidden away under the surface. Ubuntu 13.10 marks the arrival of Mir, Canonical's new graphics stack designed to replace the ageing X Server.
Mir is Ubuntu's replacement for the X Window System and is designed to help one escape the confines of the desktop. Mir will allow Canonical to run Ubuntu on mobile and tablet devices, as well as the desktop, sharing a common code base among the various form factors.
Mir is currently at something of a halfway point and is dubbed "xMir" at the moment, a name that hints at the fact that, thus far, Mir is not quite ready for prime time. That's not to say it doesn't work, or is buggy. In fact, it's neither. In my testing on two laptops, both with Intel graphics cards and open-source drivers, Ubuntu 13.10 has been rock solid and feels snappier than its predecessor (this beta also features an updated kernel, which helps as well).
So, provided you're using open-source drivers for your graphics card, Mir isn't going to give you any hassle.
It's those of you using proprietary drivers that won't be seeing Mir just yet. The "x" in xMir refers to the fact that Mir is, for now, shipping with good old X server and will, when faced with unsupported drivers, gracefully fallback to X.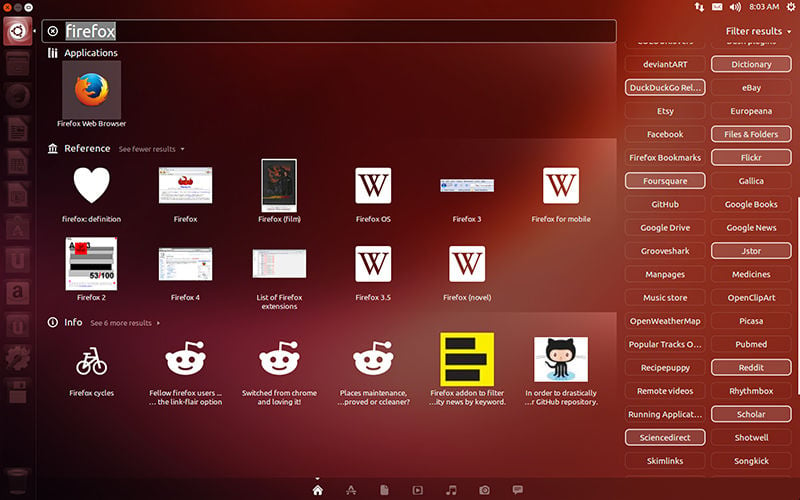 Smart Scopes: while some search returns are comprehensive if not smart as on "firefox"... (click to enlarge)
While it's a little disappointing if you're stuck using proprietary drivers, it does make for a very seamless experience. In fact, if no one mentioned it you'd probably never notice anything had changed, which is an impressive feat for something as major as a change in the graphics stack.
The real arrival of Mir (without the "x") won't happen until next year when Ubuntu 14.04 arrives. After that Canonical plans to debut Unity 8, a revamped Unity interface built with tablets and phones in mind. Fear not desktop fans, Jono Bacon, Canonical's Ubuntu Community Manager, has said that the Unity 8 desktop interface will look "like our current desktop when it is complete."
So while the big stuff is under the hood or yet to come, there are a couple of new things you'll notice if you decided to test this beta. The biggest and most obvious is the new Smart Scopes service, which adds a ton of new search results to the Unity Dash.
Search your computer... and, er, Wikipedia and Reddit and...
Smart Scopes - widgets that let you search for things - made their controversial debut with last year's Amazon Scope, which creepily mixed shopping suggestions with local document search results.
The plan was to include even more Smart Scopes in 13.04, but that didn't happen. Now Smart Scopes are here. The Unity Dash will search across everything from your local hard drives to Wikipedia, Reddit and Flickr.
For example, a search for "firefox" will bring up not just local results like the Firefox app and any documents you might have that contain the word, but also the Wikipedia entry, stories on Reddit, books on Amazon and many others depend on which Scope you have enabled.
How useful this is will depend on how you use (or want to use) the Unity Dash. If you see the Dash as little more than a glorified application launcher, the new clutter of results is going to get in your way. Fortunately you can turn off Smart Scopes on an individual basis (right click the scope) or completely using the settings panel.
If you frequently search from the Dash for more than just applications to launch the new Smart Scopes can be very handy, though the number (and choice) of Scopes enabled by default can produce an overwhelming amount of noise. Most people will likely want to narrow down the number of active Scopes to something more manageable.
Smart Scopes also seem to have become a little smarter. Search results were a bit more relevant than when I have tested this feature in the past, though there is still plenty of junk. Why Britney Spears albums come up on a search for "Thailand" is something only Canonical knows. Maybe.
Canonical does say that results should improve over time since Smart Scopes "learn" the more you use them. That said, I have not noticed any significant improvement in results, nor any evidence that Smart Scopes are "learning" in three weeks of testing. As has been the case in the past there doesn't seem to be any filtering of online results, beware the porn.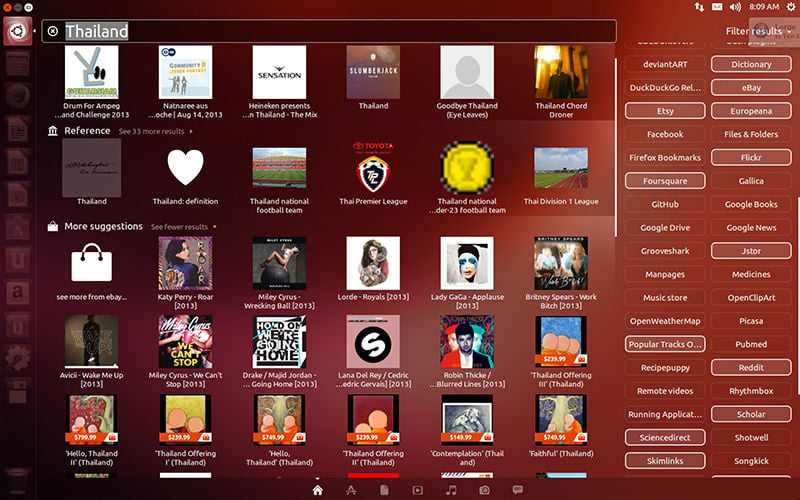 ... other Smart Scopes search returns just miss the point (click to enlarge)
I find Smart Scopes to be a mixed bag. They can be fun, especially the scopes that connect to your online accounts. When you log in to online services Smart Scopes can provide some serendipity, like bringing up photos you've long since forgotten about, or Wikipedia entries that offer some little bit of trivia about something you're searching for.
However, while they're fun to play with for a little while I find them distracting when I'm trying to get work done. When I was writing this review, for example, and need to quickly look up something about Mir, I don't want to see the Wikipedia page for the Russian space station of the same name.
Smart Scopes aren't the only new feature you'll notice in this beta. While they are undoubtedly the most obvious, there are plenty of other minor tweaks that add up to a nicer overall Ubuntu experience. There's a new keyboard applet for quick switching between keyboards (handy for those of you frequently writing in multiple languages). Ubuntu has also fixed a regression that made some GNOME apps - notably the Nautilus file browser - look out of place in Ubuntu's default theme. This release also gets the usual slate of new desktop wallpapers.
You may also notice a new option in the installer asking if you'd like to set up online backup service Ubuntu One. Having been burned by early versions of Ubuntu One I've stuck with Dropbox thus far, but users in Canonical's forums report that with 13.10, Ubuntu One may finally be stable and reliable enough to trust with your files.
Ubuntu 13.10 has makes some solid strides and sees plenty of tweaks; it just needs to refine the flagship search feature. Hopefully, this will come with time. ®