Original URL: https://www.theregister.co.uk/2013/09/26/asus_nv550jv_156in_full_hd_notebook/
Asus NV550JV 15.6in full HD notebook - the one we didn't have to send back
Core i7 entertainer with a whiff of B&O about it
Posted in Personal Tech, 26th September 2013 09:04 GMT
Review When Asus sent the N550 to Vulture Central, I sent it back: the wrong model had been dispatched. Having seen so many tiresome comments following El Reg laptop reviews along the lines of "when I saw it was only 1366 x 768 I stopped reading", I wasn't going to proceed with this spec - and with more than these moans as justification.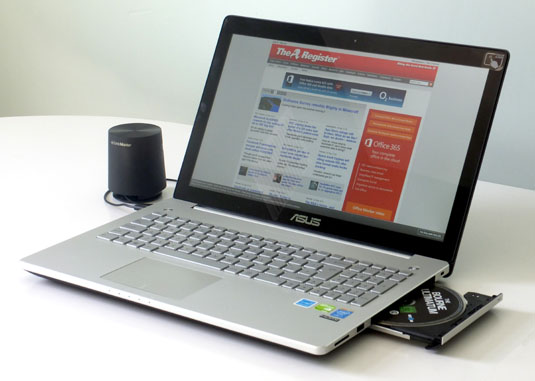 Optical drives, remember them? Asus does
After all, given the N-series comes equipped with B&O Icepower amplification together with SonicMaster (a tea mug sized external bass driver), having anything less than full-HD would seem to undermine the thinking behind the latest refresh for this entertainment-centric 15.6in laptop.
So, lucky for me – and for those who might be persuaded to keep reading – I find myself typing this on the full HD 1920 x 1080-pixel model I'd requested. It's an Asus N550JV-CM067H equipped with the latest Haswell chip, a 2.4GHz quad-core Intel Core i7-4700HQ with 8GB of RAM and Intel HD 4600 integrated graphics. There's also an Nvidia GeForce 750M GPU on-board with 2GB of RAM and a 1TB 5400RPM HGST Travelstar HDD.
Surprisingly, there's no solid-state drive (SSD) cache to boost disk performance. The N550JV was dispatched with the 1TB drive split into OS and data partitions with formatted sizes of 372GB and 537GB respectively. This arrangement slightly simplifies file clutter: just rummage around the data partition for that movie or installer, it'll be in there somewhere.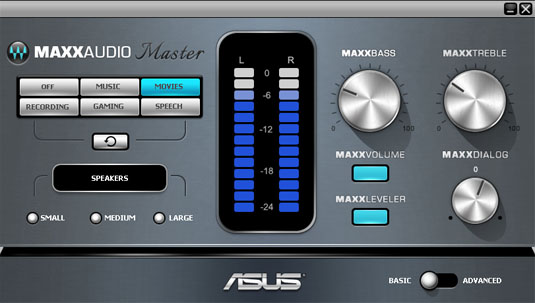 Waves Maxx has a compact mode with just the basics
And talking of data-juggling, the N550JV comes with a BD-ROM optical drive and a bundle of playback apps including Waves Maxx to make the most of its audio, and AsusDVD (a rebranded version of Cyberlink's PowerDVD 10) to get those Blu-ray discs that we've all got so many of spinning away in a useful manner.
Needless to say, having four internal speakers developed in collaboration with B&O and an optical drive plus a 15.6in 1920 x 1080-pixel touchscreen encased in a brushed metal lid, all adds to the weight. At 2.6kg and measuring up at 383 x 255 x 27mm, we're looking at a desktop replacement really, especially with that SonicMaster external bass driver in tow.
I get the impression that the cable for what is described as a sub-woofer (just how low it goes isn't quoted) is kept deliberately short at about 40cm (16in). It also features a rather antisocial 2.5mm multi-pole mini-jack, which is going to be a tough find if the connector fails or you fancied adding an extension lead.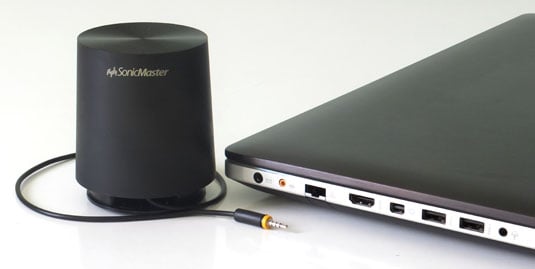 The SonicMaster sub-woofer has a fairly short lead with a 2.5mm mini-jack at the end of it
My guess is that Asus knows that having the SonicMaster bass booster too far from the built-in speakers will greatly diminish the overall effect of this combination, and it doesn't want that to become obvious. It all needs to be kept in close proximity to keep the sound warm and cosy.
For the most part, this is all well and good. Testing with The Bourne Ultimatum Blu-ray disc, the SonicMaster driver delivers all those menacing bass note drones and rumbles that accompany action flicks, sounds that disappear as soon as the unit is unplugged. It warms up voices too and the Waves Maxx Audio Master processing provides some useful controls if you tinker around with the advanced settings.
Does it blend?
There is a flaw with this though and it's not exactly unique to this product. Trying to make small speakers sound better by adding a bass driver doesn't eliminate the inherent harshness of typical laptop speakers. So there's a touch of rough-with-the-smooth to the listening experience, as the internal speakers just don't have the fidelity to seamlessly blend with the bass output, and this becomes increasingly evident at louder volumes.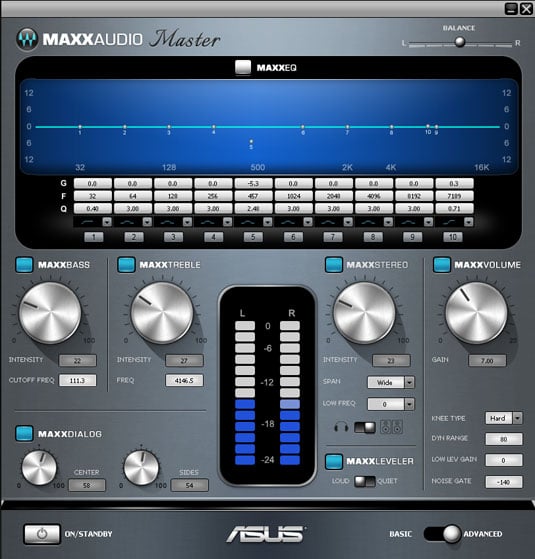 Waves Maxx advanced settings offer a range of enhancements if your speakers are up to it
Click for a larger image
I fiddled with Waves Maxx for some time to see how good it could get, but never quite achieved the evenness I was aiming for. There are some helpful functions in there, though, to enhance dialogue, contain dynamics and boost output. It's not just for movies, as these functions can be applied for gaming and music, too. Indeed, the 10-band EQ could come in handy if you do want to create a custom EQ curve to get the best out of this audio setup - good luck with that.
Incidentally, there doesn't appear to be support for BD-Live (the tech that lets you download stuff to supplement your disc). I wondered if the AsusDVD/Cyberlink software unlocked features if I registered it online, but it doesn't make any difference. It still fires up asking you to register or upgrade. I wondered if there may be some other reason for the BD-Live issue, such as the Matshita BD-CMB UJ162 BD-ROM/DVD writer combo drive itself.
I made a call to Cyberlink's UK PR team who were able to shed light on this. Apparently, BD-Live technology involves third-party royalty costs to manufacturers when shipping and vendors often choose to disable BD-Live functionality to save a few quid. And this is what Asus has opted to do with its AsusDVD branded offering.
Some final words on the movie experience: the screen can be dazzlingly bright, which is ideal for daytime viewing, but its surface is very reflective, so you'll find that you're watching yourself during darker scenes (and your fingers when typing). Also, the surround sound aspect of having a quad-speaker array certainly wasn't noticeable as particularly special. There are no doubt some party-piece movies that will show this off but lest we forget, we're dealing with laptop speakers here that are also very close together.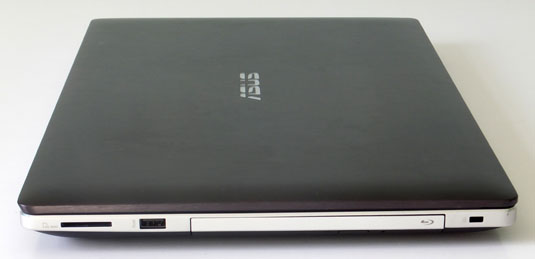 The metal trim on the optical drive drawer is a bit rough on the bottom edge
And then there's that SonicMaster bass driver than neatly sits behind the screen out of sight. So you completely forget it's there when you grab this laptop to, er, put it on your lap. It survived several unintended dangles, but 2.5mm jack plugs are not the most robust, so you many only get nine lives from this accident waiting to happen.
As you're bound to move this Windows 8 notebook around from time to time, one of the first things you'll notice when you pick it up is the rough edge to the side of the optical drive drawer. It's just a thin panel of metal tacked on for aesthetic purposes, but its fit doesn't serve Asus well, as it does undermine the build quality which is pretty good overall.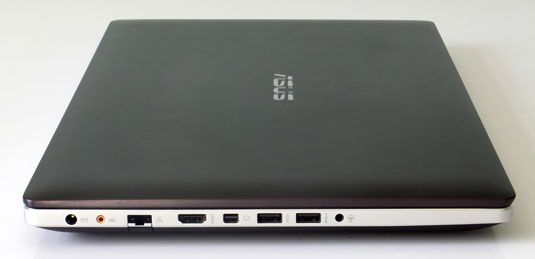 Alas, the mini DisplayPort doesn't double as a ThunderBolt interface
On this right side there's also a USB 3.0 port and an SD card slot. The main lineup of interfacing is on the left side which features power supply, sub-woofer minijack and Ethernet. There's also HDMI, a Mini DisplayPort, two USB 3.0 ports and a headphone/mic combo jack socket. What, no VGA? Will you miss it, really? If so, DisplayPort adapters are available.
It's quite refreshing to reel off a list of the connectivity that's available rather than mull over what you'd hope to be there as standard, which is so often the case when checking out Ultrabook alternatives. At first glance, there does appear to be one thing missing on the Asus N550JV which is the caps-lock light. A nose around reveals it's at the front with an array of indicators. OK, so at least it's there, but it's just not visible when you're typing.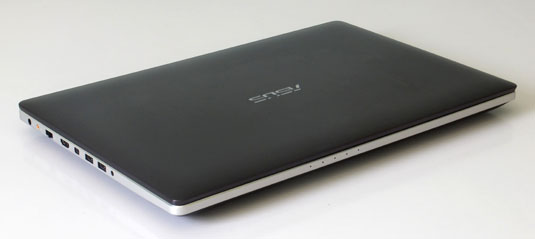 Status lights along the front edge include the caps-lock indicator that's rather too out of sight to be useful
The screen offers fairly wide viewing angles although hampered slightly by that mirror-like finish. However, one of the better features is that the screen tilts back quite some way, so you don't feel that you're having to adapt to this notebook, it adapts to you. That's true to a point, but its off-centre trackpad was a constant irritation, as I'm left-handed.
Sinister goings on
What tends to happen is that my left hand is used to a more central trackpad position and, with an off-centre trackpad, ends up drifting to the right side and right clicking. Thus, double-clicking and window dragging doesn't work. Also, contextual menus start appearing when you don't want them.
Considering the lengths that society goes to in order to avoid offending all and sundry (I'll refrain from giving examples that may cause offence), I reckon simply centring the trackpad for the sake of equality shouldn't be too much of a challenge. Thankfully, not all PCs are blighted this way and Macs never have been. Lefties are resourceful, though; we can always use a mouse if an off-centre alignment is too much of problem.
The keyboard is fine to type on but its legend style is a bit odd and the backlighting lacks refinement
Click for a larger image
Incidentally, the trackpad is a multitouch affair offering pinch to zoom and easy scrolling. Above it is the chiclet backlit full-size keyboard including a slightly shrunken numeric keypad. The backlighting could be more subtle as adjusting it using the top row of dual function keys seems to have just three modes: bright, not so bright, and off. Personally, I prefer just a hint of backlighting so I'm not dazzled by the keys.
However, with the N550JV on your lap, at certain angles the light from the top row of function keys spills out. So here's when you need to adapt to this notebook and reposition it. The keys are bit strange, too: the uppercase legends appear slightly italicised and disproportionate, so the brackets end up looking like quotation marks. The centred positioning of the lowercase comma and apostrophe keys is confusing too. No doubt you'll get used to it, but as a design statement, it's not too intuitive.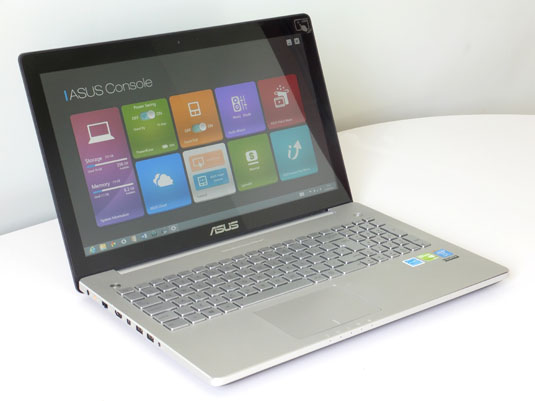 Asus Console fires up from a dedicated key to switch on shortcuts to common functions
There are two built-in mics around the HD webcam that, like most laptops these days, have noise cancelling functions that rely on beam-forming techniques. This cleverness is explained under the Sonic Sophistication heading in our recent 13in MacBook Air review.
For the record, I tried to boot up Ubuntu Linux, even checking if the Saucy Salamander 13.10 beta would get things running as other versions failed. Although it was easy enough to get to the boot options screen using the PenDrive Linux USB installer, actually getting beyond that failed to take off. I'm guessing it's a Haswell chipset thing that will be resolved in due course.
As far as performance goes, there's not much to complain about here, although the Futuremark benchmark tests don't show it off as especially impressive. The reason is simply because the N550JV has a spinning hard disk. An SSD's performance always skews the results significantly when models using a less powerful CPU are benchmarked. Hence, on PCMark 8 the N550JV scored 3,205 with the Nvidia GPU enabled and a very close second score of 3,201 for the Intel HD 4600 integrated GPU. From cold, the boot time to the login screen was typically about 25 seconds.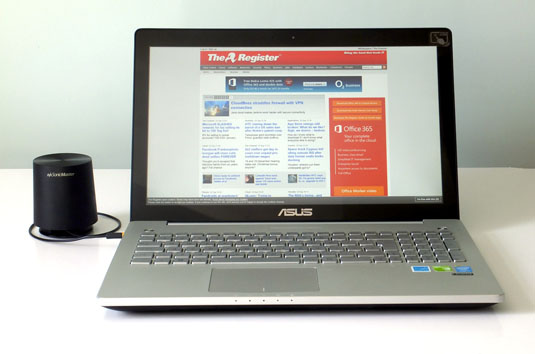 Sound choice? Is carting around a sub-woofer worth the bother to get laptop audio to sound better?
The brutal PowerMark battery test lasted for 2hrs 7mins. For general use, with some Blu-ray noodling for testing, it ran for about 3.5 hours with a slightly reduced screen brightness. No doubt a few more tweaks could get it close to 4.5 hours, but Asus doesn't make any boasts about battery life here. What it does make a noise about are the two fans inside the unit and although the noise is subdued they do constantly whisper away. Still, the N550JV tends to get warm rather than hot, so this is obviously working.
What doesn't work for me is the price of £1,000, especially as the HP Envy TouchSmart 15-j013ea is due any day with a similar spec for £200 less with a 750GB HDD. Admittedly, we've not tested that yet, so the jury is out for now.
The Reg Verdict
Yet for Asus, the cost of having a touch of B&O looks like it could be off-putting, especially as the benefit only really comes into its own with the SonicMaster sub-woofer attached. I'm sure other manufacturers could source USB sub-woofers for a mere £35 extra if it was that important, and USB is much more elegant than the mini-minijack on the Asus.
If Asus really wants to impress, it should be working with B&O to deliver a decent bass response from internal speakers. And if that's too hard, then it might as well give up on this partnership premium and use the money saved to compete on price. ®