Original URL: https://www.theregister.co.uk/2013/09/25/iphone_32dd_fanbois_fingers_apple_with_his_nipple/
Fan whips out own pair of iPhone 32Cs, 'unlocks' mobe using breasticle
Believe that? Why not dunk your expensive gadget in the bath as well
Posted in Personal Tech, 25th September 2013 11:46 GMT
SFW video A pair of fanbois in China have exposed their chests to the world in a bid to prove the iPhone 5S fingerprint scanner can be tricked into accepting nipples.
The internet has been ablaze with rumours that toes, penises, noses and even the paws of a pet cat can be used to trick the iPhone 5S fingerprint detector.
However, exhibitionist fanbois might like to think twice before using their appendage to unlock their phone - particularly if you're of the kind that's ready to fall for 4Chan's scam that persuaded people to dunk their phones into water.
The mischievous message board published a wally-baiting advert (pictured below) claiming that iOS 7 featured a special "smart switch", which cuts off the device's power supply when it "detects sudden changes in thermo-distribution", thus, er, allowing you to safely chuck your iThing in the bath after you upgrade it to Apple's new operating system.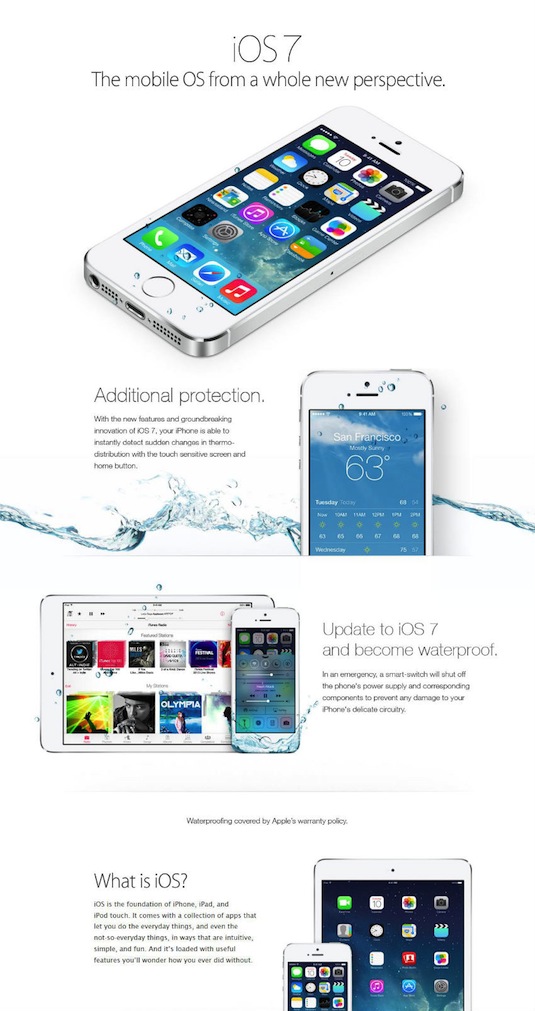 Since the phone's release, Apple fans around the world have been posting claims that they've unlocked the iPhone 5S using human and non-human body parts. The mobe has a fingerprint scanner which stores five prints. Users can then scan their digits across it, opening up the phone.
However, the footage is not the most convincing of the claims - which aren't all that credible to begin with.
A YouTube video shows a few young iPhone-lovers nuzzling Apple's latest mobe against their chests, squeezing it against their teats as if it were a baby.
The phone then clicks into life, revealing the teeth-rottingly saccharine colours of iOS 7.
The man then hands it over to his friends, who also appear to unlock their iPhone using just their diminutive décolletages. Afterwards, one flustered fanboi in the comments thread warns that the trick could prove "arousing, depending on who you are".
However, the nipples are neatly hidden by the pair's shirts, meaning that the actual moment the nipple grazes Apple's fingerprint detector is obscured. It's all a storm in a B cup.
Nipples are "like snowflakes", the exhibitionists claimed, offering excellent security potential as no two are the same.
Here's the footage, which shows the fanbois in action. And, before you ask, neither of them are young women:
Rocket News, the Japanese website which "broke" news of Apple's alleged nipple fetish, said fanbois could give themselves "maximum security" by nuzzling their mobe. After all, you'd have to be a pretty kinky thief to consider sawing off someone's moob to crack into their phone.
"We recommend registering your nipples with the iPhone," the publication said. "Be careful though, the iPhone vibrates a little when registering which may be uncomfortable or arousing depending who you are.
"It unlocks really fast by just casually and ever so gently pressing the device against your chest. As we know, nipples are like snowflakes in their individuality but is the iPhone good enough to distinguish one teat from the next?"
A toe works just as well, the paper added. "A toe is basically a finger on your foot so it stands to reason that the iPhone can detect a toe print as well," Rocket News continued. "The phone detects your toe easily and any time you need to use it. It works better than the finger because even when you're sleeping who's going to expect you to unlock your iPhone with your toe?"
However, when it comes to security checks, nipples rule the day, the website added. But that shouldn't stop the inventive iPhone owner trying out other body parts.
"All in all, the nipple seems like the best way to go. It's conveniently located and very secure. We also attempted to register the tip of the nose with the system but it wouldn't take. That would have been convenient if you had to access your phone with one hand! It kind of makes you wonder though: was the phone was designed with nipples and toes in mind, and what other body parts would work?"
One Twitter user, whose credibility is not exactly swelled by the fact he has just 72 followers, made this claim:
Confirmed: You can add your penis as an authorized appendage to log into your iPhone 5s. This actually works.

— Roxor McPwnage (@gruesgripes) September 20, 2013
Let's hope all this bodyscanning is a scam too, otherwise next year's WWDC could be a very interesting get-together indeed. ®