Original URL: http://www.theregister.co.uk/2013/09/23/round_up_3g_and_4g_tablets/
Can't fit slab AND mobe in your tight pockets? 10 tablets with built-in 3G/4G
Fondle the web wherever you are without Wi-Fi or a clingy phone
Posted in CIO, 23rd September 2013 10:23 GMT
Product Round-up If you want a tablet that is always connected to the internet, there are several options to consider.
One that involves no extra hardware expense is simply to use your smartphone as a wireless hotspot, routing connections over 3 or 4G - if your chosen mobile network lets you. Another option, which has the advantage of not hammering your phone's data tariff and battery into the ground up their ears, is to buy a 3G or 4G pocket Wi-Fi router.
The third path, which involves no extra gadgetry, is to buy a tablet with built-in hardware for 3G or 4G connections. That way you aren't dipping into your smartphone's data transfer allowance and you don't have to buy, charge or carry an extra bit of kit.
Or, of course, you could just buy a Very Large Phone (VLP™) and move on from this oh-so-2012 idea of having two touchscreen devices when most of the time something like a Samsung Galaxy Mega 6.3, Sony Xperia Ultra or Asus FonePad will do the job of both smartphone and tablet quite well enough, all in one rather large device.
But assuming you don't want a VLP or a pocket Wi-Fi router and would rather not drain your smartphone of juice and data, here's a quick shufti at the 3G and LTE (4G) tablets currently available, soon to be available and sort-of available on the grey market, here in Blighty.
Acer Iconia W700

With an 11.6-inch screen, a 1.7GHz Intel Core i5 chip and 4GB of RAM, the W700 with 128GB of flash storage and an LTE modem is the pick of the current crop of Acer tablets, though I suspect you will need deep pockets. At the time of writing Acer couldn't confirm a price nor an expected UK shipping date. Still, with those components the W700 is undoubtedly an impressively powerful machine for a tablet and can function as a genuine laptop/desktop replacement. Combine those features with a 1920 x 1080 resolution screen and 64-bit Windows 8, a high sticker price can be partly excused.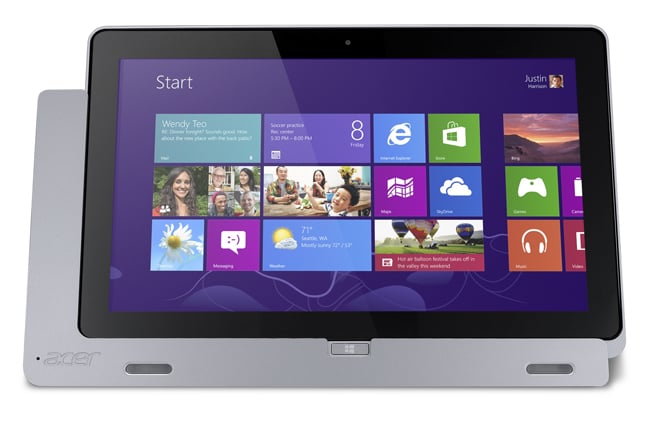 As well as a traditional keyboard-cum-cover-cum-stand, the W700 can be ordered with a rather odd but also rather clever standy-uppy plastic cradle: this has an additional three USB ports (the W700 itself only has one), HDMI connector and stereo speakers, and turns the W700 into a mini all-in-one desktop PC.
With such a large screen to illuminate, battery life is reasonable rather than spectacular - a full charge will get you to around the five hour mark. At 950g it's not quite as heavy a lump as you might expect. Putting the unknown price to one side, the LTE W700 may well be worth a look if you are after one device to serve all your desktop, laptop, tablet and mobile data needs.
Apple iPad 4

Buying an iPad with a cellular radio brings a significant benefit above and beyond the standard wireless connectivity: you get a GPS radio, too. That alone makes the 3G/LTE iPad the one to buy in my book. But it's getting harder and harder to argue that Apple is leading the tablet revolution these days what with the competition getting better and cheaper - though admittedly not always at the same time.
To my eyes, the iPad is starting a look just a little old hat. The UI certainly is, though iOS 7 will remedy this to some extent. The absence of storage expansion still irks. Perhaps Apple will fix this in the iPad 5, expected imminently, but I suspect not.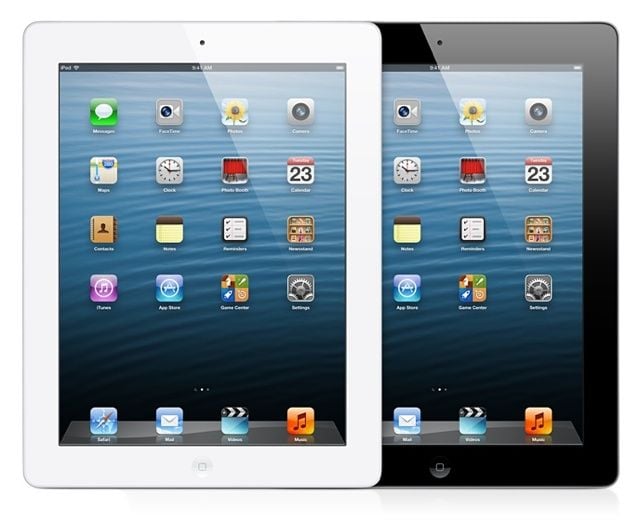 Of course, all of Apple's traditional strengths are still in evidence: the excellent build quality, the impressive selection of tablet-optimised apps, the class-leading battery life and the tip-top levels of support from the shamans at your nearest Apple Store. All these continue to attract the punters and understandably so. If you have taken leave of your senses, or are simply £130 short of the iPad's asking price, you can go for the wholly inferior if also slightly smaller and lighter cellular iPad Mini though I can't think good reason why you would decide to do that. At £370, the iPad Mini isn't actually a bad device just a woefully overpriced one.
Price
From £499
More Info
Apple
Asus FonePad

Asus' seven-inch cellular fondleslab is aimed firmly at the budget end of the market, hence the measly £180 price. Beyond that, Asus has been a bit clever by pitching the FonePad as a very cheap Android smartphone as much as an affordable tablet. That's a reasonable enough punt too because, as I found out when testing it, 3D games aside the FonePad can do everything a first-generation Nexus 7 or a mid-range Android smartphone can do, but at a substantially reduced price. And the size itself is not quite the deal-breaking encumbrance (for a phone) you may think it to be.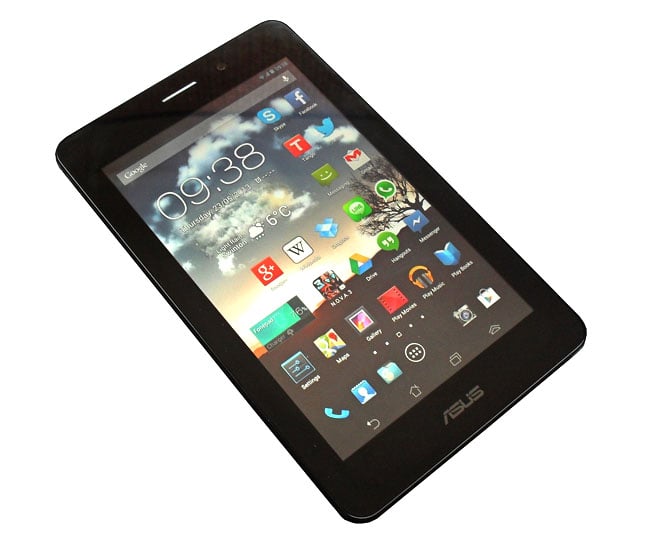 Of course, with such a low price certain accommodations need to be made. The 1.2GHz Intel Z2420 Atom CPU is a little gutless and the PowerVR SGX540 graphics processor is pretty feeble, too. The cellular radio only supports 3G and you have to make do with single-band (2.4GHz) 802.11n Wi-Fi. There's no main camera nor NFC pick-up either. Still, the 1280 x 800 IPS LCD screen is rather good and the whole caboodle feels well made and solid thanks to a Gorilla Glass front and a metal back. For the money, the FonePad is really not a bad box of tricks and could wrap all your smartphone and fondleslab needs up into one handy, affordable package.
Price
£180
More Info
Asus
Asus PadFone Infinity

Winning by a country mile my award for the Best Idea of 2013, Asus' PadFone 2 resolved the seemingly impossible contradiction of letting your tablet and phone share a cellular data connection with just one SIM card. How? By using the phone to drive the tablet. The PadFone Infinity is the much the same but better. Much, much better. Slide the Fone out of the Pad and you have a 4G Android smartphone with a five-inch, 1920 x 1080 display. Slide it back in and you have a tablet with a 10.1-inch, 1920 x 1200 display. Those numbers are rather alluring and both the phone and tablet screens are very nice IPS LCD affairs.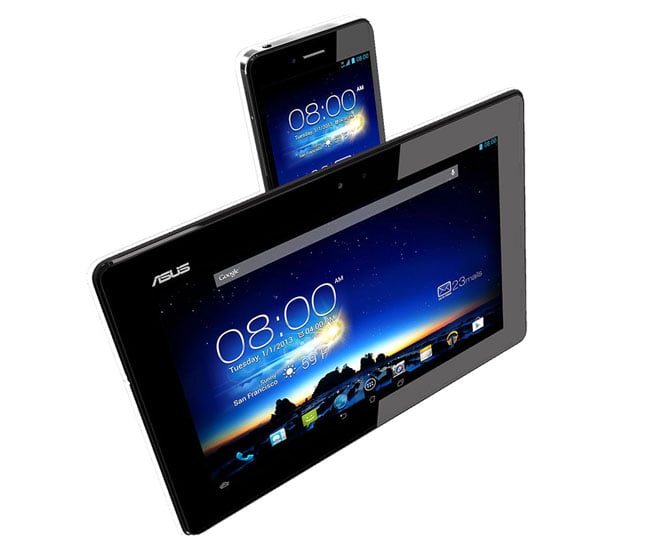 Since the phone packs a Qualcomm Snapdragon 600 chipset with a quad-core 1.7GHz Krait-class Snapdragon chip, 2GB of RAM and an Adreno 320 GPU, the PadFone goes like the blazes no matter which form you're using it in. And thanks to a 2400mAh battery in the handset and a 5000mAh cell in the tablet, you won't be forever hunting for a wall socket to cater for the 4G radio's rapacious power demands. The only downside is that with the phone part of the equation now having a 5- rather than 4.7-inch screen, I'll have to start calling it the PadVLFone.
Whatever. I still want one.
Dell Latitude 10

You can usually rely on Dell's business division to do things right and so it goes with the Latitude 10 tablet. Running Windows 8 on a 1.8GHz dual-core Intel Atom Z2760 chip with 2GB of RAM, the Latitude can crunch through most tasks in good order and it has a 3880mAh removable battery. Up front is a 10.1-inch 1366 x 768 Gorilla Glass display and you get a decent brace of cameras - 8Mp at the back complete with LED light and a 2Mp job at the front. There's also a micro USB charge port if you find yourself without the proprietary charging cable.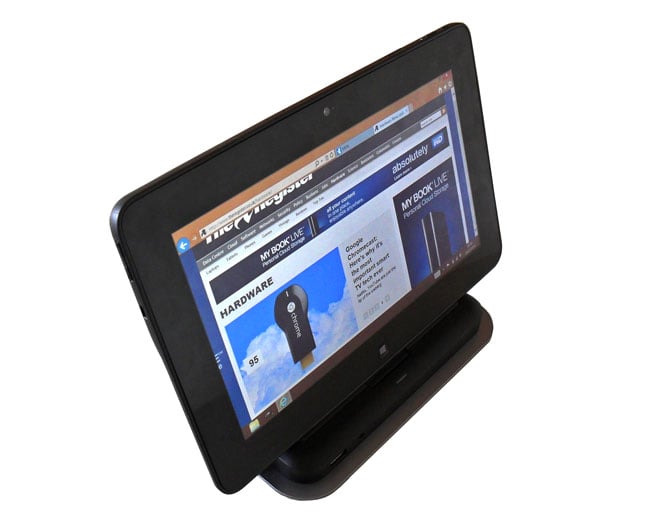 With a fully recessed SD card slot, USB 2.0 and mini-HDMI ports, the tablet itself is pretty well connected but if you cough up for the excellent dock you can add gigabit Ethernet, standard HDMI and four USB ports. What I like most about the Latitude tablet is how well made it is. The rubberised metal chassis suggests it will take quite a hammering before it starts to look scruffy or fall apart. The 3G modem is only an option on the 64GB model, which is a bit of a shame and means the Dell is not a cheap choice - you are looking at nearly £650 including VAT and delivery - but it still looks and feels like decent value to me.
Price
£526 exc VAT
More Info
Dell
Google Nexus 7 (2013)

Google and Asus threw a hand grenade into the budget tablet market with the original Nexus 7 and they have repeated the trick with the second-generation model. With a cracking 1920 x 1200 IPS LCD screen, a 5Mp rear camera and a quad-core 1.5GHz Krait-class Qualcomm processor with 2GB of RAM, the new Nexus 7 is a significant step forward over the old model in all ways. Sadly, though, there is still no micro SD card slot or support for USB On-The-Go, and just 16GB or 32GB of fixed flash storage. On the up side, it's a lighter, smaller, better-made and smarter box of tricks than before.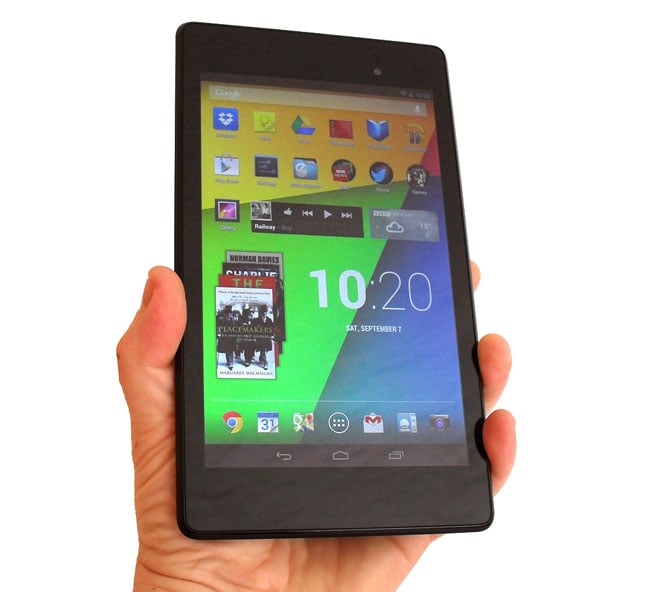 Cellular connectivity does carry a bit more of a premium second time around - the original 3G Nexus 7 was only £40 more than than the Wi-Fi version - £199 vs £239 - but this time the difference will be £60: £239 vs £299. You can get one from O2, which comes with a SIM and 2GB of monthly data allowance, for £320. At least for the extra you get a LTE-capable device rather than one with a simple 3G radio.
I've not had a fiddle with a 4G Nexus 7 II but I understand it doesn't have a phone dialler (allowing it to be used as a traditional mobile) as per the Asus FonePad which is a bit of shame. I was rather looking forward to trading in my old Nexus 7 and Motorola Razr and using the new cellular Nexus 7 in place of both. Bugger.
Huawei MediaPad 10 Link

This is the third time I've had a fiddle with a Huawei device packing the ambitious Chinese OEM's in-house ARM Cortex-A9-compatible 1.5GHz quad-core K3V2 chipset. Other than that there is little remarkable about this 3G/LTE slate. The 10.1-inch screen is a traditional 1280 x 800 IPS LCD affair, while for storage you get 16GB built-in and a micro SD card slot good for cards up to 32GB. At 620g, it's reasonably light, and the 6600mAh battery gives a decent runtime between visits to the wall socket. The 10mm thick metal unibody design is pretty slick too. It's another example of the improvements taking place in Huawei's design and manufacturing processes.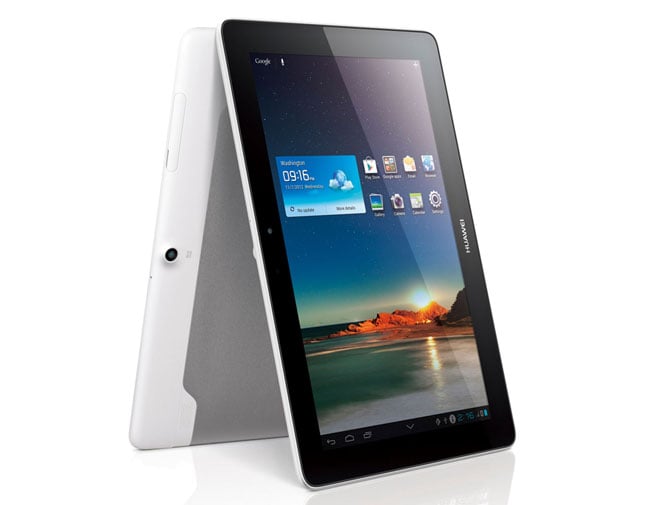 The MediaPad Link's main claim to your attention though is that it will soon - mid-October - cost just £29.99 upfront from Three if you commit to a £19.99-a-month two-year contract offering 5GB of monthly mobile data transfer. Or you can buy it for £229 with a rolling one-month data plan of either 1GB or 10GB at £7.50 and £15, respectively. Since Three has - in my experience at least - the fastest and most reliable 3G service in the UK that seems like a decent offer. And if what I hear is right, Three will offer access to its LTE (4G) service for no extra cost when it launches later in the year. A potential downside is that the Link ships with Huawei's rather idiosyncratic Emotion UI - sitting on top of Android 4.2.1 - but you can snag a free third-party launcher from the Play Store and fix that in a trice.
Price
£260 Sim-free, £29.99 on contract (from mid-October)
More Info
Huawei
Samsung Galaxy Note 8.0

Since I reviewed the Wi-Fi Galaxy Note 8.0 I've grown more fond of it. The size, performance, shape - all are starting to feel close to a tablet ideal. Stick a 4G SIM in it and you have a very handy device that is great for gaming, reading and sucking down data while on the go. I'd still prefer it without the trademark physical buttons below the eight-inch 1280 x 800 TFT screen but I'm even starting to get use to them, as I am the various bonus features crammed into Samsung's TouchWiz launcher.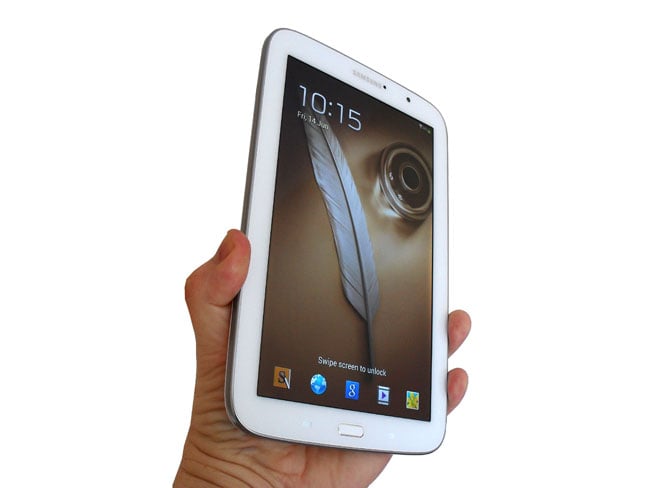 The aces in the 3G/LTE Note 8's hand are the S-Pen stylus and the phone dialler, which massively extend the tablet's functionality: you can use it as a mobile phone and a digital notepad. Thanks to a decent brace of cameras, a quad-core 1.6GHz chip and a 4600mAh battery the Note 8 is versatile, powerful and able to go a full two days between trips to the charger. If I had to pick a hole, it's that the battery is fixed in place, but that's hardly a rare feature for a tablet. Is this the best medium-sized tablet money can buy? You know, it just may be.
Samsung Galaxy Tab 3 10.1

Pity the Galaxy Tab range, which - thanks to the rise of the Note series - is now consigned firmly to the second division of Samsung fondleslabbery. That's why the Tab 3 10.1 comes across as something of a warm over of the Tab 2 10.1. It's not an entirely pointless product though because, at 510g, the Tab 3 is significantly lighter than its predecessor and it's nearly 2mm thinner. Also, the new curvaceous plastic body makes it a very comfortable device to hold and use, though I'm not entirely sure the tiredly familiar and omnipresent Galaxy physical buttons have any business sitting below a 10-inch screen.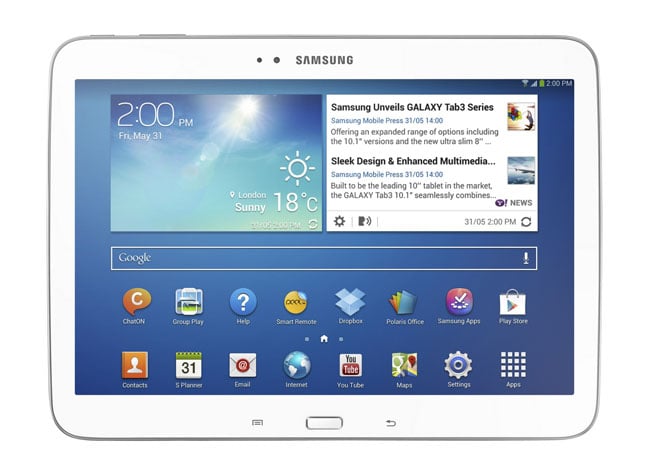 The specification is very mid-range being built as it is around a 1280 x 800 TFT LCD screen, a 1.6GHz dual-core Atom CPU with 1GB of RAM and a PowerVR SXG544 GPU. That said, those are underpinnings that deliver a perfectly reasonable level of performance, and with a 6800mAh battery and a microSD card slot you won't want for duration or flexibility. Despite being a mid-range machine, the Tab 3's cellular radio supports both LTE and 3G. Though Samsung has yet to announce a UK release date or price for the Tab 3, expect to see it arrive as a contract purchase with one of the UK's new 4G telcos soon. One vendor already has it on its "coming soon" page.
Sony Xperia Tablet Z

Sony's new super-slim Android slab is a firm favourite here at El Reg. We like its stunning lack of weight (a paltry 495g) and its 6.9mm profile and the fact it's IP57 water and dust proof so you can use it on the beach or by the pool with no fear of aquatic disaster befalling. With a Qualcomm 1.5GHz quad-core Krait chipset and 2GB of RAM it goes like the proverbial clappers, too. The battery life can't match the best on offer from the likes of the comparatively lardy iPad but something had to give in the pursuit of lowering the weight and girth.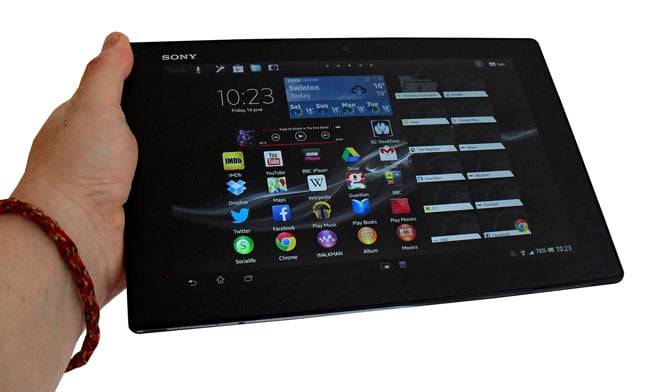 The cellular version of the Xperia Tablet Z supports just about every 3G and LTE wavelength know to man so you can be as promiscuous as you like with your service provider if you buy one unlocked. Add to the package a pair of excellent cameras, similarly top-draw speakers, a pretty decent 1920 x 1200 screen complete with Sony's Bravia image processing voodoo, a thoughtfully skinned version of Android 4.1.2 (the handy shortcuts bar at the top of the screen so you can launch often used apps no matter what screen you are on is a very nice idea) and the end result is a very convincing and desirable gadget.
Price
£499
More Info
Sony