Original URL: https://www.theregister.co.uk/2013/09/20/nokia_lumia_1020_review/
Nokia Lumia 1020: It's an imaging BEAST... and it makes calls too
41 meeelllion-pixel monster's no phone freakshow
Posted in Personal Tech, 20th September 2013 08:29 GMT
Review Nokia's marketing department is comparing its new imaging champ, the Lumia 1020 smartphone, to digital SLR cameras. That's just silly.
But what the Lumia 1020 can lay claim to is that it takes the best photos of any current modern smartphone – by a clear head and shoulders. And Nokia has packaged it into a modern phone, rather than an exhibit at hardware manufacturer's freak show.
It isn't perfect, and it could use a few tweaks. But as it stands, considering that the competition from Apple, Samsung and HTC's smartphones is strong, this is impressive. Even against Samsung's Frankenstein-like hybrid, the S4 Zoom, which clumsily grafts the optical lens from a point-and-shoot digicam onto a budget Android smartphone. Now, perhaps for the first time, a phone can take photos with a level of richness and detail good enough for posterity – for the mantelpiece or a family album – rather than for Facebook.
What you really need to know is: is it any good as a phone, particularly if you're coming from a rich ecosystem like iOS or Android? And what exactly does this much vaunted 41 Megapixel monster deliver? Obscure geekspeak, or real world results?
Before we do let's briefly run over the device and the accessories.
How is this different?
The Lumia 1020 actually integrates two imaging technologies: a highly novel one developed by Nokia over several years, and one borrowed from dedicated cameras but miniaturised into a phone. Both are unique to Nokia. However, both have appeared before, never together, and the combined result is amazingly, smaller than the predecessors.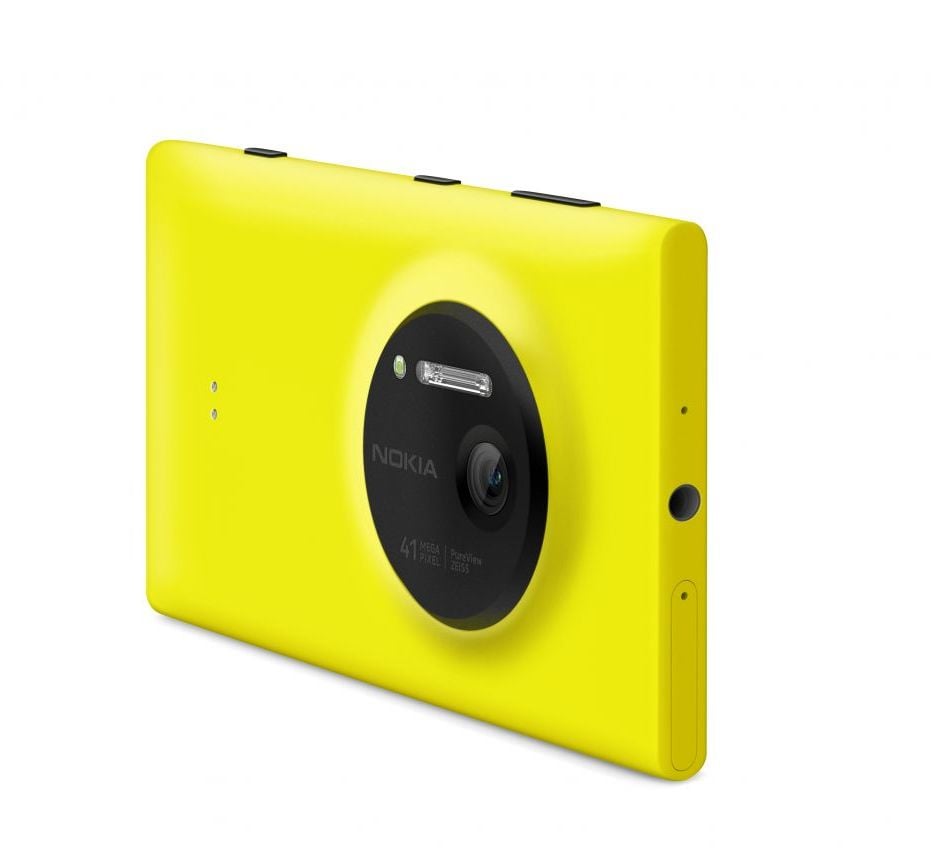 The first is an unusual approach that uses silicon and software to compensate for the physical limitations of a short focal length and small aperture. Instead, a huge sensor captures many more pixels than you need, and then software algorithms distil this down to a five-megapixel image of great richness and detail.
The sensor is 41 megapixels, creating as a first step a 34 megapixel image; the other pixels being put to good use interpolating the image. For a technical explanation, see here. The phone actually keeps a master copy of the image at full resolution, and presents the five-megapixel image to you right away for editing and sharing. This smaller, distilled image is also uploaded to SkyDrive.
The second technology appeared last year - and brings the optical image stablisation (OIS) found in dedicated cameras to a phone. This first appeared on the Lumia 920 and 925 models, and it allows for very stable video recording, and some startling photos in poor light, as the shutter can be exposed for longer than it would otherwise be. In the 1020, the entire imaging module itself is mounted on ball bearings (rather than on gyroscopes as in the 920 and 925), and the camera compensates for a shaky hand or wobbly undercarriage in real-time.
The results of the gazillion-pixel sensor aren't as huge as you might fear. Here's the image folder viewed in Windows Explorer - the smaller image varies from 1.5MB to 2.7MB in size, while the "master" doesn't really exceed 9MB.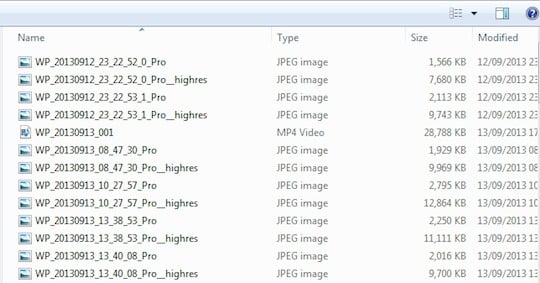 Your phone won't get full in a hurry from taking lots of pictures - it's HD video recording that's the real hog. You can't actually access the "master copy" from the phone, but in practice, you don't need to: the five-megapixel is superior every time.
The 1020 is the second phone on the market to feature the huge sensor developed by Nokia.
Remarkably Nokia achieves all this in a fairly slimline package: the design goal for the imaging unit was 10mm, and the phone is 10.4mm thick; the imaging unit protrudes by around 3mm. Rather, the mechanics are spread laterally, giving it a very distinctive look. Nokia had to invent a new kind of sensor, a type of Xenon flash, and new manufacturing techniques to make all this possible. Yet the proof's is in the pudding, not the specs. Before taking it through its paces, we'll briefly review the build and software.
The hardware specs
The 1020 comes in a well designed one piece polycarb shell, in white black or yellow. It's extremely solid. Weighing in at 159g, it's heavier than the larger Galaxy S4, but it's a well-balanced 159g, and feels natural - it's considerably more comfortable than the 185g Lumia 920, the Volvo of smartphones – and less slippy. However, Nokia decided not to build in Qi wireless charging - this requires a clip-on shell. Once you add the shell, the 1020 becomes even thicker than a nude Lumia 920.
But caveat lector: I found the Nokia shell for the 1020 irritatingly creaky – whereas the Qi shells for the 720 and 925 were rock solid, and a tight fit. Audio capture is extraordinarily good, using a custom Nokia system. It has a wide dynamic range, meaning that in practice sudden noises don't ruin a video, and you can capture very live loud music incredibly well, even when pressed up against the PA stack. The speaker is loud and clear, albeit mono, and the 1280 x 768 OLED display is excellent - and can be used wearing gloves.
Nokia is selling a "camera grip" sled for the 1020, to remind punters that it's a camera replacement, and early adopters should be able to pick up a deal where the grip is thrown in for free. The grip has a built-in battery, a proper two-step shutter button and a tripod slot. It's a peculiar accessory, making the phone too cumbersome for most pockets and every day use, although it's intended to be used with a lanyard.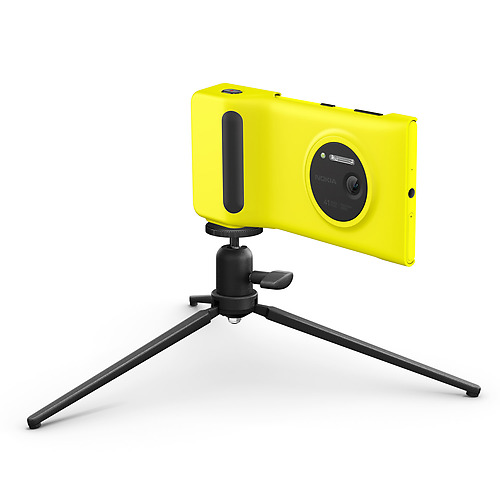 Nokia Camera Grip is a sled that wraps around the Lumia 1020. Tripod not included.
Your lanyard will need have a couple of inches of thread (not cord) free to slot through the grip, and naturally you won't want to use a standard point-and-shoot metal lanyard. This precludes using most of the lanyards available for phones or cameras. The additional battery in the grip is a little on the puny side at 1,020mAh, and once the sled is fitted, the phone can't be charged wirelessly.
Also, call quality was fine, although like most modern phones (and very unlike old Nokias) it took its time regaining a lost signal. One or two calls using HD voice quality sounded metallic, otherwise HD worked well. I did suffer from dropped calls in a dead spot.
The phone comes with 32GB of storage that unfortunately is not expandable via a SD card. Only O2 customers get the 64GB version this year. The large photos aren't a deal-breaker here, in terms of storage capacity consumed, but HD video is: if you shoot a lot of footage you'll want to purge the phone regularly to make space.
Music playback through headphones sounded fine, if not spectacular (Nokia's 808 handset offers outstanding music playback). The drawbacks here aren't caused by the hardware, but they are a result of the rather obtuse Windows Phone music software (which places an unnecessary wrapper around the local music library) and the quite appalling Mac OS X sync software.
It took only a week for the thing to stop syncing music altogether - a "feature" of Windows Phone Connector. If Microsoft is at all serious about WinPho 8 succeeding, it has to realise the importance of reliable media sync for Mac users: it can synchronise collections of photos and images on the device and iPhoto - that at least works well, but users will find that iPhoto doesn't allow one to purge pictures imported from the handset. This matters for housekeeping, as you'll want to use it for shooting video, and video gobbles space rapidly. Windows music sync worked fine.
Battery life is general usage is on a par with the Lumia 925, which is to say, it's not as efficient as iOS but more efficient than a comparably priced Android. This is not surprising since the hardware (built around a dual-core 1.4GHz Qualcomm Snapdragon S4 system-on-chip) is largely identical to the 925, but has been given an extra 1GB of RAM to 2GB. Where the Lumia 1020 will start to chew through the battery is with heavy photo usage: Nokia's processing algorithms do use more resources than conventional technologies.
System Software
Perhaps the biggest gotcha about the Lumia 1020 is if it means making a leap from an established platform like iPhone or Android. Windows Phone has quite a few advantages ... and some obvious disadvantages too.
Windows Phone is an unusual text-centric design which shows the benefit of hindsight – it was put together after the iPhone had been launched – and as a result scores highly for usability, with superior integration, navigation and basic social features. It also has a flexibility lacking in the iPhone, with the home screen forming a kind of pinboard for people, places, and playlists, for example.
In fact, Apple paid Microsoft the ultimate compliment this year by incorporating some of the aesthetics of Windows Phone into its iOS makeover. Both systems now use text as buttons, dispensing with surrounding UI chrome.
Since Windows Phone has changed little in a year, and frankly, not much more since its launch, we'll spare you a recap.
Windows Phone also makes a nonsense of the hardware arms race, as in contrast to Android it's highly efficient and reliable, and performs fast and without glitches even on meagre hardware. Microsoft has a rather stately (read: slow) pace of development which also brings pluses and minuses. The upside is that Windows Phone retains the clarity and simplicity it was born with. The downside is that some basics are inexplicably missing: you can't search the device, or save a PDF attachment anywhere, or lock the device orientation into landscape or portrait mode.
The radical UI design doesn't work well for all apps; for example, the Microsoft-designed Facebook app discarded the UI guidelines and is all the better for it, and Twitter's native app shows just three Tweets at a time. But the number one reason for returning a WP is the third party application market. This is improving, and key applications like Evernote, Netflix or Skype are present, and perform well. But the "long tail" of apps is where Windows Phone lags, and what many people will consider to be fundamentals like banking apps, or Dropbox, or Sky, remain absent.
Aware of this, Nokia bundles some decent apps: the HERE Maps app is outstanding and includes navigation and offline viewing - although for some reason, you have to download country maps individually. The public transport is similarly excellent, but again, should have been bundled.
The Camera Crunch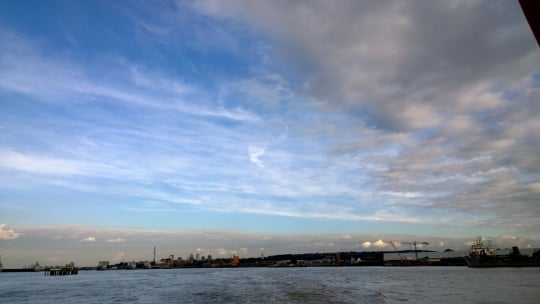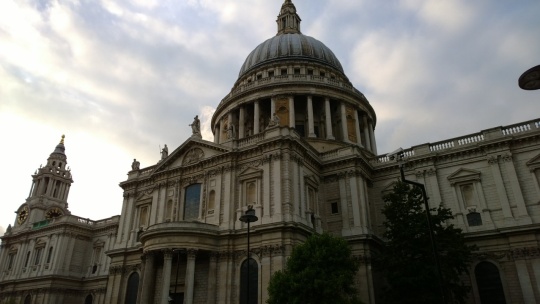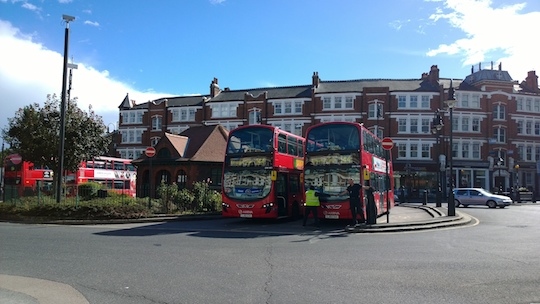 Now let's zoom in on the third picture - a challenging one, given the contrasts.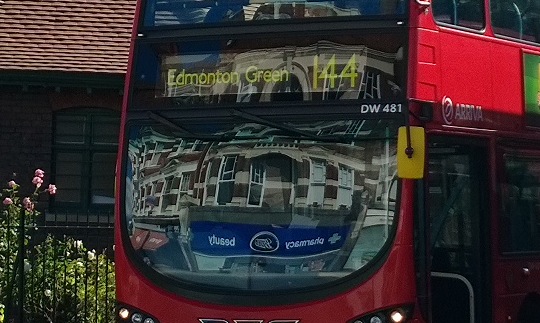 While the sky is overexposed, the reflection in the bus window and the tiles come out beautifully. The full 7712x4352 "master" weighs in at 11.2MB, and here's a crop from that, actual size: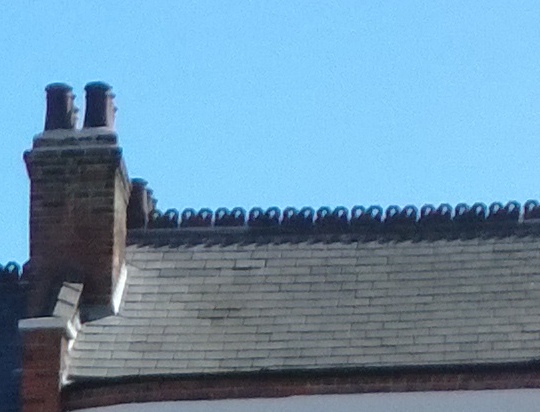 Such is the wealth of detail captured by the 1020, you can selectively choose a portion of the picture to work with, discard the rest, and still have an uncompromised photo at the end. You can find hidden stories within the photo. Cropping goes from being necessity to a creative act.
All these photos were taken with the default camera app at default settings. More is possible with a few tweaks, the kind you should be able to make with a point-and-shoot, and, indeed, can with the 1020. Here's another shot taken around the same time. The sky has been captured nicely - but at the expense of the sign, which is too dark to read: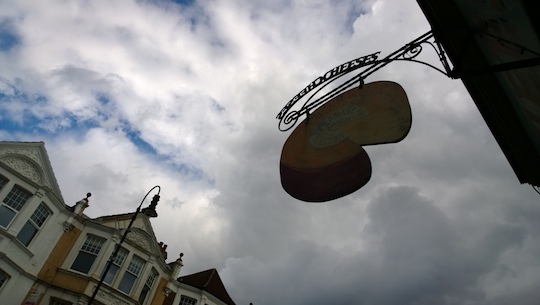 Let's crank up the exposure a little and see the results: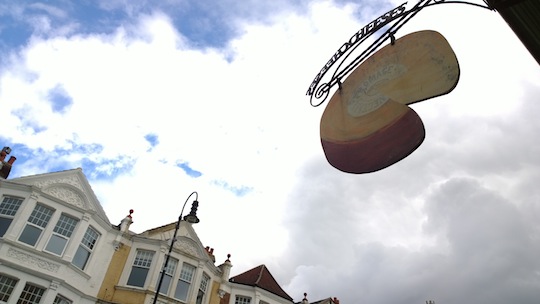 That gives us something to work with. Now if we zoom in, we see this: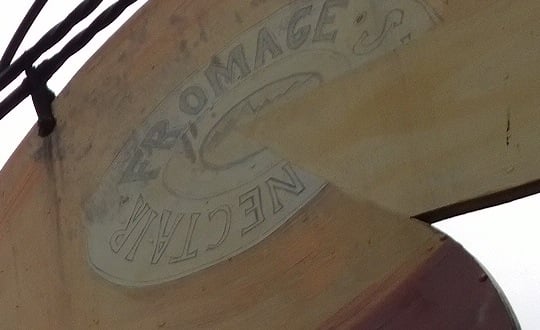 Here's another example. Nothing much happening in this picture, right?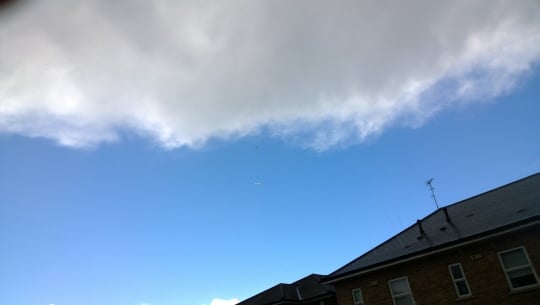 Well let's have another look: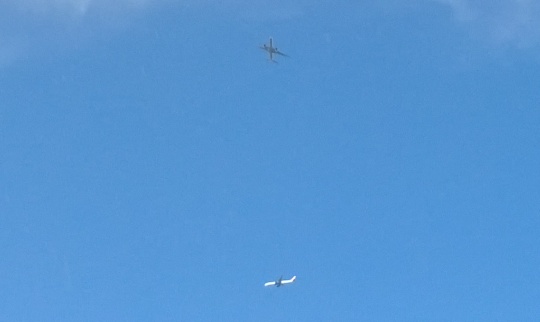 It's miraculous stuff, all the more so since it's incorporated into a regular smartphone. Thanks to the hardware stabilisation, video recording on the Lumia 1020 is best in class - if anything, Nokia has under-emphasised just how good it is.
And as with Nokia's 920 and 925 Lumia models, the imaging can captures scenes in low light conditions others can't, as the shutter can be held open for longer. In practice, you have to keep very still to get good results for this to work.
The device isn't perfect, however, and a couple of things may irk.
The downsides - three separate camera apps?
One is that the 1020 comes with three camera apps, rather than integrating them nicely into one. By default, you'll be using a new Nokia camera app called Pro Cam - this is what's invoked when you press the hardware camera button. Pro Cam makes settings like exposure and ISO easily available in a clever new design. Most smartphone cameras offer such tweaks, but they're typically hard to find and operate and so tend to be seldom used.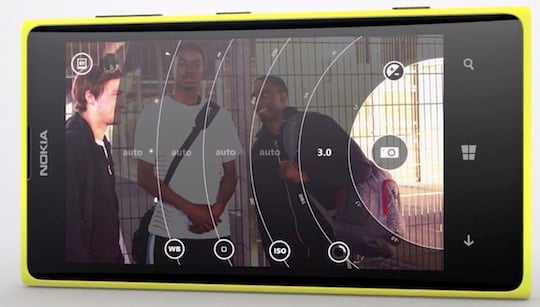 With Pro Cam, you can pull down each setting quickly, as they're all on screen at all times. I found the labels and icons a bit twiddly, but it's easy to reset, however, if you go wrong. In addition, there's Nokia's gimmicky effects camera, Smart Cam, allowing fun effects like multiple exposure, motion blur. The stock Windows Phone app, er... "Camera", is still available for quick shots. Really, they all should all be integrated.
One or two aspects of the 1020's predecessor, the 808 PureView, didn't make it – things like Burst Mode – but I expect to see this incorporated in software updates. And Nokia has actually lost one of the 1020's great assets, presumably because of Windows Phone UI constraints. On the 808, you were able to do a real time zoom preview by pushing in your thumb from the edge of the screen. Letting go then performed a smooth transition to the new crop. This was particularly useful for videos. But to zoom in on the 1020 you need two fingers, and it's nigh impossible to do this without introducing some shake to the video. Since both units perform a unique 3x lossless zoom I particularly missed this.
In addition, the shot-to-shot time is a second or two longer than rivals. For many situations it doesn't matter, but if you're shooting sports or children, then the extra second can seem like an eternity. You'll want to switch to Smart Cam in these situations.
One additional caveat is that SkyDrive automatically uploads your camera roll to Microsoft servers - the presentation version, not the larger master. Which is a nice feature, but it does so at a default medium size and using compression that introduces zaggies. This is Heron Tower, and it does not actually look like this: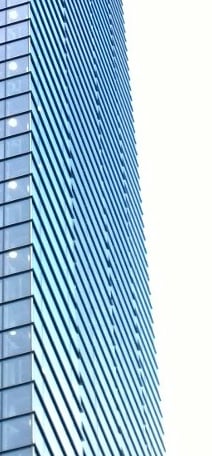 And compared to the 808 PureView, the Lumia 1020 has cranked up the saturation. The first picture is from the 808, the second from the 1020: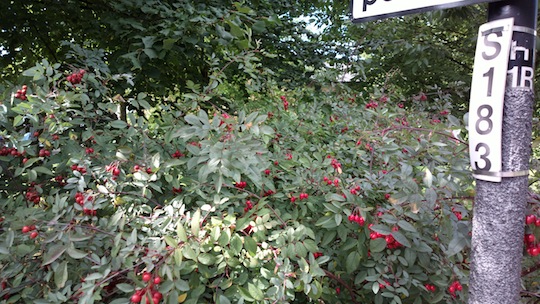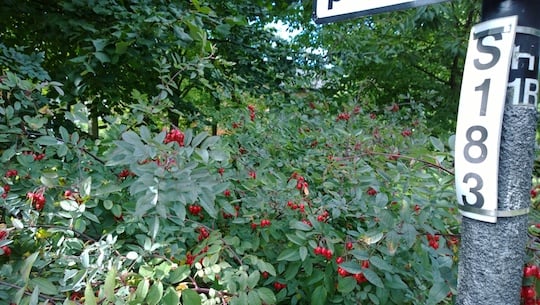 Some people prefer the richer colours of the latter, while others prefer the more realistic output of the 808. A fascinating discussion of the decisions taken by the team by former Nokia imaging guru Damien Dinning can be found here.
Summary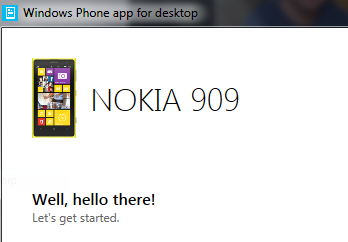 The default name of the Lumia 1020 gives away its lineage
The Lumia 1020 isn't quite perfect. There should only be one camera app, not three, and the shot-to-shot time is a second longer than it should be, which, allied to the lack of a burst mode means you may miss some moments if shooting children, animals or sports scenes, for example. However only Nokia's own hard-to-get, and now discontinued PureView 808 takes better photos on a phone - and even if you find an 808, its legacy OS Symbian will struggle to perform on a par with the market standard today.
While I personally preferred the shots taken using the 808, the 1020 wins out on versatility. In addition to extremely high quality camera shots the best, but the 1020's HD video and audio capture quality is unmatched by any smartphone. Given a steady hand, it can produce excellent results in low light, without a flash, where rivals are swamped by noise. The downside for punters already entrenched in the Apple or Android world who may be thinking of moving to the Lumia 1020 is that it means buying your apps all over again, and while the main apps are well represented the "long tail" of apps isn't comparable. If you really depend on (say) Sky and banking apps on your smartphone, you'll come up short, and will have to wait.
Still, momentum is now with the platform and with Microsoft's billions backing Nokia, you can be reasonably confident that your Lumia 1020 will be better at the end of your two year contract than it is today. It's by a comfortable distance the most impressive cameraphone ever made. ®