Original URL: https://www.theregister.co.uk/2013/09/09/review_peugeot_208_gti/
Peugeot 208 GTi: The original hot hatch makes a comeback
At last, a second, small GTi Pug worthy of the badge
Posted in Personal Tech, 9th September 2013 09:03 GMT
Review Back in the day, Peugeot made a truly great little motor car called the 205 GTi. I owned one, the 1.9-litre version, and absolutely loved it. For charging down narrow B-roads few things on four wheels were faster or more enjoyable.
Along with the Volkswagen Golf GTi the 205 GTi pretty much created a whole new breed of car in the public's imagination, the hot hatchback. So when Peugeot's press fleet manager asked if I wanted to borrow a shiny new 208 GTi for a week, I said yes. Well, you would wouldn't you?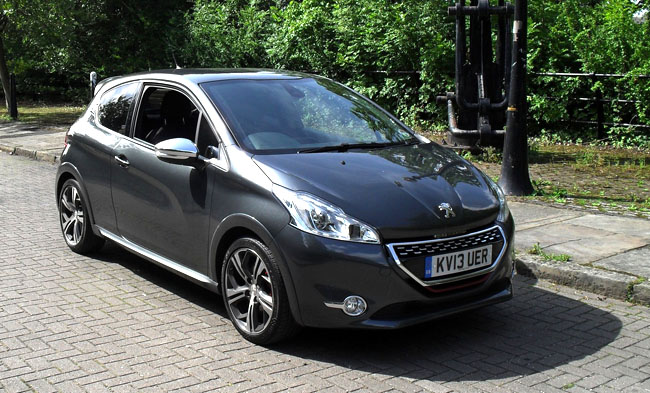 Peugeot's 208 GTi: purposeful
Both VW and Peugeot had trouble replacing their first and greatest hot hatches, though in Peugeot's case the failure was the greater: after 1995 the sporty versions of the 206 and 207 got flabbier, softer and more and more wretched, each deserving the hallowed GTi badge less than the one before.
But the new 208 GTi is different, according to Peugeot. The adverts proclaim, "the GTi is back". Of course, VW would argue it never went away, and Renault and Ford would contend that the RenaultSport, STi and Cosworth badges have replaced it in the popular lexicon of cheap speed. So is the 208 GTi a new hot small Peugeot that is finally worthy of the 205's GTi badge?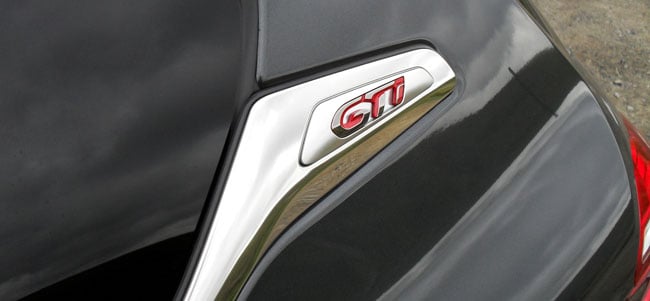 A very smart GTi badge
Building on the basis of what is already one of the best and most visually interesting small hatchbacks, the 208 GTi certainly looks the part, displaying its sporty prowess through a set of smart 17-inch alloys, a liberal sprinkling of GTi badges, a tailgate spoiler and enlarged front airdam and a smattering of red lip gloss under it's square, rather predatory snout.
You won't miss it, or more importantly, mistake it for the base 1.4HDi diesel model. Some may find the GTi decoration a little too much but at least it's trying to look sporty to a man in his 30s or 40s not to a slip of a lad in his late teens. The decoration contains some quality design touches too: the way the GTi badge is stamped into the chrome window line looks particularly good.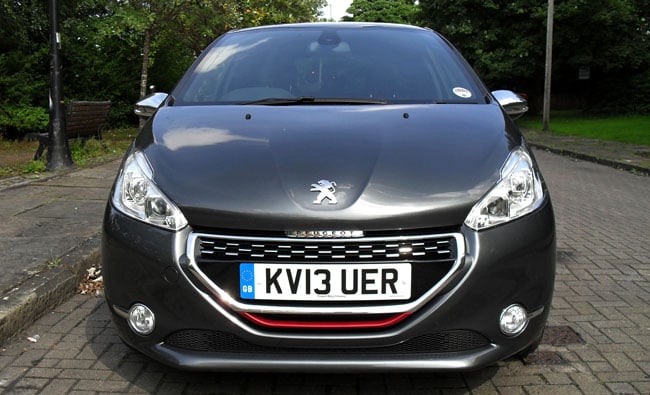 A spot of red lippy at the front?
Open the door and drop yourself into the bucket seats and it gets even better. The cabin of the cheapest 208 is already a pretty good place to sit and the GTi builds on that with red pinstripe seat belts, GTI-embossed leather seats, a leather handbrake and a very nice aluminium gear knob. Pride of place goes to the unusually small steering wheel complete with red centre stripe and a GTi badge.
That diminutive and low-slung steering wheel results in a rather unusual view from the driver's seat - for a hatchback at least. Peugeot has put the dials right under the windscreen so you can look at them over the top of the wheel and keep an eye on on your speed and the road at the same time.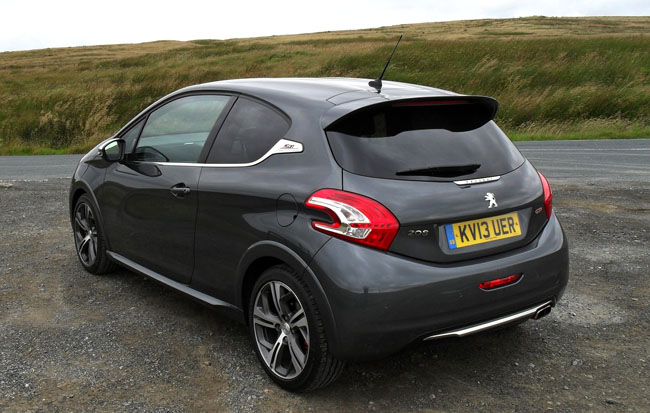 The GTi in its natural habitat: on t'moors
This means you have the wheel ever so slightly in your lap, and quite close to you. This is how the likes of Lotus and Ferrari do it, and for a good reason. When I first sat in the GTi my first reactions were mixed but once I'd found the steering wheel rake control and got the seat height adjusted it all made sense. With everything set up just so, the driver environment is close to ideal.
Upped game
Physically, the 208 GTi is a very traditional GTi. It's available as a three-door only and it's got a six-speed manual gearbox rather than a flappy-paddle affair. As a driver's car it's been set up the way Peugeot thinks is best and the only change you can make is to switch the traction control off when you're feeling bold or competent. There's a simplicity about it that I found very attractive.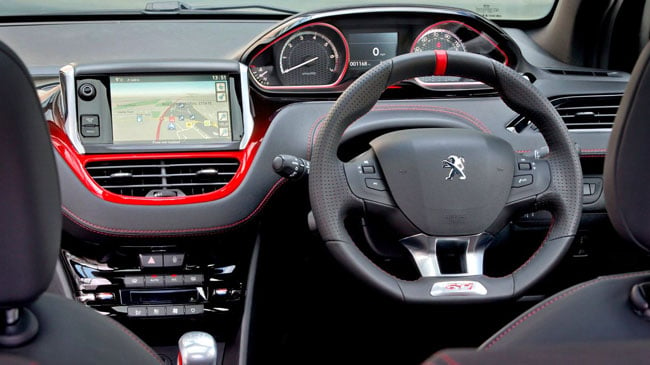 The low steering wheel looks odd, but it isn't
Hauling the coal is the same 200bhp 1.6-litre turbocharged four-cylinder engine used by Mini in the rather bulbous Cooper S and Peugeot in the stunning RCZ. A co-development by BMW and PSA Peugeot Citroën like most modern turbocharged engines it's very effective, suffers no noticeable lag but is rather uninspiring to listen too. Unlike the RCZ, the 208 GTi has no trick exhaust valves to make it sound more the part.
As a means of getting places quickly though it really cuts the mustard. It will shoot you to 60mph in 6.7 seconds and on to a top speed of 143mph. At all times it is very tractable. It's pretty economical too, with an official combined cycle consumption of 47.9mpg though my personal weekly average was a rather lower 40.2mpg. CO2 emissions of 139g/km aren't bad either for a motor tuned for performance first and planet-saving second.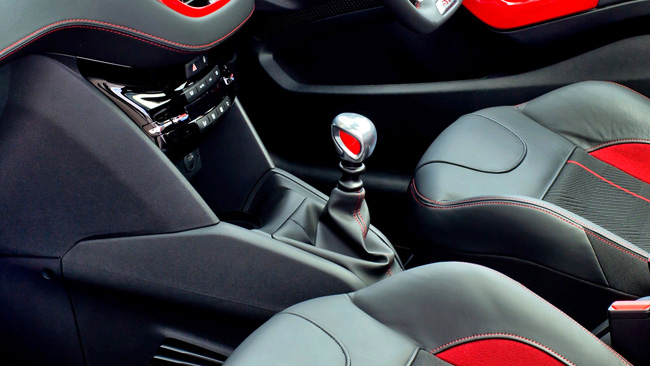 Now THAT's a gear knob
One the road, the new 208 GTi isn't as raw and untamed as the old 205 GTi - time and safety regulations have changed - but it's still great fun to drive and very eager. It's an easy car to drive fast too, making even pretty average drivers like me look halfway competent on a track. And for a sports car the Pug rides very well indeed. That underlines the fact that when it puts its mind to it few companies know how better to set up a front-wheel drive car, especially a small, fast one, than Peugeot.
Peugeot has also upped its game when it comes to build quality and standard kit. The whole car feels very well screwed together especially the cabin, which is as solid as a rock. I spent a good few hours poking and pulling at the 208 to see if I could honestly say that it's as well made as the new Golf, and as far as I can see, it is.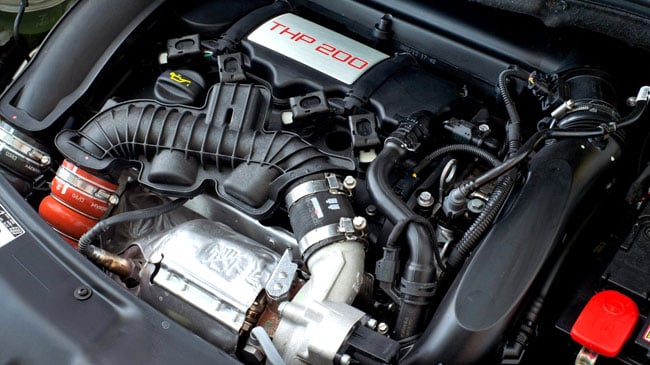 200bhp under the bonnet
Turning to the gadgets, my Android phone paired easily to the Bluetooth system and once paired stayed paired. There are two USB ports, one for charging devices and one to play music from a USB stick. You can even even adjust the intensity of the ambient cabin lighting in the enticingly named Mood Lighting menu.
The 7-inch touch screen that dominates the centre console is very fluid in use and gives twit-proof access to all the Pug's systems, though the lack of postcode search in the satnav is as much a pain in the backside here as it was on the hybrid Volvo I drove recently. The addition of a DAB radio to the very fine-sounding music system is welcome, though. All this, plus cruise control and rear parking sensors for just under nineteen grand doesn't seem like bad value at all.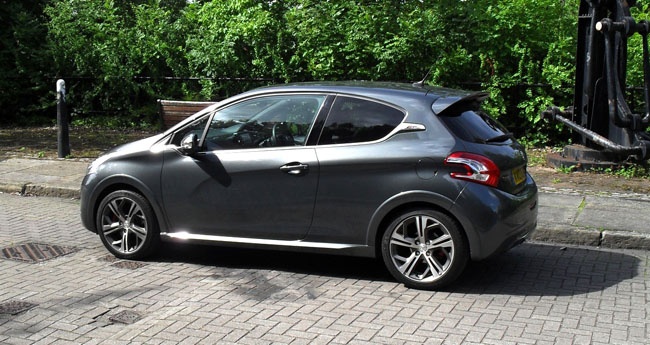 Only available as a three-door
The Reg Verdict
I wouldn't say the 208 GTi dominates the opposition from Ford, Renault and Volkswagen like the old 205 GTi did. The speedy hatch offerings from those three companies are much better today than they were back in the early 1990s. But the 208 GTi is the most composed and balanced hot hatch on the market at the moment and, more importantly, it is finally a worthy successor to the late, great 205 GTi. ®