Original URL: http://www.theregister.co.uk/2013/09/06/ubuntu_13_10_beta_1_review/
Penguins, prepare to get SPACED OUT: Ubuntu 13.10's Mir has docked
Orbiting inside Shuttleworth's latest break with convention
Posted in Operating Systems, 6th September 2013 11:39 GMT
Review Looks can be deceiving, as proved by the first beta of the latest Ubuntu – version 13.10, or Saucy Salamander – which is available today.
This beta doesn't look that different from the last release of Ubuntu earlier this year, but hidden beneath the surface is what might be the biggest change Ubuntu will be making for some time, at least since Unity: the move to the homegrown Mir graphics stack.
Mir is Ubuntu's replacement for the X Window System, a necessary part of the company's move beyond the desktop into the world of Ubuntu Mobile, the operating system for Ubuntu Edge and the myriad other devices still just a twinkle in Mark Shuttleworth's eye.
It wouldn't be Ubuntu if there weren't some sort of controversy, (here, here and here), and Mir looks like being no exception.
At this point no one is going to defend X, but there are many who are disappointed Ubuntu will not be using the Wayland graphics stack. Several other distros have already started to use Wayland to replace their own X Window servers, but as with the desktop, Ubuntu has opted to go its own way. If the Mir versus Wayland debate goes the way of the Unity versus Gnome Shell, I'd say Ubuntu has once again made the right call. Only time will really answer that question though – it's far too early to say.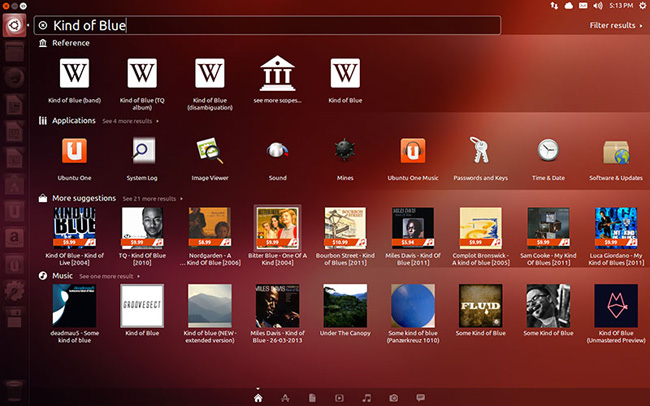 Scopes to make Dash webbier make their delayed debut with Ubuntu 13.10 (click to enlarge)
So what does Mir in Ubuntu 13.10 mean? For most users, hopefully nothing.
Well, there is one thing – no more Xorg.conf to spend long hours wrestling with.
By the time 13.10 does officially arrive, Mir will help with some specific setups, like dual monitors or high-end laptops with the option to disable and enable discrete graphics depending on use – turning them on, for example, for 3D-intensive applications, and off to save power.
Mir is a huge change. It enables all the various flavours of Ubuntu to run unmodified on a single graphics stack. That means the same code running across phones, tablets, desktops, TVs, cars, toasters and so on.
The same code means faster development, which is a huge win on its own, but it also helps Ubuntu to pull off some cool tricks – like plugging your Ubuntu phone into a monitor, turning it into a desktop-like device.
That scenario raises the question – what is it? Are you using a phone? Is it a desktop? What if the answer to both is yes? That's essentially the point of Mir – to eliminate the need to differentiate between devices. Ubuntu is Ubuntu wherever you find it.
That's the goal anyway.
The daily builds I tested still had Mir disabled by default, though activating it didn't wreak havoc on my system. In fact, everything hummed along just fine. If you'd like to try it on actual hardware (rather than the virtual machine that I'd recommend for testing beta releases) be sure to read through this list of graphics drivers and Mir issues.
Building to Unity 8
I should also note that while Ubuntu proper plans to go full Mir for 13.10, many of the official branches are either still debating the move or have decided to hold off for now. Kubuntu and Lubuntu, the KDE and LXDE versions of Ubuntu, have decided to wait. Edubuntu, Xubuntu and Ubuntu GNOME have not yet made any announcements regarding Mir.
For this beta there's little to see of Mir or the other half of what will ensure Ubuntu is Ubuntu wherever it goes: Unity 8.
Unity 8 isn't part of the current beta and won't likely be fully integrated until next year's Ubuntu 14.10 at the end of 2014 (14.04 is an LTS release so new features like Unity 8 probably won't make the cut), but it's hard to understand the importance of Mir without looking at Unity 8.
Together with Mir, Unity 8 will help Ubuntu's cross device goals, taking into account device-specific constraints and features and optimizing to support them. In other words, scaling the screen down and optimizing for touch on tablets and phones, while continuing to work on desktops with the mouse.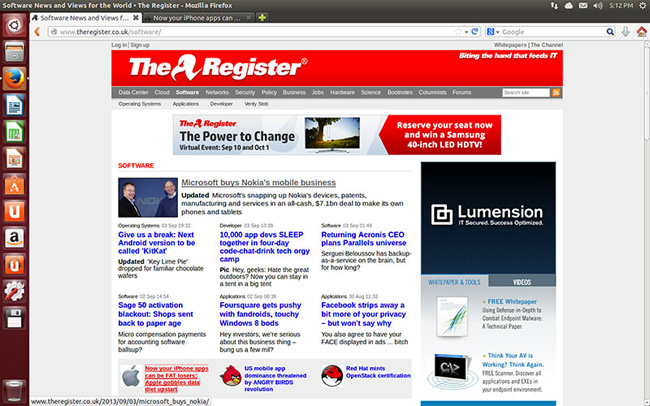 Firefox didn't get Chromed, so Mozilla's browser is back for more (click to enlarge)
One uber-device to rule them all
Unlike what we've seen thus far with iOS and Android, Canonical's vision of the future is a single device, powerful enough that it can perform not only the functions of a phone or tablet, but also works as a dock to a desktop monitor and does everything a desktop can do. Canonical calls this "device convergence".
It's easy to dismiss this with the simple truth that today's mobile device doesn't have the power to pull it off. But mobile chips are always getting more powerful and eventually we will get to the point where many of us will be able to rely on a single device for multiple environments. Canonical is laying the foundations of a single-device future now with Mir and Unity.
Unfortunately for users who like more splash with their new releases, most of the big improvements in Ubuntu 13.10 aren't visual. That said, you will notice a few things that are different.
The Unity Dash sports some new search Scopes, more than 100 in fact to search everything from your Firefox Bookmarks to Flickr photos to Picasa, Google Drive, Facebook, Wikipedia and many, many more. Scopes is a mechanism designed to improve web searches, making the Unity Dash more of a web-search interface, while also turning it into more of an application launcher. Scopes updates the controversial Lens and was pushed back from Ubuntu 13.04 earlier this year, because it wasn't considered ready.
The Dash is also scheduled to get a payment system that would allow you to purchase search results without opening a browser or otherwise leaving the Dash. Like several planned features, this is a carry-over from 13.04 and is not currently enabled in the daily builds I tested.
There was also talk of replacing Firefox as the default browser in 13.10. Chromium would have taken over, but Canonical changed its mind and, for the time being at least, it is sticking with Mozilla.
Other standard Ubuntu apps have been updated, but there have been no major changes thus far in the release cycle.
While it's still early in the development cycle, Ubuntu 13.10 is shaping up to be a major release. Not only does it lay some important foundations for the future of Ubuntu across devices, but it also brings features like Smart Scopes and other improvements that were scheduled for 13.04, but didn't make it in time for that release.
I look forward to seeing how this plays out. ®