Original URL: https://www.theregister.co.uk/2013/09/03/microsoft_nokia_rise_of_elop/
Microsoft's $7.1bn Nokia gobble: Why you should expect the unexpected
Lumias, Elop, Windows Phone 8, yes... but patently, it's about patents
Posted in The Channel, 3rd September 2013 15:58 GMT
Analysis With Microsoft's purchase of Nokia's mobile business for $7.1bn, the Redmond software giant has finally become a phone and device maker.
The deal gives Microsoft Nokia's global handset engineering, manufacturing, sales and distribution business; the family of Windows-Phone-powered Lumia smartphones; a war chest of 8,500 Lumia and Asha phone patents while licensing 30,000 utility patents; and a standing army of 32,000 Nokia employees. The deal is expected to close in the first quarter of 2014.
Interestingly, it's not Microsoft's biggest purchase: it's second to the $8.2bn purchase of loss-making internet chat biz Skype in 2011.
The Nokia acquisition also potentially gives Microsoft its next chief executive officer: Nokia boss Stephen Elop who was once a senior suit in Redmond.
Announcing the deal on Monday night, outgoing Microsoft CEO Steve Ballmer called it a "bold step into the future". Nokia has talent in hardware design and engineering, supply chain and manufacturing management, sales, marketing and distribution, Ballmer told his employees.
Selling the deal, the shy and retiring boss reckoned it was time to accelerate Microsoft's share and profits in the world of mobiles. (Windows Phone has 3.3 per cent of the global smartphone market, according to IDC.)
Increasing phones sales and market share, pumping out better handsets - this is the promise we're being sold. But chances are Microsoft won't get what it expects.
Microsoft could certainly use Nokia's engineering and design smarts. It was Nokia that complained Microsoft is moving too slowly on issuing Windows Phone 8 updates - that it was still working on release cycles more appropriate to a maker of PCs than one producing consumer electronics.
The only question is why Microsoft waited so long. The Nokia-Microsoft platform partnership, in which Nokia dumped Linux and Symbian for Windows Phone, was formed two years ago. Now, it's been decided having separate companies wasn't working.
The movers and shakers
Joining Microsoft will be Nokia's CEO Elop, who'll be taking over a devices division that's just been reorganised and expanded.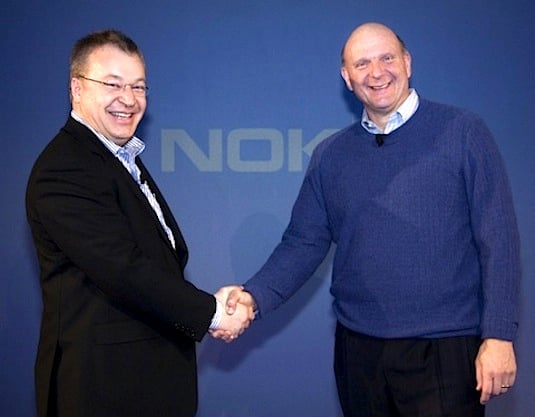 Right with you buddy ... Nokia chief Stephen Elop, left, with Steve Ballmer, now retiring
To maintain continuity, the old Nokia heads remain: Jo Harlow will continue to lead Nokia's Smart Devices; Timo Toikkanen will remain in place leading the Mobile Phones division; and Stefan Pannenbecker will run the design teams. All will report to Elop.
Post acquisition, field sales will come under the remit of Microsoft chief operating officer Kevin Turner. Touting Nokia and Microsoft will be the job of Redmond's marketing executive veep Tami Reller and ads chief Mark Penn - the latter was once Hillary Clinton's campaign manager and the individual responsible for Microsoft's Scroogled ads.
So, Ballmer's empire gets a massive phone design, manufacturing and sales operation, but it also gets a loss-making handset maker with plummeting market share - 15 per cent today versus 37 per cent in 2007 on the eve of the launch of Apple's iPhone. Nokia lost $150m despite growing sales of smartphones in its latest financial quarter.
This means that once the deal settles, moneybags Microsoft will need to trim its head count. Under the deal, 32,000 employees are coming to Microsoft - that's one third of Microsoft's current number of workers. The Windows maker has struggled to cut staff numbers in recent years to maintain profitability, and keeping everybody from a loss-making phone maker won't help.
Engineers are likely safe; there are at least 18,300 Nokians on the product manufacturing, assembly and packaging lines. Also, Nokia's field sales will be safe: these are the people selling the Finnish phones to network operators. It'll be mid-level managers and marketing that go.
Scratch the Surface
Ballmer talked of opportunities for Redmond's partners in the wake of the Nokia gobble, but the likelihood is that with the Finns firmly in its back pocket, Microsoft is unlikely to sign up any more phone makers or take on new tablet manufacturers; quite the opposite, in fact: Microsoft's other Windows Phone partners - Samsung, LG and Huawei - could be feeling threatened.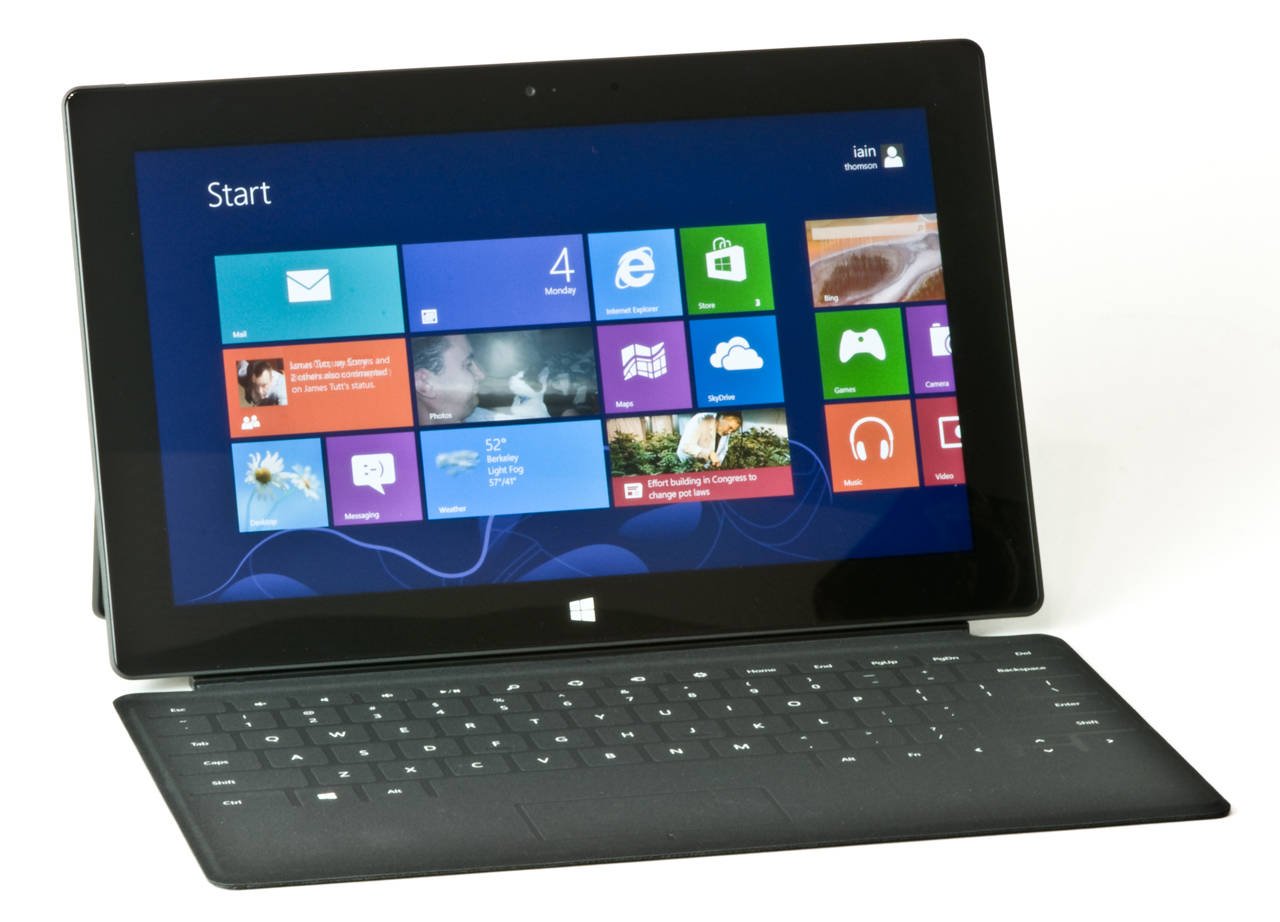 Microsoft's Surface brainwave ... fondleslab meets laptop keyboard
They'll fear that Nokia will get preferential treatment in access to research, new features and sales deals. Now they'll be assessing their options and looking for ways to loosen their ties to Microsoft. To their advantage, they aren't major shippers of Windows Phone handsets: 81 per cent of Windows Phones sold were made by Nokia, with Samsung third a long way behind on 11 per cent, according to number crunchers at IDC.
In short, we expect Nokia to increase its share of the Windows Phone smartphone market.
Microsoft's ownership of Nokia's phone and device manufacturing facilities will also further complicate Redmond's already strained relationship with PC manufacturers. The software giant sells its own homegrown Windows 8-powered Surface tablets, built by electronics giant Pegatron, pitting it against traditional computer makers also attempting to flog touchscreen Surface laptops-cum-slabs.
Despite stunning losses on the poor-selling Surface range, and over-ordering on parts to the tune of $1bn, Microsoft has said it remains committed to the Surface Pro and Surface RT. Its rationale for buying Nokia mentions a "family of devices with integrated services". Before the Microsoft-Nokia deal was announced, rumours circulated that the Finns will make their own touchscreen Windows 8 Surface tablet.
That $7.1bn cash spend: You gotta spend money to make money
Microsoft's taking a huge hit on buying Nokia, but claims it'll pay off by trousering plenty of dosh from handsets. Microsoft claimed it makes less than $10 per Windows Phone sold, but post-deal, that will rise to $40 on "smart devices" per unit thanks to savings on integrated hardware, R&D, design and "focused marketing investment".
Microsoft reckons it'll have shifted 1.7 billion smartphones by the end of 2018, with an "assumed market share" of 15 per cent bagging $45bn in annual revenue.
Companies rarely break out such numbers, and do so only to win an argument. As such, these numbers should be taken with a large pinch of salt. And it appears investors have done just that: when the stockmarket opened this morning in the States, the MSFT share price fell 4.61 per cent.
Patently, it's about patents
Of more relevance will be the money Microsoft makes on patents it will inherit from Nokia's mobile biz. Microsoft not only gets to cut the licensing bill it once paid to the Finns, but it can charge other companies royalties.
According to Microsoft the deal "provides significant value for Microsoft's existing business, replacing after 2014 Microsoft's existing annual license payment to Nokia". Redmond will also get patents licensed to Nokia under a deal with ARM chip biz Qualcomm - potentially important for the continued production of ARM-powered Surface RT devices.
Microsoft is already raking in cash on patents: in the last year the US giant claimed $1.2bn in Windows Phone revenue, with an increase in "patent licensing revenue" in addition to sales of WinPho licences. Among those paying up are Samsung, coughing up $15 per Android phone, plus Foxcon, Acer, LG and Barnes & Noble.
Soon Microsoft will be in a stronger position to exploit its swelling library of patents to boost its bottom line, improving income while cutting costs.
Earlier today, pundits crowed that Ballmer was defying his critics for striking such an audacious deal; so much for the lame-duck CEO, his fans said.
But, the truth is, acquisitions never quite work as sold: Hewlett-Packard choked on Compaq, Dell fumbled EDS, and Microsoft killed aQuantive. In each case, the purchaser blew billions of dollars.
Not only is Microsoft's betting its balls on a phone maker whose share of the smartphone market is going south while its earning are bathed in red ink, but Microsoft believes it can become a successful smartphone maker while at the same time assimilating that smartphone operation and its brains.
Microsoft's track record on integration is not healthy - just look at aQuantive.
The dynamics of the market also mean that far from becoming a number-one player, the combined market shares of Microsoft and Nokia mean it's looking a number-three, possibly a number two depending on whether Apple declines. Take a look at the graph below.
The Microsoft/Nokia deal visualized. pic.twitter.com/kbiJyL59N6

— Andreas Creten (@andreascreten) September 3, 2013
If there is a killing to be made, it's likely to come from unexpected areas - patents.
The strongest possible of outcomes is that Elop becomes Microsoft's next CEO.
It was Elop who was picked by The Reg as a contender for the Microsoft crown after Steve Ballmer announced last month he will retire within a year. Elop would bring four important qualities: knowledge of Microsoft, CEO-level experience in the "real world", knowledge of the phone market and contacts in that arena - something Microsoft is desperate to imbibe.
Ballmer hinted at an Elop ascendancy inside Microsoft. "Stephen will go from external [candidate] to internal," Ballmer is quoted to have said in the Seattle Times. "The board will continue [to look at] all appropriate candidates through that process."
When he joined Nokia, Elop was asked whether he was a Microsoft Trojan. Now he's delivered the handset maker to his former boss. But he was president of Microsoft's business group before going to Nokia, but he barely grew revenue. Such was his lack of distinction, Elop merited a terse two-paragraph farewell email from his boss Ballmer, who called him a "good steward of the brand and business during his time".
The broad smiles and promises of togetherness in September 2013 are a long way from the short, sharp email of September 2010, but the truth cannot be overstated: Microsoft and Nokia is marriage of convenience.
It's a marriage of a software company that after two years' hard work has scraped together less than four per cent smartphone market share, but is committed to plough on. For Nokia's board, somebody will take away the pain of the past two years. Nokia's stock actually rallied on news it was finally going to stop trading as an independent company.
Just don't expect it to work as sold. ®