Original URL: https://www.theregister.co.uk/2013/08/28/midi_daddy_dave_smith_talk_to_el_reg/
MIDI daddy Dave Smith: '30 years of version 1.0 shows we got it right'
El Reg chats to muso interface co-founder on this enduring digital spec
Posted in Personal Tech, 28th August 2013 09:03 GMT
Q & A The Musical Instrument Digital Interface (MIDI) specification is 30 years old this month and it's still on version 1.0. More to the point, it still works – with more people using it than ever. In this interview, Dave Smith talks about MIDI past, present and future.
It was the combined efforts of Sequential Circuits founder Dave Smith in the US and Roland Corporation founder Ikutaro Kakehashi in Japan that started the initiative. The result became an enduring standard with no ownership to cloud the issue of adoption.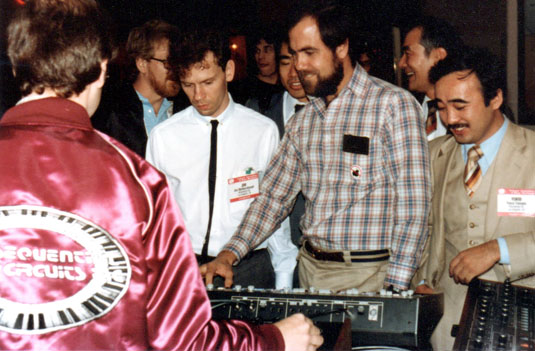 Making history: Dave Smith demos MIDI at the NAMM Show 1983
Both men shared a passion for instrument design, which enabled their work to be so meticulous that, in one way at least, they spoke the same language. Yet communication wasn't as straightforward as an email back in the early 1980s, so how did this collaboration work?
Dave Smith: "We worked via fax: Sequential in the USA and Roland coordinating in Japan. And [there were] a couple of meetings along the way, in Japan and California."
El Reg: The DIN plug on MIDI has two spare pins: was using them ever considered? Bi-directional MIDI? DIN Sync Clock? Power? Audio? Perhaps the latter two wouldn't be practical given the opto-isolator, but were options discussed?
Dave Smith: "There were talks, but nothing serious. And once it was established, it would have been a problem to add anything to the pins."
El Reg: I notice that you have stated on many occasions that MIDI communication is fast enough, it's the implementations on equipment that are frequently the problem. It seems MIDI gets blamed for the sins of cost-cutting or poor synth design sometimes – for instance, a lack of interpolation or filtering to smooth out control data. What do you consider the biggest crimes that are attributed to MIDI but which are actually poor synth/controller design?
Dave Smith: "The speed issue has always been the main complaint. Early on, sluggish processors were the problem, not MIDI, since voice counts were low. As more voices were added, speed could be an issue. Controller information can be throttled as necessary, with filtering/interpolation on the other end, as you mention. Now that MIDI is often virtual in the box or over USB, these issues are less important."
El Reg: Did you have much input on General MIDI? As someone whose passion is sound creation, does this preset palette seem a bit conservative or do you feel it to be a convenience worth having – as the MIDI File spec had been released a few months before?
Dave Smith: "By that time I was not involved. After getting MIDI started, I backed out of all follow-up and support. And yes, I had no interest in GM!"
El Reg: There have been several attempts to incorporate MIDI into other systems, for instance, Yamaha's mLAN. Would you attribute its demise to its proprietary nature, the data interface chosen, manufacturer's whim or some other reason?
Dave Smith: "It's all about critical mass. It's necessary to get the right group of companies to agree on an implementation, as we did the first time around. It will be very difficult for a single company to convince any other company to implement their protocol."
El Reg: OSC (Open Sound Control) is often talked about, but from its website's information, it seems rather technical for mainstream adoption. What are your thoughts on this protocol? Something else to dabble with or a worthwhile system in the making?"
Dave Smith: MIDI works because it's simple and free... which led to it being ubiquitous. Which there is clearly a need for more advanced features, the reality is that a small percentage of users would take advantage of them. MIDI still covers 95 per cent of a typical user's needs."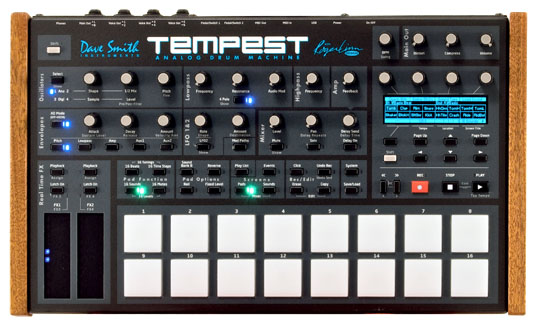 Sequential Circuits is no more but Dave Smith Instruments continues many of its traditions and ideas. The Tempest is an analogue drum machine with design input from Roger Linn
El Reg: The MIDI Manufacturers Association (MMA) site mentions the HD Protocol for musical instruments (next generation MIDI), which seems like a massive undertaking given the range of potentially interested parties. It's a completely different scenario from MIDI's roots, yet from your past experience what advice would you give to those trying to establish an enduring spec?
Dave Smith: "Keep it simple and cheap to implement, and do whatever you can to get a good core group of companies to join. If you could get Korg, Roland, Yamaha, and maybe Nord, Access, Moog, and a couple more companies to agree, that would be enough."
El Reg: Beyond the MMA statements, is there anything more you can say about HD MIDI? It's been talked about for quite some time and apparently demo'd earlier this year.
Dave Smith: "I really haven't looked into it enough to comment. We're a tiny company, and happy with normal MIDI and USB. If/when something becomes a new standard, we'll check it out then."
Power tools
El Reg: Do you think the MIDI interface will slowly disappear like the floppy drive – with HD MIDI replacing it as the DVD writer did the floppy? Or is MIDI interfacing too valuable to be superseded and will continue to appear like VGA ports on laptop?
Dave Smith: "These are musical instruments, after all, and not just random technology that is guaranteed to become obsolete (floppies, small green text monitors, etc). Musicians love vintage synths – that alone will keep MIDI around."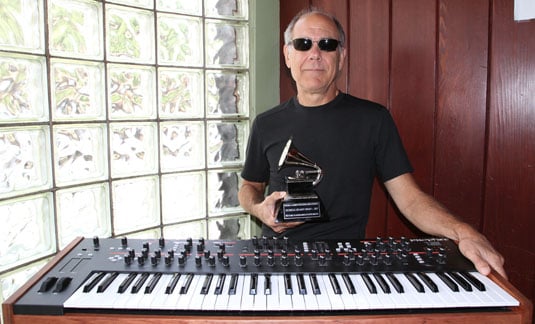 30 years later: Smith and Kakehashi get the Technical Grammy Award 2013. Here, Dave plays up to the Mr Hollywood look and shows off his latest digital/analogue hybrid synth, the Prophet 12.
El Reg: I've heard it said that the predominance of the keyboard as the MIDI controller has had a negative impact on players of other instruments that are harder to adapt to work with MIDI. Compromises are inevitable, but do you think manufacturers have done enough to deliver alternative controllers that are both expressive and affordable?
Dave Smith: "My opinion is that synthesis lends itself best to keyboards, especially when talking about popular music. It's certainly capable of being controlled many other ways, via MIDI or whatever, but so far nothing has caught on beyond a small minority.
"It's not difficult to build expressive controllers, and many have appeared. But most musicians do not want to invest the considerable time training on a device that may not be around in five years. Unfortunately the market does not seem to be there."
El Reg: Another school of thought is that experimentation in electronic music has suffered due to the predominance of the MIDI keyboard synth. With modular synths of old there was a process of discovery. What's your view on the evolution of electronic music in the MIDI era?
Dave Smith: "When MIDI first came out, most academics trashed it, listed all the things it couldn't do to their satisfaction. But within a few years they started realising how much they could do with it, and started using it in many projects, usually very experimental [ones]. A smart musician uses the tools available to them, and MIDI is simply another tool. It certainly doesn't prevent anyone from doing something different."
El Reg: With the rise of virtual instruments, has experimentation returned or is it simply a case of having more to choose from and users are becoming desensitised by choice?
Dave Smith: "I don't think it has had much of an effect. But yes, there are so many disposable softsynths out there that it can be hard to take them seriously as musical instruments."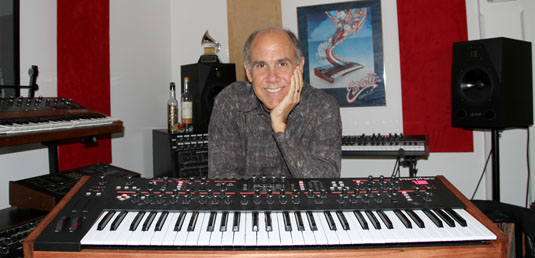 Making a Prophet: Dave Smith with his instrument designs old and new
El Reg: Music attracts players of all disciplines, while some would take a purist approach, others make claims that the iPad and touch control along with wireless interfaces are the most significant changes since MIDI. You've seen a lot of technologies come and go over the last 30 years: what's your view on touch control and its associated music applications?
Dave Smith: "Paying $2.99 for an iPad app, using it for a couple weeks, then moving on to the next is not the progression I like to see, as an instrument designer. Touch control is always cool, but it's a matter of making use of it within the context of popular music. Gee-whiz demos might be fun to watch, but don't usually translate into real songs."
El Reg: With iPad applications such as GarageBand which simplify MIDI and audio recording, the idea of learning MIDI seems lost these days. Does this seamless experience appeal to you or do you have any concerns that new users might not get to explore MIDI's full potential or even be aware of it?
Dave Smith: "Seamless is good, as long as it doesn't limit creative growth. Music has a way of self-correcting; if it becomes too bland, something cool and different tends to pop out and shake things up."
El Reg: If you could do it all over again, what would you change?
Dave Smith: "Nothing! 30 years of version 1.0 pretty much says we got it right." ®
The MIDI spec was given away free, so Dave Smith didn't make a penny out of it. Founded in 2002, his company Dave Smith Instruments produces distinctive music hardware, made in the USA.