Original URL: http://www.theregister.co.uk/2013/08/27/review_huawei_ascend_p6/
Huawei Ascend P6: Skinny smartphone that's not just bare bones
Android landfill? No, not this time...
Posted in Personal Tech, 27th August 2013 08:59 GMT
Review Just who the heck does Huawei think it is? Surely it is the purveyor of budget Android tat and carrier-branded dreck? I'm loathe to use the word "landfill" because some of its newer cheap handsets, like the 4.5-inch Ascend GS510, aren't actually that bad and I'd certainly take one in preference to an appless, gutless, webcam-less small-screen WinPho 8-er like the Nokia Lumia 520.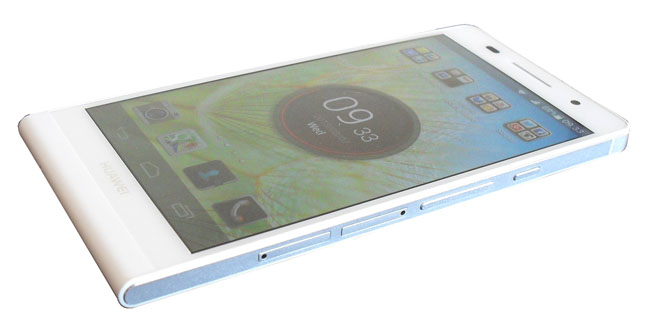 Huawei's Ascend P6: skinny
But Huawei's new devices, including the Ascend Mate and Ascend P6, have ambitions well beyond the budget arena. Maybe not ambitions to beat the likes of the iPhone 5, the HTC One or Samsung's Galaxy S4 but enough to not be embarrassed in their company. Ambition enough to play Spurs or Everton to the big boys' Man United, Man City and Chelsea.
Of course, price still plays a factor. On a monthly contract, the P6 will set you back a good few quid less than a Galaxy S4 or an iPhone 5, and if you buy one outright for £340 you'll save several hundred knicker. So: cheap the P6 is, but is it nasty too? The answer to that is a pretty emphatic 'no'.
To start with, it's the thinnest smartphone you can currently get your grubby mitts on and that is despite it packing a 2000mAh battery. It's juts 6.2mm. It also has a 4.7-inch screen, a 1.5GHz quad core processor and 2GB of RAM. That's a very decent spec for the price.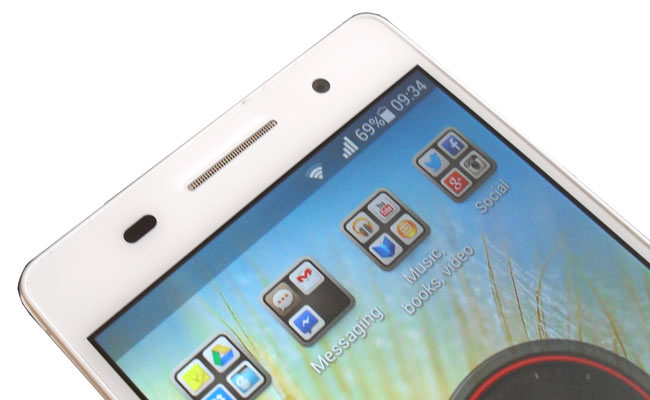 Round the back: a mediocre camera and a fixed battery
That said, there's only 8GB of storage, of which just under 5GB is free for file and app storage after the system has gorged itself. A Micro SD slot will let you add another 32GB worth of space which gives the P6 a big advantage over its closest rival: the LG-made Nexus 4.
Granted the screen only has a resolution of 1280 x 720 – though that still gives it a pixel density of 312dpi, only just shy of the iPhone 5's 326dpi – but it is a very fine IPS+ LCD affair: bright and colourful with very robust viewing angles. Its outer layer is made from Gorilla Glass 2 and you can use it while wearing gloves.
While the front of the 120g P6 is made of glass, the back and sides are made of some sort of metal. That makes it impressively solid for such a slender device. If it's not quite as rigid as the HTC One it still feels a darned sight more robust than the plastic Galaxy S4. If I had to name some quantifiably better made handsets, the list would only run to the HTC One, Lumia 925 and the iPhone 5.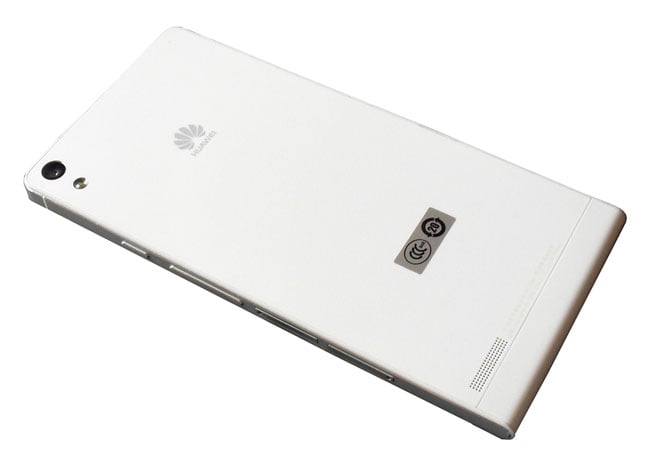 All a bit iPhone-ish?
There's no point denying that the P6 does look just a bit iPhone-ish but the absence of any physical buttons on the front and the rounded profile of the bottom edge are enough to stamp on any claims of outright plagiarism. I wouldn't go as far as to say that the P6 has defined a Huawei design language but it's still a smart-looking bit of kit.
Take a look around the edge of the P6 and things go a bit off track, though. Strangely, Huawei has put the P6's micro USB port on the top and the 3.5mm audio jack at the very bottom of the left side. It's a perverse way of arranging things and I can't for the life of me see the benefits. Not having the audio jack on the top or bottom is simply a pain when you try to pull the P6 out of your pocket with headphones connected.
In the plus column, the USB port gets a tick for supporting On-The-Go hosting, and the power and volume controls are perfectly situated – well, for me, anyway – in the middle on the right side. The metal buttons have a very positive action too. There's no camera button but on a handset this slender I wasn't expecting one.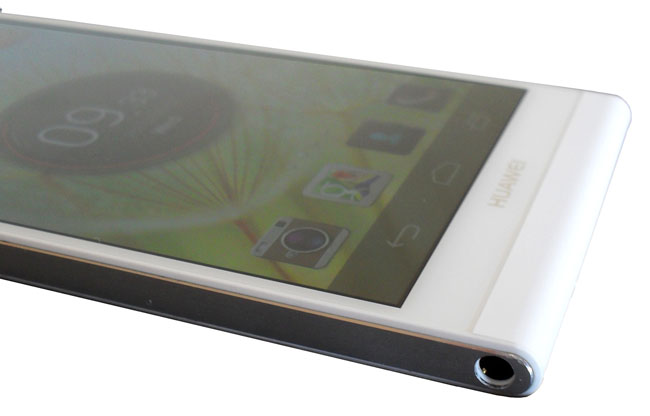 A very oddly place earphone socket
When you first take a shufti at the P6, you'll find that the 3.5mm socket is filled with a little tool to prise open the SIM and Mcro SD ports. I'd suggest removing it immediately and putting it back in the box or you are going to lose it the first time you pull it out and plug in your headphones.
Slim, but not weak
The P6 uses a Huawei/HiSilicon SoC so it packs the quad-core K3V2 Cortex-A9 processor, 2GB of RAM and the Vivante GC4000 GPU. It's not a chipset to give the designers at Qualcomm the heebeegeebees but it's powerful enough to keep the P6 running at a decent clip even if the Nexus 4 has it beaten when it comes to the AnTuTu and SunSpider benchmark scores.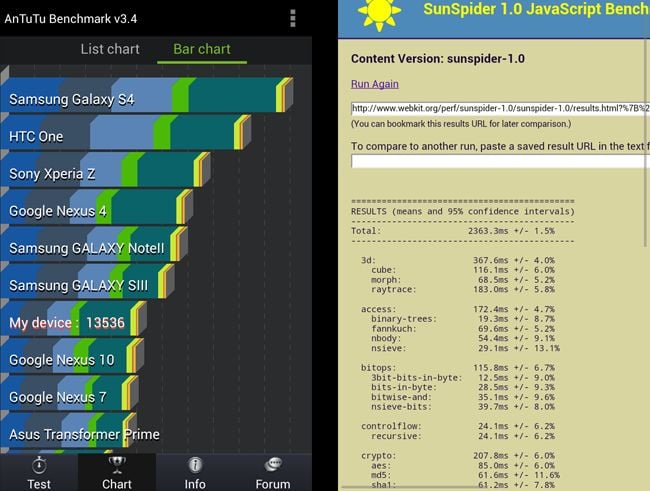 Benchmarks: OK in AnTuTu, poor in SunSpider
A negative side-effect of the super-slim profile is that the P6 can get rather hot rather quickly - 15 minutes of Modern Combat 4 made the backplate quite toasty. To be fair, that had no impact on performance: after a full hour the P6 didn't get any hotter. Apparently some early review units got so hot they would shut down but that's a problem that seems to have been fixed.
The P6 uses Huawei's new Emotion launcher. This dispenses with the traditional Android app drawer and replaces it with an all-apps-on-show layout not unlike iOS. If you don't like Emotion, replacing it with a launcher like Apex or Nova is the work of a moment. Of course, a third-party launcher negates the selection of themes that Huawei provides and which make for very rapid changes in look and feel.
Underneath the Huawei overlay sits Android 4.2.2. It's always nice to see more or less up-to-date version of Android on any non-Nexus device. Yet the P6's gallery app won't talk to your Picasa account so you have to make do with Google+. And the latest update of the Google+ app renders it inoperative, forcing you to roll it back to factory status. Huawei needs to fix this inexcusable bug pronto.

Both the SIM slot and the Micro SD bay need a special tool to open them up
Around the back of the P6 you'll find an 8MP camera with an LED flash. Both parts are entirely average. The camera takes a decent picture in good light and can shoot 1080p video at 30f/s, though it can't grab a still image will doing so. Typically for the breed, the LED lamp works well as a torch, less well as a camera flash. That front-facing camera though is a whopping 5MP affair and makes for a cracking webcam.
I know several people who use the webcam on their smartphones far more often than they do the main camera so Huawei may have been a wee bit clever in equipping the P6 with a merely adequate main camera but a stonkingly good webcam. Or maybe they just found a warehouse full of 5MP sensors near Shenzhen. Stranger things have happened.
Battery life is good but not great. Huawei's press blurb makes much of the P6's power saving systems but, to be honest, you are still only looking at around 36 hours of use from a full charge. Looping a 720p video file exhausted the battery at the five-hour mark which is reasonable rather than makes-your-trousers-fall-down spectacular though at least it's more than a Nexus 4 can manage.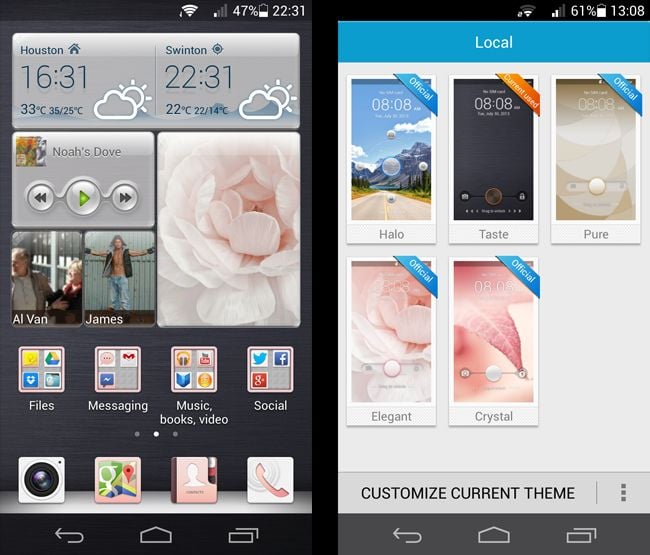 The Emotion launcher and P6's themes
The Reg Verdict
The Ascend P6 can't compete with the likes of the iPhone 5, HTC One or Samsung Galaxy S4, but it's considerably cheaper than any of them both SIM-free and on contract. It does give the Nexus 4 a run for its money, however.
There's no doubting the quality of the P6's 720p IPS screen or its slender profile, and it feels well-made despite being very light for a 4.7-incher. The layout of the ports is a bit wonky and it does get a wee bit hot under stress. Also the processor doesn't perform quite as well as the on-paper spec would suggest.
What all this proves is that you can't get a £550 phone for £350. But the P6 is still a very good £350 phone. Would I recommend one to a friend? Yes I would. ®