Original URL: https://www.theregister.co.uk/2013/08/16/brocade_profits/
Brocade boss drops F-bomb: 'Everyone's for 32Gbps Fibre Channel'
Biz escapes red ink of sliding sales with patent payday win
Posted in The Channel, 16th August 2013 07:35 GMT
Storage networking biz Brocade has pulled a massive profit leap out of declining revenues thanks to a legal win against rival A10 Networks.
Brocade banked a $119m profit on revenues of $536.6m in its latest quarter of 2013, ended 27 July. The year-ago profit was $43m, so that's a 177 per cent jump and a 153 per cent increase from the previous quarter. Revenues did not increase in the same way; they were 3 per cent down year-on-year, and down a smidgen too on the previous quarter's $538.8 million.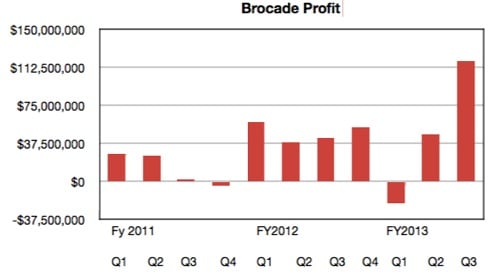 Brocade profits trend to Q3 2013
CEO Lloyd Carney's canned statement didn't refer to the A10 win: "The storage market is recovering more quickly than we had anticipated … We are making great progress toward our spending-reduction goal, and are already seeing the benefits in our financial results and cash flow."
Income in the quarter included $76.8 million "related to the litigation settlement with A10 Networks", a patent infringement payday for Brocade.
Apart from the A10 income boost, Carney said "the storage market recovered more quickly than we had expected following a challenging second quarter" in the earnings call with analysts. He added: "The storage market is still softer than it was a year ago, but we are receiving positive indications from our partners that end-user demand is improving."
There was a shortfall in IP networking sales to the US federal sector in the quarter. Overall, the strategy, we're told, "is to continue the focus on data centre networking" and "make targeted investments in campus networking", among other plays.
Carney also talked about cost cutting:
To date, we have cut expenses across the company in nonstrategic areas and have put additional processes in place to ensure we are spending at an appropriate level to support our strategic initiatives. For example, we have eliminated some broader marketing programs and events, aligned the product roadmap through our focused strategy, reduced capital expenditures, and have placed increased scrutiny on headcount replacements. … In total, this has resulted in annualised savings of more than $60 million.
He also discussed Europe: "We certainly are, like everybody, suffering somewhat from the malaise of the European economy, particularly in the southern areas. In the more northern parts of EMEA, we've seen really good participation from those markets. And in fact, in the Fabric area in particular, we've seen really strong performance in northern Europe in the uptake of that technology."
With Europe - well, northern Europe - now emerging from the recession, Brocade's European business should start growing.
Progress on the next Fibre Channel speed iteration to 32Gbit/s is good, the chief said: "When 16Gbps was first announced, there was some reluctance in some parties to participate in it" - he means Cisco - "and right now, in the 32Gbps front, everybody is all in. They're talking about potentially end of next year, first kind of silicon product. So there's full support for 32Gbps out there."
The Fibre Channel market looks stable with a good upgrade growth to faster kit: 16Gbit/s now, and 32Gbit/s maybe as soon as the second half of 2014. Brocade thinks flash arrays could benefit from even faster Fibre Chanel links and four 32Gbit/s links could be aggregated to produce 128Gbps. ®