Original URL: https://www.theregister.co.uk/2013/08/15/midget_galaxy_squares_up_t/
KABOOOM! Space-faring dwarf's galactic pile-up snapped by X-ray boffins
Midget fills void with bad gas in six-million degree panic
Posted in Science, 15th August 2013 15:27 GMT
Pics Astronomers have spotted a huge collision between a plucky little dwarf galaxy and a massive spiral rival that goes by the snappy name of NGC 1232.
NASA stargazers using the orbiting Chandra X-ray Observatory were alerted to the intergalactic pile-up after spotting a cloud of super-heated gas in the huge spiral galaxy, which is located about 61 million light years away from earth.
This cloud of gas, with a temperature of about 6 million degrees Fahrenheit, is thought to have been formed when the dwarf galaxy smashed into NGC 1232, sending out a huge shockwave similar to a sonic boom.
NASA said: "If confirmed, this discovery would mark the first time such a collision has been detected only in X-rays, and could have implications for understanding how galaxies grow through similar collisions."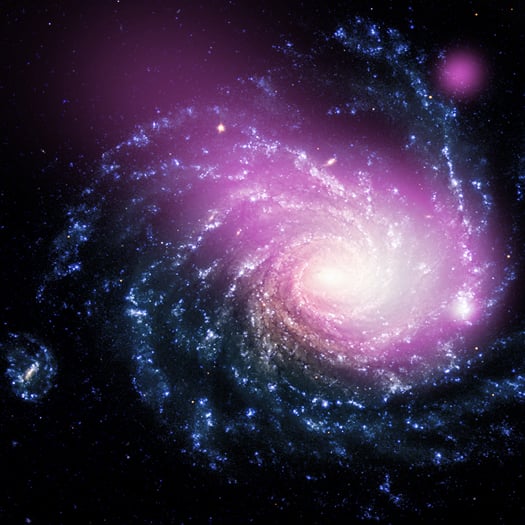 Intergalactic traffic jam ... the dwarf galaxy's collision with the massive spiral NGC 1232
The picture above is a composite of X-ray images from Chandra and a snap from the European Southern Observatory's ground-based Very Large Telescope. In the bottom right of the image is a bright spot thought to be a star-formation region, possibly caused by the collision. This area is likely to be churning out "bright, massive stars", we're told.
Below is an X-ray image of the hot gas, which shows it has a distinctive comet-like tail, thought to be caused by the dwarf galaxy. The exact mass of this gas cloud cannot be worked out because boffins don't know whether it's pancake flat or shaped like a sphere. If it is spread out in a sphere, it could be three million times larger than our sun.
The gas is expected to emit an X-ray glow for millions of years, with the slow, drawn out collision playing out for about 50 million years.
NASA added: "Searching for large regions of hot gas in galaxies might be a way to estimate the frequency of collisions with dwarf galaxies and to understand how important such events are to galaxy growth."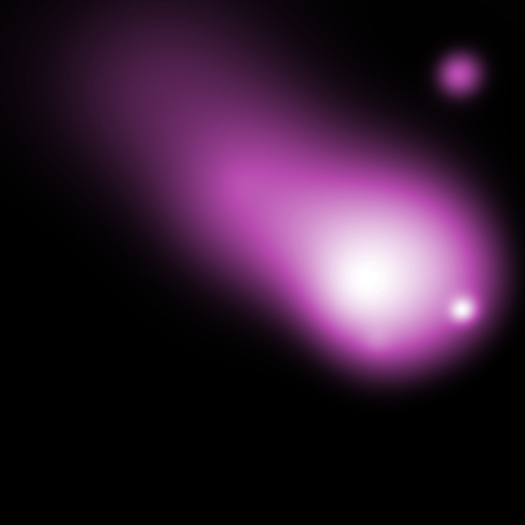 Smear tactics ... could this blob be 3 million times the size of Earth's day-star?
The scientists offered an alternative explanation for the gas cloud, which suggests that it could be caused by supernovas and hot winds from large clusters of huge stars. However, the lack of radio, infrared and visible-light emissions suggests this is not the case.
A paper written by Gordon Garmire of the Huntingdon Institute for X-ray Astronomy describing these results was published in the Astrophysical Journal this month. ®