Original URL: http://www.theregister.co.uk/2013/08/14/review_samsung_mega_6_android_smartphone/
Samsung Mega 6.3: Enter the PHONDLESLAB
Big, but a nice bit of kit into the bargain
Posted in Personal Tech, 14th August 2013 09:03 GMT
Review Some made-up words deserve a place in the popular lexicon. I'm thinking about "friscalating" or "omnishambles". Others, like the wholly wretched term "phablet", most certainly do not. So from now on I'll be calling smartphones with screens between 5 and 7 inches VLPs, or Very Large Phones. Anyone using the word phablet in my earshot will be getting a punch on the hooter.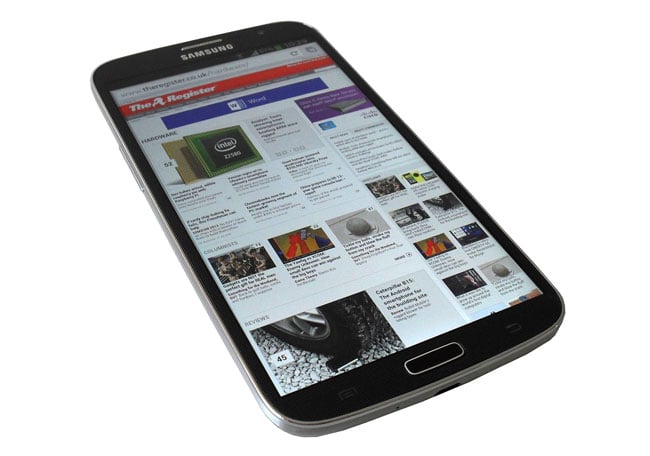 Samsung's Mega 6.3: big screen, narrow frame
At the moment Samsung's Galaxy Note 2 rules the VLP roost pretty much unchallenged but the competition is hotting up. Sony's 6.4-inch Xperia Ultra and the 5.7-inch Samsung Galaxy Note 3 are due soon while Asus has the 6-inch FonePad Note up its sleeve. Doubtless all three being flagships will cost a pretty penny and that leaves space for the likes of the Huawei Mate 6.1 and the Samsung Galaxy Mega 6.3.
At the moment you can pick up unlocked examples of the Mega 6.3 for around £375, while the Huawei Mate seems to be generally available for around £30 less. That's a fair bit cheaper even than the 2012 Galaxy Note 2.
With the Galaxy S4 being only a few months old and the Note 3 just around the corner, the Mega 6.3 has clearly been specified with an eye on not stealing sales from its betters. To that end it has to make do with a 1280x720 rather than a 1920x1080 display, a dual- rather than quad-core CPU, and 1.5GB rather than 2GB of ram.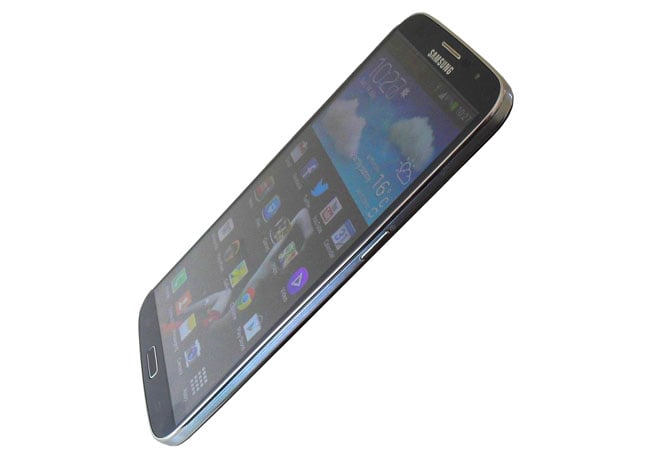 Slim'n'smooth profile offsets size... a bit
But let's start by considering the size of the thing. At 167.6 x 88 x 8mm the Mega 6.3 is noticeably taller and wider than the (hardly petite) Note 2. Granted, it's 1.4mm thinner, but that really doesn't make much difference. At 199g it's 16g heavier than the Note 2 – or, to put it another way, nearly the weight of two iPhone 5s.
So it's a big and heavy lump but is it unusably big and heavy? That depends on how you've been conditioned. After the Asus FonePad it's certainly not too large or too weighty, and to anyone moving on from a Galaxy Note 2 the differences soon become inconsequential. But come to the Mega 6.3 from a device with a 4 or 4.3-inch screen and you may catch your breath.
That said, I have two minor complaints about usability. Firstly, the smooth-edged hyperglazed plastic body sometimes felt a little too keen to slip out of my grasp. And secondly, though the power button on the right is placed low down to facilitate easy thumb-reach, the volume rocker on the left is too high.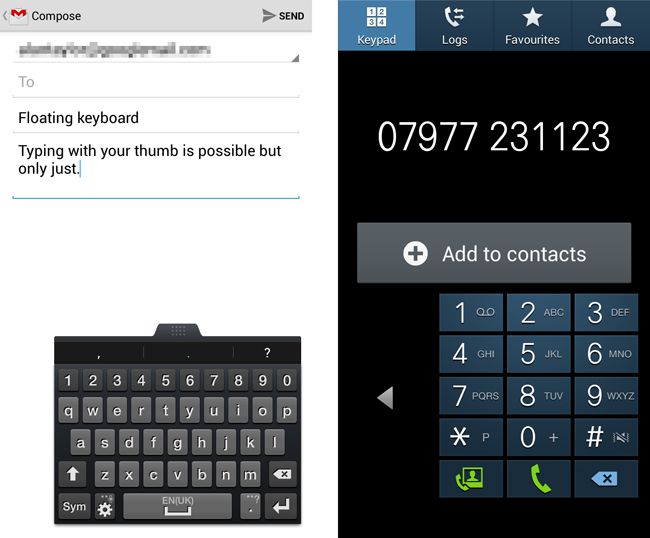 The UI has been tweaked for easier one-handed usage
The Mega has some handy software tweaks with a view to improving the single-handed user experience. These take the form of a reduced-size phone dialler that's two-thirds the usual width, and a floating keyboard. Between them, you can make calls and type messages using the thumb of the hand you are holding your Mega in.
The Mega 6.3 ploughs a design furrow that's becoming a little too familiar. Put it next to a Galaxy S4, Note 2 and Note 8.0 and you have to ask yourself if Samsung has decided it can do without a design department altogether. The physical home button looks more dated each time I encounter it and it's never been a design that I've particularly liked.
The Mega 6.3's 92,160 pixels are scattered across a 6.3-inch TFT LCD panel with a pixel density of 233dpi. Not surprisingly that's a lower figure than the Note 2 boasts - 267dpi, thanks to its 1280x720 5.5-inch display. It's a more cleverly packaged device than the Note 2 though. According to my back-of-an-envelope calculations, the fascia is 20 per cent larger while the screen is 30 per cent bigger.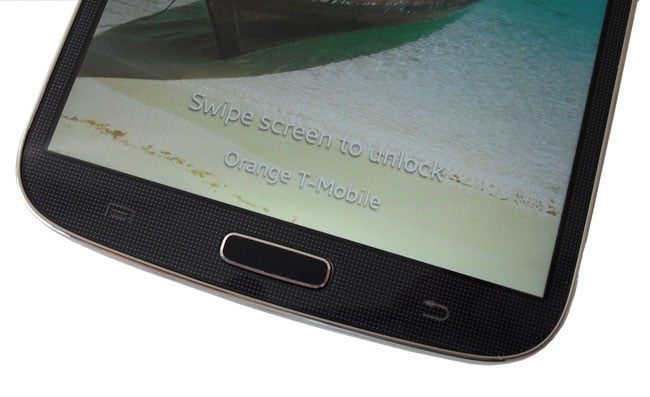 Traditional Galaxy controls at the bottom.
All this big screen and medium rez malarkey means that while the Mega 6.3's display isn't the sharpest you'll ever clap eyes on, the sheer size of the thing makes everything bigger and that brings its own rewards: you don't have to squint at it if your eyesight isn't perfect, and even the most random of finger-stabs tends to hit the right target. I suspect users who have failing senses or who are just plain clumsy will appreciate the Mega's 6.3's huge screen.
Bigger display, crunchier CPU
For a TFT panel the display supports impressively broad viewing angles with very little colour shift or contrast loss in evidence when you tilt or angle it. On the whole it's very similar to the screen on the Galaxy Note 8, which is something of a compliment.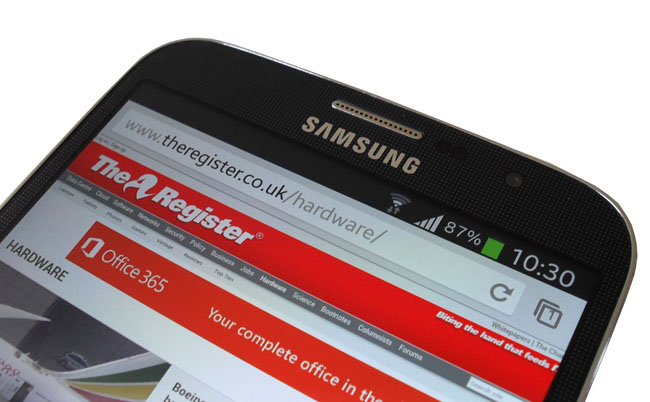 The webcam is good.
Doing the dirty work is a dual-core 1.7GHz Krait-class Qualcomm Snapdragon CPU with an Adreno 305 GPU and 1.5GB of RAM. It's indicative of the silliness of the smartphone power wars - well, Android smartphone power wars - that this is now considered a thoroughly mid-range spec. Be that as it may, it's more than powerful enough to do everything I want a VLP to do and do it smartly.
Benchmark scores didn't quite match those of the Note 8 - AnTuTu returned an average of 13,500 versus the Note 8's 16,500 - no doubt due to the Note 8 having a third more RAM, but the Mega 6.3 is more than powerful enough to play the likes of Modern Warfare 4: Zero Hour smoothly so the benchmark numbers are verging on meaningless.
Out of the box, the Mega 6.3 runs Android 4.2.2. Of course you also get the TouchWiz overlay with all the usual Samsung bells and whistles - like multi-screen apps, Smart Pause, a pop-out video player etc. - about which I've said more than enough while reviewing the likes of the Galaxy S4 and Note 8.0.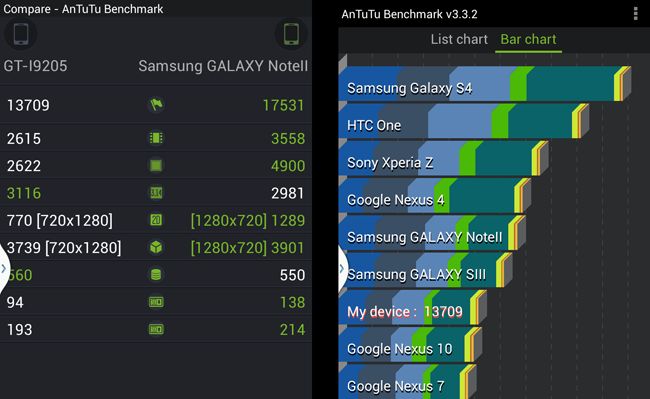 The Mega in AnTuTu: versus the Note 2 (left) and the rest
My take on TouchWiz is simple: that the bigger the screen the more sense it makes and the more useful it is too. On the Mega 6.3 it approaches neat tablet-levels of usefulness so I wasn't seen running for the Play Store with my trousers on fire to download a new launcher at the first possible opportunity.
When it comes to storage, the Mega 6.3 packs 8 or 16GB depending on which version you go for. The latter is the smart choice if you can find it because though there's a Micro SD card slot TouchWiz takes up a big chunk of space. With games getting bigger and bigger - Modern Warfare 4 is a 1.8GB download - anything less than 10GB free after the system has put its tanks on the lawn could start to cramp your style. The 8GB Mega only has 4.8GB free.
Connectivity is spot on though, with a micro USB port that supports USB hosting and MHL, an NFC chip (actually built into the battery) and an IR transmitter. There's also dual-band 802.11ac Wi-Fi, Bluetooth 4.0, 21Mbps HSDPA and LTE 4G.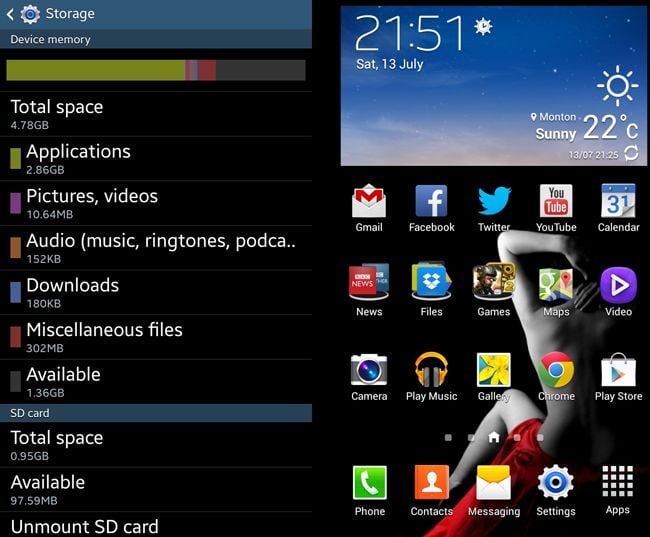 The 8GB version can run out of space fast (left), but at least Samsung's TouchWiz UI makes sense here (right)
I've nothing negative to report in regards to call quality or signal reception, and I'm pleased to say that the Mega's loudspeaker is one of the best I've encountered on a Samsung device recently: it's loud, tuneful and very composed. There's even a decent amount of bass on offer.
The Mega 6.3 packs 8 and 1.9MP cameras both of which can record 1080p video at 30 frames per second and the accompanying sound in stereo. By smartphone standards the main camera is reasonable, by tablet standard very good indeed. The webcam is very good by any measure.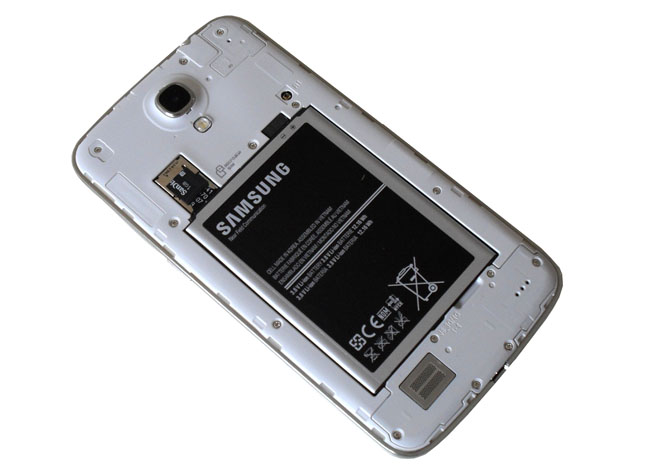 The big battery is the deal-maker here
I've saved the Mega 6.3's killer feature until last: the combination of a 1280x720 screen and a removable 3200mAh battery. That's near enough the same partnership (3100mAh and 5.5 inches) that gives the Note 2 its epic run times between charges and it pays the same dividends in the Mega 6.3. Loop a 720p video and you get close to 11 hours from a charge. To get fewer than two days general use, you really have to hammer it.
The Reg Verdict
What we have here is a Very Large Phone with a slightly mid-range specification. I can see the logic behind that. Wanting a huge screen doesn't necessarily mean that you also want a quad-core chip that can power a Boeing 777 or a screen resolution beyond the range of human visual acuity. The Mega 6.3 combines a big screen with a reasonable price, solid performance and excellent battery life so if you are after a device that will fulfil the role of both phone and tablet without demanding too much in the way of compromise in either direction the Mega 6.3 is that device, especially for 375 quid. ®
Many thanks to Expansys for the loan of our review unit