Original URL: http://www.theregister.co.uk/2013/08/13/game_theory_august_shadowrun_killzone/
Shadowrun Returns and Killzone: Mercenary ... old titles, new takes
Good stuff coming to PC, Xbox and Vita
Posted in Games, 13th August 2013 10:04 GMT
Game Theory As the traditional quiet of August sets in, it's over to a selection of download-only titles to provide the fix that gamers need.
Step forward Microsoft's latest Summer of Arcade collection – led by the excellent Brothers: A Tale of Two Sons – and Harebrained Schemes' take on Shadowrun, both proving that there's still reason to take up mouse, keyboard and control pad over the warmer months.
Shadowrun Returns
It can only be that a prolonged shuffling of licensing rights has curtailed the number of Shadowrun video games. After all, its sci-fi world surely makes for the perfect gaming fodder as magic and heavy ordnance collide.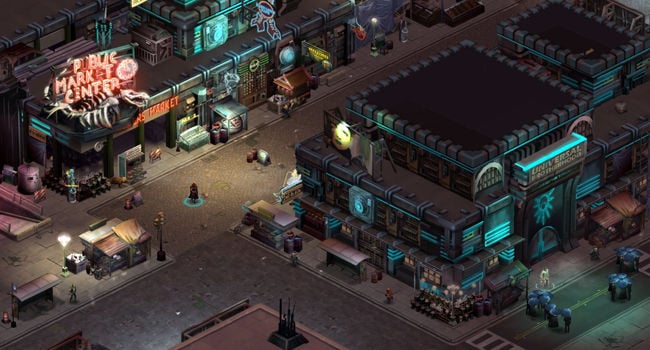 With Shadowrun 'RPG' means rifle-propelled grenade and role-playing game
It's an anomaly made all the more confusing by the fact that the Shadowrun franchise's stock in video games lore is so strong. The 1993 SNES adaption, surely ahead of its time, will be burned into the memory banks of anyone who played it, as a mature script helped push the boundaries of both technology and genre.
Now, nigh on 20 years later, something of a spiritual successor to the SNES RPG has arrived in the shape of Shadowrun Returns for Windows PCs and Macs. Created and published by Harebrained Schemes - it counts tabletop game designer Jordan Weisman among its number - Shadow Returns is the very definition of the successful Kickstarter campaign. Overwhelming interest saw the project crowd-funded to the tune of $1.8 million with debut episode Dead Man's Switch, the first in a planned series, the result. It's necessarily used as an introduction to the game's combat, especially during its opening, but soon blossoms into a dark and bloody – if somewhat staid – tale of neo-noir serial murder.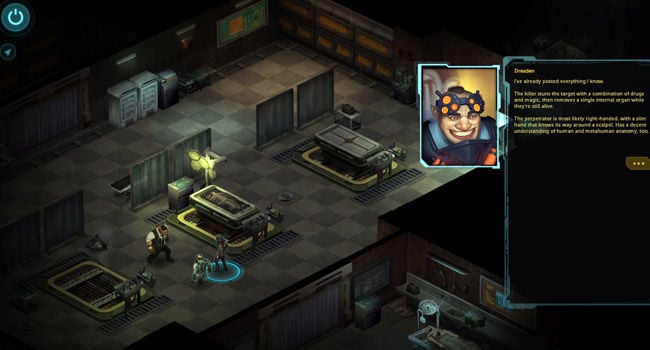 Morgue freeman
To play SR isn't really to be reminded of that SNES classic of yesterday, however. There are nods in its direction, not least the early emergence of a character from a morgue drawer, but the feel is much more reminiscent of Final Fantasy Tactics and XCOM: Enemy Unknown. Combat is turn-based, reliant on action points and heavily focused on the 'half-shield, full-shield' cover system that has been seemingly lifted directly from Firaxis' XCOM. That said, there is at least some scope to properly explore locales when not fighting, thus allowing for conversations with NPCs and even the odd spot of detective work as terminals are hacked and witnesses leant upon.
Don't expect the variety and freedom of a title such as Skyrim, though. SR sets out with a story to tell and never really allows for significant divergence. In fact, in that way, it feels much more like a typical dungeon master-led tabletop game - which isn't really surprising given its origins. Speaking of which, there's an absolute torrent of options available to the virgin runner that will go completely unrecognised by all but the most ardent franchise enthusiast. You're first decisions are to select race, class and favourite weapon, and these choices send you down a specific path from which it can be tough to divert.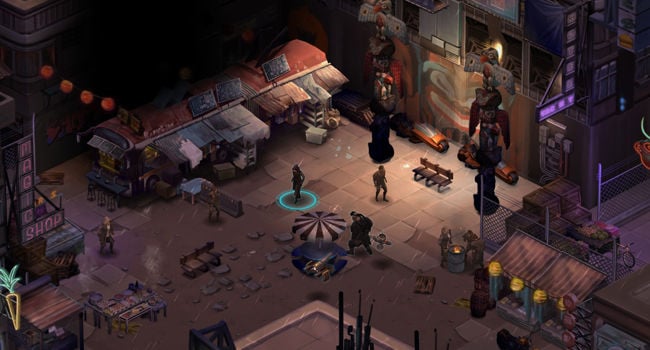 Gathering magic
That's fine in theory, but the lack of proper guidance at this early stage can easily equate to a sense of confusion, as you realise that you're supposedly wisely spent karma points have been wasted on attributes entirely pointless to your class. Further time wasting comes from the lack of a mid-mission save option, meaning that should you need to break off your game to, I don't know, live your real life maybe. You'll find yourself either having to lose your progress since the last autosave point, or else facing the prospect of leaving your game on extended pause – neither being a great option.
Similarly, should a rival gang get the drop on you, you'll be starting from that same last autosave point, which can often mean wading through huge amounts of dialogue all over again.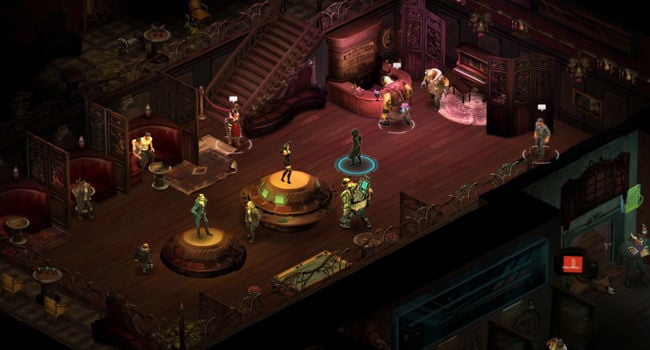 These three NPCs walk into a bar...
On the whole, however, the Shadowrun Returns' experience is a positive one, and that there's plenty to work out in terms of character customisation bodes well for future episodes. Bigger, more open expanses would be nice, as would a sensible save option, but these will surely come. For now, simply enjoying the faux-Blade Runner environments and nicely balanced combat is reason enough to get involved.

Brothers: A Tale of Two Sons
Developer Starbreeze's fraternal adventure marks the beginning of this year's Xbox Live Arcade Summer of Arcade, and ensures that Microsoft's promotion gets off to a decent start.
Evoking the emotion – and not a little of the gameplay – of the likes of Limbo and Journey, Brothers focuses on the struggles of a pair of siblings as they embark on a quest for a cure to aid their ailing father.
Its gameplay is entirely tied into the fact that you can control each brother simultaneously, with the left analogue stick mapped to the movements of one, and the right stick the second. Your only other means of worldly interaction is enabled by each brother's corresponding shoulder button.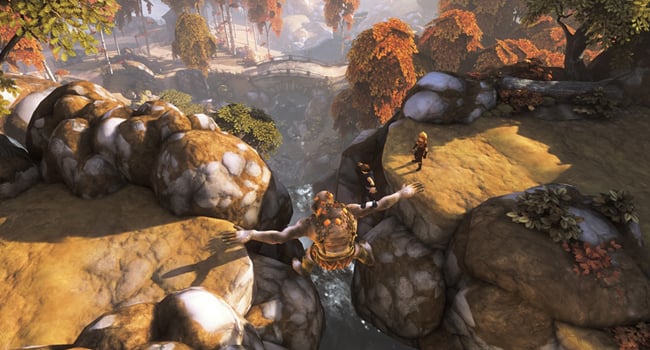 Give the boys a big hand
As you might expect, then, puzzles revolving around co-operation and synchronicity abound as the gimmick is explored to the nth degree. The pair will boost each other to higher ground, act as anchors while climbing and – with one being smaller than the other – be able to gain access to areas that would be otherwise impassable to one brother alone.
It's a system not without its share of issues, however. Guiding the duo through particularly tight sections of terrain is something akin to rubbing your stomach while patting your head, for instance. Thankfully, Starbreeze has at least seen fit to avoid many segments where split-second timing is a necessity.
An area populated with wolves provided the only real irritation during my play-through - and that was as much due to my failure to grasp what to do as it was the controls. Accordingly, the puzzles themselves are on the simple side, with just one 4-5 hour stint enough for me to breeze through Brothers' 1200 MS points campaign.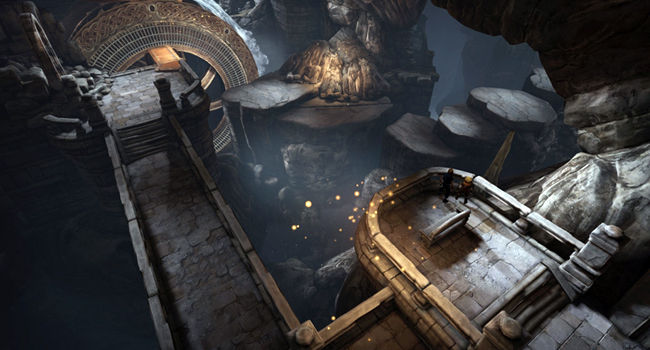 Subterranean homesick blues
Yes, there were areas where I had to briefly consider my options, but I was never genuinely stuck. That said, my play time didn't include discovering all the cryptically hidden achievements, the accumulation of which provides a whole separate challenge.
The game's environments are often stunning, the soundtrack makes for a perfect foil to the action, and the subtle storyline is accomplished and certainly one to pull at the heart strings. The lack of a two-player mode, if just locally, feels like an oversight though – particularly for anyone looking for another game in the mould of Lara Croft and The Guardian of Light, say.
For Xbox 360 owners hankering after a game that's reminiscent of Journey, Brothers provides an adequate – if not quite as evocative – alternative. It's charming, often inventive and blessed with a poignancy that few games possess.

Killzone: Mercenary
With the very disappointing Call of Duty: Black Ops Declassified and Resistance: Burning Skies having already tried and failed to prove that the first-person shooter on Vita is possible, the baton now falls to Killzone, a franchise which itself has never quite managed to justify its place amongst the higher echelons of the shooter - or, indeed, its hype.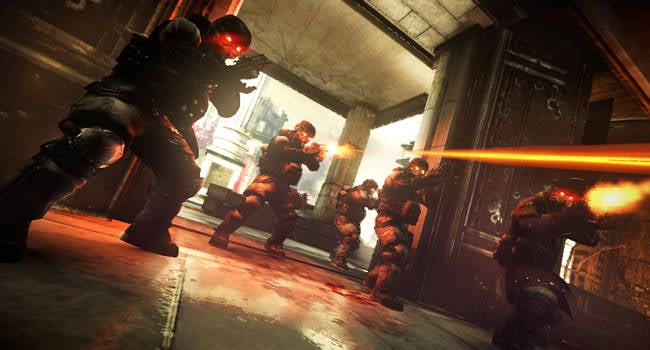 The red-eyed boys are back
Developer Guerilla Cambridge's Killzone: Mercenary is, however, an entirely enticing project for the PS Vita: a shooter with a nicely honed pace, reassuringly glossy visuals and, most importantly, a control scheme that suits the Vita itself.
The game begins with a cursory explanation of why you're able to shoot first and ask questions later - because the fight has finally been taken to the enemy's home planet of Helghan apparently - and then you're away. The first mission opens with a typically grandiose set piece as hero Arran Danner literally swoops on to the battlefield in a specially modified glide suit.
From there on it's the usual story of blasting away at Helghan forces from cover, though the addition of a money-earning system – through which new weapons may be purchased – adds an extra incentive for inventive play. Taking out multiple foes at once, for example, earns multipliers, as similarly does landing headshots. The close-quarters execution of hapless enemy soldiers is a further means to boost funds, though the game is here in danger of descending into needless touchscreen functionality hell, as a perfunctory prod of the screen is required to pull off said execution.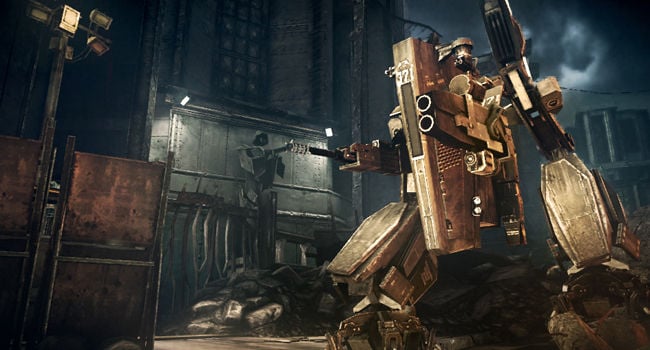 Mech love not war
My early look at the as-yet-unreleased game left me nevertheless impressed, and the promise of a much more customisable load-out than is usual in a standard FPS, as well as a plot that promises to shift perspectives by taking advantage of Danner's mercenary status are further boons. Finally, there's the multiplayer mode to consider, set to feaure a similarly money-driven levelling-up system. All reasons for Vita owners to be at least somewhat excited then when the game nears release at the start of September. Expect a full review nearer the time. ®