Original URL: http://www.theregister.co.uk/2013/08/09/fe_fi_fo_fum_fusionios_results_are_humdrum/
Flash angel Fusion-io flies too close to Facebook, Apple, plummets to Earth
PCIe cache darling's wings melt, paperwork covered in red after year at the top
Posted in Servers, 9th August 2013 10:20 GMT
Analysis Flash memory biz Fusion-io's latest results show ever-deepening losses, with management talking of OEM channel conflict to be sorted out. Can this once high-flying server flash supplier take off and fly again?
When low-hanging fruit pickers come down to Earth they rarely fly so high again. Look at sTec, OCZ and Nexsan. Their original business model is ill-suited to the changed circumstances back at ground-level and significant changes are needed; which brings us to Fusion-io and the server PCIe flash market.
Like sTec in Fibre Channel SSDs, Fusion-io excelled with its development of the PCIe flash card market, outsmarting competitors by moving quickly and decisively to increase capacity and performance, and effectively monopolising the enterprise server application acceleration space.
A new CEO, Shane Robison, came on the scene in May. Co-founders David Flynn and Rick White, CEO and chief marketing officer respectively, resigned from their exec positions and then from the board. Part of the reasons given at the time was that Fusion-io needed more operational excellence, which the latest quarterly results disappointingly fail to demonstrate.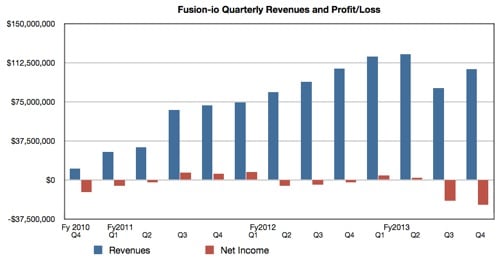 To the numbers; revenues for the final quarter of Fusion-io's fiscal 2013 were $106.1m, essentially the same as the year-ago quarter's $106.1m – and they were 21 per cent higher, satisfyingly, than the previous quarter. The good news stops there, as net income, despite the revenue rise, tumbled to a $23.8m loss, ten times worse than the $2.4m profits recorded a year ago and 19 per cent worse than the previous quarter's $20m loss.
Full year revenues were $432.4m, 20 per cent higher than 2012's $359.3m. But the net loss for the year of $38.2m was 6.3 times bigger than the previous year. It seems righting the previous management's mistakes is taking longer than expected.
What went wrong? Apple didn't buy as much kit as hoped, which contributed to the reduced revenues. Sales and marketing headcount went up as Robison and his team started correcting what they called "go-to-market problems", which increased Fusion-io's costs.
In the earnings call they identified OEM channel conflict as a problem area. With, for example, the low-cost high-capacity ioScale PCIe flash card product, OEMs were qualifying it when Fusion-io announced it as a product it would sell to hyperscale data centre customers. The OEMs were miffed. There was also inadequate pricing clarity and price positioning between Fusion-io products it sold and similar products supplied to its OEMs.
Similarly the Nexgen acquisition in April equipped Fusion-io to sell hybrid flash/disk drive arrays, like its OEMs. Was Fusion-io a supplier to its OEMs or a competitor? It couldn't be both.
Robison recognised this: "There's been a lot of question about channel conflict with our enterprise customers, and we're determined to eliminate that. So as we go into the second half of this year, we'll rebuild our OEM relationships."
Fusion-io's go-to-market strategy identifies three target markets: hyperscale data centres, enterprises and small/medium business.
The Nexgen product, ioControl, is purely for SMES and sold by resellers. At the enterprise level Robison declared: "The best way for us to go after that is through tight partnerships with our OEMs and our ISVs and Fusion-io, focused on accelerating their enterprise applications, such as HANA and RAC and MySQL."
Working better with OEMs and ISVs is seen as critical. Revealingly, he said: "We will accelerate our ioScale qualification with our OEM partners. Given our speed of innovation, it is important that we carefully coordinate with our partners when we bring new products to market."
Translation: it hasn't done this well enough in the past, particularly with ioScale technology.
Partnerships, pitfalls and the markets' verdict
Fusion-io is working with partners such as SAP and Microsoft to embed and demonstrate its products in their products, such as SAP HANA and appliances from Cisco, Dell and HP. It seems to El Reg's storage desk that Fusion-io knows that software is the real value it has to generate as PCIe flash hardware becomes commoditised and, El Reg thinks, is eventually replaced by DIMM-like flash cardlets. It is open-sourcing some of its software IP to encourage overall demand increases for its software products.
Naturally, Fusion-io is trying to add more hyperscale customers to lessen dependence on Facebook and Apple whose order patterns can be erratic. CFO Dennis Wolf illustrated this:
Apple contributed less than 10 per cent to revenue in Q4. Facebook demand was higher in Q4 than we had anticipated at the beginning of the quarter. And one new large customer shifted an anticipated order from Q4 to the first half of fiscal 2014.
That would make commission-chasing sales reps quite unhappy.
Robison mentioned LinkedIn, the UK's NHS, Pandora, Spotify, Alibaba, Alipay, China Mobile, and salesforce.com as new potentially large-scale customers.
All this work-better-with-the-channel stuff takes time – several quarters, even – before it shows tangible results.
El Reg thinks Fusion-io's competitive environment is going to get much tougher as competitors, serious competitors, pile into the server flash market. Intel, LSI, Micron, Samsung, SanDisk, and Violin Memory are some of them, with WD's HGST unit getting PCIe cards from sTec if that WD acquisition goes ahead. SMART has just introduced its own ULLtraDIMM server flash memory product that gives faster access to data than PCIe flash, and is more scalable, SMART says. We understand OEM qualifications are underway. Then there is QLogic with its Mount Rainier technology, adding flash caches to its HBAs and CNAs.
The low-hanging PCIe flash card fruit days are long gone and it's not clear that Fusion-io understands the depth and breadth of the competition it faces in the server flash market, as well as the server PCIe flash market.
Fusion-io says we should expect revenues of $80 to $90m next quarter; 20 per cent less than the current quarter. Yet it guides Wall St to expect full 2014 year revenues to be 20 per cent higher than fiscal 2013. This means that the second, third and fourth quarters have to be very good.
Analyst Jason Ader of William Blair & Co. said:
Management went on to provide revenue guidance for fiscal 2014 that was roughly $43m below the Street target. Taken together with management's weak top-line guidance for the fiscal first quarter of a 28 per cent year-over-year decline ($39m below the Street estimate), the annual guidance requires a sharp acceleration in revenue past the first quarter (about 30 per cent sequential revenue growth in fiscal second, third, and fourth quarters), which we believe will be tough to achieve.
Robison says Fusion-io has done its sums; these numbers are believable. The shares have taken a hit though, and analyst classifications of Fusion have gone from Buy to Neutral or Hold as they digest the management's track record, its lack of strategic flash foundry chip supply arrangements and the competitive environment.
The danger is that Fusion-io is an sTec-like company, squandering a potential market-leading position by refusing to recognise that times are changing until it's too late. No one knows, of course. It's Robison's first reporting quarter and he has no track record as a CEO. He has a track record as a technology vice-president and an acquirer of businesses, such as Autonomy when he was at HP (and, yes, didn't that turn out quite so well). Maybe an acquisition of a flash software company is the ace up his sleeve.
Fusion-io shares have tanked over the year; in fact, they've declined since the IPO two years ago. The latest results were followed by another drop. The clock is ticking on impatient investors' desks. ®