Original URL: https://www.theregister.co.uk/2013/08/08/google_play_all_access_uk/
Google lifts skirts, reveals Play All Access to UK market
Spotify for fandroids? Something like that, yeah
Posted in Software, 8th August 2013 10:18 GMT
Without much fanfare, Google Play's on-demand streaming service has launched in the UK. Google Play All Access is priced at £9.99 per month and offers mobile access … and only runs on web browsers and Android devices, for now.
GPAA enters a crowded market with Spotify, Deezer, Xbox Music and Sony Unlimited offering very similar music-streaming services. It differs from its rivals by... well not very much at all. It has mobile/offline storage as long as you're a subscriber, conversion to real download files, and the ability to store up to 20,000 of your own songs in the cloud, just like Apple's iTunes Match.
All Access is designed a little more around radio-style access: it will generate robotic playlists for you, with a bit of Music Genome-like guesswork and the ability to reject upcoming recommendations from the robo-DJ. Apple's iTunes Radio does something similar, but that's a US-only service today.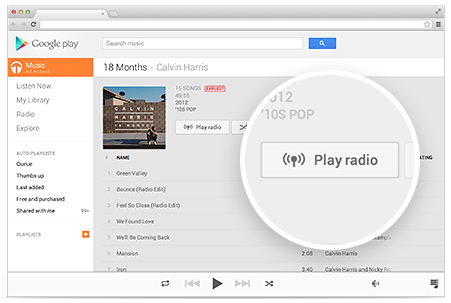 Unlike some rivals, there's no free, ad-supported option. But it is on offer at £7.99/month if you sign up before mid-September. One for Google fanbois, perhaps? ®