Original URL: https://www.theregister.co.uk/2013/08/06/kingspec_multicore_mc1s81m2t_2tb_pcie_ssd/
KingSpec's 2TB Multicore PCI-E SSD whopper vs the rest
Scorching speeds shootout, if you've money to burn
Posted in Storage, 6th August 2013 08:02 GMT
Review Earlier this year we took a look at SSD caching, an alternative way of getting some SSD performance added to a system without too much strain put on the finances. So how about a gander at the other end of the spectrum – huge capacity and performance and a total disregard for the budget
Enter the KingSpec Multicore MC1S81M2T, a 2TB PCI-Express SSD costing a mere three-and-a-half grand.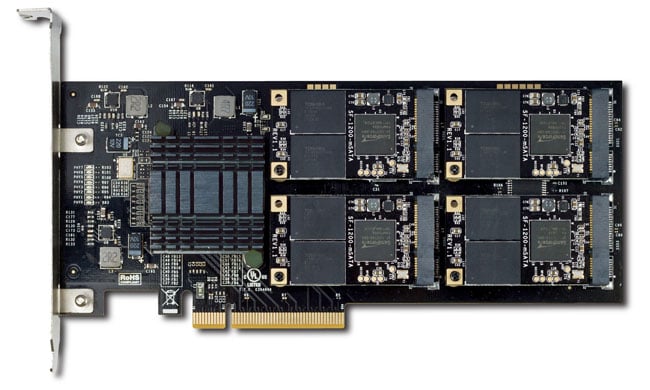 KingSpec Multicore MC1S81M2T 2TB PCI-E SSD
KingSpec may be a new name to a lot of people, but it has been producing flash-based drives since 2005. It is only recently that its products been available to buy in the UK, though.
Available by special order only from UK distributors Quiet PC, the MC1S81M2T is KingSpec's current flagship from the PCI-E SSD range – which also includes 1TB and 500GB versions for a good deal less.
This SSD is a monster of a card with eight of the company's 240GB mSATA drives (each drive using 25nm MLC NAND) bolted on to a PCB and then built into a RAID 0 array to deliver its 2TB capacity.
Each of the drives features a dedicated LSI SandForce SF2281 controller and the whole shooting match is controlled by a LSI SAS2008 SAS controller (6Gbps SAS/SATA, 8x PCI-E interface).
So, to recap, that's eight LSI SandForce controllers feeding a SAS controller going through an 8x PCI-E slot on the motherboard, all of which gives the MC1S81M2T some pretty astonishing headline speeds.
Ignoring for a moment the quoted sustained read speed of 4GB/s, which is the theoretical read speed, the actual read speed achieved in tests is still pretty mind-blowing: a whopping 2.59GB/s (yes that's GB/s not MB/s) reads and 2.36GB/s writes.
6Gb/s brickwall
So why go down the PCI-Express bus route? Well, the figures speak for themselves. And yet for really large capacity coupled with high speed transfer rates, good old SATA interface doesn't quite cut the mustard anymore.
Hence, the attention turns to some other form of interface, namely the PCI-Express bus of the motherboard. The current crop of PCI-E based drives are an indication of where the future lies for the performance SSD. While the 6Gbit/s SATA interface – once the godsend for the performance SSD – is now its Achilles heel, as even mainstream drives can now almost flood the interface.
The next generation of drives will almost certainly be based around SATA-Express. The specification is currently undergoing the SATA-IO (The Serial ATA International Organization) ratification process, with drives hopefully appearing in late 2013 early 2014.
Using the PCI-E bus will allow drive interface speeds of up to 1GB/s per lane as opposed to the 0.6GB/s of the current SATA interface. Eventually the technology should see storage devices with up to 16Gb/s interfaces.
Don't get caught in the wrong bus lane
One thing to be aware of is that with the PCI-E based SSD, you have to match the card's interface with the correct speed of slot to get the best performance from it. For instance, if it's a x8 PCI-E card, sticking it in a x4 PCI-E slot will slow it down.
Sounds simple enough, but you have to read up on what speeds your motherboard PCI-E slots supports. These days a motherboard that supports either CrossFire or SLI graphics setups will have at least two PCI-E slots running at x16 speed. However, what happens when one slot is filled with a graphics card is the thing to look out for; what speed do the remaining slots run at? You'll need to check.
As was stated earlier, KingSpec quotes "estimated" figures for sustained reads for the MC1S81M2T of 4GB/s and sustained writes of 2.4GB/s. Interestingly, while the company's quoted figures for the read performance were not replicated in tests, the write figure claim is very close to what was achieved when the drive was tested with the ATTO benchmark – 2.36GB/s writes. The read performance, meanwhile, was a still-impressive 2.59GB/s. The fact that the drive would rather deal with compressed data (a Sandforce preference), is neatly shown by the sequential read/write figures for the AS SSD benchmark.
When tested with the default incompressible data setting, the drive produced figures of 1.930GB/s and 1.198GB/s for the read/write respectively. Switch over to the compressed data usage model, and these figures jumped to 2.14GB/s for read and 2.11GB/s for write.
Staying in compressed data mode, the 512K test in Crystal Disk Mark produced 1.210GB/s read and 1.445GB/s write speeds.
So the KingSpec MC1S81M2T fires large files around with reckless abandon, but when it comes to dealing with the small itty bitty files of everyday use, it is, to be brutally frank, woeful in comparison.
Take the results of the 4K test in Crystal Disk Mark. The KingSpec card delivers a read score of just 33.31MB/s and writes of 69.4MB/s. In the case of the 4K Read performance, this isn't that much faster than a single Crucial M500 960GB drive (25.21MB/s) with the Crucial drive actually faster when it comes to 4K Writes (75.63MB/s).
CrystalDiskMark 4K benchmark results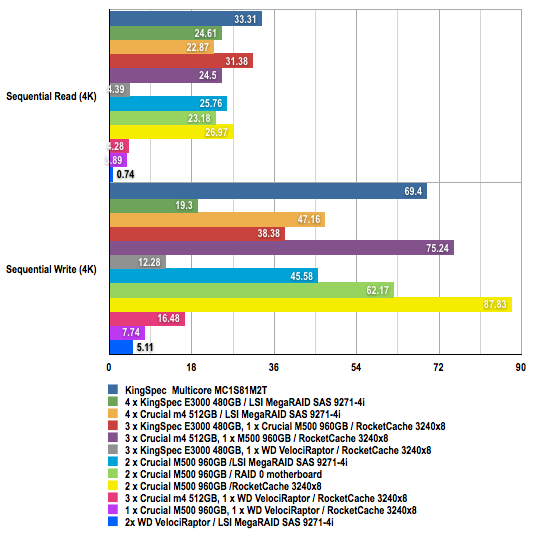 Data transfers speeds in megabytes per second (MB/s)
This shouldn't really come as a surprise though, as the MC1S81M2T is a card designed for working on large files in workstation and server environments, not small Windows files on desktops. Even so, it's still pretty shocking to see such a performance drop. Oh and don't think for a minute that the MC1S81M2T offers a lightning fast boot time either, quite the opposite, in fact. The card comes with its own BIOS, adding more layers to the boot sequence.
So can you match it for less than three-and-a-half grand?
Do you have to spend over three grand to get yourself 2TB of eye-wateringly quick solid state storage? First off, let's deal with the capacity issue. The whole area of huge capacity SSDs has somewhat been turned on its head thanks to the 960GB flagship of the new Crucial M500 range. The drive is not only the first near-1TB capacity SSD for the consumer space, it also sets the cat amongst the pigeons with its price tag.
ATTO benchmark results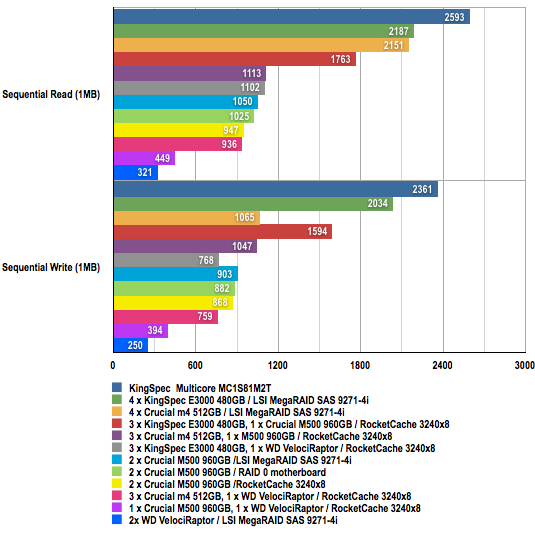 Data transfers speeds in megabytes per second (MB/s)
At the time of writing, Crucial is selling it at £474. For a shade under £950 you can get two drives, stick them in a RAID 0 array and get close to the KingSpec drive's capacity – job done. But what about trying to match the MC1S81M2T's headline speeds, or tested speeds at any rate?
To see if I could get close to the MC1S81M2T's performance I tried a number of different drives arrays – using a mix of Marvell and SandForce controllers and all built into RAID 0. I also utilised two types of PCI-E 8x based controllers: a Highpoint RocketCache 3240x8 and an LSI MegaRAID SAS 9271-4i.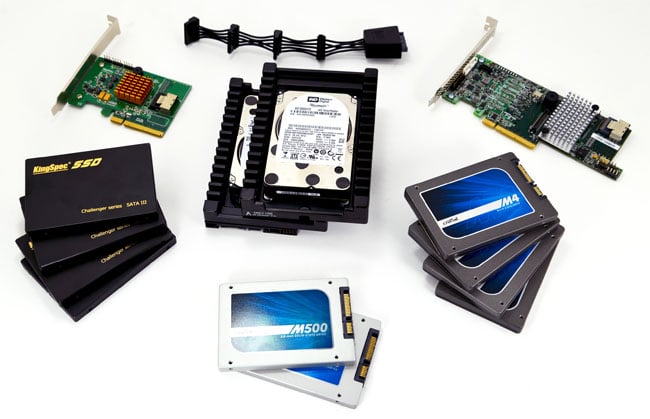 Highpoint RocketCache 3240x8, LSI MegaRAID SAS 9271-4i cards, WD HDDs plus KingSpec and Crucial SSDs
The RocketCache 3240x8 allows a mix and match of drives to be used, which enabled me to use a variety of SSDs to get to a 2TB capacity. The SSDs in question were a pair of 960GB Crucial M500s, four of Crucial's previous generation m4 drives at 512GB apiece and four 480GB KingSpec E3000 (enterprise grade) drives. Just for good measure, I also threw in a couple of the fastest spinning SATA based mechanical drives in the shape of a pair of 1TB Western Digital VelociRaptors into the mix.
AS SSD benchmark results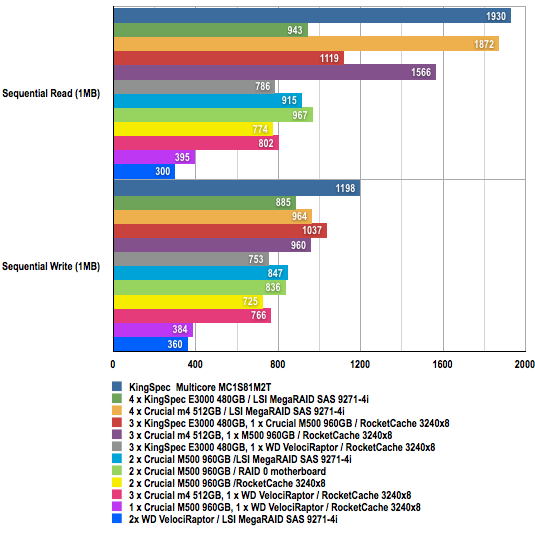 Data transfers speeds in megabytes per second (MB/s)
Once the dust had settled, it turns out that the nearest I could get in performance terms to the KingSpec MC1S81M2T tested sequential read/write speeds was also the next most expensive mix of all the hardware I had to hand. This arrangement comprised four of KingSpec's 480GB E3000 drives being controlled by the LSI MegaRAID SAS 9271-4i. Even this combination was 400MB/s shy of the ATTO read score of the MC1S81M2T and 327MB/s down on the write performance.
The Reg Verdict
So in the niche market of high capacity SSDs, the KingSpec MC1S81M2T sits in the even smaller niche of high capacity PCI-E based SSDs. It's hugely expensive and very, very quick but — and it's a very important but — it's only properly fast when it comes to handling the type of large file sizes it has been designed to handle, in the market segment it's aimed at, not the everyday bitty type of file the majority of us use. That aside, the KingSpec MC1S81M2T delivers a glimpse into the future regarding the performance of SATA-Express drives appearing in years to come with notably lower price tags. ®
Many thanks to Scan Computers for the loan of the LSI card.