Original URL: https://www.theregister.co.uk/2013/08/06/happy_anniversary_curiosity/
Happy first anniversary, Curiosity!
Nuclear-powered, laser-equipped space tank clocks up a year on Mars
Posted in Science, 6th August 2013 05:55 GMT
Where were you on August 6th, 2012, during the "seven minutes of terror" during which the Curiosity Rover descended onto the Martian surface?
Wherever you were, the minutes were aptly-named, because Curiosity landed courtesy of a "sky crane" that saw a rocket hover just long enough for the rover the be lowered onto the red planet by a winch and cables. The rocket then blasted away to land well clear of Curiosity's landing zone.
If that sounds nutty, remember that our last few rovers arrived in pyramid-shaped clusters of balloons, a kind of interplanetary bubble wrap designed to cushion their fall onto Martian soil.
That system didn't always work well and the sky crane was untested. Throw in the fact that during the seven minutes Curiosity wasn't able to beam out so much as a single packet, leaving an awful lot of boffins – and countless interested homo sapiens - waiting for news about whether the $US1bn, six-month journey to Mars would be a success.
We now know the sky crane worked and Curiosity quickly started beaming back images. The first weren't stunning, as you can see below.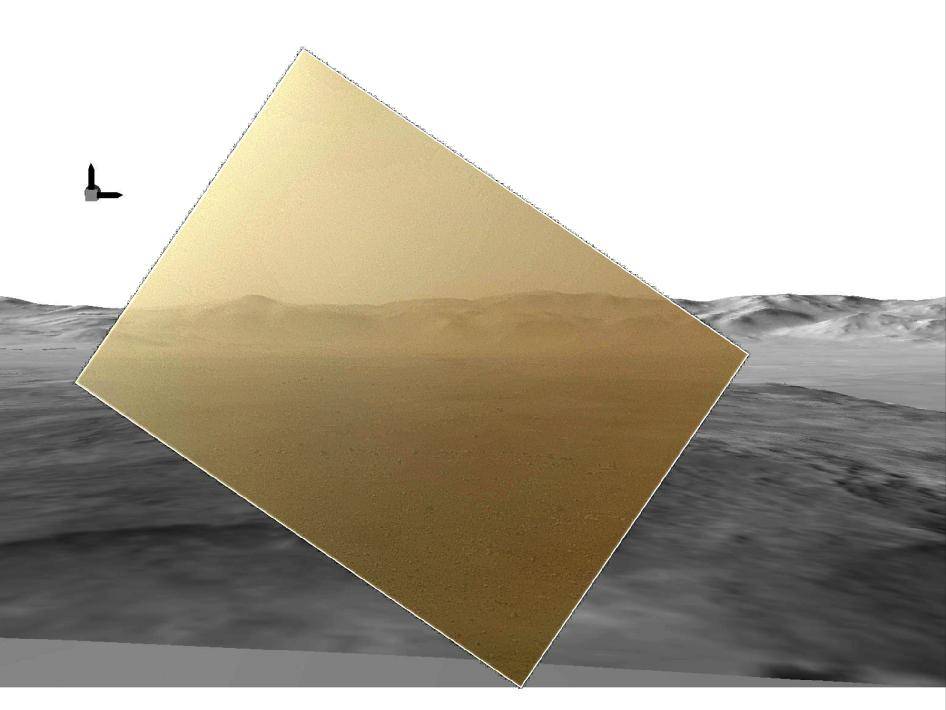 Curiosity's first colour shot of Mars
Let's give the rover a break: that shot was taken on August 7th. By the very next day, the craft was sending back 3D shots like the one below.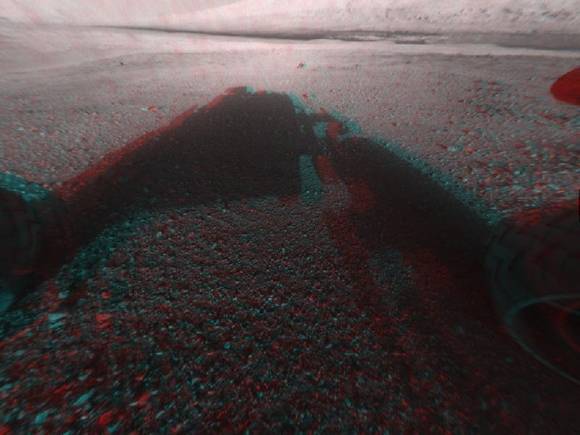 Damn it! Where did I put those 3D glasses?
In the mission's early days we also learned about the extent of humanity's presence on the red planet, thanks to images like the one below taken by the Mars Observer orbiter.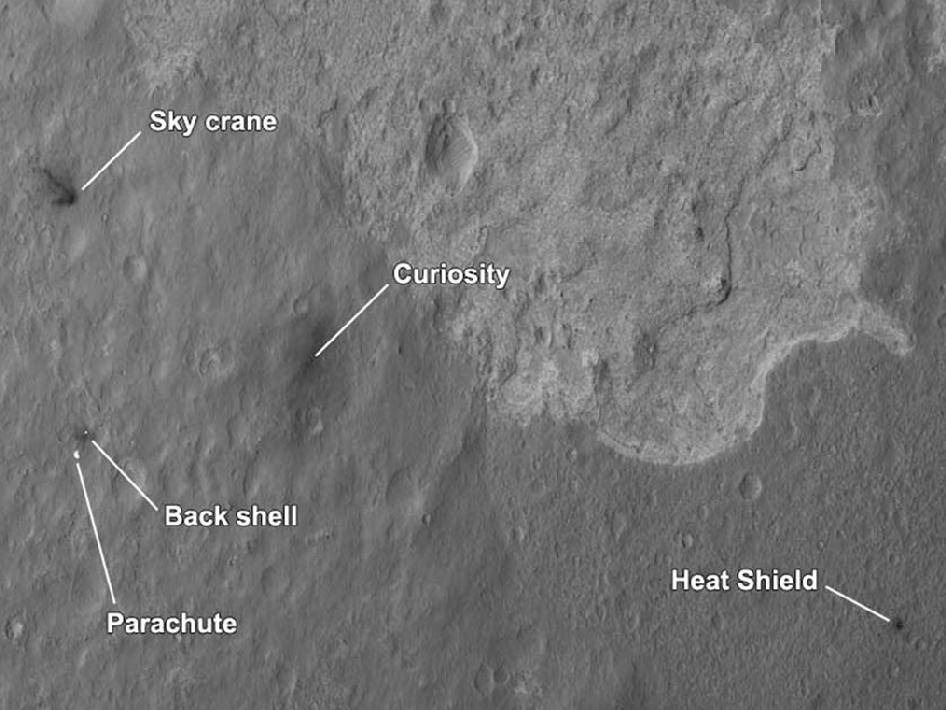 Curiosity: humanity's first Martian litterbug
The rover's mission on Mars has been to figure out if the planet could ever have hosted life as we know it. Over the last year, data Curiosity's collected mean we're more confident than ever advancing a hypothesis that Mars may once have been home to something like the organims we see on earth.
Evidence includes a "pebbly beach" bearing small stones that look like they were formed after erosion by running water. If you don't like them pebbles, core samples taken by Curiosity's fearsome drill found everything a microbe needs in a balanced diet, such as sulfur, nitrogen, hydrogen, oxygen, phosphorus, and carbon.
Which is not to say everything's been easy for Curiosity. Early in its mission it had to upgrade its operating system. It later experienced a storage bug that needed another fix and saw the rover use its auxiliary computer for a time.
NASA also felt the need to fend off conspiracy theories, taking pains to explain just how the vehicle took a selfie.
Selfies have since become a bit of a Curiosity speciality, as the billion-pixel beauty below shows.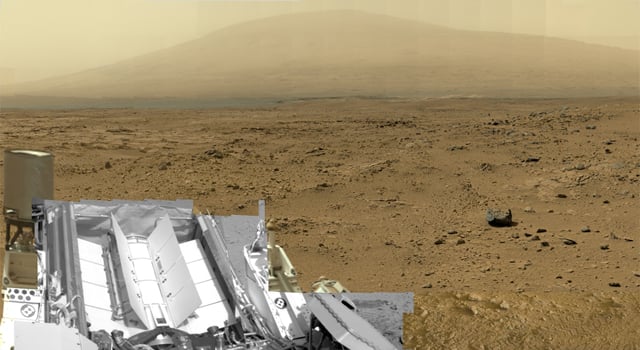 Is my head in the middle of this?
What does Curiosity's future hold? In June, NASA pointed it in the direction of Mount Sharp, an object about eight kilometres from its current position. At the time of that announcement, Curiosity had travelled just 733 metres in ten months. On July 10th, it moved 100.3 metres, its longest-ever single-day journey.
And now for the crushing perspective: reaching Mount Sharp is expected to take a year.
Curiosity has clearly expanded humanity's understanding of Mars by a huge amount, but the little craft has scarcely scratched the surface of the red planet. And Mars is just a tiny mote in the universe … ®