Original URL: https://www.theregister.co.uk/2013/07/25/wd_widens_gap_with_seagate/
WD: Enjoying our $630m, Seagate? Let's ruin your day with our results
More profitable platters put Western Digital in the lead
Posted in The Channel, 25th July 2013 14:32 GMT
It might still be smarting from the $630m it just doled out to Seagate, but WD widened the gap between itself and its arch competitor with its fourth quarter and full year results.
Overall, the world's biggest HDD maker sold more drives more profitably - and coped with the PC downturn better.
Revenues for WD's fourth financial 2013 quarter, which ended on 28 June, were $3.73bn, down a smidge on the preceding quarter's 43.76bn, and down a lot, 22 per cent, on the year-ago fourth quarter.
Profits were $416m, up $25m on the third quarter, but down 44 per cent on the year-ago quarter, when it built more drives - 71 million compared to 59.9 million - and made more profit from them* ($10.49 then versus $6.94 now).
The Thai flood shortage effect had been driving up prices last year. But this quarter's profit/drive number is better than Seagate's.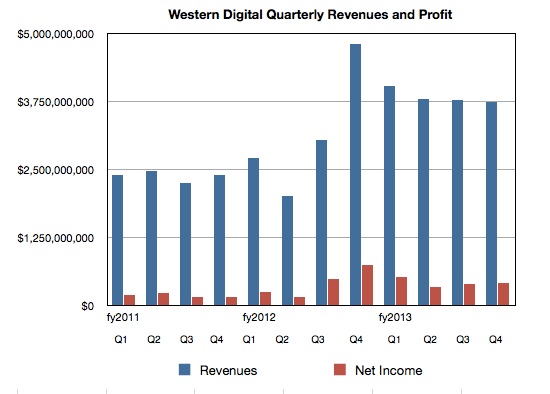 Looking at Seagate's fourth quarter figures, it built 53.9 million drives and made $6.46 profit from each one, less than WD. In the previous quarter it made $7.47 profit/drive and $8.42 in the one before that; the trend is downwards. WD made $6.50 profit/drive in its previous quarter and $5.66 in the one before that; its trend is upwards.
Comparing Seagate and WD quarterly revenue history, we see both declining in the latest quarter but WD declining less and thereby widening the revenue gap between it and Seagate.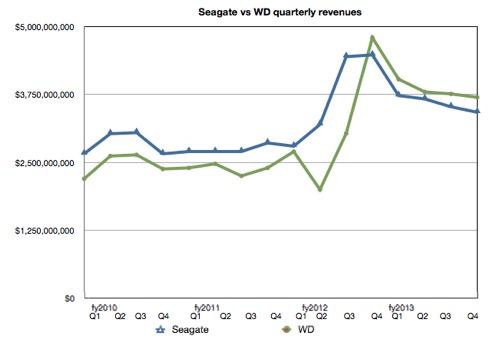 Full 2013 revenues were $15.4bn, up a solid 23 per cent on the previous year's 12.5bn.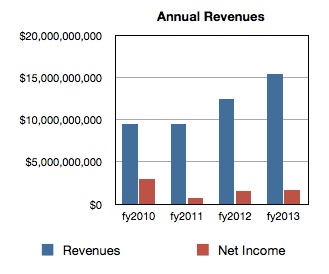 Management patted itself on the back, with CEO and president Steve Milligan saying in the earnings call: "I am pleased with our performance in fiscal year 2013 and the June quarter."
The PC disk drive market was flattish. It may grow as we approach the end of year period, but WD hasn't made any bets on yet.
CFO Wolfgang Nickl said: "Performance enterprise is stable, but not up. Capacity enterprise, up. And like we said before, that segment of the market that we think for the next 5, 6, 7 years, has the strongest growth. And we said before that we wouldn't be surprised if that would be double digit."
p>So WD expects capacity-optimised enterprise disk drives to be a boom area, and their HGST is sitting with its capacity-enhancing helium disk drive technology ready top rock and roll. We expect a 7-platter helium drive to appear later this year.
The CEO said: "We're currently sampling these products with selected customers right now, or that product with selected customers. And we continue to expect that we will have units shipped and revenue realised before the end of the calendar year."
Milligan said WD sees the enterprise market being squeezed between SSDs at the high-end taking on a performance role and nearline drives at the low-end taking on a capacity role: "The traditional enterprise business, we do not view as a growth business. It's fairly stable in terms of its demand, which is great, which is fine. But the growth areas in terms of enterprise are in the capacity enterprise market, and then also we believe in enterprise class solid-state drives."
In passing, Nickl observed that, in Europe, WD is seeing an "ongoing move there to NAS boxes away from direct attached" storage.
As expected, WD has appealed against the $630m plus interest arbitration award to Seagate for trade secrets theft. If it had to cough up the cash it would use money from its off-shore accounts to do so.
Out of interest we calculated WD's average drive price** trend over the past few quarters: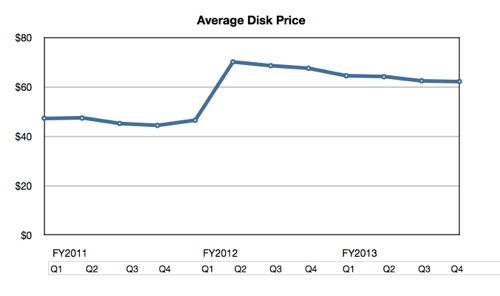 WD's average disk price is still well above the levels seen before the Thai flood and gently declining. The three main manufacturers - Seagate, Toshiba and WD - are certainly not engaged in any great price-led competition.
Finally, WD expects revenues of $3.7bn - $3.8bn in its next quarter, contrasting with Seagate yet again; it expects revenues of $3.5bn-$3.6bn. ®
* Profit per drive is calculated by dividing GAAP net income by the number of drives manufactured.
p>** The average disk drive price is calculated by dividing quarterly revenues by the number of drives manufactured in the quarter.
®