Original URL: https://www.theregister.co.uk/2013/07/25/seagate_q4_fy_2013/
Seagate dock hands: Tea, lads? Fewer hard disks than last year, eh...
Revenue-boosting Thai flood scarcity effect is fading away
Posted in The Channel, 25th July 2013 12:04 GMT
Seagate's fourth quarter and full year results show a company that's declining in revenues, profits and disk drive units. The hard disk business just isn't spinning as fast as it used to.
The company shipped 53.9 million units in the quarter, down from 65.9 million a year earlier, representing a shipments slip of 18 per cent.
For its fourth fiscal 2013 quarter, ended 28 June, the firm reported revenues of $3.4bn, down a significant 24 per cent from the Thai flood-boosted year-ago quarter. But these revenues were also 3 per cent down on the previous quarter, making four consecutive quarters of falling revenues.
Profits in the fourth quarter were $348m, down a massive 66 per cent on a year ago, and 16 per cent on the previous quarter, this being the fifth quarter of declining profits.
Before the Thai floods, Seagate's quarterly revenues were in the $2.8bn area with profits in the $100m - $150m area. Could it be that that's the territory into which its revenues and profits are now headed?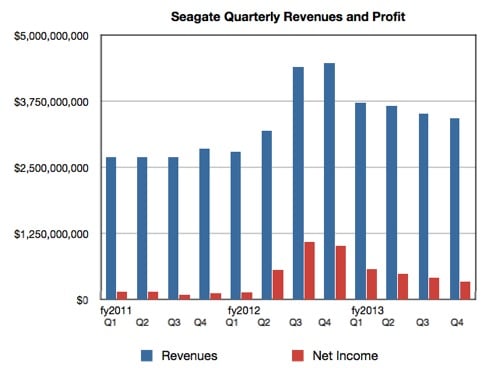 Seagate revenues and profits to Q4 FY 2013
The company built 53.9 million disk drives in the fourth quarter, which compares to 55.7 million in the previous quarter and 66 million a year ago; it's the same picture.
The annual results trend is starting to decline, too. Full year revenues were $14.4bn, compared to $14.94bn last year. Net profits for the full year were $1.8bn; they were $2.86bn a year ago. But the number of drives built in fiscal 2013 was 225.7 million, up from the 224.4 million in the previous year.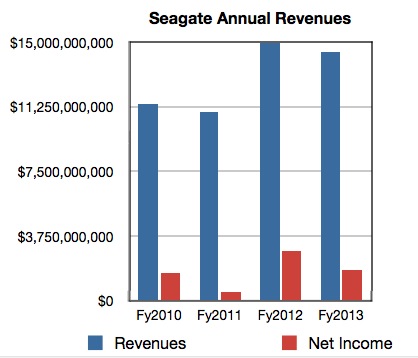 Seagate annual revenues to the end of FY 2013
What did the company's CEO, chairman and president, Steve Luczo, say about all this? "Seagate's financial results reflect strong execution in a time of change, uncertainty and opportunity."
Yes Steve, but your revenues and profits are shrinking.
And looking ahead? "We believe the market trends of data growth driven by cloud, mobile and open source advancement will present new and significant opportunities for Seagate. We will continue to balance near-term financial performance and long term strategic development while maximising shareholder value."
That value was improved with a $0.38/share quarterly dividend and a $2.5bn share repurchase programme.
In the earnings call, Luczo said: "We have strategic investments focused on the emerging enterprise PCIe market and key architecture advancements in next generation SSD technology."
This is probably a reference to its investment in Virident, Seagate reselling Virident's PCIe flash card as its X8 Accelerator.
Luczo added: "In fiscal year '13 our capital expenditures were less than 6% of revenue … In fiscal year '14, we expect our capital investments to remain within our long term targeted gains of 6 per cent to 8 per cent of revenue. Mobile and cloud will continue to be the priority areas where we are investing in our R&D effort."
Is this enough? Could it be that Seagate, with spending focused on hybrid flash/disk drives, is simply not investing enough cash in research and development against a background of fast data access moving to flash devices and away from disk?
Seagate has not been acquiring companies and technologies in the flash storage business, unlike its competitor Western Digital. Referring to this, Luczo said: "It was our decision not to participate. We are confident in what we are doing internally right now."
That implies no Seagate acquisitions are expected in the flash storage area, with the company being satisfied with its own internal efforts, its partnership with Samsung and strategic investment in Virident.
Steve Luczo himself has got a pay rise - from a $1.050m base salary to $1.2m. Quite a reward for four quarters of falling revenues and five of falling profits. The CFO, Pat O'Malley gets his meagre $549,000/year bumped up to $565,000 and Bill Mosley, EVP for operations, got a bigger proportionate bump up from $524,000 60 $600,000.
What do these guys get paid if they actually, you know, grow the business?
Seagate expects revenues next quarter, Q1 fy2014, to be between $3.5bn and $3.6bn, a downturn from the $3.7bn in the first quarter of this financial year - spinning down a little more. ®
Bootnote
* We're aware that Thai stevedores would more likely say: ชาเด็ก น้อยกว่า ?ฮาร์ดดิสก์ในการโหลดกว่ามีปีที่แล้วไม่ได้เหรอ? But it wouldn't fit in the headline box...