Original URL: https://www.theregister.co.uk/2013/07/25/o2_pulls_plug_on_oldster_support/
O2 pulls plug on OAP-monitoring service
Help is no longer at Hand - wrinklies and infirm get refunds
Posted in Networks, 25th July 2013 10:19 GMT
O2 has shut down its foray into health monitoring, quietly dropping Help at Hand and Health at Home and offering refunds to the few who had signed up to the services.
Health at Home was only launched a few months ago, in March. It was supposed to be a direct-to-consumer counterpart to Help at Hand, the professional service which had failed to sell for the previous 12 months. Both services provided a special handset with emergency-call buttons and fall detection, neither of which will be of any use after 31 December.
Telefonica, owner of the O2 brand, wanted to compete with existing tech for monitoring the elderly and infirm, which generally uses short-range radio backhauled over fixed telephony, but failed to make something which would appeal to the end user rather than the engineers who saw old age as a problem to be fixed.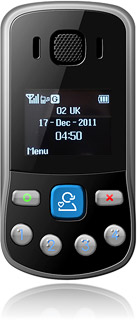 Those four buttons could make calls, and no old people have more than four friends so that's perfect
The operator admits it never got the customer numbers; it won't provide numbers but blames the conservative UK market for the failure to gain traction: "The uptake of mobile telecare and telehealth in the UK marketplace has been slower than anticipated," says the statement. "The difficult decision has been taken to withdraw these two products from the UK marketplace."
Chris Millington, MD of senior-tech-maker Doro, maintains that O2's failure was entirely predictable given the company's focus on fixing problems rather than making a desirable device that has emergency facilities built in.
The O2 device is intended to detect falls, and provide GPS tracking for lost oldsters, but neither of those is useful unless the octogenarian in question is carrying the device at the time. A device sitting on a sideboard can't detect anything, no matter how cleverly engineered.
The mobile industry is betting that "mHealth" (medical and health services supported by mobile devices) will be a big deal over the next decade or two, partly because the elderly are one of the few demographics holding out against mobile ubiquity, but mostly because a lot of telecom executives are starting to see their own mortality in the encroaching distance.
There's money in healthcare, and mobile networks are well suited to monitoring things which move around, but the business model to gather the former utilising the latter has proved surprisingly elusive.
There will come at time when our health is being constantly monitored, providing previously unimagined privacy issues (it has recently been observed that those fitness bands which are becoming so popular can often detect orgasms, and spot fakers, which opens up a can of worms to say the least), but not by Telefonica, and not today. ®