Original URL: https://www.theregister.co.uk/2013/07/25/chromecast_review/
Chromecast: We get our SWEATY PAWS on Google's tiny telly pipe
Popping in the Chocolate Factory's two-incher
Posted in Personal Tech, 25th July 2013 21:55 GMT
Review Google just unveiled its Chromecast wireless streaming media dongle on Wednesday, and it's already being hailed by some media outlets as something close to the Holy Grail of internet TV. So does it live up to the hype?
Clearly, much of the fuss stems from Chromecast's price tag. At $35 (UK and international pricing to be determined), it looks like an attractive alternative to the $99 you'd pay for the Apple TV or the Roku 2 XS. Throw in three free months of Netflix streaming (a $24 value) and it effectively costs next to nothing.1
Here at The Reg​'s San Francisco annex, however, we've even got that beat. The Chocolate Factory lent us a Chromecast to monkey around with for absolutely nothing, so I took it home and tried it out on my own HD set.
Plug and play, literally
Setting up Chromecast couldn't be easier. There isn't even a user manual in the box – just the dongle, a USB cable, a power adapter, an HDMI extension cable, and a note directing you to a Google website for next steps.
The dongle looks and feels like a chunky USB drive, only with an HDMI prong instead of a USB one. It's designed to plug directly into your TV's HDMI port, but the short extension cable is provided in case the fit is awkward or Wi-Fi reception is spotty.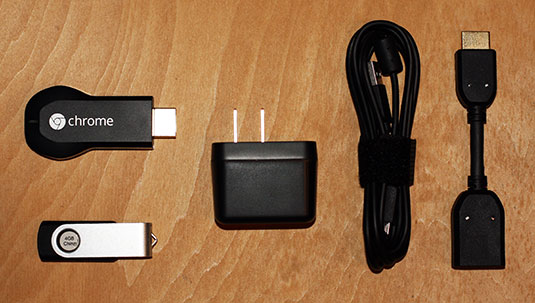 Everything in the box, with one exception: the USB thumb drive on the lower left, shown for size comparison
One thing that may not be clear from Google's marketing materials is that Chromecast needs to be connected to a power source at all times. The USB cable is included for this purpose. If your TV has USB ports on the back, they should provide enough juice to power the dongle, with all the cables tucked pleasantly out of sight. If it doesn't, an adapter is provided so you can connect directly to the AC mains.
That's all the plugging you need to do. Chromecast is Wi-Fi only, so there are no Ethernet cables to worry about, and there are no switches or settings of any kind on the hardware itself.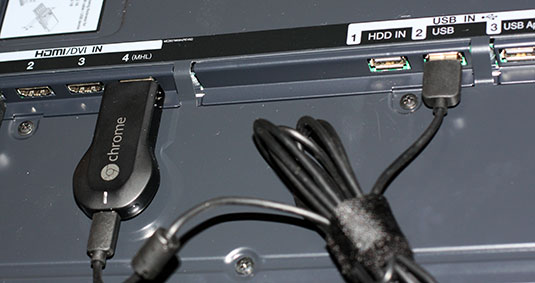 Not shown in Google's own photos, Chromecast needs a USB power cable
Next, you need to configure the device, which is also a breeze – though you will need a supported device to do it. Remember, Chromecast isn't connected to your Wi-Fi network yet, so you can't set it up with a web browser. You'll need to download a small app for the purpose.
So far, setup apps are only available for devices running Android 2.3, iOS 6.0, Windows 7, or Mac OS X 10.7 (or any higher versions of those platforms). Sorry, Linux die-hards! But then again, you'll only need to run the app once to configure the Wi-Fi settings, so limiting the setup to these platforms isn't much of an inconvenience.
Once Chromecast is up on your network, it will inform you that it's ready to go with a start screen that displays the current time against a nature-themed background that changes every minute or so. And that's that.
Streaming by remote control
Chromecast doesn't have a UI as such. There aren't any settings to configure and it offers no controls with which to select content. You don't even need to enter your account information for streaming services such as Netflix. All of that is handled by the apps on your secondary control device. Just call up the content you want to display on your device, tap or click the "Cast" icon in the app, and the content jumps over to your TV.
Google has learned a lot since its failed Nexus Q experiment. That device only worked with a small selection of the latest Android phones and slabs, limiting its appeal considerably. Chromecast, on the other hand, works with a fairly wide range of Android and iOS devices, and with the Chrome browser on Windows, OS X, and the Chromebook Pixel.
The catch is that it only works for a limited number of apps on each platform. Right now, that means you can use Chromecast with content from the Google Play, Netflix, and YouTube apps. There's also a Chrome extension that lets your TV mirror your browser window, but that's about it.
Can it do anything else?
Support is coming to more apps soon – Pandora was specifically mentioned at the launch event – but it's up to media services and app developers to build support into their apps. Chromecast isn't a generic screen-sharing device. It's actually a self-contained media player that can be controlled by an external device.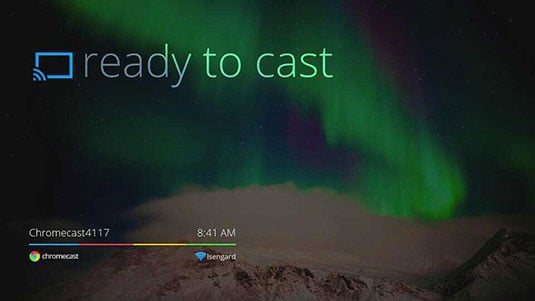 This is all the UI you get with Chromecast; the heavy lifting is done by your phone or other control device
What that means is that when you call up Netflix content on your fondleslab and hit the Cast button to send it to your TV, you're not streaming from your tablet to your TV. Instead, Chromecast sees which content you were watching on the tablet and starts streaming it from Netflix itself. You can keep using the tablet to search for more content, write emails, or play games – you can even put it on standby – and the content keeps playing on your TV until you switch to something else.
In practice, this method of controlling playback can be a little awkward, particularly when you want to pause or rewind a program. An old-fashioned remote control is a lot more straightforward.
On the whole, though, Chromecast seems to get the job done. It supports 802.11b/g/n but only on the 2.4GHz band, which could be a problem in some congested Wi-Fi environments. But in my tests with Netflix and YouTube it streamed reliably over 802.11g without any stuttering or visual artifacts.
And that's it. That's all it does. If you were hoping for a device that would let you stream the MKV files of TV shows that you downloaded from BitTorrent authorized sources to your TV, this isn't it. Chromecast can only stream content from the cloud. It can't stream anything that you've loaded directly onto the control device.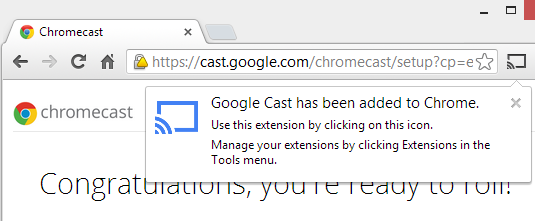 Chromecast only works with apps designed for it. Just click the Cast icon and off to your TV the content goes
Even then, the number of content sources it supports is extremely limited. Chromecast can't stream videos from Amazon, Dailymotion, Hulu, or Vudu. It can't play movie trailers from Apple's site. It can't play music from Spotify. It can't play arbitrary podcasts or streams from TV or radio stations, such as the BBC. Someday it may be able to do all of these things, or it may not. We'll have to wait and see.
The Reg verdict
So is Chromecast worth buying? Even at $35, that depends. As one friend put it when I described Chromecast to her, "So it's for people who don't have Xboxes?"
Pretty much. Depending on your equipment, you may already have gear that can do what Chromecast does, and more. My LG 47LM8600 smart TV, for example, comes with apps for streaming from Netflix and YouTube – and Amazon, too – right out of the box. So does my Blu-Ray player.
My TV doesn't have an app for Google Play, but I was surprised to notice that when I went to stream Google Play content, my TV showed up in the device list, too, right below the Chromecast. That is, my smart TV can apparently already do what Chromecast does, all by itself. Who knew?2
On the other hand, most people have yet to spring for a smart TV, and even an Xbox 360 will set you back $200 in the US. If all you have is a dumb display that has HDMI input, $35 is quite a bargain for an upgrade that will give your set some of the most important features of internet-enabled smart TVs. If you were thinking of subscribing to Netflix and could use the three free months, all the better.1
Then again, I'm not sure Chromecast would be worth much more than $35, given its limited feature set. I expect it won't be long before the competition counters Google's move with new devices at similar price points.
And maybe that's the most significant thing about Chromecast, really. In years to come, we may look back on the launch of this little device as the moment that defined a new era, one in which TV and the internet are inextricably intertwined – not just for enthusiasts, early adopters, and people with money to burn, but for everybody. ®
Updates
1. We learned late on Thursday that the Chromecast launch has been so successful that Google has sold out of its Netflix promotion. Customers who placed their Chromecast preorders before 5:31pm Pacific time on Thursday will still receive their vouchers for three free months of Netflix. Customers who placed their orders later won't. 
2. In the review, I said that I was able to stream Google Play content from a tablet to my TV by pressing the Cast button even without the Chromecast plugged in. I was mistaken. That works for Netflix and YouTube on my set, but it doesn't work with Google Play. So even if you own a smart TV, Chromecast will still add Google Play capabilities to your set (unless, of course, your TV or set-top box includes Google TV, in which case you could stream from Google Play already).