Original URL: https://www.theregister.co.uk/2013/07/22/megware_behind_chemnitz_coffee_table_of_doom/
German students get hot 'n' heavy on Coffee Table of Doom
Unassuming sideboard plumbs entire server for liquid cooling
Posted in HPC, 22nd July 2013 09:22 GMT
HPC blog My first look at the Chemnitz University of Technology's "Coffee Table of Doom" entry into the recently concluded ISC'13 student cluster-building challenge really gave me pause for thought.
Four very large workstations crammed to the brim with 16 accelerators (eight Intel Phi plus eight NVIDIA K20) was something to behold.
Two thoughts came to mind. The first was a simple but eloquent, "Holy s**t, that's a lot of power!" The second was, "Who the hell helped them get this together?"
The answer to the latter question is MEGWARE, an integrator and manufacturer of HPC systems headquartered in Chemnitz, Germany. The company was quick to embrace their hometown side, supplying them with hardware, training, and plenty of encouragement.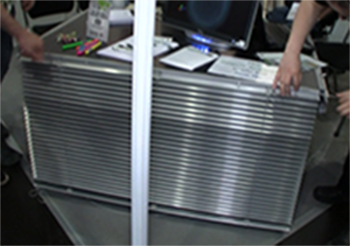 Just an innocent coffee table, nothing to see here
In the video, I spend a few minutes talking with MEGWARE and also getting a look at their take on liquid-cooled servers. We've seen a number of liquid-cooling designs that place water blocks on CPUs to remove heat. MEGWARE takes this a few steps further by applying blocks to the motherboard ASICs and to each DIMM (dual in-line memory module) on the board.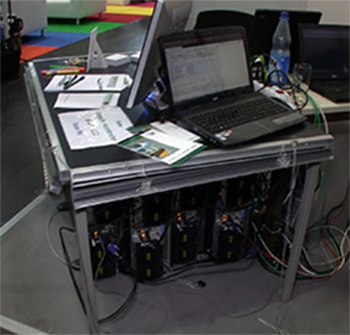 Four workstations, 8 Xeons, 8 Phi and 8 K20 accelerators - yikes
It's a lot of copper, sure, but covering this many components with water blocks should remove more heat than anything short of immersing the whole thing in a barrel of mineral oil. It's an interesting approach, and worth investigating.
I'd love to see Team Chemnitz armed with a MEGWARE liquid-cooled cluster at a future competition. This would give the team enough cooling capacity to overclock their CPUs and get perhaps as much as 20 per cent more processing power.
They could also fit water blocks to their vast array of accelerators, removing even more heat from the systems. Overall, they'd be able to cut power requirements while ramping up their throughput – definitely a win-win proposition.
These same liquid-cooling benefits can help real data centres get more throughput bang for their energy and floorspace buck. While most data centres are skittish when it comes to cooling their boxes with liquid, the pay-off in terms of increased density and lower energy use can't be denied.
MEGWARE is working to make the value proposition a bit sweeter by helping customers to find uses for the waste heat coming off their systems. While it isn't concentrated, this heat can be used to help warm up buildings, pre-heat water, or even keep sidewalks clear of snow and ice during winter months. ®