Original URL: https://www.theregister.co.uk/2013/07/22/lotus_f1_team_sneak_peak_behind_scenes_supercomputer/
How do you drive a supercomputer round a Formula 1 track?
Lotus F1 team gives El Reg a sneak peek into its pits
Posted in HPC, 22nd July 2013 12:03 GMT
When you arrive at the Lotus F1 Team HQ you're politely asked not to take pictures without asking first. It soon becomes clear that most of the site is off bounds photographically, so we agree that it'll be easier all round if our guide, senior account manager Luca Mazzocco, simply tells us when we can take photos.
It's not so much the racing kit itself that Lotus F1 seems concerned about, but rather what might be on any computer screens that creep into shot. Because if you thought that Formula One racing is about dashing James Hunt types having a spin between love-ins with multiple air hostesses and filming Brut 33 ads, you're probably also wondering why off licenses don't sell Double Diamond any more.
In the early-1990s when the likes of the Williams F1 team caused a furore over the use of electronic systems in their cars, you could squeeze the data generated per vehicle in a race onto a single floppy disk. Today, a car will generate, on average, 15 to 16 MB. Per lap. And we're talking 50 plus laps. Bits are so important now that regulations stipulate that teams trade off wind tunnel time against supercomputer cycles when it comes to running simulations on their designs.
Lotus makes great play of the fact that as well as being a plucky midrange team, it is also a little more open than some of its rivals. Their HQ is "somewhere" in the Oxfordshire countryside. We can't be terribly specific - not because we were driven in blindfolded, but simply because, like most of its rivals, it's found at the end of a track, off a lane, off a B-road you'll have trouble finding.
The car park was off limits photowise, so you'll have to take our word for it that, yes, there are rather a lot of Lotus sportscars in the car park, though the link between the manufacturer and the F1 team is described as a "branding partnership". The reception area, as you'd expect, has plenty of silverware, reflecting the team's history through its Benetton and Renault incarnations.
While the ownership and livery might have changed over the years, many of the people haven't. Mazzocco has been there for 16 years, and other staffers will reel off the number of seasons, or drivers, they've been with the team.
A quick orientation session set the scene for what makes Formula 1 "special", and what seems to pull tech vendors towards it. As well as housing the team' silverware, the site houses engineers, and designers, the factory that makes most of the components of the car, its simulator, a wind tunnel and a supercomputer. It also has, of course garages, where the pit teams practice their stuff, and another with hydraulic pillars that can reproduce the bumps, dips and other conditions of any Formula 1 track - though not the impact of tyre debris.
Our first big stop is the design room, where they pore over the info from upstream - more on that later - tweak existing parts and design new full-scale parts. Which is what design rooms do the world over. What most don't have to do is interpret information from up to 300 sensors in each Formula 1 car, not to mention the aerodynamics feedback from the wind tunnel and the supercomputer which constitute "upstream", and take into account feedback from the Driver in the Loop, Lotus' inhouse simulator, to help pare down each component to reduce weight and drag.
All within a time scale that means problems that come up from one weekend's racing get fixed and new parts are produced and by the side of the track for the following race weekend.
Backing up the design room, and the rest of the 500-plus person Lotus F1 operation, is a 40 strong IT team, half of which are from Avanade, the Microsoft consultancy which struck a partnership deal with Lotus last year, in underpinning its move onto Microsoft Dynamics, and which was our ticket into the factory.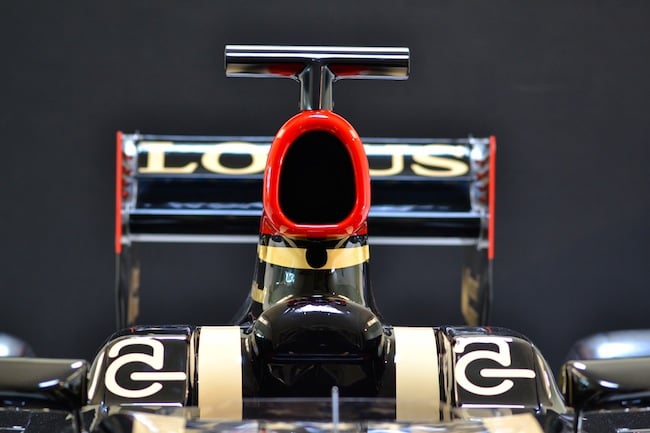 Why do people find F1 so sexy?
Lotus F1's IS program manager Matthew Walmsley is vague on the exact allocation of Avanade's staffers - anything that could suggest where the team is concentrating its resources could be considered of value to its rivals.
But the Avanade staffers do get to wear the team logo'd gear - as does everyone else we saw on site, from the marketing people, to the designers, to factory floor and the guy collecting enormous tubs of swarf.
Reassuringly for techies everywhere, Walmsley says "I'm not going to claim (IT) put Kimi [Räikkönen] into first place in Australia. But we could have prevented that."
While the designers are all working on chunky high spec HP workstations, the team's real computational horsepower lives "upstream", where the key work on the car's aerodynamics happens. This is an ongoing interplay between CFD - Computational Fluid Dynamics - simulating the aerodynamics of cars and components on the supercomputer, and the team's 60 per cent scale windtunnel.
CFD is "very good at giving a visual representation of the airflow" Luca tells us, but even on a supercomputer, takes time. Sticking a model in the wind tunnel is much faster, "but you don't see the airflow."
Not everything can be simulated, and not everything translates into the real world: "It becomes hit or miss." Or as one former head of engineering put it, "Darwinian engineering".
Off the supercomputer, the designs are turned into 60 per cent scale models in the team's rapid prototyping machines. Lotus has been using rapid prototyping technology since 1998 - long before the rest of us would have said "ah, you mean 3D printers".
Today's machines build up a part in layers using a soupy-looking epoxy solution. Lasers "cure" a layer, solidifying it, then the base of the machine moves down, allowing the next layer to be cured. Imagine one of those toy grabber arcade machines found at the seaside or in the tackier type of carvery, but instead of a pile of fluffy toys you're looking into a slightly viscous yellowish liquid, with blue laser lights playing across the top. And instead of a knock off Pikachu or Mickey Mouse, you get a plasticised model of a hydraulic manifold. Once complete the part can be whacked into the wind tunnel. Alternatively, it can be used to create a ceramic mould for metal parts.
These are all located on top of the wind tunnel, which, amazingly, we weren't allowed to see, never mind photograph. We also didn't get to see the Driver in the Loop simulator. This is a separate element of the development cycle - a chance for a driver, or experienced engineer, to get a feel for how a modification or other elements might work on the track, without putting a whole car, or driver, at risk. Or for personalising a set-up for a driver. As Walmsley puts it, a design or set-up might tick all the boxes, but, "the driver can find that it sucks."
While we didn't get the chance to feel the full fury of the wind tunnel, or compare the Drive in the Loop sim to our Wii F1 game, we did get the chance to wander into the supercomputer itself.
Tellytubbies, teraflops and traditional tech
"Welcome to Tellytubby land," says Luca as we walk across the site to the CFD team. Lotus shifted a good chunk of a small hill out of the way to pour the concrete to create the centre, before turfing it back over again. You walk in via a long, slightly beigey concrete corridor, before hitting a central chamber with a gleaming (mock-up) F1 car illuminated by some very tasteful skylights. If you wanted to design a burial mound for a Silicon Age potentate, this would be a good starting point.
Through a glass wall to our left is the CFD developer team. Go through a heavy door opposite, and you're in the actual computer room. The power kit runs on the left side, with four sets of racks in regulation Lotus black ranged across the rest of the room.
How much computing power do you need to simulate a wind tunnel? Lotus's beast runs at 32.5 teraflops, and packs in 10,000GB of RAM, with 1PB of storage, and generates 10TB of data a week.
That might not actually trouble the Top 500 supercomputer list, where number 500 kicks in at 96 teraflops. But then again, F1 teams are bound by those restrictions on how much computing power they can actually deploy, in an effort to level the field and enable smaller less resourced teams compete with the monsters.
The blades themselves are HP BL280cs, with each node running 12 cores with 36GB of memory. Storage and networking kit are a bit of a grey area. The team has just struck a deal with EMC, but on the day we were there, there were piles of Panasus branded cardboard boxes piled to one side.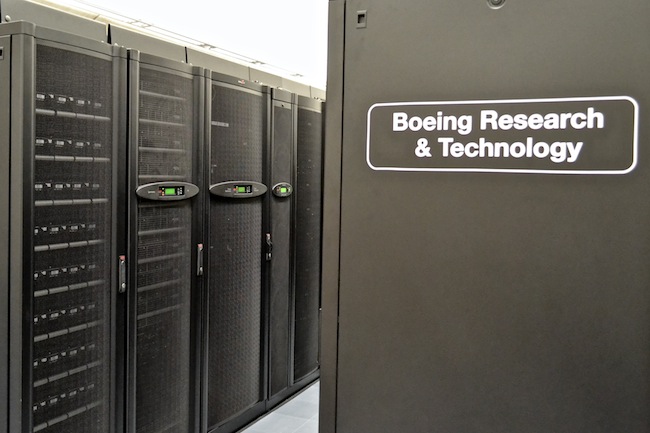 Boeing is a "silent" partner
The Boeing name was slapped on the ends of one of the racks. The aerospace company provides its CFD mathematical nouse and software to the team, and in return gets to enjoy the benefits of its aerodynamic developments. Developments which can come at a much faster pace that in the comparatively slow moving world of aircraft design.
Luca is acutely aware of the objections some eco-minded folks might throw at F1 racing. According to the FIA, a team will typically burn through 200,000 litres of fuel per season, covering testing and racing. Bear in mind this isn't the regular unleaded you get down your local Shell. And that's even before the whole caravanserai needed to get an F1 team around the world is brought into play. (When we moved on to to Silverstone that day, we had lunch in the Lotus team garage. It was certainly the best steak and red wine we've had in what was effectively a very luxurious pop-up diner)
Luca's answer, and we're guessing a well-rehearsed one, is that achieving a 1 per cent reduction in drag, would result in a 14 per cent reduction in an aeroplane's fuel consumption. A case study with Nissan meant an existing roadcar design could be optimised to achieve a 4 per cent reduction in drag, which would deliver a 40 per cent reduction in fuel consumption. And the regulations for the 2014 season will effectively demand a 40 per cent drop in fuel consumption as engine size drops from 2.4 liters to 1.6 liters.
While we love a good room full of racks, a super computer is still a super computer. Almost as noisy, yet not quite as sexy as a racing car.
However, we did get to see cutting edge technology we hadn't seen before when we were escorted back over to the main building to see the factory.
When we step inside the hangar-sized doors, the first benches we see are pretty much what you'd see in traditional a mechanic's workshop: large vices and wrenches, grimy fingered young men, and a very analogue looking radio. This team produce the exhausts - Lotus is one of the last teams to produce its own pipes, and very fine looking pieces of work they are. Smooth welds, shining alloy and light as a feather compared to the Victorian pipework that's strapped under our own car.
The rest of the floor is given over to a series of room sized machines that mill, turn and otherwise cut the metal parts.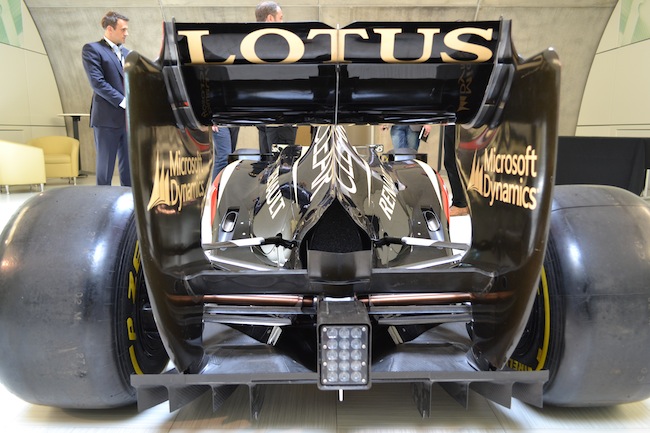 If you can see this... you're losing
As Luca put it, it takes six weeks of programming to get to the stage where one of the machines will spend 12 hours cutting a part. These will cut the high nickel alloys, tungsten, titanium and other other exotic metals used in engine and chassis parts. Again, it puts today's buzz about 3D printing into perspective.
Titanium, for example, will be cut with a charged brass wire in a process called "wire erosion". Similarly, to make a hole – such as a socket for a carbon fibre strut – the material is shaped using a charged piece of graphite.
On the other side of a window, in a separate clean room, another bunch of - mainly - guys wearing hairnets are using what appear to be hair dryers and paint stripper to shape sheets of carbon fibre.
It's not unusual for new parts to be spat out even as race weekends kick off, with staffers telling tales of having to schlep across the world with ten or 20 pieces of "excess" luggage to ensure the trackside engineers have all the parts they need come race day.
So how do you attach carbon fibre to metal? In as light a manner as possible? You glue it, of course.
But whizzing around at over 200 miles per hour in a car that is "glued together" might leave some drivers feeling a bit nervous. So, according to Luca, "we call it 'bonding' to make it sound better." Similarly, the carbon fibre isn't heated up, bent into shape then left to cool. It's "cured".
Which perhaps sums up the slice of the strange topsy-turvy world of F1 that we got to see. A petrolhead's dream, which is underpinned by supercomputer cycles and 3D printing technology. A world where highly paid young men hit 220mph in cars that are largely "bonded" together and composed of parts spat out by a machine hours before a race. And a world where the allocation of techies is treated like a state secret. ®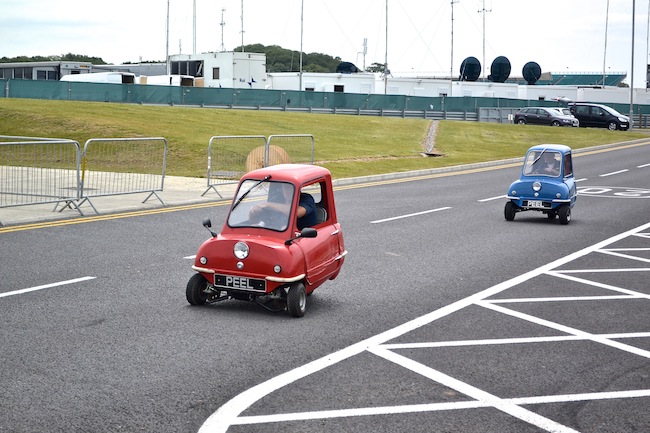 P50s at Silverstone: Not all car designers need a supercomputer