Original URL: http://www.theregister.co.uk/2013/07/18/the_quatermass_experiment_i/
1953: How Quatermass switched Britons from TV royalty to TV sci-fi
Contact is established and a genre is born
Posted in Vintage, 18th July 2013 09:43 GMT
Quatermass at 60 In June 1953 millions of Brits huddled around their newly bought TVs - all two million of them - and watched their new young Queen take the Coronation Oath before God, her bishops and peers amidst the gothic splendour of Westminster Abbey.
Just over two months later a similar number clustered around their sets again, to watch a tired, desperate scientist try and save humanity by pleading with a giant plant-like being that had absorbed the consciousnesses of Britain's three pioneering spacemen.
One of these events was a completely stage-managed fantasy which nevertheless touched the collective psyche, proved the reach of this magnificent new medium and set the cultural tone for how we view one of our most cherished institutions for years to come. But which event was it?
Make do and mend with a stiff upper lip
It's easy to watch the first two surviving episodes of the Quatermass Experiment today and smirk at the low-tech sets and incredibly mannered acting. But around this time Bernard Lovell was up at space telescope base Jodrell Bank searching for cosmic waves using army surplus kit and sealing wax. Some of us are old enough to remember when much of the British population spoke and acted like that for real. A generation which had been through a harrowing war, seeing and doing terrible things, but declining to talk too much about it.
It didn't mean there wasn't necessarily real emotion underneath somewhere. But we'll come back to that. For now, here's episode one:
A quick recap of the events on screen, before we consider how the Quatermass Experiment set the tone for much of the UK's subsequent pop sci-fi. Bernard Quatermass is head of the British Experimental Rocket Group, and we first encounter him as his team anxiously await the re-entry of Britain's first manned space mission. Things have gone wrong, and what was meant to have been a simple orbital experiment has seen the rocket go far deeper into the solar system before miraculously returning to Earth and, fortuitously, crash-landing in the Wimbledon area.
(Writer Nigel Kneale may have been blazing a trail in sci-fi writing, but he was following in HG Wells' footsteps by ensuring that the no-man's land otherwise known as Northern Surrey and the edges of London took most of the damage...)
When Quatermass and his team arrive at the wreckage - no HAZMAT suits, no exclusion zone, not even any police tape - they famously check whether the capsule has cooled down after re-entry by... patting it with their hands. On gaining entry they realise there is just one crewmember, the others apparently having disappeared from the sealed craft.
Surviving rocket man Victor Caroon - husband of Quatermass team member Judith - is clearly ill, and not just because he suspects his wife has been having it away with another team member while he has been exploring outer space. The procedure-bound police investigate while the men from the ministry get on Quatermass' case. Quatermass has Caroon sequestered in a hospital and begins to suspect he has absorbed the other two.
And then... nothing.
Things pretty much stop there. Apparently videotape was also part of the 1950s rationing regime, as the BBC subsequently wiped the four remaining episodes. Suffice to say that amidst run-ins with a blinkered Scotland Yard, and arse-covering Whitehall mandarins, Caroon goes missing and a desperate search ensues, with an alien intelligence service also pursuing Caroon. During this time Quatermass realises an alien entity has absorbed the three men and thus threatens the very existence of mankind.
The on-the-run Caroon begins to look less and less human and more like an unkempt herbaceous border. The Caroon-alien creature is cornered in Westminster Abbey, where Quatermass persuades the submerged three human consciousnesses to rebel against the broccoli borg, thus saving mankind and setting much of the pattern for British TV sci-fi in the coming decades.
Perhaps it's instructive to separate the staging from the plot. One important thing to remember is that the episodes were transmitted live, which imposes its own restrictions.
The make-do-and-mend atmosphere that pervaded the UK long after the war
All that stomping around in gaberdine coats, occasionally removed to reveal further layers of tweed and rough knitwear seems terribly crude and 1950s, but there's only so many sets you can squash together, even within Ally Pally.
Together with all the pipe smoke and bad lighting, you can almost smell the slightly cabbagey, make-do-and-mend atmosphere that continued to pervade the UK long after the war. A couple of months before Quatermass, after all, the British had been granted extra egg and sugar rations so they could make cakes to celebrate the coronation.
But if some of the backgrounds look seriously flakey and un-sciencey, remember we'd won the Battle of Britain just over ten years earlier with crude radar, a big paper map and some aeroplane cut-outs moved around by long sticks. A lack of "screens" in the lab? Remember, we'd only just gotten TV for the coronation. And Bernard Lovell's search for cosmic rays up at Jodrell Bank used dials and printouts for years after Quatermass was broadcast.
If the idea of a British Experimental Rocket Group seems like an end-of-empire absurdity, remember, the UK had contributed mightily to the Manhattan Project (which developed the atomic bomb) and had just tested its own independent nuclear weapons.
Arthur C Clarke had just advanced his communications satellite ideas. British boffins were doing some terribly clever things in the 50s despite the material restrictions imposed on them - the BT Tower was being planned as the hub of a comms network that could survive nuclear war, and it wouldn't be long before Brits cracked the underlying tech of optical fibre.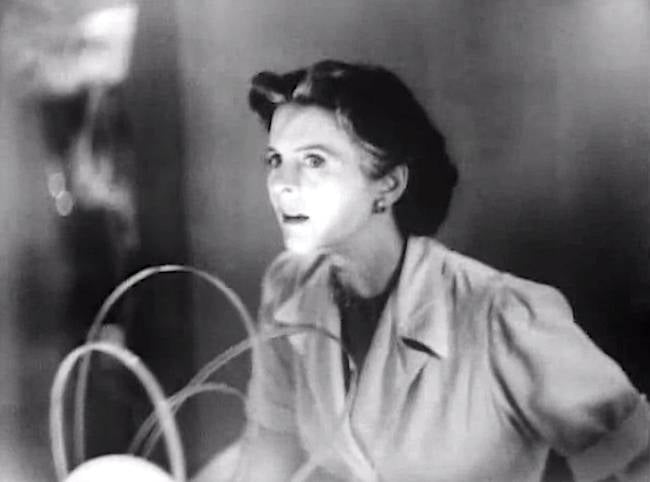 Quatermass ... is this the optic fibre you're looking for?
As for rockets? The Brits did have experience of rockets, having been the first real targets of Werner von Braun's creations less than a decade before.
Talking of Hitler's V weapons, it's intriguing that one of the Quatermass crewmen - only ever seen in flashback mode - is a German. What would his previous qualifications for joining the BERG have been, we wonder? The fact that both the Russians and the US had co-opted the brains behind the Nazis' rocket efforts had already been widely reported, so our Teutonic friend's backstory wouldn't have been hard for many Britons to fill in.
'It's dark outside' ... 'It's the '50s'
We could interpret it in a number of ways. The UK joining with an old enemy, with the sub-text of facing off against the East. Or perhaps striving to compete with the US too. And that monster - borging individual consciousnesses - could easily be seen as a metaphor for communism, or even consumerism. All a good few years before US citizens were reborn as plants in Invasion of the Body Snatchers - another classic where it's not really clear if the enemy is communism or consumerism.
Saving mankind is a "big picture" type of thing, but Quatermass ultimately does it by appealing to individual humanity on a personal, intimate level. Duty and all that. The same duty that led Judith Caroon to renounce her husband Victor when it became clear he was a sick man – but, of course, before she realised he'd been absorbed by a giant plant. This seems very 1950s, the same dutiful approach to romance seen in films like Brief Encounter.
Either way Kneale leaves us feeling that individual decency, as well as a firm grasp of science, is the only thing between us and the darkness outside. That darkness could be geo-political, it could be rebellious nature, it could be something from outer space.
Or it could simply be the claustrophobia induced when placing our trust in a set of flickering figures working in a tight-knit fantasy group, going through an elaborate but terrifying performance script being filmed live and broadcast on tiny sets.
I am, naturally, talking about the best of British sci-fi. ®
Next: Not for children and those of a nervous disposition... Quatermass II